The Polarizing Emo Record That Captured Teenage Angst
Oh, well imagine: Panic! at the Disco's debut album is 15 years old, and young listeners still love it.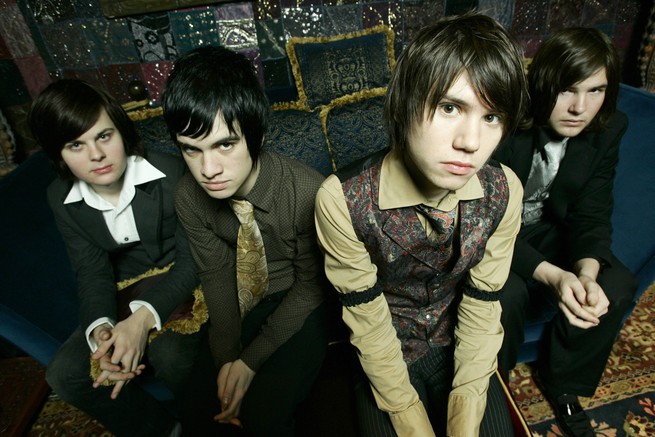 Before TikTok, SoundCloud, or even YouTube existed, four gawky teenagers from suburban Las Vegas found success by posting their music to an unlikely platform: the Fall Out Boy bassist Pete Wentz's LiveJournal page. In the blur that followed Wentz's listening to their demos and deciding to sign them, Panic! at the Disco became a bona fide pop-punk quartet before they had performed a single show. "There was a lot of pressure," the lead guitarist and main lyricist, Ryan Ross, later told MTV News. "Pete had only heard, like, two to three songs, and all of a sudden we were expected to go and write a whole record."
The debut album they released the next year, A Fever You Can't Sweat Out, vibrated with the same anxiety that accompanied their cyber Cinderella story. A lot has changed since the mid-aughts, when the airwaves were ruled by bands such as Paramore and My Chemical Romance, which sublimated young heartbreak into screeching ballads and whimsical stage plays alike. But 15 years and a few band-member departures later, Fever still holds up as an audacious and unlikely classic—a polarizing product of its time that has continued to resonate with young listeners well after the glory days of emo and pop-punk.
The record, which juxtaposed moments of vulnerability with exaggerated nonchalance, alternately enticed and repelled audiences back in 2005. "Well, we're just a wet dream for the webzine / Make us it, make us hip, make a scene / Or shrug us off your shoulders / Don't approve a single word that we wrote," the lead vocalist, Brendon Urie, sang on the preposterously titled track "London Beckoned Songs About Money Written by Machines." Many rock reviewers were unamused by the record, and some accused the band of gimmickry and unoriginality. Pointing to the "London Beckoned" lyrics, a
P
unknews.org
critic congratulated the group "on writing either the most arrogant or self-effacing couplet in music." A
Pitchfork
writer effectively charged Panic! with
killing emo
, lamenting that "Urie's impassioned, warbling vocals are so strained it's as if he might just burst into tears at any moment."
Rock purists weren't the only ones who rolled their eyes at the wordy song titles and self-conscious lyrics. Panic!'s insistence on melodrama and literary flourish, shaped in part by the influence of Wentz and other labelmates, was easy to parody. Their obsession with multisyllabic words (nitroglycerin, surreptitious, caricature) made some songs feel like SAT essays. A Fever You Can't Sweat Out was stacked with allusions to the kinds of books that crowded Urban Outfitters shelves: Much of the album was inspired by Chuck Palahniuk's fiction, and its breakout single takes its name from a line in a Douglas Coupland novel. "I Write Sins Not Tragedies" opens with creeping strings and builds to an impossibly catchy and now-infamous chorus. Along the way, it sneaks in some genre-characteristic misogyny, most notably in a line that feels tailor-made for skeptics to mock: "What a shame the poor groom's bride is a whore."
"I Write Sins Not Tragedies" took Fever to the heights of MTV's Total Request Live charts, back when that was the ultimate marker of pop-cultural relevance. Like all good emo, the record was beloved by the most assiduous arbiters of feeling—teenagers, who embraced the band's earnest yet playful approach to youthful angst. By the following year, when "I Write Sins Not Tragedies" won Video of the Year at MTV's Video Music Awards, the album was everywhere, whether you liked it or not. As SPIN's Emily Zemler wrote at the time of the record's release, "The songs blend together into one seamless aural experience that worms its way into your head and mercilessly nests there."
Like other pop-punk bands whose saccharine musings soundtracked the mid-2000s, Panic! at the Disco made music that relished the agony of suburbia. The songs "Nails for Breakfast, Tacks for Snacks" and "Camisado" chronicle Ross's experiences navigating his father's alcoholism, with the latter building to a defiant chorus: "Can't take the kid from the fight, take the fight from the kid." Yet Fever wasn't all self-serious pondering and car-crash metaphors. Nor did the band just strip down to raw emotion like Dashboard Confessional, or introduce itself with macabre imagery like My Chemical Romance. They shirked political commentary, distancing themselves from the punk and nu-metal bands that proliferated in Vegas at the time. Wide-eyed and brokenhearted, these greasy-haired Nevada teens channeled their woes into elaborate, vaudevillian theatrics instead.
Fever's music videos were larger than life, a series of vignettes that unwittingly reflected the prerecession excess of mid-2000s celebrity. Ross, Urie, and their bandmates, Spencer Smith and Brent Wilson, may have come from the cookie-cutter suburbs, but their style was weird and maximalist. Even without the resources of a major label, every video executed an intricate and sometimes nonsensical concept, complete with a sea of dancing extras and enough makeup to deplete half the production budget. Where other mainstream pop artists brought professional polish to their colorful dramatics, Panic! crested purely on the outlandishness of their garage-incubated ideas. Who else was transmuting scenes from popular erotic dramas into music videos in which everyone has fish tanks for heads? Who else straight-up announced their artistic goal—getting "teen hearts beating faster, faster"—with no trace of irony? Panic! served up Moulin Rouge–style windmills on burlesque stages and complicated story lines about double infidelities. Their lyrics were relentlessly horny. The boys committed to the bit, and to the pomade.
In the years following Fever, the band members grew up and apart, but their debut gave teenagers during the Iraq War era a soundtrack for nearly every emotion possible, including those they'd yet to make sense of. Fever also allowed listeners to indulge in the melodrama of life without losing a sense of whimsy. No wonder nostalgia for emo and pop-punk abounds today. As the American political and socioeconomic landscape has grown more chaotic in recent years, the genres' unfettered sentimentality has become a balm for the many Millennials who grew up with it. The internet has introduced Fever to a new set of younger fans, including musicians, whose affection for Panic! reflects a broader interest in the art of the aughts. Once again, technology is bringing Fever to listeners who may never have heard Panic!'s records otherwise. Tracks from an album born on LiveJournal have gained traction on TikTok, where teens make videos melding humor, music trends, and social commentary.
Fifteen years later, Fever has never quite left. The chorus of "I Write Sins Not Tragedies" remains among the most easily recognizable lyrics in music, in part because its ambient misanthropy is so easily repurposed for whatever antisocial vibe the listener might be channeling. That might explain why one doesn't need to have felt—or imagined—heartbreak to belt, "Haven't you people ever heard of / closing a goddamn door?" or feel ambivalence about marriage and other social institutions. That "I Write Sins Not Tragedies" has taken on a new life via TikTok feels especially appropriate: The band's debut is now old enough to seem vintage to teenagers, but its original fans are still savvy enough to use the new platforms where the memes are circulating.
The circumstances that endear teens to Panic!'s early music now, even as the band has released newer work, differ profoundly from those in which Fever was first introduced. Still, the album remains a cathartic listening experience, a sonic roller coaster with dips just as thrilling as its peaks. It's hard to take yourself too seriously after pressing play on a song called "There's a Good Reason These Tables Are Numbered Honey, You Just Haven't Thought of It Yet." At a certain point, perhaps between the drum kick and the keyboard twitches or the slam-poetry snaps, you have to let any pretensions fall away. Fever insists that it's better if you do.