The Coronavirus Is Revealing Football's Human Cost
Amid a global pandemic, the NFL's non-guaranteed contracts force players into a familiar choice: stay safe, or stay on the field.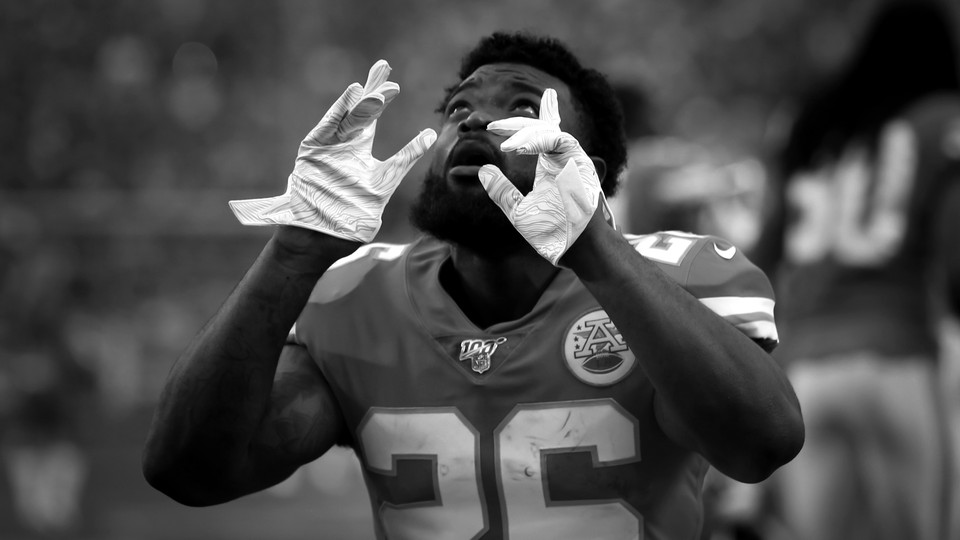 Seven months ago, Damien Williams was living the football dream. In February, the Kansas City Chiefs running back tallied 133 yards in the Super Bowl, more than any other player, as the team overcame a 10-point deficit to win its first championship in 50 years. Williams had spent the early portion of his career languishing on the Miami Dolphins, putting up less yardage over entire seasons than some players did in single outings, before finding a role in Kansas City that suited his multifaceted rushing and receiving skill set. As the Chiefs hoisted the Lombardi trophy, many analysts suggested that Williams should have been named the game's MVP.
Tonight, when the Chiefs start their title defense against the Houston Texans in the NFL season opener, Williams will not be there. He, along with several dozen other players, has opted to sit out the season—which, unlike the NBA's, will unfold outside of a self-contained "bubble"—because of concerns over the coronavirus pandemic. In July, Williams announced that his mother had been diagnosed with Stage 4 cancer, and he didn't want to increase her exposure to the virus. "We certainly understand and respect Damien's choice, knowing it was made in the best interest of his family," the Chiefs' general manager, Brett Veach, said. But football goes on, and Kansas City has a ready replacement in Clyde Edwards-Helaire, a rookie from national champion Louisiana State University. The remainder of Williams's contract, per the NFL's coronavirus policy, will roll over to next season. Whether it will be honored is another question.
Even in the best of times, professional football players trade in risk. The on-field danger is mirrored by a less visible one: NFL contracts are largely non-guaranteed, which renders employment tenuous and breeds a culture of playing through broken limbs, ligament tears, and concussions. "Next man up" is both an ethos and a threat; leaving the field means you might never make it back. In the buildup to this season, NFL commissioner Roger Goodell assured fans that "safety continues to be our first priority," but the pandemic has made the cruelty baked into the sport all the more visible, and more fraught. Playing this season means putting oneself and one's family in harm's way. It is a trade-off the league's labor policies have long forced its players to make.
The history of NFL labor relations is one of drastically imbalanced leverage. The league's 32 teams are owned by top-end millionaires and billionaires, people with the means and inclination to play hardball in financial disputes over individual negotiations and league-wide work stoppages. The athletes, by contrast, play a sport designed to break bodies and reduce career spans. The dynamic hampers the players union's ability to close ranks in pursuit of long-term changes to the league's economic structure. NFL careers last fewer than four years, on average; a  season-long strike would represent a substantial sacrifice from union members.
Partly as a consequence of this power gap, NFL labor policy is the least player-friendly in major-league American sports. Free agency—the right of players to hit the open market when their contracts expire, unencumbered by clauses tying them to their original teams—came to MLB in 1976 and the NBA in 1988. It didn't reach the NFL until 1993, after a years-long push on the part of the union. With regard to guaranteed compensation, the NFL still lags far behind its counterparts. Fans have come to understand that the reported terms of a contract rarely align with reality; teams routinely cut players before they're able to earn lucrative salaries in later seasons. Although quarterbacks and some star players have enough weight to command guarantees, most of the sport's rank-and-file does not. A 2017 study jointly conducted by Harvard's law school and bioethics programs found that 93.7 percent of NBA player compensation at the time was guaranteed, as compared with about 44 percent of NFL player compensation.
"If they cared about health and well-being as a primary concern, they would do things differently," Christine Baugh, a professor of sports health, policy, and ethics at the University of Colorado, told me. "But the NFL is in the business of people hitting each other for a living and profiting from that." The violence inherent to football—namely the ever-present possibility of career-ending injury—makes fully guaranteeing contracts a trickier proposition than in other sports, as the then–NFL Players Association director Gene Upshaw wrote in a 2002 editorial for The Washington Post, citing the league's substantial health-benefits policy as an acceptable compromise. But as the NFL touts an increased commitment to player safety, its contracts continue to incentivize players to stay on the field at the expense of their health.
The Harvard study argued that more guaranteed compensation would likely reduce instances of players battling through injuries—retired players admit to hiding concussions from team doctors—and that it might improve players' mental health as well, easing the stress that comes with contingency. Baugh notes that the NFL's employment structures, which leave football players less secure than their NBA counterparts, likely also tamp down protest and activism. The former tight end Martellus Bennett, in a 2016 interview with ESPN, summed up the feeling of belonging to a league in which a largely Black labor force incurs risk to make money for a largely white ownership class, saying that NFL stands for "N-----s For Lease."
The 2020 season adds danger to an already-dangerous game. Although the NBA's restart in Orlando, Florida, has so far succeeded in walling off a COVID-19 spread, the NFL's plan hews closer to MLB's, which led to a number of early-season outbreaks. Pro football will retain a normal travel schedule, aiming to stave off crisis by way of a daily testing regimen (except for game days) and strict behavioral requirements. Players are to train in small groups as often as possible, avoid postgame handshakes and jersey exchanges with competitors, and take separate planes. Gizmos abound: in-helmet face shields, antibacterial misters, no-blow whistles.
"I continue to be nervous," Zachary Binney, an epidemiologist at Oxford College of Emory University, says, "because they're essentially trying to run MLB's playbook, but with more people creating more chances for the virus to get in, and more contact creating more chances for it to spread around a team or between teams when it does." Indeed, it is hard to imagine a sport less conducive to the concept of social distancing than football, in which most plays end with a half-dozen people piled on top of one another (the prohibition on high fives, in this context, seems more like hygiene theater than hygiene). Even optimistic outlooks hinge less on an NBA-esque comprehensive safety system than on an anxiety-induced uptick in personal responsibility. "I think pretty much all of the professional athletes, whatever the sport, they get that if they screw up as an individual, they imperil the whole team, its function and finances," William Schaffner, an infectious-disease professor at Vanderbilt University, says. "And there are millions of dollars involved here—for themselves, for their owners, for the whole enterprise."
Many players are publicly excited about the chance to return to work. But playing during this pandemic requires compromises that even NFL athletes have little experience making. To begin with, the calculations now involve family members. Players such as the Philadelphia Eagles receiver Marquise Goodwin and the New York Jets offensive lineman Leo Koloamatangi cited at-risk relatives as their reasons for sitting out this season. Then there are the substantial unknowns of the virus's long-term effects. Von Miller, the Denver Broncos' star pass rusher who contracted the virus in April, described an arduous road back to normal football training. Doctors have noted that complications from the virus can lead to a long-term reduction in lung capacity and blood-clotting issues that might make any sports participation inadvisable. Some linemen—the heaviest members of a team—face increased uncertainty, as people with a body mass index of 30 or higher are considered especially susceptible to the virus.
Boris Lushniak, the dean of the University of Maryland School of Public Health, is broadly laudatory of the NFL's plan for the upcoming season, given the league's investment in a strict testing protocol. He sympathizes, though, with the difficult position players find themselves in. "There are certain aspects of this that—I'll be honest with you—scare the bejesus out of me," he says. "Is [starting the NFL season] the right thing to do?" he asks. "Therein lies the rub, because I can't tell you that none of these athletes are going to go away without having problems if they have been positive. It's not to say that sports caused their positivity, but the reality is that if sports play a role in it, then I have to judge, What're my risks versus my benefits?"
Damien Williams decided that the risks were too high. The Chiefs may yet bring him back into the fold in 2021, but it is possible that the 38-yard touchdown run that secured the Super Bowl will be his last time carrying the ball for Kansas City. In one context, it would be an unlucky break, the pandemic arriving just as a once-tenuous career looked secure. In another, it would be a predictable outcome of a callous system, one built to keep the sport's human cost from becoming team owners' financial burden.