BTS's 'Dynamite' Could Upend the Music Industry
The English-language single's massive success is a career milestone for the South Korean pop group—and a reflection of America's entertainment market.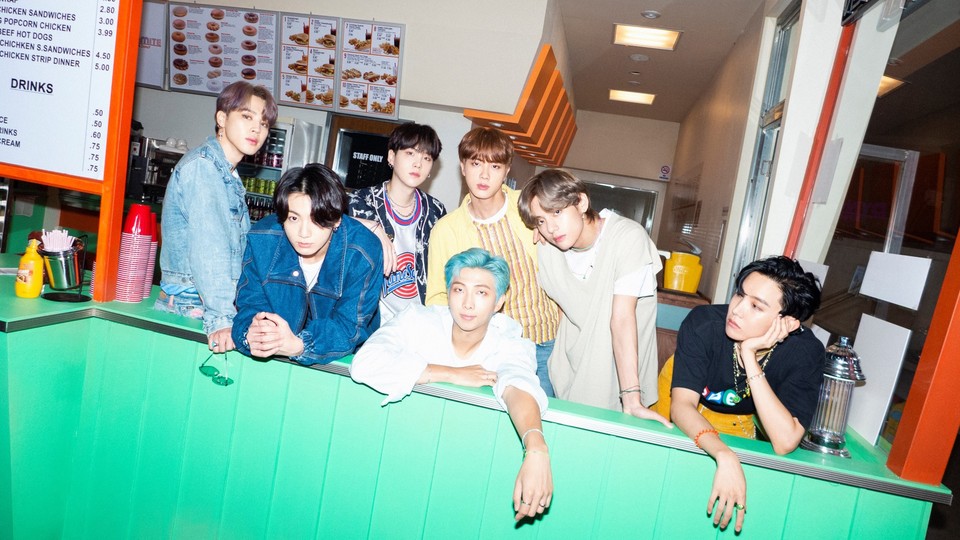 When a record is broken, or a new one is set, it can say as much about the institution or industry in question as it does the talent of the winner. This is especially true in American entertainment. Halle Berry becoming the first (and only) Black woman to win a Best Actress Oscar, in 2002, was both an affirmation of her excellence and a testament to Hollywood's racist history. America Ferrera becoming the first Latina to win a Lead Actress Emmy was a celebration of her work and a reflection of TV's problems with representation. The corollary to an individual's historic win is often a system's historic failure.
On Monday, BTS became the first entirely South Korean act to have a No. 1 single on the Billboard Hot 100 with their new funk-inflected, disco-pop song "Dynamite"—the latest evidence of the group's superstardom. They've been everywhere this year. If you didn't see the septet ringing in 2020 with a confetti-filled concert in Times Square, you may have seen them onstage with Lil Nas X at the Grammys. You may have caught them joking with James Corden on "Carpool Karaoke," or when they shut down Grand Central Station for The Tonight Show, or when they performed while coiffed to the nines at Sunday's MTV Video Music Awards. (Or maybe you heard about BTS when they donated $1 million to Black Lives Matter this summer, around the time that K-pop fans were the subject of constant media attention for their political activism.)
Though BTS has sold out stadiums around the world and occasionally breaks Twitter, they didn't land the top spot on the Hot 100 until they released a song entirely in English. It's a huge feat for a group that debuted on a tiny record label seven years ago, underdogs even in their home country. (Speaking to international press last night, the members talked about crying when they learned of the news, and how it made them think back to their humble and difficult early years.) The distinction is a point of pride for their dedicated and highly organized fans, known as ARMY, who helped get them there. But like many of the records that BTS sets in America, the achievement is also a reminder of how hard it is for even massively popular artists who don't perform in English to make inroads in the U.S. music industry.
When BTS first announced "Dynamite," they emphasized that it wasn't a pivot from singing in Korean. The seven members—RM, Jin, Suga, J-Hope, Jimin, V, and Jungkook—came across the track while working on their upcoming album and decided to release it as a single with the original English lyrics: The euphoric, late-summer bop was meant to soothe listeners around the world who had been having a hard year because of the COVID-19 pandemic. When "Dynamite" dropped a week and a half ago, it shattered streaming records. American music critics immediately remarked on its catchiness and broadly appealing retro sound. The video—a sun-drenched, SoCal-inspired tribute to all things '70s—had the biggest YouTube premiere for a music video ever, with 101.1 million views in 24 hours.
These weren't unusual milestones for BTS, who had gained even more fans since the pandemic began. What was unusual was that American radio stations started to spin "Dynamite," giving it the sort of play that had been denied to previous Korean-language hit singles, like "Boy With Luv" and "ON." U.S. radio generally doesn't play much non-English pop, and because radio play is one of the metrics used to calculate the Hot 100 (along with streaming and sales), artists who don't perform in English have a harder time making it to No. 1. (The same goes for Latin pop, too, though the success of Luis Fonsi's "Despacito" in 2017 has been credited with helping to open up the chart for Spanish music.) "Dynamite" is radiant, feel-good pop, but the fact that it was in English helped it to reach new heights.
The industry's aversion to non-English-language music extends from the charts to highly visible spaces such as the Grammys and the VMAs—shows that have long histories of overlooking some English-speaking artists, particularly Black artists. These platforms effectively marginalize different groups, as Marian Liu wrote for The Washington Post, by filtering certain musicians into other, implicitly less prestigious categories, including "Best Progressive R&B," "Best K-Pop," and "Best Rap Album." BTS has nonetheless managed to enter these fraught spaces, in some cases peripherally, and only after years of proving their commercial value and ability to draw an audience.
When I wrote about becoming a fan of BTS last year, I spoke with the South Korean critic Kim Youngdae about the xenophobia that the band has faced in the U.S. over the course of their rise. (Earlier this year, a Howard Stern Show staffer joked about the group having the coronavirus, and fans recently circulated a clip of a radio-station host mocking BTS's Korean lyrics on air.) "The American mainstream music industry is really hesitant to call Asian artists 'pop stars,'" Kim told me at the time. "But the entertainment industry always has to acknowledge the hottest or biggest thing, whether they like it or not." BTS's giant, hyper-loyal fanbase was essential in fighting this institutional conservatism, he said. By aggressively streaming, buying, and sharing BTS's music, these fans forced a dinosaur-like industry to pay attention.
Over the years, U.S. interviewers have asked BTS if they would ever switch to making music in English, only to get the same answer: No. For the seven members, performing in Korean is essential to their identity as a group. Though BTS is known for complex choreography, impeccable live vocals, and energetic concerts, their lyrics matter, too. The group has made genre-bending albums that critique aspects of Korean culture and society, including mental-health taboos and the rigid school system. Its rappers often write intricate wordplay into their rhymes. BTS fans around the world regularly look up lyric translations, contrary to what some American music critics believe, and many learn Korean to better appreciate the group's work.
For some fans who have long followed BTS, the ascendancy of "Dynamite" is thus bound to be bittersweet. Whether the band intended to or not, the only English-language single they've released in seven years has become their biggest chart success yet, outperforming the dozens of more artistically ambitious records that they wrote or produced in Korean. "We don't want to change our identity or our genuineness to get the No. 1," RM, the group's leader, told Entertainment Weekly last year. "Like if we sing suddenly in full English, and change all these other things, then that's not BTS. We'll do everything, we'll try. But if we couldn't get No. 1 or No. 5, that's okay."
If anyone can get a Korean song to No. 1 on the Hot 100, it's the group that reached No. 4 with a Korean song earlier this year—that same track, "ON," won BTS three VMAs last weekend. They don't need to alter their DNA. "Dynamite" is likely to reach even more listeners who don't think language barriers are a reason to ignore good music, listeners who might keep an eye out for the new album or dive into BTS's deep Korean discography. The Talking Heads frontman David Byrne put it this way in a 1999 New York Times piece: "To restrict your listening to English-language pop is like deciding to eat the same meal for the rest of your life." ARMY couldn't agree more.