4 Films You Need to Watch This Fall
Some of the year's best new movies are about American soul-searching.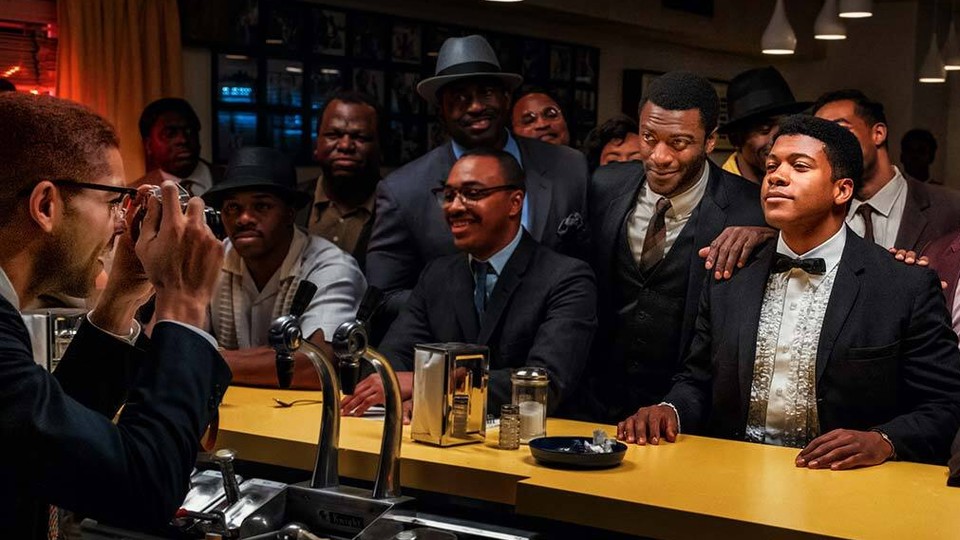 David Byrne has long been a master of perfectly designed worlds. The 1984 concert film Stop Making Sense, with his band Talking Heads, captured how carefully he stages his shows, bringing in band members one by one to emphasize how each contributes to the harmonies of a song. Byrne's latest tour, "American Utopia," was documented by Spike Lee in a film of the same name, due out October 17 on HBO. In it, Byrne again tries to construct a new musical universe, making jolly music and dancing in lockstep with shoeless artists in natty gray suits. But as the film's title suggests, he wants to create a better world beyond the concert venue too.
American Utopia was the opening-night feature at this month's Toronto International Film Festival, which kicks off the fall movie season every year with big premieres and awards-friendly projects. Thanks to the coronavirus and the general hibernation of the industry, TIFF screened just 50 new films this year (compared with more than 300 in 2019). But even in its compact form, the festival offered a preview of what moviegoers can expect in the next few months as Hollywood navigates the pandemic. Given that the United States is in the midst of a fraught election season, it's unsurprising that some of the most compelling new films confront the idealistic notion of America—and how promises of progress and justice are so often blunted by the grim realities of racism, poverty, and polarization.
This tension is at the heart of American Utopia, as is Byrne's distress over our disconnected modern world. Throughout the show, he champions the joys of collaboration and communality. At one point, he notes that most of the performers (including himself) are immigrants. At another, he decries America's low voting numbers and informs the audience members that they can register to vote on-site once the concert is over. The film builds to a cover of Janelle Monáe's protest song "Hell You Talmbout," during which performers chant the names of Black people who were killed by police or died in their custody, including Freddie Gray and Sandra Bland; Lee's camera cuts away from the theater and shows the victims' loved ones holding up photographs of those they lost.
Through each beautifully choreographed song, Byrne demonstrates the thrill of watching people perform in sync. But he tempers that glee with stark reminders of how much remains broken outside of his theatrical space, and how much work remains to be done—by others and by himself. The film's premiere came shortly after Byrne apologized on Twitter for a newly resurfaced clip of him appearing in blackface in a 1984 video: "Like I say at the end of our Broadway show 'American Utopia,' 'I need to change too' … and I believe I have changed since then." In an interview with Variety, he addressed the responsibility he has as an artist talking about racial justice to own up to his mistakes."If I'm going to talk about this stuff, I can't talk about giving advice to other people if I can't do it myself," Byrne said.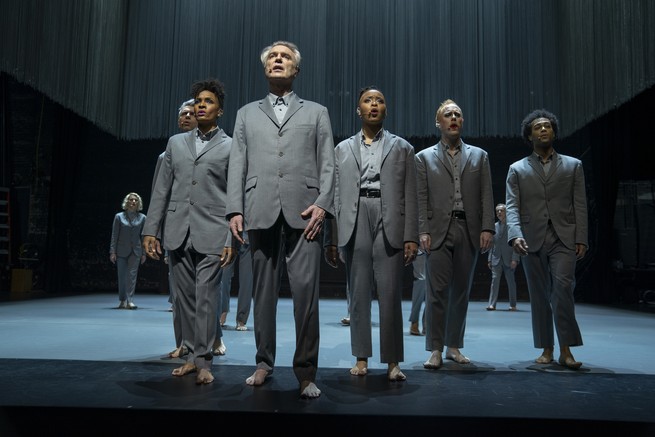 Along with American Utopia, the most highly anticipated premiere at TIFF was Chloé Zhao's Nomadland, which won the top prize at the Venice Film Festival and will be released on December 4. Zhao's previous movie, the heart-wrenching modern Western The Rider, was one of the best films of 2018 and made enough of a splash to get her a gig making a giant blockbuster for Marvel (The Eternals, due out next year). In between those projects, she quietly made Nomadland, working with its star, Frances McDormand, to adapt a nonfiction book by Jessica Bruder about older transient workers displaced by the 2008 recession and living in cars. The film is a worthy exploration of the lost American dream, focusing on communities laid to waste by an economic crisis the country has already begun to forget.
Nomadland was filmed with a tiny crew that moved across seven states for four months and mostly features nonactors appearing as themselves. McDormand plays Fern, a woman still mourning the Nevada company town she left behind after its Sheetrock factory closed and her husband died. Zhao's film is a requiem for Fern's former way of life and a celebration of the new existence she's found, living in her van and moving from job to job as the seasons change. The open road has long been a mythic environment for cinema, and Nomadland captures many staggering, romantic vistas on Fern's journey. But Zhao also visits mundane locales—parking lots, Laundromats, an Amazon packaging factory where Fern picks up shifts at Christmas. In the classic American Western, endless possibility always lies ahead; Nomadland is a modest yet powerful portrayal of Fern's determined effort to cling to the only thing she has left: her independence.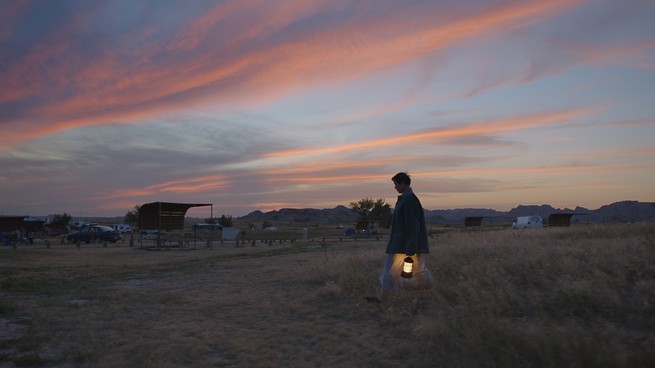 While Nomadland renders the inherent contradictions of America visually, Regina King's directorial debut, One Night in Miami, does so in words. King's film, which will be released by Amazon later this year, imagines a fictional meeting between historical heavyweights: Sam Cooke (played by Leslie Odom Jr.), Malcolm X (Kingsley Ben-Adir), Jim Brown (Aldis Hodge), and Cassius Clay (Eli Goree), before he was known as Muhammad Ali. Based on Kemp Powers's play of the same name, the film is set after Clay's first victory over Sonny Liston, in 1964, when a celebratory hangout turns into a debate over the best way to build a better America.
The fact that the four main characters are famous is crucial, as they fight about how to calibrate their participation in an unjust society. Unsurprisingly, the men's back-and-forth sometimes feels stage-bound, but their high-stakes conversation nonetheless commands attention. King displays her directorial prowess by coaxing out some bravura performances, staging entire set pieces around Malcolm X's piercing rhetoric or a showstopping musical number by Cooke (Odom, for his part, rises to the steep challenge of singing as the King of Soul). One Night in Miami's tensest and most powerful scenes see Malcolm criticizing Cooke for meekly acquiescing to fame; eventually, Malcolm acknowledges that his frustration is amplified by Cooke's ability to win over even the most hostile audience—something the more polarizing Malcolm struggles with. King, who takes thoughtful creative liberties with Powers's story, doesn't let the film end on easy answers.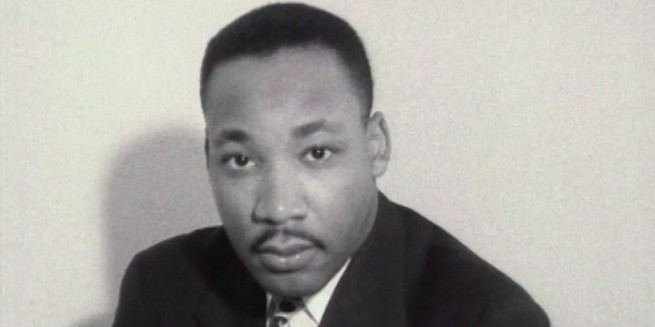 An ideal companion piece to One Night in Miami is Sam Pollard's documentary MLK/FBI, which also centers on the 1960s civil-rights movement. While King's film is full of melancholy, given that two of its four main characters (Cooke and Malcolm) will die within a year of each other, Pollard's angrier work seethes with despair and distrust. (MLK/FBI, which is playing at major festivals this fall, will be released by IFC Films in January 2021.) As Pollard charts the success of Martin Luther King Jr.'s civil-rights work and the force of his charisma, the director digs into the FBI's campaign of misinformation, surveillance, and harassment against the activist, demonstrating how much King frightened the American government. The sordid details of FBI head J. Edgar Hoover's investigation—during which agents tried to blackmail King with details of his infidelity and implicitly encouraged him to kill himself—are presented candidly by Pollard.
The film is a sobering watch and a timely reminder that King's struggle for racial justice wasn't straightforward, nor is it close to complete. MLK/FBI examines King's political deftness, the way he calibrated his message to reach a broad audience, and the horror with which the FBI regarded his popularity. Pollard could spend the entire film on the FBI's misdeeds, but he wisely draws from the wealth of riveting footage that exists of King himself, from major addresses he gave to cheerful talk-show appearances. The director wants to underline that a man who might seem obviously inspiring today was perceived as an existential threat to the nation by Hoover—in contrast to the popular, whitewashed image of King having always been seen as a conciliator beloved by all.
Like MLK/FBI, some of the best films at TIFF this year collectively feel like an attempt at American soul-searching. These works seek, with honesty and humanity, to scrutinize the country's past and interrogate its present—a task all the more urgent in a year plagued by a national health crisis, an ongoing epidemic of racist violence, and unrelenting political division. As a critic who attended remote screenings, watching these films alone in my home was a particularly poignant experience. The pandemic has robbed film fans, and people in general, of the ability to enjoy and be challenged by art together. In 2020, that feeling of community has vanished from so many spaces. Films such as American Utopia and One Night in Miami seem like they're trying to find it again.