Why Is Anyone Going to Disney World Right Now?
Superfans know the Florida theme park is a dangerous destination during the pandemic. But to them, a visit means more than a vacation.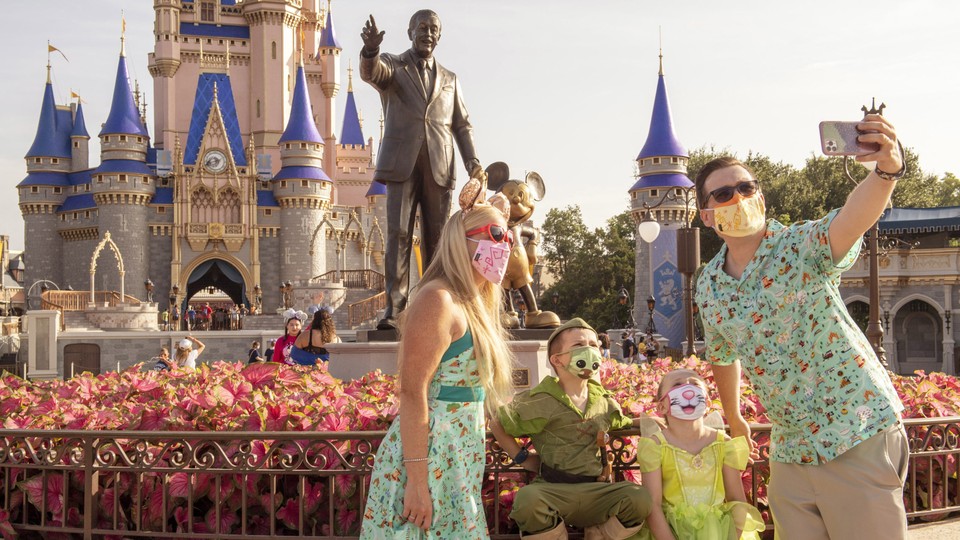 Almost as soon as Serena Lyn stepped back inside the Magic Kingdom, she burst into tears. It'd been four months since the theme park and crown jewel of Walt Disney World's Florida stronghold had shut down because of the coronavirus pandemic. Before the parks closed, Lyn had been visiting them twice a week; it was part of her job as a Disney blogger and an Instagrammer with more than 71,000 followers. As a devoted Disney fan who'd moved with her husband, two kids, and dog to Orlando, close enough to the parks to see their fireworks shows every night, not being able to set foot inside Disney World had been painful.
So when the employees—"cast members," in park parlance—greeted Lyn and her fellow returning annual passholders on July 9 with a warm welcome outside of the shops along Main Street, Lyn became overwhelmed. "I was bawling," she said when we FaceTimed a week after she attended Disney World's grand reopening. "I looked around, and everyone was crying."
In that moment, the stress of the pandemic disappeared as the atmosphere of the parks wrapped her in "a sense of security and happiness," she explained. "I think the world needs Disney right now."
Not everyone would agree, judging by the reactions to the parks' reopening. To those who have never or rarely visited the parks, going now, amid a spike in cases in Florida, seems a reckless venture—an excellent, expensive way to put oneself at risk. Comedians took aim at the visitors. Satirical sites, too. Twitter users even turned Disney's earnest "Welcome Home" video into a warning, with the masked cast members urging viewers to "stay at home."
Lyn groaned when I mentioned the video. After years of posting to an audience who'd cheered on anything Disney-related, she'd begun to receive a sprinkling of negative, judgmental comments about her choices. "For the first time, I kind of felt like I was talking about a subject that was controversial," she said. "That was definitely new and uncomfortable for me."
Disney's theme parks are meant to serve as pockets of utopian fantasy, unchallenged by the stark reality of the outside world, says Stephanie Williams-Turkowski, a recent doctoral graduate who studies fan culture. "The real world somewhat disappears around you [when you're in the parks]," she explained to me over the phone. "All of your senses are impacted. You are hearing the music, you are smelling the smells, you are seeing the sights, and you can touch things, and that allows you to mentally escape and become a part of the story itself." Indeed, each immersive element of the parks contributes to removing pieces of reality: The meticulously manicured spaces around attractions—dining options that fit the theme, roving characters that encourage face-to-face engagement—can transport visitors across space and time, to faraway countries and nostalgia-drenched eras.
Obviously, that's all changed; things are strange in the parks right now. Masked guests wait in socially distanced lines. Character interactions have been modified. Live performances and fireworks shows have been canceled. Visitors hurtle down roller coasters in empty cars.
And yet, to the Disney devotees I interviewed who have returned to the parks, none of that fantasy has been dulled, only diluted at most. Kirsten Michel, who runs a pair of popular Disney-centric Instagrams, said "the magic isn't taken away," only "different." Ashley Patton, a fellow Disney-grammer, told me being in the parks again felt "a little weird" but that she, much like Lyn, cried when she returned and came to enjoy having smaller crowds to compete with for rides. "I knew if I was going to go anywhere and feel safe, it would be Disney," Patton said. "I felt safer going to Disney than going to the grocery store, to be honest."
The Disney fandom, observed Williams-Turkowski, differs from many pop-culture followings in its sheer size and scope of involvement: Disney as an entity cultivates fan loyalty through its various franchises. When I went down the rabbit hole of Disney subcultures, I found fans of Disney history, Walt Disney himself, Disney photography, Disney style, Disney fan fiction, and more. An Instagram spokesperson told me it's impossible to track just how many Disney-focused accounts exist, given the overwhelming amount of dedicated fan interests under the Disney umbrella. Most Disney fans tend to have had formative exposure to Disney media and products. Each one I spoke with traced their love of Disney to when they were children, collecting VHS tapes and dressing up as their favorite characters for Halloween. Over time, they found that Disney helped them build friendships and online communities, and, for those with children, Disney easily became an intergenerational obsession.
Making it to the parks, therefore, remains the ultimate goal in cementing a fan's Disney identity: There, they enjoy an unparalleled immersion rare in other fandoms, perhaps rivaled only by Harry Potter enthusiasts and the Wizarding World theme parks. They enter a real-life Neverland, a place where time stands still and childhood can last forever.
Still, why is a trip to the parks now, amid a pandemic, so necessary to fans that they're willing to risk exposure to the virus? How does one become the type of fan for whom recreating the parks inside Animal Crossing or making Mickey Mouse–shaped waffles isn't enough? What about the parks makes them not just attractive, but vital?
The fans I spoke with discussed Disney with nostalgia; each remembered a moment when the parks became more than a physical space, a touchstone for a distinct memory. Some involve celebrations: Marian Perez told me she'd always been a Disney fan, but when she got engaged at Cinderella Castle, her fandom "ignited" into an obsession that led to a Disney-inspired wedding and Disney-related decor in her home. Others involve finding refuge: Rachael Reyna, who grew up visiting the parks twice a month, began frequenting them as an adult after an ectopic pregnancy in 2016. "Something about being at Disney makes all your worries fade away," she told me in an email. "I would spend days at the park by myself just to escape my depression. It's impossible to be sad at Disney. It might not make sense to people, but it's my happy place."
In that sense, the parks serve as a reminder of personal joy, a physical totem of their bliss. I visited the parks too, and grew up with a similar appreciation for Dole Whip and hidden Mickeys. But where my impression of the parks faded and blurred over the years, these fans' memories are as clear as glass slippers. A trip to the parks is never a mindless gesture for them; it's fandom as therapy. "Disney fans," Williams-Turkowski explained, "are resilient about keeping the happiness going."
Indeed, they persist, even if it means donning masks in the Florida heat and feeling occasional pangs of anxiety. "There were times when I would get on a ride and the first thing I would think is, Oh! Let me get my wipes and wipe it down," Michel, one of the Instagrammers, said. "But just being there, it was nice." In fact, Lyn explained, it's comforting to know the Disney parks are sacrificing signature elements of the experience to mitigate risks. "If you went and it wasn't different, you wouldn't feel safe there," she said. "We're in a place where everything we do is different. Everything."
Every type of leisurely haven this year has been tainted by the pandemic: the pleasures of cheering on a sports team, of sharing a laugh with a friend at a bar, of catching the latest superhero film at a multiplex, of perusing the racks of a fast-fashion store. Some people have either taken part in reopenings, coped by adapting to new experiences, or continued to wait for a solution. These Disney fans are simply doing the same, chasing a raw gratification they don't feel anywhere else.
As Lyn sobbed her way down Main Street in the Magic Kingdom, the cast members cheered her on. "Welcome back," they called. "It's so great to see you! We are so happy you're here!"
"You're like, 'Thank you so much!'" Lyn recounted, laughing. "You just feel so special, you know? Like, that was it for me. I could have turned around and walked home, and it would have been worth the day."