We've Seen New York's White Flight Before
The "Why I Left New York" essay is back, but the city's buoyancy this summer doesn't mesh with the apocalyptic musings of the fleeing elite.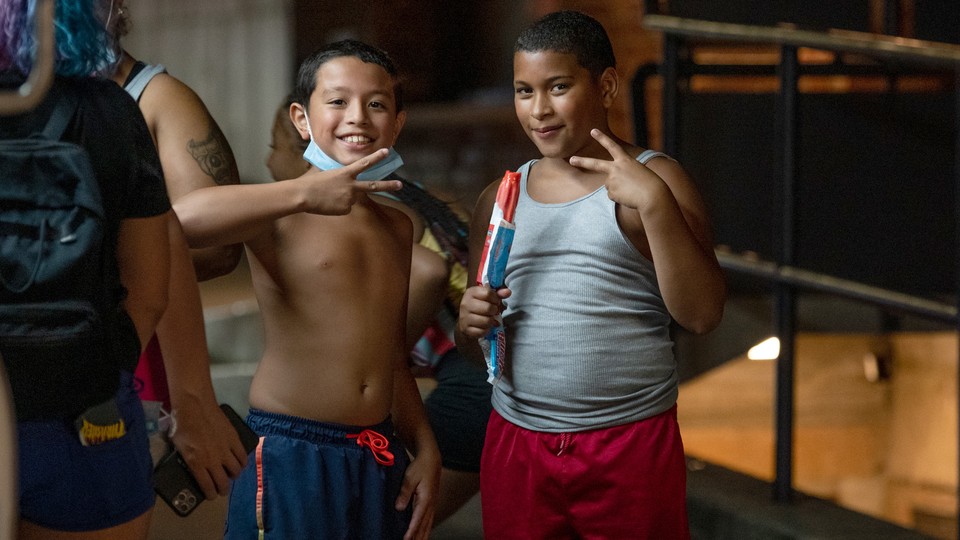 Just south of downtown Brooklyn, right beyond the brownstones of Boerum Hill, are the Gowanus Houses: a foliage-covered public-housing complex, home to mostly Black and Latino families. Like the majority of residents in New York City, mostly everyone here has stayed amid the pandemic, and a good few said they wouldn't have it any other way.
"Why would I go anywhere? This is home; I was born around here, been here forever," Jaime Gonzalez, a 51-year-old man who lives near the houses, told me, as we stood beside a store across the street from the complex. Gonzalez, who asked only half-jokingly if I was an undercover cop before agreeing to speak with me, doesn't care much for the news media. So he hadn't heard about the Very Online backlash to reports of the city's fleeing wealthy and, specifically, to the New York Post essay titled "New York City Is Dead Forever."
After I described the gist of that piece, which many have called elitist, he shrugged his broad shoulders, shrouded in a large light-blue polo. "That's just talk," Gonzalez said. "People just like to hear themselves talk." Jumping, unprompted, into the class politics of the debate, he added, "Just because you have a master's degree in English, or something else, that doesn't mean you know everything."
Gonzalez's surroundings, lively as ever, lent credibility to his dismissiveness: One of his friends was playing with her dog and bantering with a young woman as they nodded to bachata blasting in the background—a Brooklyn scene typical of any August. Another friend, whose work shifts have been reduced to three days a week because of the pandemic, hung nearby talking on the phone, casually stroking the pet python draped around his neck. As Gonzalez chatted with me—about his disdain for the snake and for increased rent, and about how his elderly mother contracted and survived the coronavirus—he paused to say hello in Spanish or English to anyone he knew passing by, which at one point felt like every fourth man, woman, or child.
That social warmth is just one ray of the city's continued vibrance, particularly in its majority Black and brown boroughs, which were disproportionately affected by the virus. The stubborn buoyancy of the city this summer—even if muted by uncertainty, mask wearing, and social distancing—doesn't mesh with the desperate-sounding accounts presented by some cable-news programs and mainstream news outlets. And it certainly isn't reflective of the apocalyptic depictions offered by some conservatives, such as the 73-year-old actor James Woods, a prominent supporter of President Donald Trump. Woods, whose videotaped drive through a barren, boarded-up stretch of Midtown went viral in mid-August, described the city as the "once mighty New York under Democrat rule."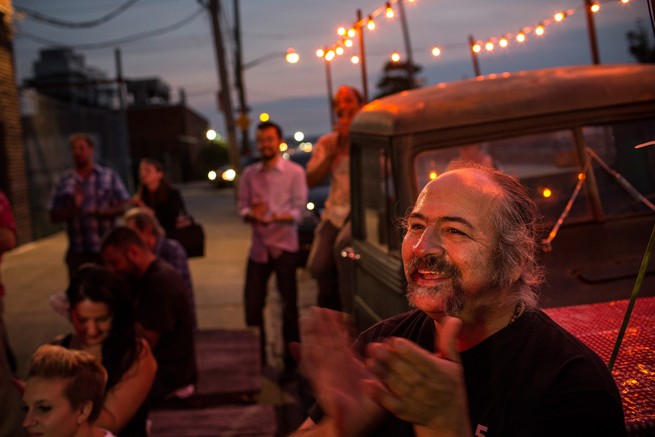 It's true that rental vacancies in New York City are at historic highs, that some streets are eerily sparse when juxtaposed with their pre-coronavirus "City that never sleeps" persona. And the city's unemployment rate, which stands at about 20 percent, according to the state labor department's latest calculation, is a tragic fact, particularly since Congress let the federal unemployment supplement expire in July. Yet it's also true that New Yorkers—the majority of whom do not live in the wealthiest corridors of Manhattan—don't seem particularly injured about, or engrossed by, the perceived loss of Manhattan as a playground for the rich.
The consulting and finance bros of the Village, Murray Hill, and the Lower East Side may be stuck at their family home in North Jersey or Connecticut (if they're younger), or lodged in some Instagrammable enclave (if they're older). But the Rockaways, on the southern edge of Queens, 16 train stops from the edge of Manhattan, have been whizzing on any given weekend with a welcoming middle-class medley of energy. If you walk, as I did, to the beach there, and (in accordance with New York regulations) take off your mask, nap in the hot sand, and splash into the cool sea, then it can almost feel as if there is no pandemic. The Atlantic Ocean water coursing in between your toes in that moment is no different from the Atlantic Ocean waves brushing up against the affluent shores of Fire Island or the Hamptons.
---
The "Why I'm Leaving New York" essay genre began in the 1960s with Joan Didion's "Goodbye to All That," an elegy about her leaving Manhattan behind because, as she wrote, "at some point the golden rhythm was broken, and I am not that young anymore." The category was brought to life again in the late 2000s and 2010s, largely by the city's blogging creative class, as the pay cuts and layoffs of the recession lingered and the cost of living soared. During the coronavirus pandemic, a new iteration of this essay has arisen, tilted toward health concerns, but nevertheless imbued with class privilege—which, in American cities, always intersects with race. The New Yorker columnist Masha Gessen considers this intersection with their own entry into the "why I'm leaving" genre, writing: "'Do we want to be those people?' my daughter, Yolka, asked. She meant, Do we want to be the rich white people who leave the besieged city because they can? 'Yes,' I said."
New York was plagued by cycles of inequality long before it was plagued by COVID-19. "Wealthy white people may be leaving cities for the suburbs, just as they did decades ago," Eric Klinenberg, a sociology professor at New York University, told me. "And the horrible thing for Black and brown urban communities is that they suffer either way." When white families fled cities in the '60s through the '80s, crippling divestment followed. A "renewed appetite for urban amenities" brought cities back to life, Klinenberg said, but that growth was racially exclusionary, as anybody who has read about gentrification or been on the wrong side of its effects knows. "We're all watching something similar play out now," he said, with the caveat that it is too soon to know whether the current outflows are "temporary" or "durable" relocations.
Regardless of the result, pre-pandemic New York is as likely to come back as Sex and the City New York—or the Do the Right Thing, Taxi Driver, or Mad Men New Yorks before it. More than 19,000 people here have had their life cut short by the coronavirus, and a third of the city's businesses may close. In the crannies of every borough, several memory-filled neighborhood staples are already gone. But New York isn't dead—it's as vital as ever, just changing, for a while or forever, like always. Perpetual shift is the only rhythm this city knows.
In his wrenching post-9/11 essay, "The Way We Live Now: 11-11-01; Lost and Found," Colson Whitehead wrote, "No matter how long you have been here, you are a New Yorker the first time you say, 'That used to be Munsey's' or 'That used to be the Tic Toc Lounge.'" He argues, "You are a New Yorker when what was there before is more real and solid than what is here now." The city feels indeterminate this summer, but that has only heightened the appreciation of the constants that remain. The large playgrounds at the Marcy Houses in Bedford-Stuyvesant, Brooklyn, are still home to an interplay of children's laughter and 20-somethings' music. In Liberty Park, Queens—where my barber, at last, can give me a haircut—the old blue-collar white guys still nod to passersby as they mow their front yard. At Brooklyn Bridge Park, I saw how happy hour has moved outdoors, and I eavesdropped on picnic rendezvous between young couples and circles of friends. In Central Harlem, '80s and '90s R&B still thumps from the late afternoon to the late evening, vibrating in your chest.
But the cold will come, the outdoor recreation will end, and the virus won't be gone. What form of life arrives after that, no one knows. For now, residents linger outside for a while longer at dusk, soaking up as much of summer as possible. Inhaling what still feels like their city, as though they can make it through this winter if they absorb enough of what's left.