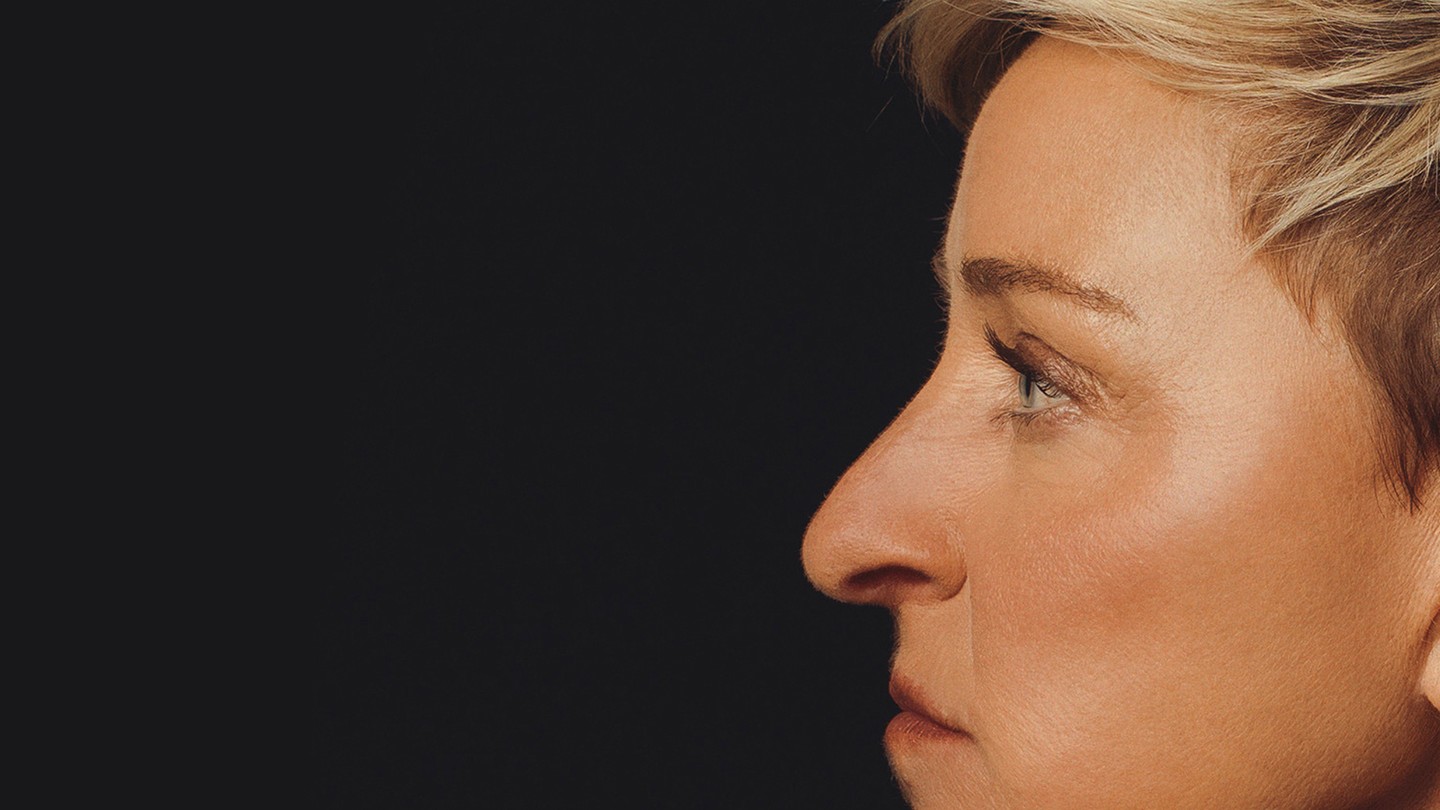 What Ellen's Kindness Concealed
The recent scandal at her talk show suggests that the host's smiling facade covers up something dark—and hints at why that facade had to be created in the first place.
The Ellen DeGeneres Show features a recurring segment, called "Cash for Kindness," that spreads good cheer by lying to people. DeGeneres will send a producer or an audience member out into the world to pretend to be some harried worker—a cater-waiter, a delivery person, a birthday-party magician—and then, in spectacular fashion, spill whatever they're carrying on the sidewalk. As potatoes go rolling or greeting cards flap in the wind, a trap is laid. DeGeneres watches through hidden cameras to see which passersby do, or don't, stop to help pick up the mess.
The bit is funny because it is mortifying. Speaking into her producer's wireless earpiece, DeGeneres feeds her staffer ever-more-distressing banter to recite: There's an engagement ring in the tiramisus! The greeting cards are supposed to be in alphabetical order! The strangers who stop to help are, you may suspect, a bit nervous that they've been roped into some scam—or maybe worse, roped into a situation that will expose the limits of their time, means, or generosity. Eventually, the undercover staffer reveals that they work for Ellen. The random Good Samaritan is brought onto the talk show's set, and DeGeneres hands them cash: a reward for being kind, but also, it feels, payoff for being messed with.

Like any good prank, especially the pranks DeGeneres loves, cash-for-kindness revels in voyeurism, deceit, and discomfort, all of which get forgiven in the name of a laugh. Yet, like so much of DeGeneres's comedy, this mischief doubles as do-goodery. It is part of DeGeneres's grand campaign to merchandise kindness—which is also seen when she says "Be kind to one another" at the end of each show, or when she gets taxi drivers to hug Uber drivers on air, or when she hawks kindness-themed subscription boxes for up to $250 a year. Her aesthetic of cream colors, goofy grins, and uplifting tears, along with her amusing displays of light sadism, have earned her a $330 million empire, a raft of Emmys, and the Presidential Medal of Freedom.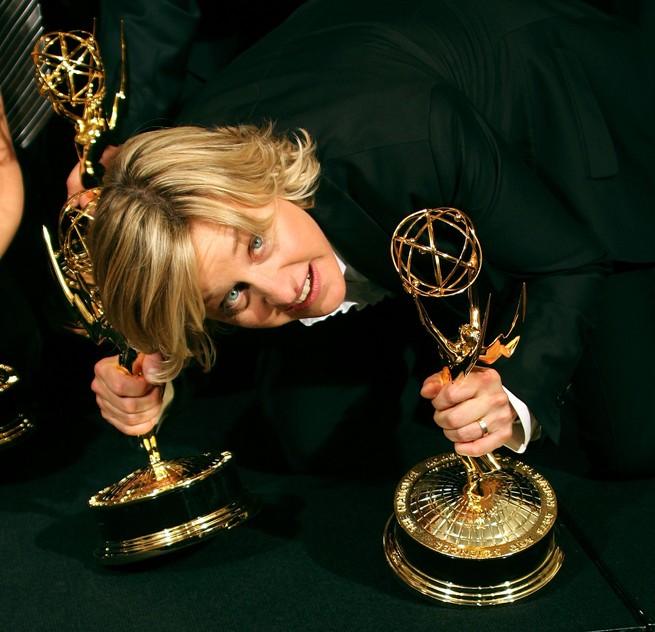 Recent accusations against DeGeneres and her show's set raise the question of whether her kindness rhetoric covers up something darker. In two BuzzFeed articles last month, Ellen DeGeneres Show staffers alleged sexual harassment, racism, and abusive management by DeGeneres's top deputies. The accusers disagreed with one another about the extent to which DeGeneres herself was complicit, and she has asserted ignorance of any malfeasance. "I'm so, so sorry for what this has become," DeGeneres reportedly told staff on a video call announcing the firing of three producers accused of abuse. "I've left this to be a well-oiled machine, and I realize it's not a machine … it's human beings." The workplace complaints also drew attention to a number of unverified stories about DeGeneres acting callously to fans, entertainment professionals, and service workers, hinting that DeGeneres has, as Kathy Griffin put it in 2016, a "mean streak that all of Hollywood knows about." DeGeneres, who previously dismissed rumors of rudeness as lies, last week told employees that she apologizes "for anyone whose feelings I've hurt."
Part of what's extraordinary about the scandal is how ordinary it is. On SNL, Fox News, and The Rosie Show, for instance, the history of live-taped TV is a history of hostile workplaces, sexual predation, and tempestuous bosses. Celebrity rudeness is so pervasive that it helps fuel a whole industry of gossip publications, and so-called diva antics never canceled the careers of, say, Christian Bale or Aretha Franklin. Yet DeGeneres may well be held to a different standard than other entertainers—because her product is her own persona, because she has centered that persona around niceness, and because the same cultural forces that led her to create that persona still exist today. To look back over her career now is to wonder whether the secret, bitter ingredient in her success has been revealed. Softness has long been her shield—and this scandal, on some level, shows what it was protecting against.
---

Telling her life story for Oprah's Master Class in 2015, DeGeneres begins with a memory of being 10 years old and rescuing a baby bird that other kids had been poking with a stick. The anecdote, she says, reveals that she was always paying attention to things other people weren't paying attention to. But it also fits with DeGeneres's habit of projecting saintliness in unsubtle ways—she told Larry King in 2004 and her Master Class audience in 2015, "I think I'm a good person"—and highlights her abiding love for the animal kingdom. In an early stand-up routine, DeGeneres joked that people should shoot burglars rather than deer. Among the recent complaints from anonymous staffers is an account of her freaking out at the phrase "pulling a rabbit out of a hat," because it sounds like it would be painful to the rabbit.
If she sometimes seems to prefer animals to people, she may have good reasons. Born in Metairie, Louisiana, to Christian Scientist parents, she moved schools frequently and was, from an early age, a "tomboy" who used comedy to earn acceptance from her peers. Her parents divorced, and her mom then married a man who DeGeneres says sexually abused her in their home. When she came out to her father as gay, he asked her to move out of his house for fear of the influence she might have on his stepdaughters. Another horrifying foundational story: When DeGeneres was in her early 20s, her girlfriend died in a car crash on the way back from a concert they'd both attended. At the time, the two women were in a fight, and DeGeneres's girlfriend had attempted to reconcile with her at the concert. DeGeneres pretended she couldn't hear her over the music, and ended up driving past the fatal wreck on her way home.
Her grief over that loss would feed into the stand-up routine that propelled her to fame as a 27-year-old making her debut on Johnny Carson's The Tonight Show. The 1986 set displayed her easygoing, pseudo-airheaded wit—think Dory from Finding Nemo—with punch lines fusing absurdism and banality. In a now-legendary bit, she pretends to call God to ask about the mysteries of life and then gets impatient as He tries to tell her knock-knock jokes. Carson, in a sign of approval that he'd never before given a female comic, invited her to chat with him on air after the performance. "It's always tougher for a woman to do comedy," Carson told her. "Because [people will] accept a little more aggression in men." DeGeneres agreed, saying, "I think men can get away with a lot more, which is understandable, I think."