Ellen's Celebrity Defenders Aren't Helping Her
The comedian's employees say that fame has enabled callousness and abuse on her show. The warm testimonies of her superstar friends highlight their point.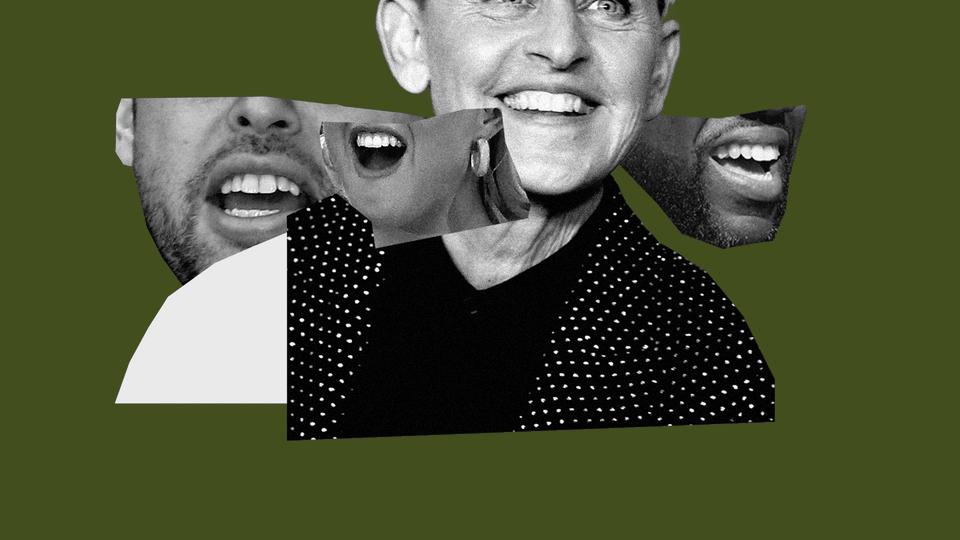 Famous people want the world to know that Ellen DeGeneres is nice to famous people. Addressing media reports alleging a culture of harassment and bullying at DeGeneres's talk show, the singer Katy Perry tweeted Tuesday that she's "only ever had positive takeaways from my time with Ellen." Ashton Kutcher, Kevin Hart, Jay Leno, Diane Keaton, and the superstar agent Scooter Braun have all recently made similar declarations about DeGeneres's kindness, so as to push back against claims painting her as callous toward staffers, fans, and other entertainment-industry figures. "Looking forward to the future where we get back to loving one another," Hart wrote, blasting those who have criticized DeGeneres and called for her to step down. "This hate shit has to stop."
For all of this defense squadron's star wattage, they've succeeded only in underscoring the point of the backlash against DeGeneres. What's been alleged isn't that she's mishandled her celebrity guests. It's that the reality-distortion field of celebrity has led to the harm of regular people—and that DeGeneres's private conduct is out of line with her glad-handing persona.
In two recent BuzzFeed articles, former and current Ellen DeGeneres Show employees describe sexual harassment by three top producers, racism against a Black staffer, and a generally abusive workplace at which, to cite one anecdote, a manager allegedly once flipped a table in rage. Two alleged sexual harassers, the producers Jonathan Norman and Kevin Leman, have denied misconduct; one, Ed Glavin, hasn't commented on the harassment allegations and is reported to be leaving his job. WarnerMedia, the show's parent company, has launched an investigation. And DeGeneres, in a statement to her staff, expressed regret that any behind-the-scenes mayhem happened without her knowledge, saying, "My name is on the show and everything we do and I take responsibility for that."
The BuzzFeed reporting builds upon a growing public skepticism toward DeGeneres. On camera, she peddles feel-good comedy with the slogan "Be kind." But when the coronavirus pandemic shut down Hollywood sets, staffers on her show were allegedly left in the dark for days about the status of their employment. Around the same time, a viral tweet from the comedian Kevin T. Porter called DeGeneres "notoriously one of the meanest people alive," thus soliciting a flood of (uncorroborated) stories about DeGeneres being cold or rude to fans, service workers, and industry professionals. DeGeneres's bodyguard at the 2014 Oscars then went public with his account that she was "kind of demeaning" toward him, and a former longtime DJ for The Ellen DeGeneres Show has now posted to confirm the "toxicity of the environment" on set.
The situation evokes that inescapable buzzword, reckoning. But a reckoning about what? There is a #MeToo dimension in the allegations that Glavin, Norman, and Leman groped staffers. Racism surfaces in the stories of the Black producer who alleged, in one example, that a writer on the show talked about knowing only "the names of the white people who work here." Political tensions frame the entire affair, too: DeGeneres, a gay icon, lost some fans in 2019 when she palled around with same-sex-marriage opponent George W. Bush and gave cover to Hart's homophobic comedy. But the catchall issues are indecency, hypocrisy, and complicity—and the way all three are enabled by power.
In BuzzFeed's reporting, anonymous Ellen staffers disagree about whether DeGeneres was aware of her workplace's problems. One source said that "everyone acted really differently around" DeGeneres, allowing her to remain clueless. Another employee: "For someone who's so involved in the show and the creative aspect, and having been in those meetings with her, it's very hard for me to wrap my head around the fact that she doesn't hear the same whispers … Unless she really is just in this bubble." Another take: "She knows shit goes on, but also she doesn't want to hear it."
The notion of DeGeneres maintaining a "bubble" that separates her from the people who make her show squares with other aspects of the outrage against her. The Australian TV exec Neil Breen said he was instructed by her staff to not look at or approach DeGeneres while she was a guest on a talk show he worked on. Tom Majercak, the Oscars bodyguard, said DeGeneres treated him as though he didn't exist. Public snafus have also erupted over her appearing out of touch on-air, such as when DeGeneres compared quarantining in her glass-walled mansion to being in prison. An awkward viral clip from her show in which the actor Dakota Johnson called out DeGeneres about a party invitation hinted at the phoniness of the host's aw-shucks routines. The actor Brad Garrett now says DeGeneres's pattern of treating staff "horribly" is "common knowledge," and the actress Lea Thompson chimed in with agreement.
A #ReplaceEllen campaign trended this week on Twitter, and Us Weekly's sources claim that DeGeneres may quit, though the show's executive producer tweeted, "Nobody is going off the air." If she does end up being canceled, literally or figuratively, that may speak to some shifting norms around celebrity conduct. After all, it's not exactly unheard of for stars to be rude to normal people. Nor is it news that figureheads are often insulated from the ugly day-to-day machinations of their organizations. Given Amy Klobuchar's and Mike Bloomberg's continued political viability, America still seems to tolerate high-handed bosses. DeGeneres's particular firestorm may stem from an unusually combustible mix: the sheer accumulation of stories about her, the insistence with which she has built a brand around niceness, and—she might argue—the outsize scrutiny that comes with being a openly queer woman.
Hearing DeGeneres forthrightly engage with her critics and examine her own conduct would be illuminating. Instead, thus far, her most prominent defenses have come from famous guests who say they've gotten along with her. But the notion that DeGeneres's warmth toward celebrities speaks to her fundamental decency does not merely miss the point of the allegations. It exposes the cultural dynamic that gives these allegations weight: that fame can enable monstrousness. Tellingly, even some of the celebs rallying to DeGeneres's side seem to realize the problem here. "In the entertainment business, sometimes people can go too far in pursuit of a creative or commercial goal," Alec Baldwin tweeted. "Or people who work for you may do so. Having stated that, @TheEllenShow has always been kind to me. So ... there's that."