What Happens When You Let 1,000 Teenage Boys Run a Government
A new documentary about a high-school civics experiment suggests that young Americans simply imitate the flawed electoral politics they see in their country.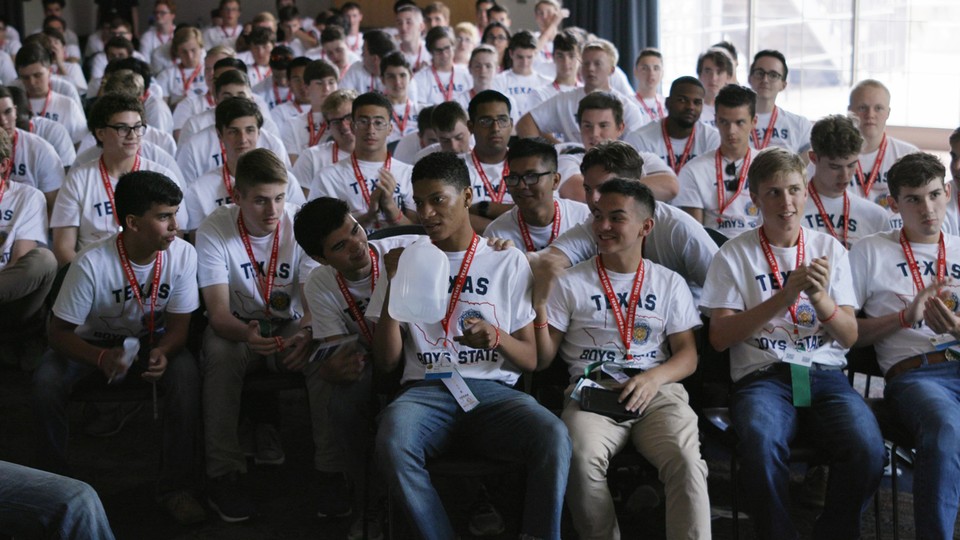 Boys State is a documentary about a high-school civics experiment that doubles as a nerdier, nonlethal Lord of the Flies. Every year, more than 1,000 young men, age 16 or 17, descend upon the Texas State Capitol to participate in a mock government: They split into political parties, elect members to offices including caucus chair and Supreme Court Justice, and vie for the highest position—governor. One could come away from the film either hopeful for the future because of the impassioned young people participating, or despairing at the partisan gamesmanship and cheap tactics that so many of them deploy to come out on top.
In other words, the documentary tells the story of America's political present. The compelling project premiered on Apple TV+ Friday—fewer than 100 days before what's expected to be a bitterly contested election consumes the country. (Laurene Powell Jobs, the president of the Emerson Collective, which is the majority owner of The Atlantic, is one of the film's executive producers.) Jesse Moss and Amanda McBaine's documentary, which debuted at this year's Sundance Film Festival, features dynamic young people whose hearts seem to be in the right place. But in just one week of action, that thrilling optimism crashes into the brutal realities of modern politics and performative teen masculinity.
Boys State (and its sister program, Girls State) is run by the American Legion in locations around the country, and famous alumni include Bill Clinton, Dick Cheney, Cory Booker, and nonpoliticians such as Michael Jordan and Bruce Springsteen. Upon arriving in Austin, Texas, the students in the film are divided into two parties—the Federalists and the Nationalists—and tasked with developing political platforms and slates of candidates to run against each other. The exercise is meant to encourage compromise and consensus-building. What results is, unsurprisingly, far more complicated.
Moss and McBaine render the entire program as a gripping competition, focusing on different "star" characters. The teen cohort's politics seem to lean rightward, perhaps reflecting Texas's status as a red state, but the film foregrounds participants from across the political spectrum. Much more fascinating than the students' beliefs, however, is the ways their debates echo the hard-line partisanship of contemporary politics, rather than imagining what a different future could look like.
In the film, the Nationalist and Federalist parties have fierce internal debates over abortion rights and gun control, in which many students recite canned lines that would be at home on cable news. One participant named Robert Macdougall, a charismatic teen with his eyes on the governorship, admits to the camera that he is personally pro-choice, despite taking a hard-line anti-abortion stance in public. "I'm playing this like a game," he says. "Sometimes you can't win on what you believe in your heart." Other splinter groups draw oversize attention to headline-grabbing concepts such as secession from the United States or the impeachment of elected leaders, despite the infeasibility of getting majority support for them.
This is how Boys State starts to feel depressingly realistic. In it, young people don't chart a better path for the country; they simply mirror the way things are. Most of the students involved, even the cynical politicos and the high-spirited rabble-rousers, seem pleasant and engaged. When tempers rise, the arguments still play out with a modicum of political decorum. But that's part of the problem: The veneer of civility and good gamesmanship doesn't do much to solve these kids' inability to compromise.
The film's biggest star is Steven Garza, a soft-spoken Latino teen from the Houston area who says his interest in politics germinated during Bernie Sanders's 2016 presidential campaign. Though Garza is not shy about his left-leaning politics, he becomes something of an underdog hero on campus because of his unshowy style of public speaking. As the film's narrative narrows onto the big gubernatorial election in its last act, the path of Garza's candidacy is its most captivating arc, playing out in parallel to the gung-ho conservatism of Ben Feinstein, a rival who is more adept at marshalling public opinion with scandal-focused shock tactics.
Yet, Boys State is most engaging when it focuses on small moments of tenderness, rather than testosterone-fueled anger. Moss and McBaine's roving cameras discover surprising snapshots of friendship and support blossoming among the Nationalists and Federalists, even as they loudly voice their disagreements with each other. So even as I fretted over the frustrating familiarity of the debates—with little acknowledgment of the kinds of environmental and fiscal issues that future generations might have to worry about—I exulted in any instance of empathy or compassion, hoping they were promising signs. Boys State is both inspiring and occasionally terrifying, and that befits its gaze into America's political present and future.