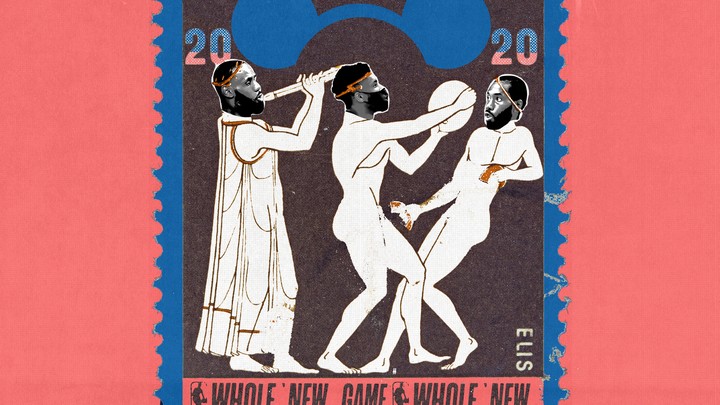 Updated at 9:03 a.m. ET on July 30, 2020.
Earlier this month, in the days following the first full moon of the summer solstice, NBA athletes and personnel who were scattered around the world amid the coronavirus pandemic descended on Orlando, Florida, and entered a bubble. It was an act of purification with ripples in time that span nearly 2,800 years.
In another era, Orlando would have been Elis, the Greek city-state that housed the ancient Olympic Games for the first millennium of its existence. Competitors were to reach Elis by the summer's first full moon, which marked 30 days before the start of the Games. That month was meant to be a grueling stretch, weeding out the competition through a gantlet of brutal physical training; a regimented and uninspiring diet, which weaned athletes off indulgences such as wine and dessert; and the curbing of sexual activity. Preliminary reports from inside the NBA's Walt Disney World Resort campus have poked fun at the tepid food offerings, while the ESPN personality Stephen A. Smith has pondered the likelihood of players breaking the bubble to address their sexual frustration. Athletic history, it seems, has come full circle.
The NBA has spent upwards of $170 million to create a workplace environment suitable for the chaos of 2020, but the script it's following is age-old. Susan Brownell, an anthropologist at the University of Missouri at St. Louis whose work often explores the role of sports, told me: "Creating a successful bubble that keeps the infection out, and then holding games that are broadcast across the world, that allow people to vicariously experience a world without the pandemic—I mean, that's entirely in line with the way sport typically functions in society as a symbolic performance."
Read: Athletes during the pandemic are learning what fans have always known
The ancient Olympic Games were held at a sanctuary in honor of Zeus, a common ground that brought feuding city-states together in an athletic truce. It was a liminal space separate from the realities of war, an apolitical competition that, ironically, presented the ultimate political ideal of order and harmony. Such gatherings have created a platform on which society can play out its most pressing "ideological dramas," as the sports historian Mark Dyreson put it to me. Athletes insulated from reality and the regular rules of society: This is the kind of symbolic bubble that sports has customarily occupied. Modern versions have taken on the tenor of politicized social experiments. We've seen it in the resurrection of the Olympic Games and all the ways they've interfaced with war, in Jackie Robinson's crossing of baseball's color line, in the tidy myth of the soccer match waged in a Christmas truce during World War I.
The NBA's Disney World project begins in earnest today with two regular-season games, 141 days after the league's March 11 suspension. It boasts a different kind of bubble, an isolated ecosystem maintained in order to safely resume play during the pandemic. The campus has three hotels and three athletic complexes, golf courses, bodies of water to fish in, barbers, and movie screenings, all engineering a sliver of normalcy for the 22 teams in attendance, and, by proxy, their insatiable fans around the world. But of course, the NBA's bubble is also a politicized social experiment. This reality has engendered a sort of ouroboros effect: The physical bubble creates a tangible structure that allows sports' symbolic bubble to carry on during extraordinary times, but the physical bubble relies on the power of the symbolism to justify its existence amid more urgent public concerns. As the bubbles converge, their codependence is a fragile balance maintained through faith. And faith, these days, is easily swung by a volatile news cycle.  
The league is aware—and wants its viewers to know it's aware—of this balancing act. This is clear in how NBA Commissioner Adam Silver has discussed the league's return. "We've got a pandemic on our hand, we've got enormous social unrest, clearly a recession, could get worse depending on what happens with the virus," he told Time last month. "I think there are a large group of people who are looking forward to seeing, 'All right, can the NBA find a way to get going again?' And not just for basketball. But maybe it is a model for other industries, and a model for broader society. You've just got to fight through these things."
Read: My soccer fandom is out of shape
The idea of fighting through these things reads awkwardly at a time when Florida is currently one of the world's hotbeds for the coronavirus. The state has seen at least 72,143 new cases over the past week, which equates to 336 positive tests per 100,000 residents, the highest per capita rate of any state in the country. The NBA may be seeking to offer a positive model for safety compliance in the U.S., but it and its legion of brand sponsors are simultaneously selling a renewed possibility for escapism, a relief valve even amid the pandemic.
Whatever escapism the NBA's return promises also won't come without the persistent imagery of the campus's commitment to social justice, sanitized by Disney's corporate magic. Following the lead of the WNBA, the NBA has woven this cause into the mission of its relaunch. The words Black Lives Matter are emblazoned on the arena floor above center court. Players were given the option of replacing their name on the back of their jerseys with one of 29 approved social-justice messages; some of the rejected slogans were soon repurposed and printed onto branded T-shirts authorized by the NBA and the league players' association.
The scope of the NBA's ambitions, in other words, has almost nothing to do with basketball and much more to do with absorbing the nation's present traumas in one sweeping, symbolic charge. The NBA is hoping to nail an impossible dance: Sell escapism, while constantly reminding viewers what basketball might be able to serve as an escape from. But that paradox is nothing new to sports. "These 'bubbles' are always underpinned by mixed motives," Dyreson said. "Silver, NBA managers, players, and coaches, and even the corporate suits want to be on the right side of history … They also know that packaging their wares in whatever the best 'virtue signaling' [is] currently reigning in pop culture can bring lucrative profits."
Jemele Hill: The game cannot go on
The result, so far, has been occasionally dissonant. On July 20, the NBA reported zero positive cases of COVID-19 among the 346 individuals tested on the Disney World campus, a morale boost for the sports world; the same day, Florida reported its sixth consecutive day in July with at least 10,000 new cases. Team members have exited the bubble to tend to family emergencies. Security and distancing measures have cut off reliable media access; athletes have instead redrawn the terms of engagement. Players have used media availability time to redirect basketball-related questions from the press, responding with calls for justice for Breonna Taylor, a Louisville, Kentucky, EMT who was killed by police officers on March 13; in response, the league and its players have discussed the possibility of holding additional press conferences to discuss social issues aside from basketball.
The NBA has chosen to embrace this complicated moment, but it can't speak for everyone. Yesterday, an ESPN investigative report revealed allegations of physical abuse and misconduct at NBA China academies in Xinjiang, an autonomous region in China that has seen mounting evidence of human-rights abuses against the Uighur people, a largely Muslim ethnic minority. The allegations once again highlighted the NBA's growing ties to China, a relationship previously made complicated last October when Daryl Morey, the general manager of the Houston Rockets, tweeted in support of Hong Kong's pro-democracy protests.
"When you combine the [classic sports] bubble with volatile times—think Berlin in 1936 or Mexico City in 1968—you sometimes get moments that defy the control of those staging the bubbles," Dyreson said. "The tighter the NBA, Disney, and ABC/ESPN squeeze in an effort to be all things to all consumers, the more I wonder about the narrative slipping through their fingers."
Despite its efforts, the NBA is not returning in a vacuum. Earlier this week, the Miami Marlins canceled their MLB home opener after at least 17 players and staff tested positive for COVID-19, threatening the viability of the league's 60-game season after only four days of play. (The league is not using a bubble model; despite it issuing a 100-plus-page safety protocol, its teams will still log thousands of air miles traveling should the season continue as constituted.) MLB Commissioner Rob Manfred has expressed optimism in finishing the season, but noted that it would certainly shut down should the number of positive cases render a team, or the league, "noncompetitive." And so, even if the NBA plays out the rest of its season without any major issues, a measure of doubt and unease will surround sports' decision to return. Should the MLB's experiment collapse, and should the NFL face similar hurdles later this summer, the ragged rate of success would still reveal a fracture in the commonwealth of U.S. sports.
Read: Baseball's strange and poignant return to TV
Sports relies on both the evidence of and belief in progress. It's expressed in time, in numbers, in bodies in motion. There will always be an eye fixed on the game clock, on pitch counts, on who can step up as a replacement, on which young prospect might one day save a franchise. But making progress in a pandemic can look a lot like immobility. Meanwhile, the path toward racial justice is far more complicated than saturating an audience with slogans. The NBA may wish its return to have an easy-to-love message of onward. But the truth is that its symbolism is nothing if not fraught.
Still, maybe these athletic undertakings—these physical dramatizations of life as it could be, set apart from society—serve a particular sort of purpose. Perhaps the sports-bubble concept persists because it has to. Because it's a tool humans have used for millennia to collectively imagine a way forward. "We just don't have a great theory—or if we do, it's just speculation—about what the world would be like if we didn't have [sports]," Brownell, the anthropologist, said. "It's a real interesting test as to whether people can do without [sports], with all of these sorts of assemblies of human bodies getting together to share, in essence, a vision of a better world."
As the NBA resumes its season, I will certainly feel uneasy. The queasy underbelly of the entire endeavor is unavoidable, given Florida's steady rise in cases over the past month, and given the bleakness of Disney World just beyond the NBA's constructed walls. Numbers and statistics will run parallel: defensive rating, total cases; points per 100 possessions, average daily cases per 100,000. I expect myself to hold those realities simultaneously. It's the only way to keep the bubble from bursting.
We want to hear what you think about this article. Submit a letter to the editor or write to letters@theatlantic.com.
Danny Chau
is a writer and editor. He was a James Beard Foundation Award finalist in 2019.