The Song of the Summer Is in Chaos
America's biggest hits right now aren't particularly sunny, but what does popularity even mean during a pandemic?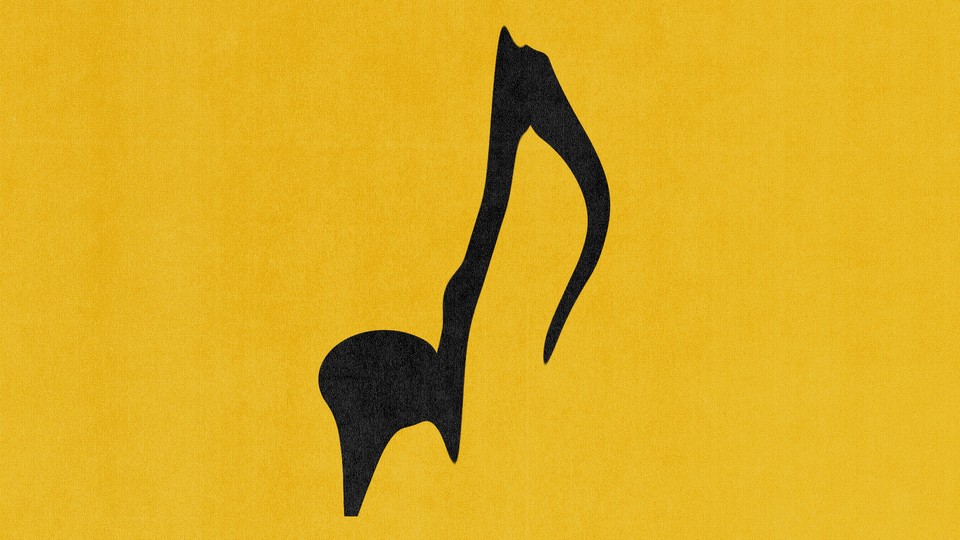 What does summer sound like this year? I can only speak for myself, and the answer is that summer sounds like a cartoon character singing over a scratched reggaeton CD. "Mequetrefe," by the Venezuelan experimental musician Arca, has lately been my default get-moving song, though the places I have to get moving to are mostly the couch and the grocery store. The song is a mess of glitchy noise, with a catchy, hopeful groove that disintegrates and reconstitutes. Restless energy, unpredictable disruption, and sunshine—it's very now.
A song this abrasive would ruin the average beach party or baseball game. But we aren't really doing beach parties or baseball games at the moment. Though the effects of the coronavirus pandemic are unequal across different places and identity groups, the crisis is making the warm months weird for everyone. Which, among many other things, disrupts the notion of a singular "song of the summer." Can one great bop unite the sweltering, socially distanced masses?
The annual song-of-the-summer race has always been mostly a pretext for having fun arguments. After all, it's simplistic to think that some combination of popularity, major chords, and supposedly "tropical" tropes define a common seasonal experience. But there's no denying that, in past summers, it seemed as if the entire country was dancing along to Los Del Río's "Macarena," Katy Perry's "California Gurls," Luis Fonsi and Daddy Yankee's "Despacito," or Drake's "In My Feelings." The mythology of the song of the summer honors the shared, in-person amusement culture that threads between mall food courts and sidewalk boom boxes. The pandemic's shutdowns have squelched that culture and made the sonic zeitgeist harder than ever to define.
Which perhaps explains why the U.S. pop charts have been anarchic since COVID-19 arrived. For 11 weeks at the start of 2020, the country's No. 1 song was Roddy Ricch's Hitchcockian rap anthem "The Box." It was finally unseated in early April by The Weeknd's "Blinding Lights," which inspired a TikTok home-aerobics meme apt for the early days of quarantine. Ever since then, the Billboard Hot 100's top spot has been a hot seat, with eight other songs hitting No. 1 and seven of those reigning for only one week. This level of turnover has not been seen since 1990, the year before Nielsen SoundScan revolutionized sales tracking, and may reflect a few structural factors. One is that, except for children's songs and country, people aren't streaming as much music as they were before the pandemic. That means it's easier for any one song to make it to No. 1. Even so, in a technical sense, this year's song-of-the-summer race has a clear front-runner. (Listen to the playlist here.)
"Rockstar," by DaBaby and featuring Roddy Ricch, has been the biggest hit in the country for five of the past six weeks. Its success is not that surprising, given that the relentlessly entertaining DaBaby and coolly skilled Roddy Ricch are two of the biggest rap phenoms to emerge in years. But the track's plaintive guitars and melodies are unusually somber for DaBaby—and certainly don't scream vacation. DaBaby raps about having to wield a pistol "like a cop" in front of his daughter. Ricch vows to "buy blocks in the hood, put money in the streets." The notion that it's a song for a summer of protest rather than pleasure was confirmed when DaBaby gave the track a "BLM remix" and performed it at the BET Awards with an actor putting a knee on his neck.
"Rockstar" isn't the only heavy jam of the season. New, posthumous albums by Pop Smoke and Juice Wrld mean that the voices of rappers with tragically short lives will be booming from car windows all summer. And really, the most important songs of our era may be novelty trap remixes by DJ iMarkkeyz. His syncopated loop of Cardi B screaming "Coronavirus! Shit is real!" remains useful as the pandemic stubbornly continues to not be a hoax. Ongoing protests against police brutality still blast out Johnniqua Charles's cry of "You about to lose yo job!," which can also be heard as a danceable prophecy about a double-dip recession.
The charts encompass some escapism, though even the slickest pop songs have lately had a hyperbolic, frightening quality. The '80s synth-pop exuberance of The Weeknd's "Blinding Lights" is just as fun as it was in April, and its lyrical narrative about social isolation is just as creepy. When Beyoncé remixed Megan Thee Stallion's "Savage," it became a frenzied pageant of raunch; whatever you might be inspired to do as Queen B bellows about OnlyFans, relax isn't on the list. Another super-jolting smash is Lady Gaga and Ariana Grande's "Rain on Me," which reduces electronic dance music to its chemical essence as two divas cry out about making the best of horrible circumstances.
Harry Styles has arguably mounted the most traditional campaign for song of the summer with "Watermelon Sugar," a now-surging single off his December nostalgia-rock album. With a trembling vocal performance and lyrics comparing a lover to "the end of June," the song is so airy and wistful that it threatens to waft away. The music video, portraying a cuddle party on the beach, is "dedicated to touching." But the more telling thing is that the song has inspired a meme in which people act completely zonked on THC.
The song's stoned vibe is similar to that of Justin Bieber's "Intentions," which has a gorgeous, lilting melody that's only slightly ruined by lyrics portraying Bieber's marriage as a corporate merger. Bieber recently Instagrammed himself rapping over a more surprising song-of-the-summer contender, "Whats Poppin," by Jack Harlow, which is currently at No. 3 on the Hot 100. Harlow is a fratty new rapper from Louisville, Kentucky, and on "Whats Poppin," his dexterous performance pulls the listener along as if through a crowded party. "I'ma spend this holiday locked in / My body got rid of them toxins," Harlow boasts, giving what sounds like an optimistic spin on shutdown summer. In a sign that the music industry is betting on the suddenly famous Harlow, the rappers Tory Lanez, Lil Wayne, and DaBaby had already remixed the track before Bieber hopped on it.
None of these songs yet feels like the undeniable juggernaut one associates with the song-of-the-summer title. It's hard to pick apart whether that's because of the songs themselves or a cultural moment in which social fractures feel especially insurmountable. In country-listening enclaves, Luke Bryan's "One Margarita" may be the slam-dunk song of the season. Bad Bunny's "Yo Perreo Sola," a Spanish-language rap track about dancing alone, is shaking other quarantine bubbles. Here at my house, the hits are Arca's sound sculptures, Haim's jauntily depressed new album, Women in Music Pt. III, and the part of Chromatica when Lady Gaga says, "Buh, buh, babble on!" Hopefully we can all get together next summer and sing.