Country Music Can No Longer Hide Its Problems
A genre famously resistant to change and controversy has been jolted by the pandemic and protests.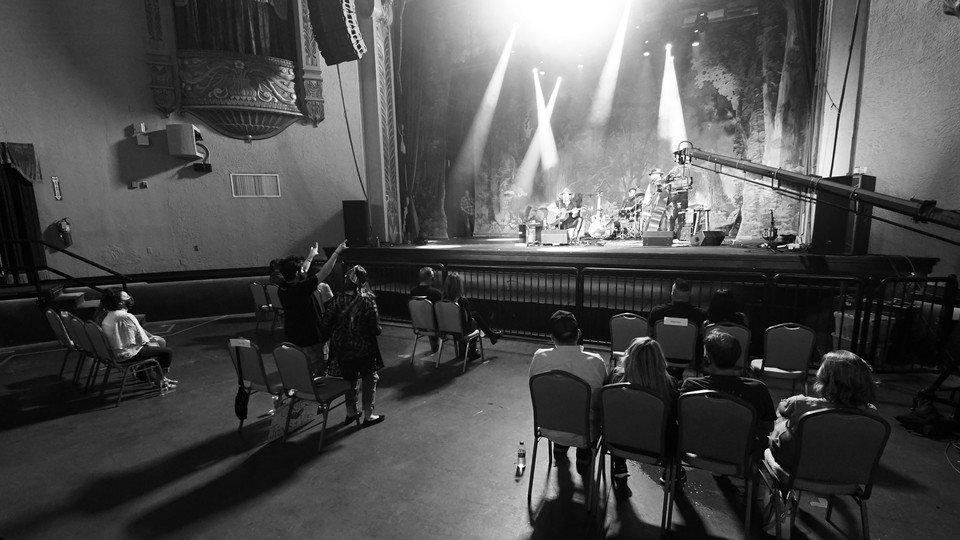 The No. 1 song on country radio at the moment is about the joy of tequila, Jimmy Buffett, and crowds. "One Margarita," by the 43-year-old Georgia-born superstar Luke Bryan, gives a detailed plan for losing one's faculties to lime-flavored frozen cocktails guzzled with friends. In the music video, crowds wearing sombreros gather with beach balls on some nice sandy shore as Bryan presides in board shorts. Unavoidably, some viewers will be reminded of the infamous Lake of the Ozarks splashathon, or of kids who spent spring break in Florida when much of the country was hunkered down with sourdough starter.
But "One Margarita," released in March, is a pre-COVID-19 recording. And at this phase of our interminable crisis, images like the ones in Bryan's video fill me with nostalgia rather than revulsion. Sipping a homemade marg on my couch for the 17th week in a row, I just want to be at that big cheesy beach party. I just want normal.
Perhaps such cravings for the regular ol' times explain why country music, replete with visions of barbecues and backwoods, has thrived during our stay-indoors spring and summer. Ever since America's shutdown began, almost all styles of music have lost streaming listenership. Country's popularity, on the other hand, has risen: The genre has averaged 11.1 percent more plays since mid-March. There are multiple theories for why this is, but what seems true in any case is that country's love for a feeling of normalcy is alluring. As a slew of recent scandals and scuffles have demonstrated, however, not even Nashville can maintain the status quo anymore.
While pop tends to envision one big night where you transcend your boring condition, and hip-hop often touts material success turning an ordinary life into an extraordinary one, country fetishizes the day-after-day realities of homes, highways, and beer halls. There are exceptions, but typically it's a genre in which work and family and place all are held up as things that must be defended. You can hear the fierce attachment to the familiar, for example, in the new single "More Than My Hometown," from the hitmaker Morgan Wallen. The Tennessee singer describes a storybook romance with some woman, but when she wants to move to the city, he bids her farewell, explaining, "I can't love you more than my hometown."
How does a genre in love with routine respond to a moment in which everyone's lives have been disrupted? One way is by pretending everything is fine—with the psychological escape provided by a song like "One Margarita," but also perhaps in more concrete ways. It feels telling that the rural-ish and red-voting areas like Georgia and Texas where country music thrives have in many cases been slow to implement shutdowns and quick to reopen. Even as infections have spiked in such places, control measures such as mask-wearing have proved especially controversial. The country-music industry, to be clear, has largely supported pandemic-containment measures, and most of its large events have been canceled. But the genre's also been home to artists and fans insisting that, one way or another, the show should go on, shutdown be damned.
In May, the singer Travis McCready played the nation's first socially distanced concert at a theater in Arkansas in which fans sat spaced apart. The performance could be a model for concerts in the pandemic age, but as one TV reporter put it when surveying footage of fans in masks quietly watching McCready, "Boy, it sure looks like a library." Two months later, more boisterous and controversial country concerts were held: The singers Chase Rice and Chris Janson each played to close-packed, predominantly maskless crowds in Tennessee and Idaho, respectively. Both men bragged about the shows on social media, and both had previously recorded songs criticizing pandemic-containment efforts. Rice's lyrics on Instagram in March went like this: "Dear corona, you don't know the heart of a country fan … We're gonna show up, hold our drinks high, sing them songs about trucks and beer." Janson had sung in April, "We weren't made to stay inside / I can't watch my country die."
Rice's and Janson's social-distance-flouting concerts triggered widespread condemnation, including from many prominent country-music figures. "Imagine being selfish enough to put thousands of people's health at risk, not to mention the potential ripple effect, and play a NORMAL country concert right now," the star Kelsea Ballerini tweeted. But Rice and Janson had their prominent defenders too—or at least people who wanted to quiet down the backlash. "It's amazing how many country artists, songwriters, and media outlets are quick to throw shade at our own people," the singer Jake Owen said in a tweet. "Sad, really."
Owen is right, in a way, to be amazed that country stars would call out their peers. This is a genre that, famously, maintains its status quo through codes of silence and avoiding controversy. Dolly Parton, for all of her seemingly progressive and feminist lyrics, won't say whom she's voted for. Neither will Toby Keith, despite having played Donald Trump's inauguration. And after the worst mass shooting in modern history took place at a Jason Aldean concert, Aldean has mostly stayed mum about his views on gun control. The saga of the band formerly known as the Dixie Chicks, whose country career never recovered after an onstage diss of then-President George W. Bush in 2003, is legendary. (Meanwhile, the titans of other popular genres thrive on the attention garnered from weighing in on tricky debates or feuding with other celebs.) But in 2020, polite quietude on the issues of the day—and on the behavior of one's peers—has become harder for country stars to maintain.
That's not only been because of the coronavirus. The nationwide reckoning with systemic racism has also been sharply felt in a genre that, while of diverse roots, has a largely white listenership. Many country singers, including A-listers such as Maren Morris and Little Big Town, have loudly signaled support for protesters. But some stars have been silent—which is now, in itself, controversial. The country artist Mickey Guyton tweeted, "Why is it so hard for some people to publicly denounce racism?," to which Morris replied, "They think it's polarizing their fan base or is 'political' which it is 100% fucking not." When the writer Lorie Liebig compiled a spreadsheet of which stars had said what about the recent Black Lives Matter protests, that tracking effort became a flash point, with one country blog comparing it to "Hollywood blacklists and Gestapo papers."
The most potent instances of speaking out have come from Black people in the country world. On Instagram, the singer Darius Rucker shared his anguish about George Floyd's death; he later went on Today and discussed racism he'd faced from radio programmers. Jimmie Allen broke into tears on a country-music podcast before sharing a memory of when, right after one of his singles landed at No. 1 on Billboard's Country Airplay chart, a police officer acted aggressively toward him during a traffic stop. Black fans have been vocal too. When a woman named Rachel Berry wrote on Instagram about feeling uncomfortable at concerts and festivals because of visible Confederate flags and the possibility of racist harassment, her post went viral and a number of major country stars commented supportively on it.
Perhaps the most dramatic sign of recent events challenging country-music complacency can be seen in the renamings that a pair of bands announced last month. The group once known as Lady Antebellum, a country fixture since 2006 that had a No. 1 country-radio single just this past January, said in June that it was changing its name to just Lady A. The band said it initially chose the word antebellum for the vague southern nostalgia it evoked, but, according to the band's statement, the group "did not take into account the associations that weigh down this word referring to the period of history before The Civil War, which includes slavery." A similar story played out with the Dixie Chicks, who became just "the Chicks" in June in order to disavow the racist baggage attached to the term Dixie. Both bands' name changes demonstrate the extent to which ideas of heritage, tradition, and pastoralism baked into country music are tied up with ugly parts of American history—history that's ever harder to ignore.
But for Lady A, the attempt to signal support of Black Lives Matter has become a case study in alleged white hypocrisy. It turned out that Anita White, a Black blues singer from Seattle, had been using the name Lady A for two decades. The country act initially professed ignorance of White's existence, and then announced that a truce had been brokered, whereby both artists would keep the Lady A name and potentially collaborate. But last week, the platinum-selling band sued White, writing, "Today we are sad to share that our sincere hope to join together with Anita White in unity and common purpose has ended." The band says she'd asked for a $10 million payment, leading them to take legal action to ensure their right to use the name without paying her. White has said she'd indeed asked for $5 million for the right to use the name, plus a $5 million donation to charities of her choice. "If you want to be an advocate or an ally, you help those who you're oppressing," White told Vulture. "And that might require you to give up something because I am not going to be erased."
The Chicks, meanwhile, are about to release Gaslighter, their first batch of songs since 2006. Back then, country radio's boycott—cancellation?—of the Chicks for criticizing the Iraq War did not succeed in getting the band to quiet down, and they remain outspoken on Gaslighter. Produced by the pop artist Jack Antonoff, the album is a lively and thumping stylistic pastiche with biting lyrics about personal matters and politics. On the single "March, March," the Chicks speak out for abortion rights, for gun control, and to raise questions about Donald Trump's relationship with Russia. Its accompanying video is packed with images from the recent protests, culminating with a list of Black people killed by police. The song's banjos and harmonies sound like country music, but the listener is left with a jolting, tense feeling far from the soothing haze offered by old Chicks songs like "Wide Open Spaces." This is the sound of a band insisting that everything is not fine and normal—or maybe that normal was never all that fine.