The Curious Comforts of a YouTube Show About Group Therapy
The bite-size series Group is the latest entry in a genre that has found particular resonance in recent months.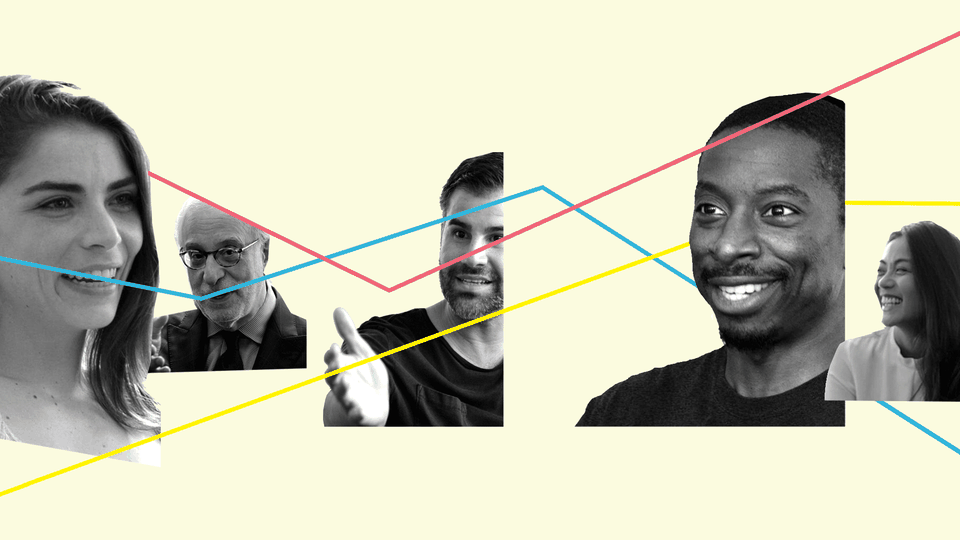 Eight patients sit in a circle in a sunlit room. "You seem to carry so much weight around—the weight of women," Frank, a 50-ish newspaper reporter, tells Pam, a mid-30s comparative-lit professor, as their psychoanalyst looks on approvingly. Pam's feminism, Frank continues, "feels less empowering and more like a burden."
But that's too much for Manny, a carpenter. "When you're not a white man," he scolds Frank, "that's what it feels like, bro."
The group laughs as if they're accustomed to confronting one another. So it's no surprise when Rebecca, a lawyer, calls out Manny for being "Pam's pitbull." The way Manny's behaving, she says, "I think there is something that you're hiding." Soon, everyone is wondering aloud if Manny and Pam have broken "the first rule of group": No fraternizing outside the therapist's office.
This is the web series Group: seven 15-minute episodes that debuted quietly on YouTube last month. The fictional show, which follows a cadre of actors as they improvise group-therapy sessions (presided over by a real New York City therapist, Elliot Zeisel), was produced before the coronavirus pandemic, but it feels remarkably current. With the nation reeling from a deadly health crisis and erupting in righteous protest over police abuse of black Americans, who among us couldn't benefit from some free therapy right now?
Inspired by the psychiatrist Irvin Yalom's 2005 novel, The Schopenhauer Cure, Group scratches the particular itch caused by months of social distancing: The mere sight of nine humans, sans masks, in proximity to one another was, for me at least, a balm for the psyche. Then, I began to care about the characters' daddy issues, professional anxieties, loveless marriages, and fears of rejection. The appeal went beyond distraction: The group's mutual pursuit of understanding and empathy felt refreshing, even potent. Maybe if Group's participants could raise one another up, the rest of us could, too.
Group, which was written and directed by Alexis Lloyd and filmed by the handheld-camera operator who shot the 2006 improvised comedy Borat, is hardly the first show to offer the voyeuristic pleasures of watching others' heads get shrunk. HBO's 2008 scripted series In Treatment revolved mostly around one-on-one interactions between a therapist (Gabriel Byrne) and his patients—at the time, I devoured all three seasons. Even though the therapy wasn't real, and Byrne's brooding portrayal sometimes tended toward caricature, I loved hearing strangers' peccadilloes (and telling myself that I was mentally healthier for it).
During quarantine, I've also binged the Showtime docuseries Couples Therapy, which follows the psychologist Orna Guralnik as she has ongoing sessions with real-life twosomes. (I'm not alone; Showtime told me that average weekly viewership of the 2019 show has risen 50 percent since March.) The series, created by the team behind the documentary Weiner, is ostensibly about untangling romantic relationships, but its lessons hold up whether or not you have a mate.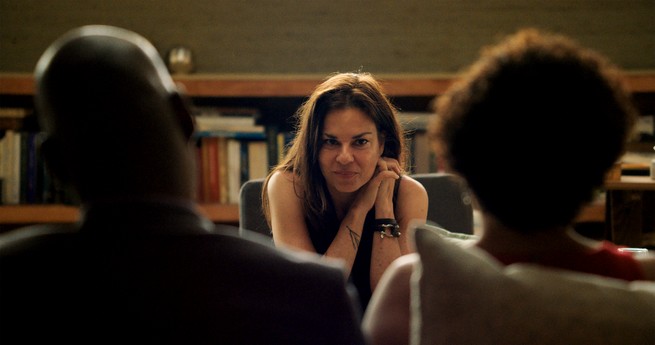 As Manny does in Group, Guralnik encourages patients to look beyond their own narratives to consider the way other people see things; she urges them not to let "trauma mind" be their prison. Never is this discussion more compelling than with Elaine and DeSean, who have been married for 11 years. Elaine is a tiny Puerto Rican woman; DeSean is a tall black man. Elaine is controlling in their relationship, while DeSean—conscious of how the world too often sees him as threatening—strives not to appear confrontational (but knows his wife wants him to show more backbone). With help from Guralnik, Elaine acknowledges the contradiction: She wants DeSean to be in charge, but she won't let him be. The couple starts giggling nervously.
"I'm glad the two of you are laughing, but let's do another piece of work here," Guralnik presses. "What's it like," she asks DeSean, "to be invited to take on a masculine role and then controlled and told 'No!'?" He looks stunned, mimics his head exploding, and can only say, "Wow."
At the core of such shows is an acknowledgment that as a society, we're still better at sharing what frustrates us than talking openly about our vulnerabilities. (Emotional transparency onscreen is as compelling as it is rare in real life.) But in its conceit and execution, Group represents a shift in the micro-genre. Viewers have seen many types of therapists on-screen over the years: foppish (Kelsey Grammer in Frasier), formidable (Lorraine Bracco in The Sopranos), lovable (Robin Williams in Good Will Hunting), hyper-manipulative (Maggie Siff in Billions). Other than grief or PTSD support groups (Dead to Me, Homecoming) and countless AA meetings, though, the group-therapy dynamic has rarely been explored.
Lloyd, the son of a psychoanalyst, was managing director of the movie company Pathe UK before becoming a filmmaker, and he's been working on Group for years. The seven episodes on YouTube are a reedited TV pilot that he and his producers were pitching to distributors when the pandemic hit (he has eight more 50-minute episodes written).
Group seemed stalled until Lloyd's fiancée, who works for a social-media analytics platform, noticed that discussions of psychotherapy, loneliness, anxiety, and depression were surging on Twitter. "She said there was more discussion of that than #MeToo and climate change combined," Lloyd told me. He'd always been fascinated by how the practice of group therapy really caught on after World War II, when traumatized soldiers in need of treatment outnumbered the available doctors, forcing patients to air their problems together. "What they discovered," Lloyd said, "is that the group members had a healing effect on each other." Maybe if he put the first two sessions of Group on YouTube, he thought, the show could do a little good.
The process of making Group is a saga unto itself. Lloyd initially tried to adapt Yalom's book into a traditional script. But after attending group therapy himself, he realized that the way people interrupt and talk over one another would be hard to capture in written dialogue without sounding stilted. Instead, he laid out actors' backstories and the beats they needed to hit, but left them to improvise their dialogue (the same way the HBO comedy Curb Your Enthusiasm is made).
How the show was shot and edited contributes to its spontaneous aesthetic as well. The cinematographer Luke Geissbühler (known for his handheld work on several of Sacha Baron Cohen's projects) used two cameras to shoot three 90-minute, uninterrupted takes of each "session." Lloyd then edited that footage by making a "radio cut" of just the audio; only after he had the pacing right did he match the visuals to the sound. He realized along the way that this approach echoed the traditional analytic session, in which a patient lies on a couch, hearing but not seeing the doctor behind him.
The result is riveting. Instead of zeroing in on individuals' or couples' challenges and foibles, Group's sweet spot is a dynamic that many of us can only fantasize about right now: intimate, up-close relationships with people we aren't related to. In most group therapy settings, patients are advised not to touch one another and instead encouraged to articulate their feelings and desires aloud to the room, with the aim of processing emotions through words.
"There's so much [that] each of us needs on a daily basis that we don't get," Group's "Doc" tells his patients, adding that group therapy is like a gymnasium where you can develop your emotional muscles. "This is a chance," he says, "to expand the range of what you can tolerate."
Lloyd doesn't know if he'll get the opportunity to make more episodes of Group. (When networks begin hearing pitches again, he plans to try.) In the meantime, Couples Therapy will definitely be back. Guralnik told me that the pandemic temporarily shut down production of the show's second season, but the team has since rallied, using Skype and iPhone cameras to continue capturing her work with this season's patients. "With everything that's happening in our country around racism and privilege," she told me, "we said, 'We can't abandon them.'"
As Guralnik says in Season 1, "People do better with the truth than without it. Truths they fear will kill them can make them stronger and even happier." Though so many people are suffering, she says that in her practice, "it's not very difficult to find, underneath the heavy crust of resentment, the wish to repair and the wish to love."