The Curse of the Prophet
All his life, Larry Kramer was a Cassandra in search of a Moses. He knew how to fight a plague, if only people would listen.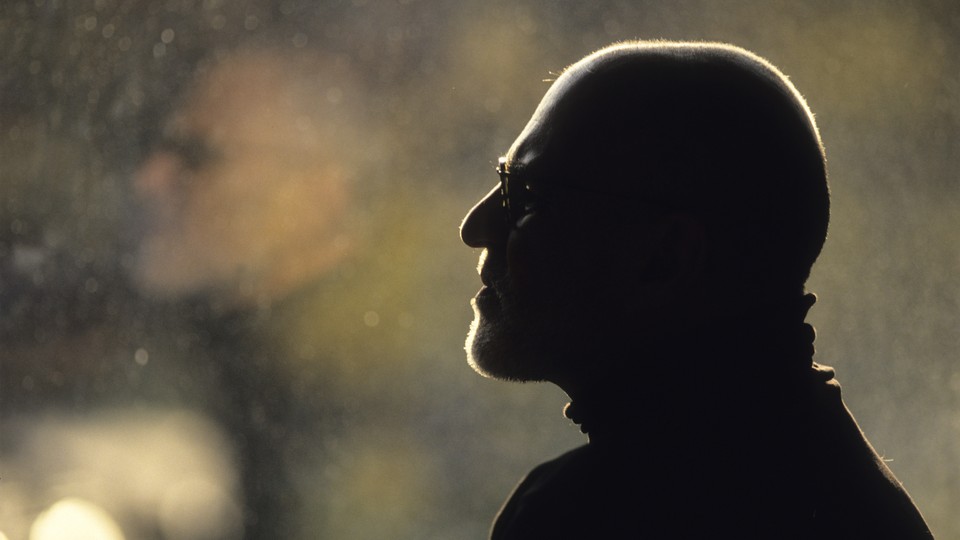 In some versions of the Greek myth, Cassandra promises Apollo that she'll sleep with him if he blesses her with the gift of foresight. When he does, she takes back her vow, allowing him only a kiss. So he spits into her mouth a curse: She'll be doomed forever to see the future, but no one will listen to her prophecies. And as the world plunges into ruin around her, she'll be powerless to prevent them from coming true.
If the writer and AIDS activist Larry Kramer, who died on May 27, is to live on in myth as a modern-day Cassandra, the record must be corrected. When the AIDS crisis began to devastate gay New York in the early '80s, Kramer was still notorious among the Apollos of Fire Island for his profane, bitter riot of a novel Faggots, published in 1978. Kramer tended to write versions of himself into his work; his avatar in that book was the protagonist, Fred, who strives against the tide of sexual liberation for a committed relationship with a man named Dinky.
For many in the gay community, which was newly empowered after the Stonewall riots to develop its own models of what relationships could be, Faggots read as a self-hating screed. Then, as AIDS started to spread, Kramer's insistence that bathhouses be closed and sexual intercourse be subject to precautions seemed to many like more of his paranoid, anti-sex ranting. It was also ammunition for the evangelical propagandists who were allied with a White House that refused to acknowledge or combat the plague that was killing gay men.
For Kramer, it wasn't that he wanted to deny his community sex. It was the way the sex at times obscured all the other things that made him love gay people, the fact that we could create art and drama and life out of nearly nothing. It was the way we failed to love ourselves enough to fight, when the cocktail of pent-up need and federal indifference started to poison us. But however much he raged at us, he wanted to make clear, he did love gay people. He did not love being Cassandra.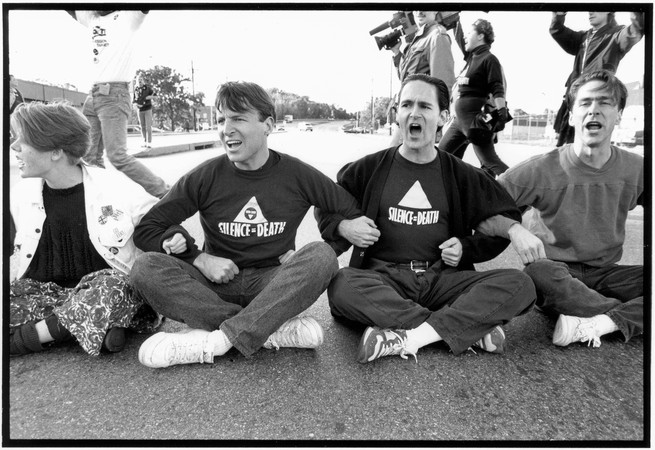 ---
By the time I discovered Kramer, as I was coming of age in the '90s and early 2000s, the fights over Faggots and bathhouses had been mostly consigned to gay history. The first big steps I took out of the closet brought me into the gay and lesbian sections of used bookstores, where I found a copy of the novel. It came to me at a time in my life when finding pleasure was easy and finding love was hard, so I identified with Fred and his struggle. Laying that book, with its audacious title, down on the bookstore counter might have been the first time I felt the thrill of seizing a weapon that had been used to harm me, and learning to take its power for myself.
Kramer's writing became a lifelong influence on me. I've spent an afternoon in the Library of Congress, hunting down a copy of an out-of-print anthology of gay short stories that contained a rare gem of his, "Mrs. Tefillin." I've cried my heart out at a theater in Provincetown, Massachusetts, over a performance of his play The Normal Heart.
I learned that he used his plays to express the nuance that his impassioned speeches often left out, showing that he understood why the people around him made the choices they did. In The Normal Heart, he fictionalized his older brother, an attorney named Arthur, via the character of Ben Weeks, a somewhat tender homophobe who finds it in his heart to demonstrate love for his sibling Ned, an acerbic gay activist. The play's sequel, The Destiny of Me, reveals the forces that shaped Ben and Ned, and offers insight into why Ben might have pressed his brother to see a succession of therapists about his sexuality, as Arthur had encouraged Larry to do.
Kramer carried trauma from those therapy sessions. (In Destiny, Ned tells his younger self, referencing the sessions: "While they teach you to love yourself, they will also teach you to hate your heart.") But any resentment Larry might have felt toward Arthur is smoothed over in the fictionalized story. "I'm proud you've stood up for what you've believed in," Ben says to Ned. He wonders whether, "if I'd gone off on my own instead of built the firm, I could have taken up some cause and done it better than you. But I didn't do that and you have and I admire you for that."
"I guess you could have lived without me," Ned responds. "I never could have lived without you."
Those two sentences accompany The Destiny of Me's dedication: "For my brother, Arthur Bennett Kramer."
In these works, Kramer was gentle with almost everyone except himself; Ned is one of the most piercing self-skewerings I can think of, an activist whose unyielding irascibility drives away everyone who tries to make common cause with him. For much of Destiny, the adult Ned haunts scenes from his memory, visible and audible only to his younger self. The device hints at what it must have felt like to shout your message into a void. "They look to me for leadership, and I don't know how to guide them," he laments. "I wanted to be Moses, but I only could be Cassandra."
---
When people pass into myth, they lose dimension; the hard-earned lessons of their life are flattened into platitudes. And few people earned their lessons harder than Kramer had to. His activism is well known, thanks in part to The Normal Heart, which traced his role in creating—and being expelled from—the Gay Men's Health Crisis. What the GMHC was becoming—an organization devoted to caring for people who were dying—felt to Kramer like a retreat, not what he thought was needed: an organization fighting with brass knuckles for people to live. So he founded ACT UP, which would become the cornerstone of his legacy.
Kramer told interviewers that what drove his fight was his desire to survive. "That is what my activism has always been about, really," he told The New Yorker's Michael Specter in 2002. "Me. I wanted to live, and I expected to be saved."
And he did live, well past the age men of his generation with HIV had been conditioned to expect. But even as effective treatments were better able to tame the disease in patients with access to care, Kramer took every new development as a dark omen. In November 2004, shortly after the reelection of George W. Bush, Kramer gave a strident, doom-soaked speech at Cooper Union. "I hope we all realize that, as of November 2, gay rights are officially dead," he said. "And that from here on we are going to be led even closer to the guillotine."
When he gave that speech, it was not the one I needed to hear. I was in my mid-20s, with plenty of polls and surveys to tell me I was worth less. His legend was that he had anticipated the future, but this time I yearned for him to be proved wrong.
It's fair to say he was. The Cooper Union speech is messy and unflattering in the light of history. Within a decade, same-sex marriage would become the law of the land, a queer movement would blossom brighter and broader than I could have ever imagined, the gorgeous fluidity of gender would be celebrated on mainstream television shows such as RuPaul's Drag Race, and a few short years after the speech, I'd meet the love of my life. Kramer would be known, more and more, for two things: having raged at a future that everyone else refused to see, and then having ignored the future that was coming into shape.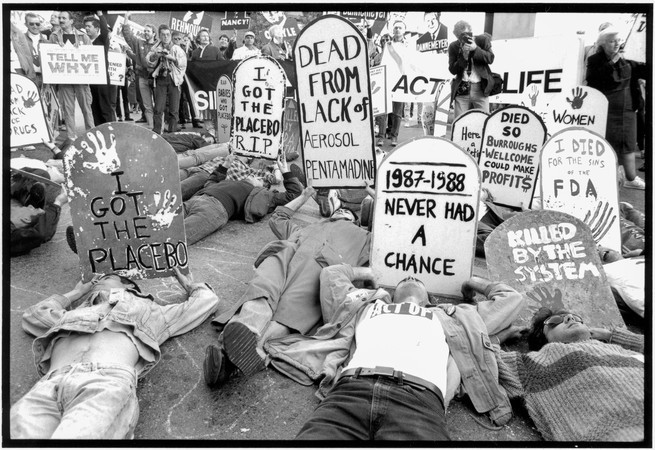 ---
Years later, I would find myself biking home from work one afternoon, suddenly overcome by the thought of Kramer's complicated legacy being reduced to the caricature of an irrelevant scold. I resolved to try to interview him before he died, to discover how he understood himself and what he thought of his legacy. So I met with him in December 2018, at his book-laden home in New York.
Having known Kramer only as a firebrand, I was first surprised by how long and delicate his eyelashes were, perched above his bright, brown eyes. He widened those eyes once for effect during our conversation, to punctuate a point, and in that charming gesture I got a glimmer of what they would look like ablaze in anger.
If you ever want to glimpse that anger yourself, watch the extraordinary opening scene of the 2015 documentary Larry Kramer in Love and Anger. He sits at a table collecting his thoughts, not a trace of trouble on his face. Several placid seconds pass before his face contorts into fury and he begins shouting, "PLAGUE!"
"What's really required to get attention in this country, I've learned, is being extreme," he told The New York Times in 1995. "If you write a calm letter and fax it to nobody, it sinks like a brick in the Hudson." Understand this lesson, and one could take the White House.
"Nobody listens to you unless you're loud," he told me. "I learned that early on." And loud he was. If rage was what the world wanted, rage was what he would give it: rage at Ed Koch, with whom he somewhat notoriously shared a building; rage at Ronald Reagan ("a monster," "responsible for more deaths than Adolf Hitler"); rage at Anthony Fauci and the medical establishment (then in the midst of responding to a different plague), for not rushing experimental treatments into clinical use; rage at the gay community, for a thousand failures; and rage, beneath it all, at his own failure.
It may seem strange that a man who co-founded two thriving civil-rights organizations, was an Oscar-nominated screenwriter and a Pulitzer-finalist playwright, wrote a best-selling novel that has remained in print for more than 40 years, and had his play become a successful film 30 years after it was written would consider himself a failure, but Kramer has long been consistent on the point. "I am very cognizant of a great failing on my part," he told the oral historian Eric Marcus in 1989: "that I did not have the ability to be a leader, that I did not have the ability to deal with my adversaries and still be friends."
He faulted himself for letting his pugilism thwart the leadership required to grow a movement. "One of my role models as an activist is a woman called Virginia Apuzzo," he told me. "She has this uncanny ability to say what she meant and to deal with people who opposed her with such skill and sometimes humor, sometimes just sheer intelligence, without herself getting angry. You always loved Ginny, even if she told you you were full of shit. And that's a rare gift. I've never been able to duplicate that."
Having perceived himself as a failure, was Kramer proud of his accomplishments? "I feel well used, how's that?" he said. "I'm proud of my organizations. GMHC is now thriving in a way it didn't for a bunch of years. I'm unable to judge the quality of my writing, except as it pleases me."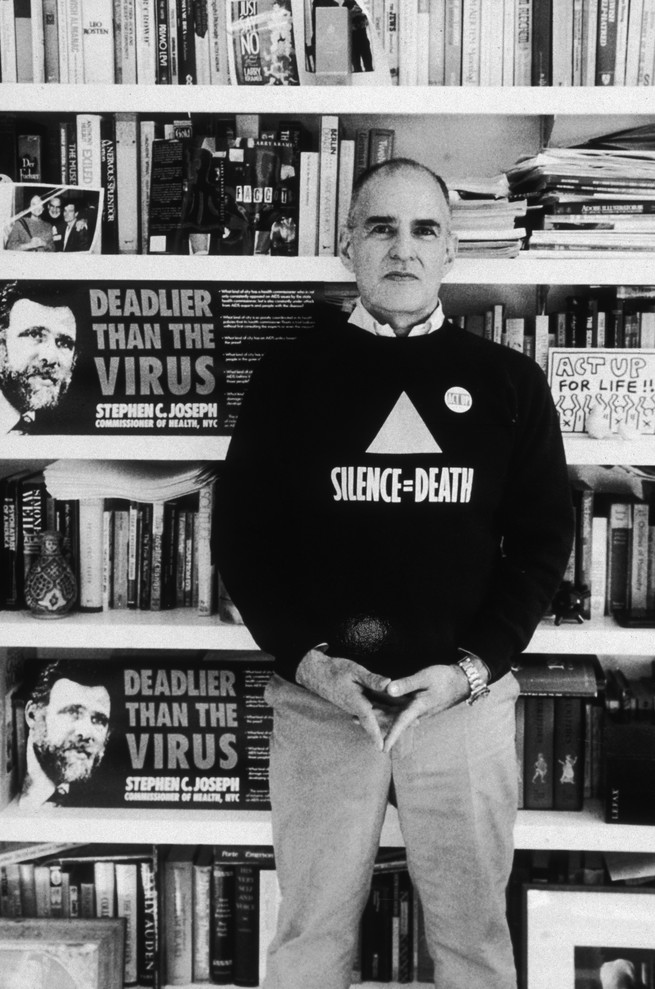 "In the case of ACT UP, which I'm exceedingly proud of having founded, it was based on love and fear. You know, earlier on people said, 'You'll scare everybody to death. And I said, 'Good. 'Cause you should be afraid, because it's frightening.''" ACT UP was composed of young people, Kramer said, "many of whom were already sick, many of whom had already lost friends or family or relationships. It bonded hundreds and hundreds of people every week. And they all came to love each other. It was exceedingly moving."
But his regret at all he could not do overwhelmed any happiness with what he'd done. "I don't respond particularly well when people come up and thank me very much," he said. "Because I think I failed."
What I most wanted to know was what lessons he took away from that failure. I reminded Kramer of the scene in The Destiny of Me where his avatar, Ned Weeks, addresses a younger version of himself. Given all the years he'd lived since that moment, I asked him, what would he say to that middle-aged Ned?
The question sent him into a reverie. We were speaking a few months after Ryan Murphy had convened a star-studded cast for a benefit reading of the play, and he said he was mulling another sequel to it. He gave a warm laugh, thanked me for the idea of the scene, and grew pensive. He drew a heavy breath.
"Everybody I know is dead," he said. "How do you say, 'You're young yourself. This is going to happen to you'?"
The grief I heard in Kramer's voice at that instant—decades-old, yet eternally fresh—moved me. Before we met that day, I had never thought deeply about how much death was still ahead of him when he wrote that scene in The Destiny of Me. He was only in his 40s. ACT UP was only five years old. The "despised, gorgeous, terrified, and terribly, terribly young people" who made up the organization would continue dying, for years, while Kramer, the elder statesman, would live.
"I'm going to die and they're going to die," Ned says in the play, "only they're 19 and 24 and somehow born into this world and I feel so fucking guilty that I've failed them." I had never before imagined how it must have felt for Kramer to have shouldered that guilt for the rest of his life. In the myth, Cassandra foresees her own demise, after she survives seeing her city burned to ashes. But Ned's premonition of an early death proves false. In his grief, he moves the world from denial to anger, but faults himself for never reaching the stage of bargaining.
As I write, the world is in the throes of another plague, one that is striking communities that society was already doing its best to marginalize. It's never been easier for me to understand Kramer's grief—or his anger—than it is at this moment. If he lives on in myth as a prophet, his many self-acknowledged flaws will stand in history as reminders that he was once a mortal too. Even Moses never reached the promised land; his blessing was having the vision to see it.