The King of Comedy Is Okay With Not Being Funny
Judd Apatow on making a dramatic movie that feels fitting for the current moment: "It's about trauma, first responders, how families deal with loss."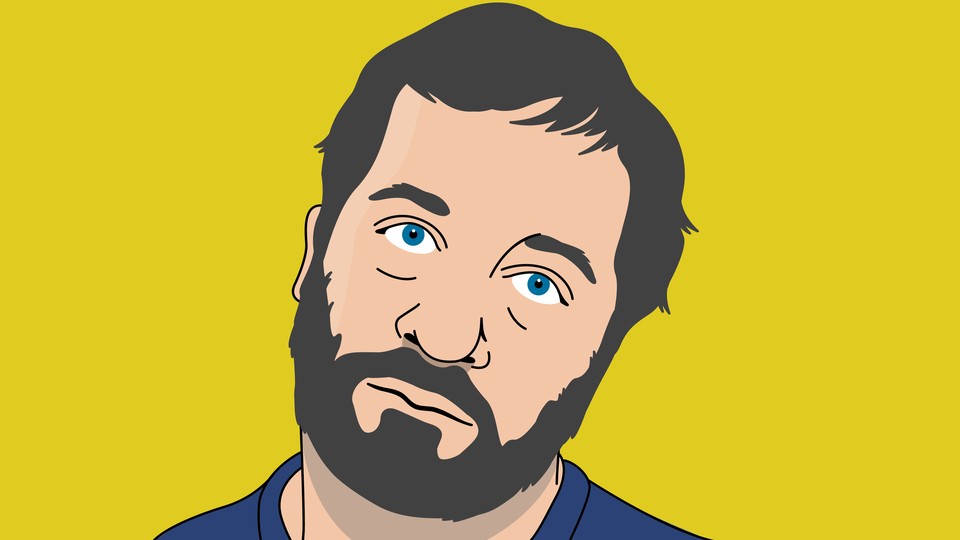 The heroes of Judd Apatow's movies always have some growing up to do. The director's early television work on comedies such as Freaks and Geeks and Undeclared dealt with the growing pains of adolescence. His filmmaking debut, 2005's The 40-Year-Old Virgin, focused on a grown man (played by Steve Carell) whose life was frozen in place because of his sexual inexperience. Apatow's other stories of arrested development centered on Seth Rogen in Knocked Up, Amy Schumer in Trainwreck, and Paul Rudd in This Is 40, a title that blared exasperation at its protagonist for refusing to accept his age.
So the youthful energy of Pete Davidson, who was hired on Saturday Night Live at the age of 20 (before he could even legally attend the show's after-party), should seem an ideal fit for Apatow's oeuvre. But while the film they've made together, The King of Staten Island (which debuts on digital platforms this week), is about a wayward soul needing to embrace maturity, it has a more melancholic tone than Apatow's previous works. Staged mostly in dank basements and empty parking lots, the film follows Scott (Davidson), a screwup in his mid-20s who has vague aspirations of being a tattoo artist and still lives with his mother (Marisa Tomei).
Scott's backstory is somewhat modeled on Davidson's own—both the character and the actor hail from Staten Island and their fathers, firefighters, died in the line of duty when they were young. So while Scott certainly needs to embrace adulthood, that involves an arc of trauma, stasis, and recovery—themes Apatow has never delved into quite so intensely before. The Atlantic talked with the director last month, before the police killing of George Floyd and the ensuing national protests. Apatow discussed the dark tones of his story, the dramatic roots of comedic filmmaking, and what he's been doing during the pandemic.
---
David Sims: I really liked The King of Staten Island, but it was also just a delight to watch a movie. We haven't had a lot of them recently [because of the pandemic]. How did you come to the decision to just release the film, rather than waiting for cinemas to be reopened in full?
Judd Apatow: I felt like the movie was somehow destined to be seen right now. It's about trauma, first responders, how families deal with loss. It's meant to be funny, and emotional, and healing, and so much of it applies to what we're all experiencing. So I just felt like it'd be wrong to hoard it for a year while waiting for theaters to reopen. Hopefully it'll give people a break and be entertaining and help people through this in some small way.
Sims: That totally makes sense. It's still sad—there are already not enough comedies and human stories in theaters anymore. The timing of the pandemic is nobody's fault, obviously.
Apatow: Obviously, it's sad that we won't get to see the movie in theaters; we did test [The King of Staten Island] with people and had that whole experience a bunch of times, and it was really fun. But it's also a very intimate movie, that in a lot of ways might be more appropriate to watch at home alone, with one person.
Sims: It's a funny movie, but even thinking of your other films, it's a little roomier and more in the feelings. You let time pass without going for a big laugh. Trainwreck is also about someone confronting their maturity, but there are more high-concept crazy situations; this is a hangout movie.
Apatow: I definitely made a very conscious choice to serve this dramatic story and not obsess over the comedic aspect. I knew if I filled it with really interesting actors and actresses, and had really colorful characters, the comedy would happen. I didn't want to sit on set obsessing over every single line to make sure every line was a home run, like I have with other movies. Authenticity was my highest priority. I didn't want the audience to feel like they were seeing a broad comedy. My favorite movie is Terms of Endearment [the 1983 comedy-drama about a mother-daughter relationship]. That's one of the funniest movies of all time!
Sims: People now think that's a very dark cancer movie, but nobody has cancer in Terms of Endearment for 90 percent of the movie. It's just a very funny, very human film.
Apatow: It's just about the struggles of a family, and all the ways they're having trouble getting along. And then it does become a "comedy about cancer," as [the director] James L. Brooks always called it. But it's very moving! So on some level I'm always dreaming of doing something in that space. But it does require a certain amount of discipline because as a filmmaker, getting a big laugh makes you feel like you made the scene work. But it sometimes makes the scene work less. You can lose truth if that's what you're going for too aggressively.
Sims: How many years have you and Pete Davidson been talking about making something like this, that would center his personal story?
Apatow: When we were casting Trainwreck in 2014, I sat down with Amy Schumer and asked, "Who's funny that I should know?" And the first person she showed me a YouTube video of was Pete Davidson. So we hired him to do a very brief cameo as a guy at Bill Hader's rehab facility, as someone who hurt his knee falling over a bong. It's literally a one-joke casting moment. But Bill was so taken by Pete that he immediately called Lorne Michaels and said, "You should put him on Saturday Night Live," and he did.
This idea [for King of Staten Island] happened very slowly—the seed of it was Pete's character's desire to see his mom happy, and the idea that her concern for him had kept her from pursuing her own social life. Over the course of six months, we all outlined this story.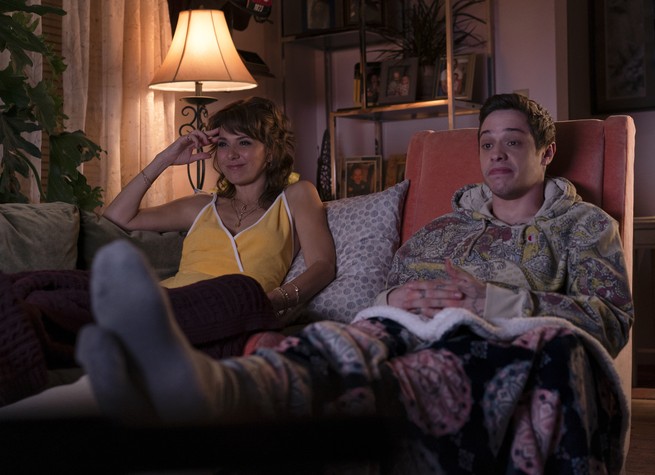 Sims: You've taken 9/11 out of the personal backstory for Pete's character, Scott. [In the film, Scott's father died fighting a hotel fire; Davidson's died at the World Trade Center on September 11, 2001.] Did you think that plot point would overwhelm the film, or did you just want to distinguish the character a little bit from real-life Pete?
Apatow: We wanted the movie to be fictional. We did want to find a way to address emotional issues—that was the truth that we were seeking. There were definitely people who said, "You should make it 9/11," but it's too big for a movie like this. When you're in New York, when you hang around the firefighting community, it still feels very new. People don't want to forget. They talk about it a lot; they hang pictures in the firehouses; it's their way of honoring the sacrifices of other people.
In the movie, if that had happened to Pete's character, everyone would be grieving about it, not just Pete's character. I didn't think the movie could hold all of that. And you can tell, in every moment that Pete's onscreen, what he's wrestling with. In most movies, what I'm trying to do is imagining what health might look like, and imagining what a character might go through to get there.
Sims: That's your biggest recurring theme. Even though The 40-Year-Old Virgin, your first movie, has such a high-concept title and plot, it's the same idea: You're looking at someone who is frozen in their life, and you're trying to figure out the ways they can thaw out of that. Is that a comedy dynamic you're consistently drawn to?
Apatow: It must be my personal issue. I'm sure people say, "Why is Martin Scorsese still making movies about mobsters?" Whether you know it or not, you're making the same movie your entire life. And as I get older, sadly, that does seem to be true.
Sims: Terms of Endearment is another great example—all of the characters in that movie are stuck and trying to figure themselves out, and there's so much human comedy and drama that can come out of that. Those movies just used to get made a lot more.
Apatow: When I was making Funny People, I was reading a lot of interviews with John Cassavetes. And he used to say, "Love is the only subject." And I think that is true—obstacles to love, and people trying to find love. Generally, there's always something getting in the way, and that's what a lot of our favorite movies are about.
Sims: It's been five years since you made a theatrical feature; you've been working on documentaries and TV and other stuff. The whole time, were you thinking, I've got to make a big movie again; I just have to figure out what? Or were you just enjoying being in a less commercial space?
Apatow: I think both. There's part of my mind that's thinking, Don't make a movie unless you're insanely passionate about the subject matter. My kids are at a certain age where I want to be around them a lot while they're here; I'm not desperate to get out of the house or travel. But then, the other side of my brain says to me once in a while, Judd, you should make another movie, because if you don't, people will forget that you do. So I had to wake up that side of my brain a little bit.
Sims: Pete strikes me as someone who is unafraid to go anywhere with his comedy. Was part of the process trying to figure out where the line would be, how intense the jokes could be?
Apatow: I don't think we knew while shooting exactly where the line was, how much comedy or how much drama there could be. So for a lot of scenes, we would shoot very dramatic versions and also generate a lot of comedic material, and that tone was often found in the editing room. I'm a big believer in covering your ass, and having the ability to modulate in post. But Pete is a very grounded, realistic actor—he has no need to show off or demand that he gets a big laugh anywhere.
Sims: Your movies often have a similar structure, with a looser first half, and a second half focused on someone building themselves up again. Here, a lot of that rebuilding happens in the firehouse, which is where Pete's character reckons with himself and meets the people who worked with his father. Was that always how you envisioned it?
Apatow: I thought it would be about a guy having a manic episode and crashing. He has to see how other people behave in real life and be re-parented by that.
Sims: What have you been doing in lockdown?
Apatow: Well, I didn't know what to do for a while. The early stages of it, you just think, Should I just be drunk the whole time? How much ice cream should I eat? Am I gonna be healthy or will I just let it all fall apart? A week or two in, my wife and I decided to put in some structure. So in the first half of the day, we try and do something healthy, whatever that is. And the second half of the day, we try to do something productive. Cleaning your closet, outlining a script. Then an early dinner, and we jump on the internet and try and figure out if there's anything we haven't watched. I'm considering going back and watching earlier seasons of The Bachelor that I think I forgot. I'm ready to rewatch The Wire. I'll take another run at Deadwood!
Sims: Do you ever think you'd make a straight-up drama?
Apatow: I don't have any goals for doing this type of movie or that type of movie. I tend to find human behavior funny, no matter what the subject matter is. So whenever I see something that has no laughs, I always think there's something that's just not right about it. There's always laughs, in every situation! I may be getting more comfortable not focusing on the comedy so much. The things I love that aren't considered comedies, to me they're funny! I think The Sopranos is a dark comedy; I think All That Jazz is funny. The Cassavetes movies have tons of laughs in them, but still feel more like life.
Sims: I just want those kinds of movies to continue existing. But now I guess there's the question of what's going to happen to movies, period.
Apatow: When I look at last year, there were so many fantastic movies. Is someone still letting Noah Baumbach make Marriage Story? As long as there's a way for daring filmmakers to get enough money to do what they want to do, it'll all work out. Last year, you had Parasite winning Best Picture, you had Uncut Gems, all these movies got made. So I think they'll be fine. It's just going to be super weird for a while.