The Coronavirus Is Testing Queer Culture
Queer nightlife has always been about finding ways to be together. So in the age of social distancing, it's reinventing itself, and not for the first time.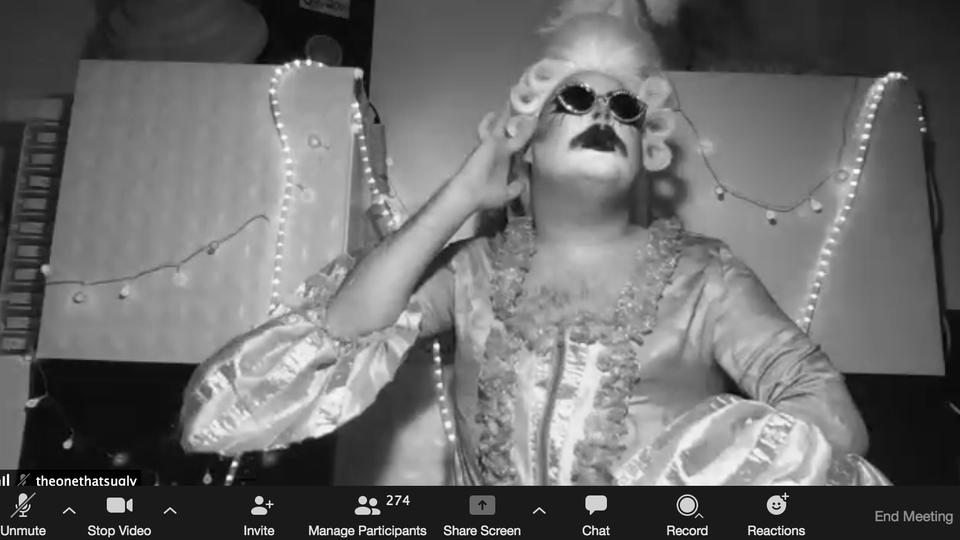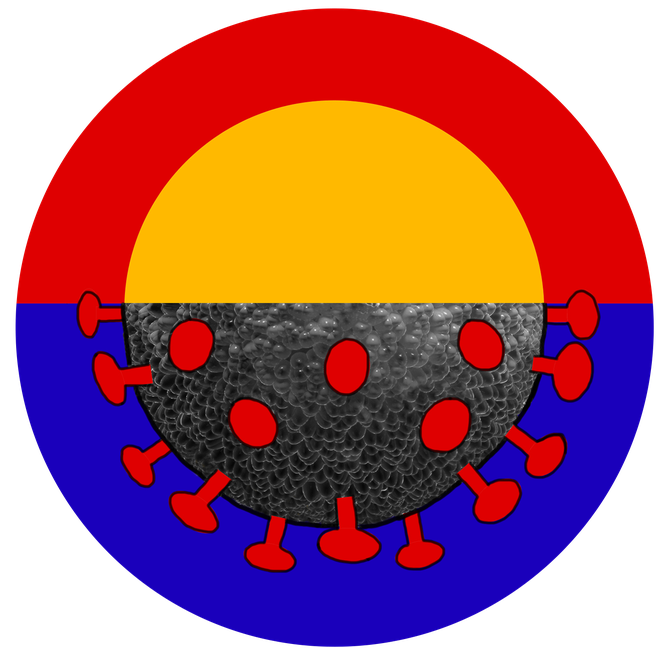 Editor's Note: This article is part of "Uncharted," a series about the world we're leaving behind, and the one being remade by the pandemic.
---
June is Pride month, and in a normal year, Pride means crowds. Parades make for colorful, moving pageants that can go for miles. Spectators swarm sidewalks in rainbow clothes or glitter-coated clothes or a distinct lack of clothes. Orbiting the main festivities are brunches, rallies, concerts, panel discussions, and film screenings thrumming at capacity. And for many, of course, the main attraction is the partying. Lines for bars circle city blocks. Huge outdoor concerts sell out months in advance. At sprawling warehouse raves, you can't be sure whether the sweat on your back is your own.
Pride is, in other words, not made for social distancing.
Then again, neither are most of the enjoyable expressions of queer life year-round: the dance nights and book clubs and vacation spots at which people out of step with straight society suddenly fit in. In this way, modern Pride joyfully embraces what happened at the Stonewall Inn 51 years ago, when bar-goers fought against police attempts to keep them apart. (A sign currently posted outside of Stonewall, cheering on Black Lives Matter marchers, reads Pride Is a Riot.) Both before and after that event, LGBTQ community has often been defined by exactly what is now squelched by the coronavirus: the pleasure of assembly.
Queer gatherings are a rejection of queer isolation: of hiding in the closet, of believing oneself to be alone in one's identity, of fearing that embracing one's truth would result in physical harm. Historically, this defiance has been secretive, via underground drag balls, code-named coffee klatches, or darkened cruising spots. In recent decades, it's often been more out and proud. Either way, what's resulted for many participants is a way of life in which physical closeness is sacred. When you're alienated from the families or communities you grew up with, when society hasn't given you a road map for what your adult life should look like, or when the fulfillment of your desires has been stigmatized, the pursuit of pleasure and connection often becomes more important. So do the associated activities: dancing, chitchatting, dining, sex.
It's thus natural to wonder whether the coronavirus will permanently damage or reshape queer life. The virus can move swiftly through crowds, especially indoors. To counter it, a church might space out its pews and an office might strictly regulate its headcount. A dance club, though? A sweaty party? A place that exists in part so strangers can meet strangers, and maybe touch strangers, and maybe touch more than one of them? Such places won't be safe for a long time.
Social distancing is, of course, a challenge for every demographic. But it feels telling that each phase of the pandemic has seen an early example of queer people—mostly gay men—flouting the rules. In March, as large gatherings around America were being canceled, the Winter Party in Miami drew guys from all over the country for a dance-music bacchanal. Dozens of participants returned home with coronavirus infections, and three died. In May, over one of the first idyllic-weather weekends in New York City, much-circulated photos showed sunbathers in alarmingly tight quarters at Christopher Street Pier, a historical (and present-day) queer gathering spot. That same week, dozens of men held a days-long rave in a Manhattan apartment—and posted videos of the shirtless, strobe-lit violation of social distancing.
Most poignant is the situation in South Korea, where a mild flare-up of infections was traced to Seoul's tiny gay-nightlife scene, leading to a wave of homophobic backlash in the somewhat socially conservative country. "I feel so trapped and hunted down," one Korean gay man told The Guardian. "If I get tested, my company will most likely find out I'm gay. I'll lose my job and face a public humiliation." He said it'd been a mistake to go out to the gay district, but added that "visiting the area is the only time when I can be myself and hang out with others similar to me."
The shutdown has clearly only intensified the yearning for connection, but it has also served as a reminder that to be queer is to find clever ways to respond to such yearning. I've talked with friends and experts and poked around queer spaces online lately, many of them tied to the scene in New York City, that queer mecca and pandemic epicenter. The pattern that's emerged is one of creativity in caution rooted in an assurance that, somehow, togetherness will always be possible.
---
During this crisis, I've often thought about Leo Luna, a big-smiling and big-armed 28-year-old from Venezuela. Seemingly every time I was out in New York City, whether in a Brooklyn dance club or on a Manhattan hotel roof, Leo and his boyfriend would be there. Usually they'd be grooving intently, often up by the booth, cheering on the DJs they had come to know personally. Conversation would revolve around whether this was their first, second, or third gathering of the night. They mostly avoided gay bars where you'd just stand around and drink. The point was to dance.
Now the clubs are closed and the parties are canceled. What the hell, I've wondered, is Leo doing? He seemed in good spirits when I Zoomed him to ask that question, but he didn't mince words. "I'm really missing it," he said of going out. "Right now, there is nothing that comes close." On the nights when he and his boyfriend would usually be raving, they watch TV or sit and talk instead. I interrupted with a laugh—was talking really a new quarantine-specific activity? He reassured me that pre-pandemic life involved plenty of chatting. "But we've carved out time to actually make that a thing we do," he said, with an eyebrow wiggle implying air quotes.
The way Leo described it, what he has missed during the pandemic isn't the loss of a hobby, or a source of fun, but rather something akin to church: a place to regularly gather and find meaning. "It was something for us to look forward to every week and a way to feel connected," he told me. "For most of our history [as gay people] we couldn't build community and form relationships that were out in the open, right? So the way that the queer community created spaces for themselves was to carve them out in bars and places in the underground."
He's right that queer identity was partly forged on the dance floor. Many historians trace modern notions of homosexual identity back to cabarets and speakeasies of the 19th and 20th centuries. Drag took root in dives and dance halls. Stonewall was a bar before it was a synecdoche for gay liberation. AIDS activists funded themselves with fabulous dance galas. In recent years, queer bars have been closing in greater numbers because of assimilation, gentrification, and dating apps. (A Bloomberg story on the state of the gay bar suggests that the number of such venues in the U.S. fell from about 2,500 in 1976 to fewer than 1,400 in 2019.) But queer nightlife still thrives in standing parties whose varieties include expensive, ticketed mega events and DJ sets at small, off-the-grid venues.
Many of these gatherings define themselves by more than just music and dancing. When I spoke with the three leaders of Papi Juice, which throws parties and community events for queer and trans people of color in Brooklyn, they emphasized that nightlife fits into a larger social context. "For me, it's intimacy, whether it's platonic or romantic," Oscar Nñ, a DJ who co-founded the group, told me when I asked what he missed. "As queer people, we have all been scared at one point to be intimate with another person in public. Nightlife can just serve as that space where we're finally able to hug a friend really deeply—or grind on a friend."
"I miss wearing looks," said Mohammed Fayaz, a gender-nonconforming illustrator who does the fliers and art for the group. "Like having my hair out and full and being able to sit at the bar and see my favorite bartender and flirt. It's hard to not be able to tap into those moments when I feel the most alive."
Flaunting looks is, to be sure, still possible—just online. Videoconference dance parties are a cherished innovation of coronavirus culture, and their queer manifestations tend to emphasize the participants' wild outfits and moves. Some of these parties have become international, celebrity-attended occasions, but most queer bars, performers, and standing parties have likely been hosting their own online events. Early in the shutdown, I joined a Boston DJ's Zoom session. Some participants were shirtless in harnesses, bobbing and clapping to throbbing music, just as they'd be if they were out on a typical Friday night. Some were cozy in casual wear, watching the party from their couch. One person made great use of the stripper pole that appeared to be in their bedroom.
Among the more than 400 people who showed up to Papi Juice's first digital event were many regulars—but lots of new faces too. Normally, "nightlife spaces can't be for everybody," Nñ said; virtual events are more accessible. Some viewers tuned in from overseas and said they had wanted to attend Papi Juice for a long time. Nñ added with a laugh that a few of the participants' babies had even popped up in the feed. The founders of Bklyn Boihood, a nightlife and activism group by and for queer and trans people of color, were amazed at the chemistry happening in the comments stream of the first digital edition of Joy, a day party co-hosted by the group. "It's like the best AOL queer, black chat room that we all dreamt of when we were young," Ryann Holmes, one of the organizers, said.
These Zoom raves extend a long story of necessity-driven evolution. Madison Moore, an assistant professor of queer studies at Virginia Commonwealth University, was teaching a class on the history of LGBTQ clubbing when the pandemic hit. The students' final project was supposed to involve throwing a real-life DJ night; now it has to become a Zoom affair. "I've been trying to use the online space to teach my students that queer nightlife has always had to be malleable to the whims of the situation," he told me, referring in part to the way that, pre-Stonewall, gay people navigated bans on cross-dressing and same-sex dancing. "People are like, 'Okay, what are we going to do now with what we have?' Which is essentially what creativity from the margins especially always has to deal with."
"Creativity from the margins" is a key phrase from Moore's book, Fabulous: The Rise of the Beautiful Eccentric, which provides a conceptual framework for the eye-catching, often-queer aesthetic of fabulousness. I told him that I had previously thought of fabulousness as something people displayed for others. In quarantine, without the leer of strangers on the sidewalk, could fabulousness occur? "It's a good question," Moore said. "If you're fabulous at home, does anyone care?" He went on to describe the white, thigh-high stiletto boots he sometimes wears while cooking in quarantine. "There's nobody here," he said. "I'm not taking photos for Instagram. But I'm feeling fab while I make my pasta. It's having that little sense of joy."
Little bursts of joy and simulated get-togethers can only go so far, though. Moore told me that he could feel "Zoom fatigue" setting in. Leo also described weariness about the online raves he's popped into. "One thing I really love about going to a club is that you can just lose yourself," he said, and that's not a possibility when the Zoom party's jumbotron-like main screen might focus on you at any second.
The video experience can be less satisfying for DJs as well. "The silence is deafening," Nñ told me. "Without the crowd … you have to come up with all of that energy for yourself and by yourself." I asked whether it made him approach his art form differently. "For me, one of the hardest things was comparing the virtual hangouts to the physical ones that we used to have," he said. "My breakthrough was that it wasn't ever going to be the same, and it's not the same, and that we just need to accept it for what it is."
---
While partyers make do online, the virus is steamrollering the pleasure economy. Many governments' reopening plans relegate arts, recreation, and mass gatherings to the final phases of recovery—phases that may not arrive for a great number of months. Though some states and cities allow bars to serve take-out drinks or operate at greatly reduced capacity, the resulting income isn't likely to be enough to pay rent and rehire most staff. Laid-off club employees are left scrambling to survive, as are the promoters, agents, performers, and other nightlife workers who were freelance all along.
These problems will hit all entertainment sectors, but queer nightlife, which tends to be economically precarious and conducted without much institutional backing, has particular reason for fear. "The millionaire venues will be fine," Moore said. "The question for me is [about] the underground spaces that really are not invested in the mainstream, that don't have venues, that really pop up wherever." The already thinning ranks of gay bars will thin even more; San Francisco's oldest queer club, the Stud, has already announced it will not reopen in its current location because of the recession. Bklyn Boihood's long-term plan has been to open a permanent space for its parties—a noble goal given the nationwide paucity of venues that cater to queer people other than gay men—but the pandemic has cut off most of the group's income.
Whatever nightlife does come back, it likely won't look the way it did before. Masks, temperature checks, and social-distancing lines may become de rigueur, experts say. In Georgia, bars and clubs were able to reopen on June 1, but with a limited number of patrons and restrictions on where drinks could be served. In South Korea, clubbers log their attendance with QR codes at the door, to help with contact tracing—an innovation partly in response to closeted queer people previously putting fake names on sign-in sheets. In Berlin's storied party scene, some clubs unfathomably now have a ban on dancing and a closing time of 10 p.m.
No one I talked with in queer New York had a clear picture of what their future would look like, but many had ideas for how to make partying possible again. "We're adaptable," Nñ of Papi Juice said. "If it turns out that everybody needs to wear a mask, we're prepared to ask people to wear a mask. If we have to ask people to stand six feet apart, and … we're only going to be selling X amount of tickets, we gotta try to push through and bring joy." Maria Garcia, the DJ who co-hosts Joy with Bklyn Boihood, told me that she could envision a reduced-capacity party in which people dance in shifts. The DJs Ron Like Hell and Ryan Smith are intrigued by the idea of setting up in band shells at New York parks, which would certainly be a change in vibe from the dimly lit, sexually charged, close-quarter parties they usually throw.
Indeed, COVID-19-era restrictions may sound incompatible with the let-loose-and-connect ethos of queer gathering. But in fundamental ways, the challenge of reconciling safety and pleasure is a familiar one for LGBTQ people. Their culture has already been shaped by a deadly outbreak: HIV/AIDS, which continues to claim lives, create trauma, and leave many queer folks immunocompromised. They have also, over the years, navigated how to protect their wilder, more libertine enclaves against the possibility of internal abuse and external censure."There's a lot that happens at our parties that some regular straight person might come in and be surprised to see, but at the end of the day, we also have a sense of right and wrong," Leo pointed out. "It's not a free-for-all in the sense that everything's allowed. It's just a different code."
Implementing safety measures may also clarify the nature of nightlife pleasure itself. How important is bodily proximity after all? Is it at all fun to rave six feet apart, or in a mostly empty venue? Then there is the mystery of whether people will want to return at all. Polls show that many Americans will be reluctant to go out to bars, restaurants, and mass events for months, even after the pandemic is over. As with so many behavioral changes during this crisis, it's uncertain whether activities that have been stifled will be lastingly stigmatized as potentially unhealthy, or roar back in popularity greater than before.
If dance floors do make a comeback, though, it's safe to bet that queer folks will lead the way. Moore pointed out that the internet is full of memes about how what he called the "post-'rona rave" will look. "For me, that is super telling about the value that these spaces have for people," he said.
Then Moore did one of the queerest things of all, which is to discuss dancing as a matter of radical importance. "Everyone parties," he said. "Whether that's a birthday party or a wine reception or a happy hour or a rave or a hip-hop night, everybody looks forward to the opportunity for this erotic release under capitalism. Centering pleasure really brings you back to your core self and dismantles the capitalist mentality that you should be working all the time and doing nothing else."