What Bob Dylan Knows About This Moment
Rough and Rowdy Ways, the singer's first album of original music in years, reminds an anxious nation that all things are eventually doomed.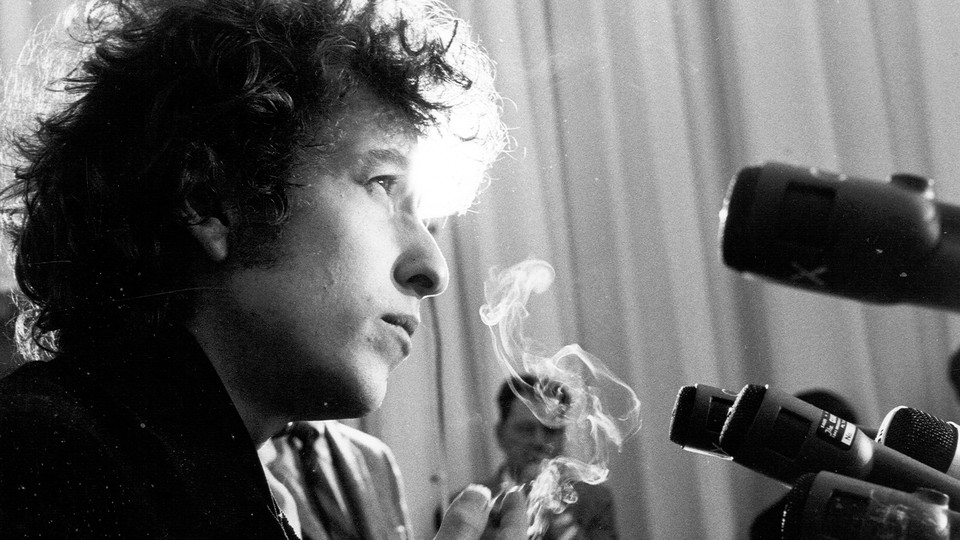 If it's possible to spoil a musical that can't currently be experienced by anyone, here's a spoiler: Girl From the North Country, the 2020 Broadway production based on Bob Dylan's catalog, mostly does not turn out happily. Throughout the play, working-class residents of a 1930s-era Minnesota town fight to survive the Great Depression, and by the end, many of them have lost that struggle, with stories that culminate in suicide, murder, destroyed dreams, and ruined relationships. The show's reinterpretations of Dylan's songs trend stately and sad, emphasizing the singer's fatalism. Hanging in the air is the great, sneering question that "Like a Rolling Stone" posed to a nation of individualists: How does it feel to be on your own?
Girl From the North Country was one of the last live entertainments I experienced before the coronavirus pandemic shut down much of cultural life. Three months later, I often find myself thinking of its dark relevance. We in the U.S. are living through the closest thing to a Great Depression since the Great Depression. For many people, the ambitions shorthanded in the term American dream have run up against sickness, lockdowns, and unemployment. The police violence spotlighted by recent protests has been another cause for disillusionment, at least for those privileged enough to have believed America to be defined by justice or equality. Monuments are coming down, and myths—personal, historical—are being rewritten. Right now, in other words, feels a bit like a Bob Dylan song.
Which is why it's nice that Dylan has given us a new album to tangle with. The arrival of Rough and Rowdy Ways, the 79-year-old's first set of original songs since 2012, has already been an occasion for writers to revisit Dylan's history as a protest singer, specifically one attuned to racial injustice. He sang about discrimination, uninvestigated murders, and law enforcement's use of tear gas in 1963's "Oxford Town." He lamented a black boxer's false imprisonment in 1975's "Hurricane." Often, his songwriting has involved him taking his own account of whose lives should matter, whose shouldn't, and the way in which violence and cruelty help people kid themselves about their own significance. His withering description of the man who murdered the civil-rights activist Medgar Evers (famously sung at the 1963 March on Washington) is typical: "He's only a pawn in their game."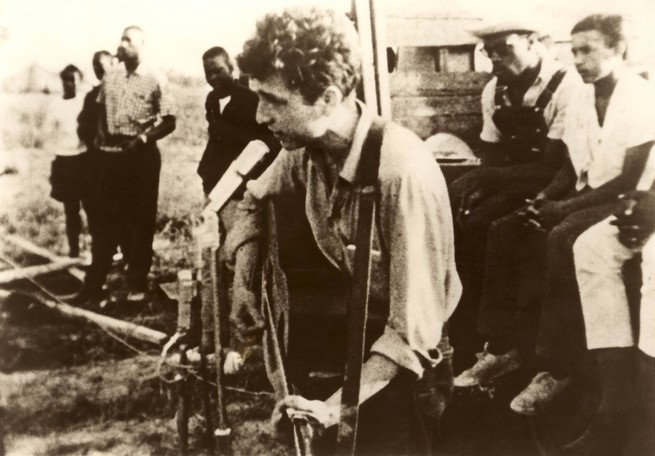 The immersive and strange Rough and Rowdy Ways, however, is not quite a protest album. It is in the mode of Dylan's songs that he says were written by "trance," which is to say its lyrics are dreamlike and impressionistic. But the overall idea isn't hard to peg. This is a work of pessimistic Americana. With hallucinatory fervor, Dylan spangles himself in totems of Western culture while reveling in decline and futility.
The project announced itself in late March, when Dylan livened up quarantine with a doozy of a comeback single: "Murder Most Foul," a 17-minute ramble about the assassination of John F. Kennedy. Over tender orchestration, in his poutiest sing-speak, Dylan reinvests one of the most chewed-over events of the 20th century with a new sense of tragedy. The details are gory and gothic. The blame is assigned to a collective evil. Eventually, his vantage widens beyond one famous killing. Some passages describe the awfulness of segregation. Others list titles of works by artists as disparate as the Eagles and Shakespeare. All in all, the song rebukes the gauzy notion of the Baby Boomer wave—or the American story itself—as marked by idealism and progress. "The day that they killed him, someone said to me, 'Son, / the age of the anti-Christ has just only begun,'" Dylan reports, and you get the sense that he believes that prophecy.
Though the rest of Rough and Rowdy Ways is more obscure in meaning—and Dylan is never a believer in tidy meaning anyway—the music follows in the incantatory mode of "Murder Most Foul." Songwriting per se does not appear to be a priority. Mostly, he and his band lay down blues and country riffs, and then lovingly, lengthily work them over. Meanwhile, Dylan swings from stoned monotone to lounge-lizard hamminess. The results are songs of great excess and nagging familiarity, yet the pairing of vampiric vocals with pastoral backings is often spellbinding. Dylan is taking you to places you know and telling you they've been haunted all along.
The opener, "I Contain Multitudes," for example, is a grand explication of Walt Whitman's most overused line, and it deploys other clichés from Edgar Allan Poe and William Blake. But Dylan's having fun, slurring and moaning the silliest syllables as he paints a portrait of vibrancy shot through with horror. As always in his catalog, I and you abound, and you can play guessing games about who or what these pronouns are addressing: Dylan himself? Life itself? America itself? It's the last answer that keeps coming to my mind across the album. Some set of swashbuckling cultural attitudes—preposterous and doomed—seems clearly implied here: "I'm just like Anne Frank / Like Indiana Jones / And them British bad boys the Rolling Stones."
Really, it doesn't matter what the particular underlying subject matter is from song to song. Some tracks fixate on religion ("Goodbye Jimmy Reed"), and others on romance ("I've Made Up My Mind to Give Myself to You"), and others on art ("Mother of Muses"). The constant focus is death and temporality, a theme established in the album's perfect opening line: "Today, and tomorrow, and yesterday, too / The flowers are dyin' like all things do." He returns to the funereal floral imagery on the gorgeous "Key West (Philosopher Pirate)," a serenade to the Florida town that looms in the national imagination both for its pirate history and for its retirees. As accordions sigh, Dylan describes hibiscus, bougainvillea, and "blossoms of a toxic plant."
One might peg the morbid streak to Dylan's age if his catalog weren't already full of apocalyptic warnings about hard rains and slow trains. The only consolation he ever offers is perspective. The reporter Douglas Brinkley recently asked Dylan whether he thought the world had "passed the point of no return" in 2020, and Dylan replied by admitting that he feared so. Then he went on: "But that only applies to people of a certain age like me and you, Doug. We have a tendency to live in the past, but that's only us. Youngsters don't have that tendency." That answer comes to mind when listening to the sauntering new song "Crossing the Rubicon," in which Dylan sings, "I crossed the rubicon on the 14th day of the most dangerous month of the year / At the worst time, at the worst place" before adding, with hint of mockery, "that's all I seem to hear." To those fearing they're trapped in a cratering civilization, Dylan simply says, do not feel so all alone.