The 1798 Poem That Was Made for 2020
"The Rime of the Ancient Mariner" is taking on new meaning during the coronavirus pandemic.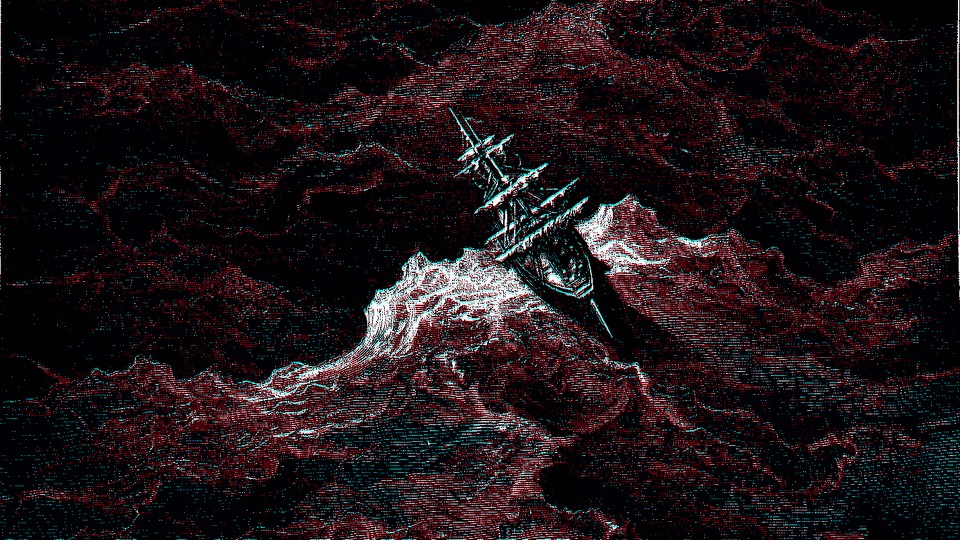 Wrapping up one of his recent panoramically authoritative surveys of our altered landscape, inner and outer, my Atlantic colleague Ed Yong put it like this: "In the classic hero's journey—the archetypal plot structure of myths and movies—the protagonist reluctantly departs from normal life, enters the unknown, endures successive trials, and eventually returns home, having been transformed. If such a character exists in the coronavirus story, it is not an individual, but the entire modern world."
To be at sea, mid-story; storm-threatened or becalmed; to be adrift, disoriented, at the mercy of incomprehensibly avenging forces that somehow (and you know this, you know this) contain the secret of who you are … We've got a poem for that. Samuel Taylor Coleridge's "The Rime of the Ancient Mariner," first published in 1798, is—you might say—the archetypal archetypal journey. You might say further: It's the dream-poem of right now.
Six hundred and twenty-six lines of customized Coleridgean English, a strange and wildly flexible hybrid idiom in which the long strains of the King James Bible are looped around a kind of loping, hacked-off folk doggerel, the "Rime" is … What is it? The last epic. The first case history. A Jungian voyage into modernity. A trip. On his way to a wedding, at the very door of the banquet hall, a man is buttonholed by a haggard and compelling stranger. He is detained; he is enthralled. No choice: He must hear this person's story. And the ancient mariner (for it is he) has no choice either: He is condemned to tell his tale, to recite his rhyme, over and over again. He went to sea, he saw a beautiful bird, and then—like Meursault in Albert Camus's The Stranger, because he could, because it was there—"With my cross-bow / I shot the ALBATROSS." Cue the nightmare.
When the "Ancient Mariner" Big Read began streaming on April 18, inaugurated with some superb croaking from Jeremy Irons, I whooped in celebration. An online read-through of the "Rime," in 40 free daily installments, with accompanying visuals, by 40 different readers and artists? Well done, humans. What a species! Still vibrating from an astonishing remote show by the Norwegian punk-metallers Kvelertak, live-streamed on April 10 from some Scandinavian hangar, I took this "Rime" at first for a similarly inspired and rapidly pulled-together lockdown response. Not at all. Lovingly curated, exquisitely produced, the "Ancient Mariner" Big Read was three years in the making. It just happens to have dropped with eerie appropriateness right into our thirsty and atomized pandemical condition: people, people everywhere, nor anyone you can hug.
"The 'Rime' is one of those texts," the writer and the lecturer Philip Hoare told me over Zoom. "People know parts of it without necessarily knowing where those parts come from." Hoare, with Angela Cockayne and Sarah Chapman, is a co-curator of the Big Read, which was commissioned by the University of Plymouth. "It has a phantasmagorical quality which lends itself really well, I think, to a digital interpretation," he said. "It's like beachcombing; you're finding these verses spoken by these crazy people looming out of the digital mist … It's a ship of fools, really, and they're all bound together on this journey."
The journey runs right through the eye of desolation. The murdered albatross is a bottomless symbol: It stands for everything you greedily grabbed at, everything you squandered or spurned, every ornament of the ego, every plastic water bottle, every corrosive pleasure, every idle meanness, every dead and bleached-out lump of coral on the Great Barrier Reef. Killing it, the mariner severs himself from the source of his being; the bird's body is hung around his neck like a millstone. Coleridge's poem unleashed a prophecy. In his own life, it would play out as a harrowing voyage into addiction. From two centuries away, it appears to have presaged an ecological catastrophe. To us, today, it speaks of the sea-moment, the liminal state: the treacherous zone between a ruined world and a new one.
Hoare's readers are indeed a fascinating crew, a floating demimonde of voices: Willem Dafoe, Marianne Faithfull, the poet Simon Armitage, the novelist Hilary Mantel, the polar guide Peter Wilson (who stands in the whiteness of the Antarctic, reading his verses to an audience of fidgety seals), Beth Gibbons of Portishead (who sings her verses like a folk song). And Iggy Pop, in Miami, growling magisterially into his iPhone: "About, about, in reel and rout / The death-fires danced at night." "There is a man in control of his art," Hoare marveled. "What a performance. I thought he'd recorded it in a studio."
Why Iggy? Why any of these people? "It's not about celebrity," Hoare said. "Our three guiding spirits were Iggy Pop, Marianne Faithfull, and Tilda Swinton. These are very celebrated figures, but they're outsiders; they're at the edges of things. And they're all survivors. Marianne Faithfull … I mean, that's a mythic story all by itself." Faithfull, 73, after a life of exemplary rock-and-roll vicissitude, recently endured a hospitalizing dose of the coronavirus. "She's ferocious!" Hoare continued. "I went over to her flat in London, in Ladbroke Grove—it was raining, I was wearing a yellow mac, and she said, 'Why have you come dressed as a fisherman?' And then she said, 'This is a terrible idea. This is my favorite poem, and you're splitting it up. This is a terrible idea!'"
Tilda Swinton, recorded in the Scottish Highlands, gives a typically modulated performance for Reading No. 8. The verse is at an extremity—"The very deep did rot: O Christ! / That ever this should be!"—but Swinton underplays it, that O Christ! in particular coming out as a genteel groan, like someone in a country house registering the arrival of a drunken aunt. Coiled, languid, pure Swinton. ("Such a professional," Hoare told me. "She did five takes, each at a different speed.")
Listening to the poem, taking the trip, we shift and flicker. Now we are the wedding guest, rearing back in horror from the possessed storyteller; now we are the storyteller himself, the mariner, in the spine of his vision. He will return, of course, "a sadder and a wiser man." "Is there an antecedent," Hoare wondered, "a literary antecedent, to the 'Rime' as an exploration of loneliness, in the modern existential sense? I don't think so."
As I write, on day 21 of this voyage, Neil Tennant (of Pet Shop Boys) has just dropped a few chilly-voiced verses. "Beneath the lightning and the Moon / The dead men gave a groan." The albatross fell from the mariner's neck three days ago, after he redeemed himself, or healed himself, with a spontaneous upsurge of creaturely adoration, and we are now in the second—and to me, deeply bewildering—part of the poem. The ship drives on, crewed by dead men. The sea is alive. Dreams and terrors await, and then a turn for home. How can you not listen?