Baseball's Strange and Poignant Return to TV
The first live sports games to air in the U.S. since the start of the pandemic provide a hopeful, yet harrowing, look at the future.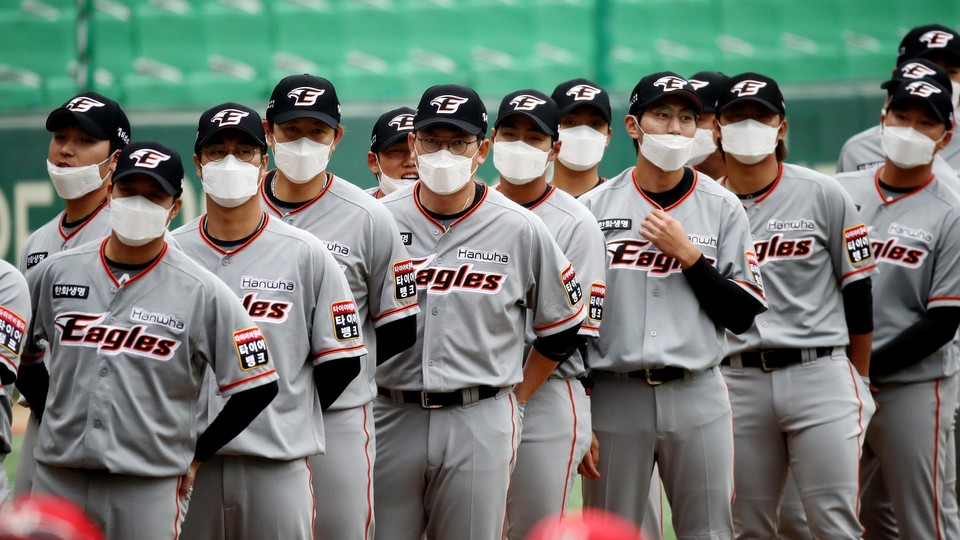 For the first time since March, Americans can watch major team sports on live TV. A week ago, ESPN started broadcasting games from the Korea Baseball Organization, which began its delayed season after a marked downturn in new daily COVID-19 cases in South Korea. The games have since been airing daily on the company's networks, buttressing a slate that for weeks had leaned on debate shows and re-airings of vintage events. Fans on social media welcomed the games as a kind of sports methadone, offering relief to audiences in desperate need of diversion. It wasn't the ideal—well-known players, packed stadiums, minds unburdened enough to get angry over missed calls—but it was something.
Starting with the opening-day matchup between the Samsung Lions and NC Dinos, I've also been watching the KBO, keeping close tabs on a league I'd never paid attention to before. Because the broadcasts air early in the morning for U.S. viewers, I've stayed up late to catch snippets of games and finished them the next day over breakfast and between bouts of housebound work. In some ways, the games have been a balm, a suggestion that things are moving in the direction of normalcy. But they've also been unsettling, their comforts marked by reminders of what they're distracting us from. It's a dichotomy that all sports fans will have to get used to as leagues elsewhere plot how they can resume play.
It makes sense that baseball is the first game back. To begin with, it calls for natural distance between players, who come into contact more during celebrations than during gameplay itself (where they formerly slapped hands, now they often just bump elbows). But baseball also has an inherently soothing aspect. ESPN's Michael Jordan docuseries, The Last Dance, and re-aired classic games can offer viewers the grandiosity and pomp of sports, but the network has had a harder time replicating the daily backdrop of less pivotal games. "This is what I've been missing," Lauren Theisen wrote in a mid-pandemic blog post praising non-iconic replays. "Not the occasional thrill of a buzzer-beater, but the constant, comforting knowledge that sports are just always there." No sport is more there than baseball, whose teams play lengthy games almost every day. And no other sport so resonates with drudgery, with the notion of a problem that must be grappled with attentively for a long time.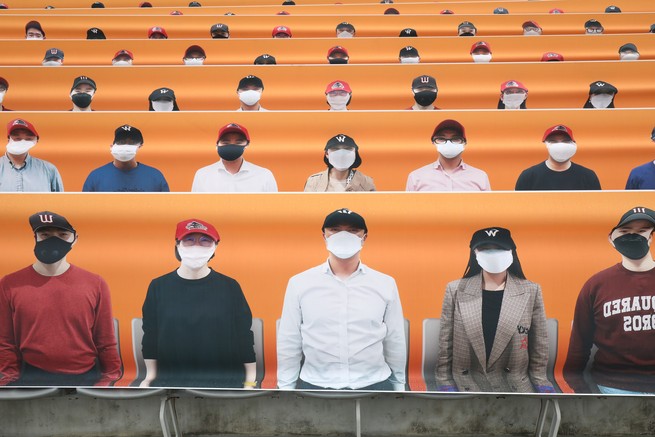 The KBO specifically has still more charms. For one thing, there are the unabashedly joyful bat flips, home-run celebrations frowned upon in Major League Baseball but embraced in Korea. For another, while MLB has become the almost exclusive domain of hard throwers and big swingers, less formulaic player types endure overseas. Baek Jung-hyun, the Lions' starting pitcher for the season opener, makes do with a fastball that doesn't reach 90 miles per hour, tic-tac-toeing it around the strike zone. Jung Soo-bin and Park Kun-woo, a pair of Doosan Bears outfielders who appeared on my laptop screen last Wednesday morning, choke up high on their bats, aiming cue shots through the infield. These styles of play, which all but disappeared from American baseball years ago, seem of a piece with the resurgence of home baking sourdough loaves—the heartening return of something neglected.
The appeal I least anticipated was that of anonymity. To me, and to most American fans tuning in for the first time, the KBO's players are unknowns, absent all context but the statistics that appear alongside them on-screen. Phillip Lopate once wrote of baseball, "Without knowing the individual players as a cast of characters, it is a pretty dull, abstract ballet." Now, however, the lack of individualized backstory scans as a virtue. We occupy an age of common purpose in which everyone's health depends on everyone else's actions. I didn't find myself missing the excitement that comes when a famed slugging threat steps to the plate; rather, I appreciated the straightforward concept of a team, the sight of people lining up where they should and doing what they can.
At the same time, whenever I found myself pulled into the routine of a game, something would remind me of the pandemic. I flinched the first time I saw a player return to the dugout and receive a line of high fives—what happened to the elbow bump he had judiciously used with the first-base coach?—then hoped that his batting gloves provided enough medical protection. When Doosan's Choi Joo-hwan put a sweeping swing on a fastball for a home run, I smiled. But when the ball caromed off the empty outfield seats, a lump rose in my throat. After Na Sung-bum, the Dinos' star designated hitter, knocked a clean single for the first hit of the season, the analyst Eduardo Perez said, "That's a great sign to see." It took me a few moments to realize that Perez was referring not to an early cautious step toward resuming public life but to the fact that Na had recovered from a knee injury. I had forgotten that progress not explicitly related to COVID-19 existed.
The isolating effect of the pandemic has made many things seem strangely closer; when you're stuck indoors, the entire world outside feels as nearby as your neighbor. But from time to time, as I watched the KBO, my attention would turn to the basic fact of geography. I thought about how these games were being played thousands of miles away, their return made possible by South Korea's effective pandemic response. In America, the reality is different. As vague plans to restart major-league sports emerge, they center largely on sequestering the athletes from what figures to remain a national crisis, shining further light on the inadequacy of the United States' efforts.
Even so, American fans have started to wonder whether the KBO season thus far is a hint of what sports in the U.S. might look like one day. After all, July 1 has begun circulating as a possible date for the start of the MLB season; NBA players have filtered into practice gyms; and last Thursday, the hype of the NFL's annual schedule release featured only minor mentions of possible delays. If the Korean league is a source of hope, though, it's also proof that sports will not regain their old engrossing nature for a long while. The particulars—the coaches and umpires in masks, the cheer squads dancing without anyone to rouse—are less jarring than the trains of thought they set off. A good deal of sports' power comes from their ability to give an unimportant game the sheen of real urgency for a few hours, and to let fans set aside their other troubles.
That illusion is, in this case, impossible. The reality of the pandemic is visible everywhere you look, lingering in details that would've been innocuous a few months ago. The KBO's opening game began with a rain delay, pushing back the first pitch some 45 minutes. A tarp had been stretched over the infield, protecting the dirt. I had seen a sight like this hundreds of times before and had never thought of a mask. This time, I couldn't stop thinking of one.