The Sitcom Dad Who Made Grouchiness Into an Art Form
The actor Jerry Stiller, who died yesterday at age 92, was unforgettable as the irascible Frank Costanza on Seinfeld.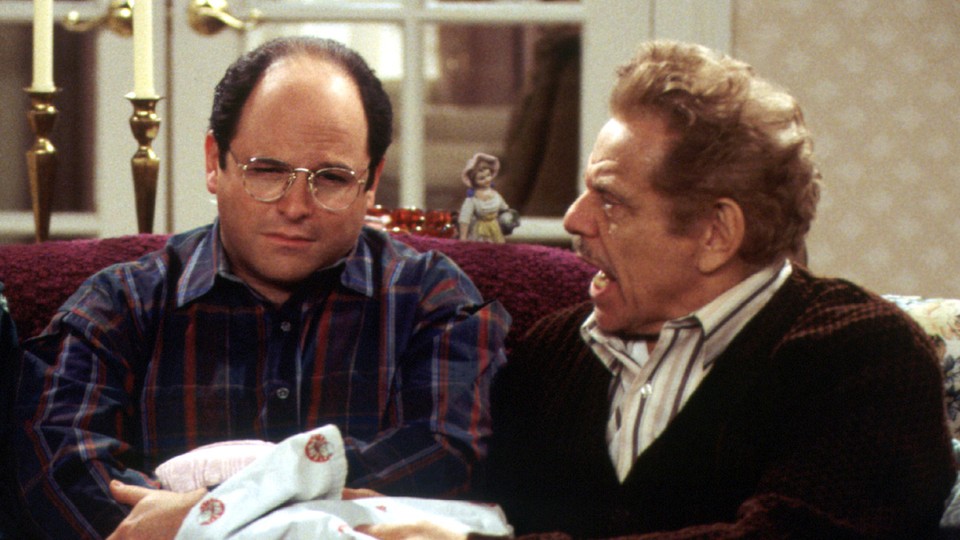 When George Costanza's father, Frank, is introduced in Season 4 of Seinfeld, he is a typically world-weary sitcom dad played by the theater veteran John Randolph. Hen-pecked by his wife, he reacts to his son's antics with little more than a sigh; the only indication of sublimated rage comes in a scene where he smacks his son on the forehead in frustration. The role of Frank was recast in Season 5 with Jerry Stiller, who quickly noticed that the character wasn't clicking. "After a couple of days, I realized that acting meek was going to get me fired … On the fourth day, I said to [the Seinfeld co-creator] Larry David, 'This ain't workin'. Can I do it my way?'" Stiller recalled in an interview. "The next time Jason [Alexander, who played George] said, 'Dad, can I have the keys to the car?' Bang! I gave him this whack. Everybody screamed."
With that chaotic scene, which had been workshopped ahead of time with Alexander, an icon of American crankiness was born. Frank Costanza was the crowning role in a storied career that ended yesterday with Stiller's death at the age of 92—and it's the role that arguably most resonated with audiences. The other characters of Seinfeld obsessed over minute details, complained about life's modern conveniences, and spent episode after episode twiddling their lives away in glamorous Manhattan. As played by Stiller, Frank was their hilariously cantankerous counterbalance, unafraid to yell in people's faces, challenge them to fist fights, and invent whole holidays devoted to airing his grievances about the world.
"In [Stiller's] first scene, I remember he had to say to George, 'Would you believe, when I was 18, I had a silver-dollar collection?'" Peter Mehlman, a writer who worked on Seinfeld for almost its entire run, told me. "And for older actors, it gets to be difficult to remember the lines, and I think part of his delivery came out of that," Mehlman said of Stiller's abrupt readings. "He would say the first half of [a line], remember the second half, and then blurt it out all of a sudden." Stiller's unpredictable manner of speaking—he could shift from a mumble to an explosive shout in an instant—conveyed an anger that helped define his character. "Unlike Jerry [Stiller himself], Frank was in a perpetual state of moral outrage," Mehlman remembered with a chuckle.
Stiller was by all accounts the furthest thing from the irascible buffoon he played on Seinfeld, and his career encompassed far more than the 26 episodes he filmed over that show's nine seasons. But Frank Costanza was the perfect example of how Stiller could transform even a stock character into someone unforgettable. Every time Stiller appeared in a production, no matter how small his part was, he stuck out. Before Seinfeld, the actor was best known for his comedic double-act Stiller and Meara with his wife of 60 years, Anne Meara; their improv stylings were a fixture on variety TV in the '60s and '70s. His Broadway career included Shakespeare and the acidic 1984 comedy Hurlyburly, and he channeled gritty humanity in his occasional film roles, including the steadfast Lieutenant Rico Patrone in The Taking of Pelham One Two Three and the sweetly encouraging father figure in John Waters's Hairspray.
Though his work with Meara called on him to portray an array of comedic archetypes, Stiller was always downplaying his talents as a performer. After Seinfeld, he took a Frank Costanza–esque role as a grumpy dad in The King of Queens, another New York–set sitcom, calling it "an opportunity for me, for the first time, to test myself as an actor, because I never saw myself as more than just a decent actor." While Stiller's work was usually laced with some of his brassy Brooklyn personality, he could be a much subtler performer than he gave himself credit for, delivering lines such as Patrone's "We had a bomb scare in the Bronx yesterday, but it turned out to be a cantaloupe" with an inimitable deadpan.
Despite those memorable roles, his work with Meara, and the success of his son, Ben Stiller (who cast him in Zoolander and its sequel), the work that defines Jerry Stiller will always be Frank Costanza. That's partly because of Seinfeld's popularity—no other sitcom was rated higher in the '90s—but mostly because of Stiller's willingness to depict a man whose flaws constantly bubbled to the surface. Frank's intransigence, his hair-trigger temper, and his surreal view on modern society helped explain his own son's many foibles.
Perhaps Stiller's most famous scene as Costanza is the one that best reveals the depths of Frank's self-involvement. The Yankees owner George Steinbrenner visits the Costanza parents to (mistakenly) inform them that their son is dead. Rather than absorbing this horrific news, Frank takes the opportunity to castigate Steinbrenner about his decision to trade Jay Buhner. Both funnily and somewhat tragically, as news of Stiller's death spread on social media, Buhner's name started trending on Twitter, where fans were recalling their favorite Frank moments. Such was Stiller's influence on comedy and on American pop culture. The ornery Frank will always be remembered; so, too, should Stiller, the sweet thespian and consummate professional who brought him to life.