Hollywood Fails to Sell Its Own Fairy Tale
Ryan Murphy's Netflix show presents a fantasy in which marginalized people get to make the film they want. But the fun thought exercise curdles into earnest nonsense.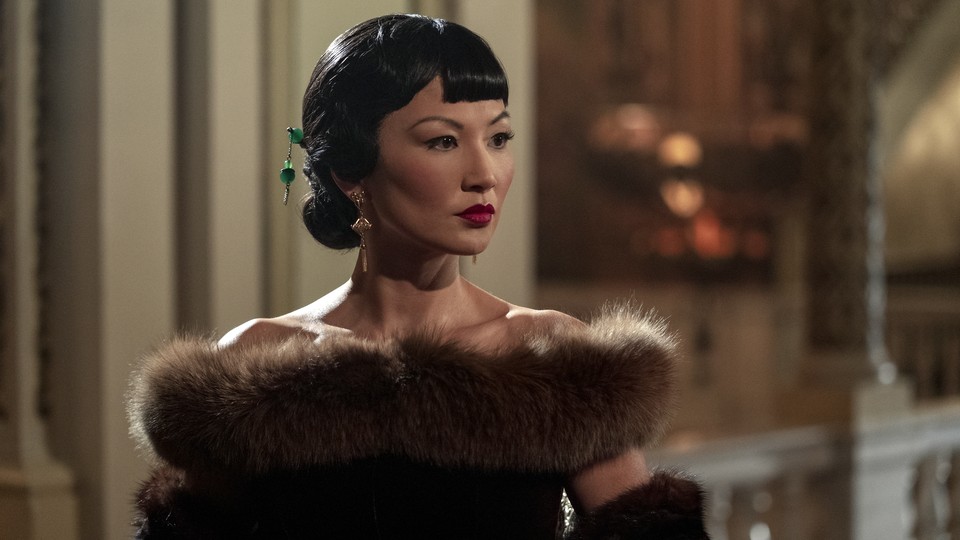 The following contains spoilers through all seven episodes of Netflix's Hollywood.
In Netflix's Hollywood, Ryan Murphy envisions a major studio production that never existed in the 1940s: A black gay writer and a half-Asian director make a film starring a black actress—a film that becomes a box-office hit and the Best Picture winner at the Oscars. What if, the series asks, Hollywood had been a haven for marginalized voices rather than a club shutting them out?
That thought exercise leads to fun results—at first. Alongside his co-creator, Ian Brennan, and co-executive producer, Janet Mock, Murphy, one of TV's biggest provocateurs, puts some tantalizing spins on the classic Hollywood fairy tale. During the first half of the season, an aspiring actor gets his big break by joining a male escort ring, unlikely performers score chances to screen-test for lead roles, and the aforementioned director serendipitously plucks the writer's script out of a pile, jumping at the chance to work with another person of color.
But that fantasy curdles into delusion by the time the fourth episode ends. In a baffling scene, Eleanor Roosevelt (played by Harriet Sansom Harris)—one of many real-life figures who pop up throughout the series—rushes to the fictional Ace Studios to encourage a group of executives to cast a black actress rather than a white one. "Think about it," the former first lady begins, "what it might mean to a dirt-poor little black girl living in a shanty in some cotton town … What you do, the three of you, can change the world."
The plea would be touching if it weren't for the clunky setup. As rare as it would have been for anyone of color to be invited to a meeting with studio execs, the fact that the scene doesn't include Camille (Laura Harrier), the black actor in question, but instead depends on a character introduced out of nowhere, contradicts Murphy's socially progressive fantasy. Roosevelt's hypothetical also distills the black experience down to poverty, making the scene not just tasteless, but insulting. Save for a few inspired arcs (such as one involving a closeted executive played by Joe Mantello), much of Hollywood functions this way—using the revisionist nature of the show as a narrative crutch.
As a producer, Murphy usually succeeds in excavating the complex, uncomfortable truths in dramas about history: In The People v. O. J. Simpson, he exercised restraint while telling the most tawdry of true-crime tales; in Pose, he found subtlety in the most exuberant ballroom worlds; and in Feud: Bette and Joan, he criticized the machinations of old Hollywood's most glamorous icons. But in Hollywood, he resorts to wishful thinking, never demonizing the industry and its Hays Code era, leaving the series toothless instead. The show acknowledges the sexism, racism, and homophobia of the postwar movie business, but it treats such systemic issues as simply failures of imagination—as if all Hollywood needed was more Roosevelts bravely striding onto movie sets.
In an interview with Salon, Murphy said he wanted to avoid the "incredibly bleak" tone of other alternate-history series such as The Man in the High Castle, while Mock explained that they wanted to adopt an optimistic tone that would underline the impact Hollywood can have on marginalized communities. When she and Murphy worked together on Pose, they received feedback that "it's not realistic," she said. "With Hollywood we are actually saying, 'What are the many interventions that we could have made that could have possibly taken us onto a different road?'"
Yet, that's exactly the problem with Hollywood: The show doesn't present a series of "interventions" that could have accelerated the industry's progress; it presents a series of ridiculous plot contrivances. Camille lands the gig because of Roosevelt's appeal. Patti LuPone's Avis becomes the first female studio head because her philandering husband, who had the job, suffers a mid-coital heart attack. Everyone working on Meg, the film starring Camille and written and directed by talent of color, fears that their project will anger "the South." But the biopic, which changes the race and backstory of Peg Entwistle, an actor who leapt to her death off the Hollywood sign, gets saved from censorship by a deus ex machina. Racism becomes a nonissue for Meg after the film opens; as a newscaster notes, racial protests "simply melted away."
The series also misuses its real-life Hollywood icons. Hattie McDaniel (Queen Latifah) and Anna May Wong (Michelle Krusiec) appear only as examples of the industry's discrimination. Despite their historical impact, neither has a say in shaping Meg's storytelling; they drop in just to lament their mistreatment and bestow their best wishes for the production. Wong in particular is underwritten: After being cast in Meg early in the series, she disappears until the finale, when she wins an Oscar for her supporting performance—a performance glimpsed once, in a scene that a character advises an editor to cut.
Her acceptance speech, though, gets the spotlight in the finale. As she speaks, the show cuts to a montage of nameless Chinese characters—her relatives, it's implied—cheering her on. Tearfully, she thanks the Meg team for giving her an opportunity to play "a complex woman with a heart and a soul … You gave my life purpose again," she gushes.
Hollywood's plodding Academy Awards focuses only on Wong's gratitude. Krusiec sells the emotion of the moment, but the artless scene minimizes her so that she merely represents a missed opportunity, just another entry in Murphy's canon of misunderstood women. In reality, Wong rebelled against her Chinese American parents' wishes and left school for auditions. Throughout her life, she worked to reconcile her heritage with her career portraying stereotypical Asian roles; she created a production company dedicated to stories about her culture, traveled to China for the first time in the 1930s, and directed a documentary about her experience. Yes, Hollywood never fully recognized her talents, but Hollywood suggests that all she wanted was a trophy.
As everyone involved with Meg—except for, Hollywood notes with a wink, the film's straight white male lead—received an Oscar, I thought of the writer Ursula K. Le Guin's essay about The Help, the 2009 novel set in the 1960s South in which a group of black maids overcome prejudice to speak out about their experiences. Le Guin points out that while the novel's author has "sympathy for" her subjects and "knowledge of their everyday existence," such good intentions were "made questionable by her assumption of a right to speak for people without earning that right, and killed dead by the wish-fulfilling improbability of her story." The same could be said of Murphy, who dresses up wish fulfillment as empowerment in Hollywood, but in the end, offers little more than earnest nonsense.