Sarah Cooper Has Mastered the Trump Joke
The comedian had used TikTok only a handful of times before her impersonation of the president garnered 15 million views. Now it's making her rethink her routine.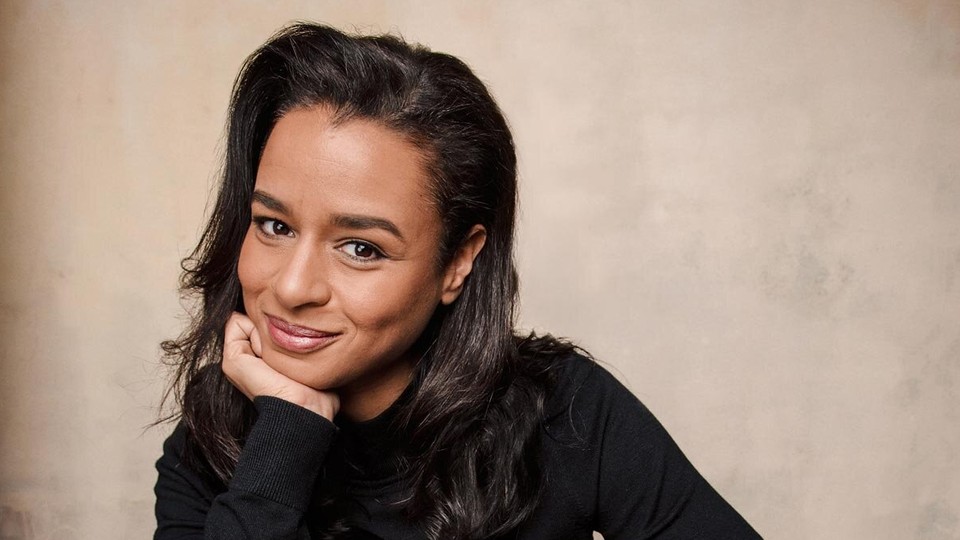 When Sarah Cooper made a TikTok of herself lip-synching to President Donald Trump's statements about injecting disinfectants into patients to battle the coronavirus, she didn't think it would take off. The Brooklyn-based author and comedian usually performs at open mics and live shows; this video, titled "How to medical," was only her tenth upload on the social-media platform. Yet when she shared it on Twitter at the end of April, the spoof went viral, logging nearly 15 million views and scoring retweets from A-listers such as Jerry Seinfeld and Ben Stiller.
Cooper, though, told me she felt somewhat guilty. She hadn't even caught the press conference live; she'd heard about it from her husband afterward, found the remarks ridiculous, and made fun of them with a 49-second riff. "My impostor syndrome is kicking in," she told me this week over the phone. "I'm like, 'Wait, I didn't actually write anything.' I didn't actually work very hard on this at all, so what does that say about me, that I went viral with something I basically spent an hour on?" She laughed. "I'll just chalk it up to years and years of trying different things to get to this point."
Trying different things has become the new normal for comedians such as Cooper. After all, stand-up and other live shows are unsuited to social distancing, so many performers have come to rely on the internet to compensate. During the first at-home edition of Saturday Night Live, the "Weekend Update" co-host Michael Che used Zoom just so that he and Colin Jost would have spectators laughing in the background. The comedian Ted Alexandro has been live-streaming new material, and even edited his series of Instagram Live videos into a "special." Cooper, too, is participating in this type of scrappy online entertainment; she just guested on a podcast that broadcast via Zoom last weekend.
With her sister working as a nurse in D.C. and her 70-year-old mother battling asthma, Cooper finds that her work has helped her relieve some of the anxiety she's feeling. "I need comedy more than ever," she said. "I need escape and I need something to relax me, even more than I needed before the quarantine." In our conversation, Cooper reflected on pivoting to a digital platform during the pandemic and the role of topical comedy in a time of crisis. This interview has been condensed and edited for clarity.
---
Shirley Li: You've been active on Twitter and YouTube for years, but you uploaded your first TikTok only a month ago. What made you want to join the platform?
Sarah Cooper: Well, to be fair, my 11-year-old nephew, Tyler, introduced me to TikTok last summer, and I made a few videos but then just completely forgot about it. [Laughs.] I was kind of doing [social media] on and off. I was doing more live shows, open mics, and then once everything got canceled, a part of me was like, Well, this is a bit of a relief, because I'm working on a book, and [I can] rediscover my love of creating content for the internet. It has to be shot at home with what you have. That energized me. I have all these stories that I tell on stage, how can I put this into this new medium? TikTok's not really my platform; Twitter is, but I find TikTok to be this amazing tool for creating new visual interpretations of existing audio. So I've been experimenting.
Li: How does the experience of hearing from an audience through likes and comments compare with doing stand-up, with the energy in the room?
Cooper: [Takes a deep breath and whispers.] It's just awful. As much as I love seeing comedians I haven't seen in a while, this format just feels corporate to me, so constraining and awkward. Live comedy in a club, with an audience—it's hard to recreate that experience in a digital world. With Zoom, your face is there the whole time, and you feel like you have to always be on. You feel like you always have to be paying attention, and it can be exhausting.
I'm kind of an introvert, so I really do have to get over some anxiety to get on stage and connect with an audience. Once I do, it's amazing, but it is a bit of a struggle. [TikTok], for me, was exhilarating; I don't find performing on Zoom or Instagram that rewarding. I feel like I'm trying to take, like, a cube and put it in a round hole, you know what I mean? It just doesn't fit.
Li: Your videos directly engage with the anxiety around the pandemic, and your series covering the president have to mine humor out of his lies—without spreading his harmful messages. How do you figure out how to toe that line?
Cooper: The cool thing with TikTok is that people have already done their own takes on his audio, and I've noticed that people who try to impersonate Trump do the hair or the clothes or the facial expressions. But it isn't as funny, for some reason. What I did was basically, What if I, Sarah Cooper, said these words? Like I really believe that this is a valid idea. I'm talking very honestly through this, so I wasn't trying to imitate him at all.
Somebody [pointed out] that this is the emperor without his clothes, because when you see Trump, and he's behind that podium with the presidential seal, and he has people nodding behind him, you might think that what he's saying makes sense. But you take all of that away, and you have those words coming out of my mouth? It just brings to light even more how ridiculous it is.
Li: That reminds me of what Seinfeld said about you: that your video is funny because you don't seem to be having fun.
Cooper: [Laughs.] It's so funny he said that, because when I was doing it, my husband was cooking dinner, and I was rushing to get it done before dinner was ready. A part of that urgency probably came through. And he's right; when you try to be funny, usually it's not funny.
Li: You're doing an objectively funny thing, but you're actively trying not to be—or notice that you are.
Cooper: Yeah, if you've ever seen This Is Spinal Tap, or any kind of mockumentary, that to me is hysterical. Those characters don't think of themselves as funny. That's why Trump is so funny, because he thinks he sounds brilliant. So I was playing a character who didn't think of myself at all as funny. Just being earnest, you know?
Li: When does he stop being funny? You're skilled at writing timely jokes on Twitter, and your TikToks have only underlined the absurdity of his administration's response to the health crisis, but have there been times when you've stopped yourself from coming up with a comedic take?
Cooper: It is a very tough decision. Trump was asked if he had spoken to any families who had lost loved ones to the coronavirus and he gave a vapid response. He was searching for something, for some way to seem empathetic even though he couldn't [empathize], and I wanted to make fun of that, but he is talking about death, and he is talking about losing people. I felt like that was a line for me: Even if it's him, I didn't want to make something funny about people losing loved ones.
On the other hand, when [I'm lip-synching to him] talking about his "very strong death totals," that is making fun of the way he thinks about how he's doing, and how much of a disconnect there is between what he thinks and what's actually happening. If you're making a statement that is speaking truth to power in a way that isn't stepping on someone who doesn't have power or someone in pain, then I think that is the line you have to find.
After the election, nothing was funny to me—you could not make me laugh about anything. And that turned into anger and then it was like, No, I have to say something. Sometimes I wonder, in a hundred years, if all goes really badly, are [people] going to look badly on comedians who capitalized on this [kind of] content? I can totally see that happening, but for now, I feel like my way of coping is making fun of him as much as I can.
Li: When this is all over, how do you see stand-up comedy moving forward? Seinfeld predicted that comedians will bounce back faster than movie and TV productions. What do you think?

Cooper: I think some comedians can and some can't. We're not a monolith. When live stand-up comedy comes back, the comedians who are amazing at interacting with the audience and creating that connection are going to. But then someone like me, maybe making stuff online is going to be more my thing. Maybe it just took the quarantine for me to realize that. Maybe I'll be doing a little bit of both. I'm not sure, but I think what he was trying to say is that if you are a person who likes making comedy, you'll find a way. You'll always find a way.