The Film That Captures a Different Kind of Isolation
In a time of heightened xenophobia toward Asians, Alan Yang's Tigertail offers a deeply personal examination of a Taiwanese immigrant's life.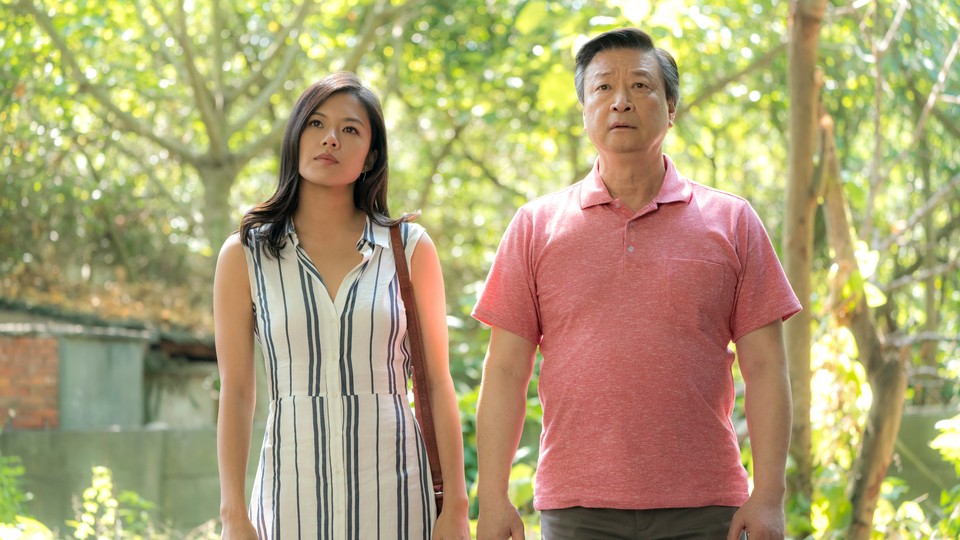 This story contains spoilers for the film Tigertail.
Four years ago, the writer-director Alan Yang took the immigrant child's rite of passage: He went "home." He'd been to Taiwan before, but that was when he was 7 years old. After an entire adult life away, Yang felt more than ready to head back with his father to their family's hometown of Huwei—a rural community southwest of Taipei whose name, in English, translates to "Tigertail."
As the pair journeyed across Taiwan by high-speed rail, Yang peppered his father with questions about growing up. After winning an Emmy for co-writing the Master of None episode, "Parents,"—a sweet, funny vignette about the sacrifices immigrants make for their children—Yang had begun working on a loosely autobiographical script he titled "Family Movie," and he needed help. His father obliged: When they arrived in Huwei, he took Yang to pay respects to late relatives at the mausoleum and showed him the sugar factory where he and his mother, Yang's grandmother, once worked. He also tried to take Yang to visit their old family home, but after all those decades away, the town had transformed the plot of land into a gas station.
It was there, as Yang gazed at fuel pumps and tried to picture the house in which his dad grew up, that his film took shape. The story wouldn't just be a "love letter" to his family but also an opportunity to unearth the interiority of a Taiwanese immigrant's life. He wanted to show the longing that his dad couldn't put into words. The gas station "was such an evocative representation of how you can't go home again, literally," Yang told me over Zoom in early April. "And not only that, but no matter how much you miss your past and how much emotion you have and how much you wish you can go back in time, you never can."
The result is Tigertail, Yang's directorial debut, which hit Netflix last Friday. But the deeply personal film has arrived at a tumultuous time for Asians and Asian Americans. Heightened xenophobia, thanks to racist rhetoric about the coronavirus pandemic's origins in Wuhan, China, has led to disturbing attacks and increased harassment—including an incident involving the film's star, Tzi Ma, last month. The former Democratic presidential candidate Andrew Yang even argued in an op-ed for The Washington Post that Asian Americans should "show our American-ness" to fight the racism—reasoning that drew backlash for putting the burden on Asians to assimilate.
Tigertail is a welcome rebuttal to such an approach. The film makes the case for embracing one's culture rather than denying it—and for understanding that immigrants are more than perpetual foreigners. "It was naive to think that [racism] had ever gone away," the director told me. "But steps need to be taken to just educate people and to make sure they understand, these are human beings."
Tigertail's protagonist, Pin-Jui, fits that mold. The character could have easily been a stereotype; as played by Ma in his older years, he's reclusive, aloof, and struggling to connect with his American-born daughter, Angela (Christine Ko)—the definition of the stoic Asian father in plenty of pop culture's renderings. But the film frequently jumps to Pin-Jui's past, and Yang drenches these flashbacks in vivid colors, giving them a dreamy, Wong Kar-Wai–like quality. The young, suave Pin-Jui (played by Hong-Chi Lee) romances his childhood sweetheart, grooves to Otis Redding, and dreams of traveling to the States. When life in the Bronx turns out to be tougher than he imagined, his optimism—and the film's vibrancy—fades.
By capturing the context and the depth of Pin-Jui's regret, Yang shows how Pin-Jui isn't refusing to open up to his daughter because he's naturally disapproving. He's simply afraid she wouldn't understand. "I think in the past, a lot of Asian characters have been portrayed as inscrutable and unemotional and sort of unknowable, and I think that contributes to a dehumanization of Asian people," Yang explained. "People talk about teeming hordes of people in China as just faceless masses, but no, we're all individuals. We all have incredible life stories; we all have rich pasts."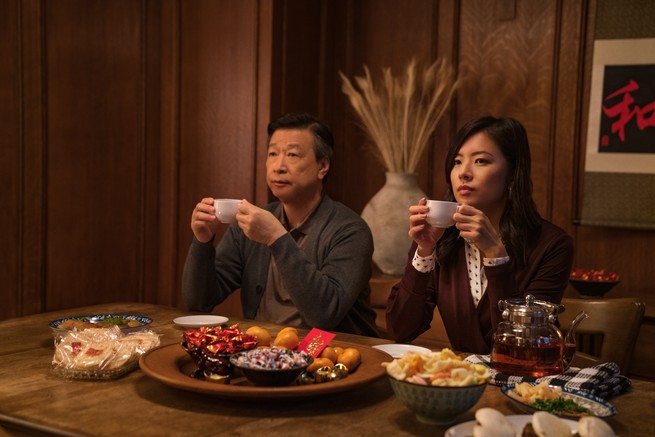 When Yang decided to delve into his father's history, Crazy Rich Asians hadn't yet broken ground as a mainstream Hollywood project that would start the new wave of Asian and Asian American stories in the industry. Yet even as more immigrant stories arrive on-screen—including the TV series Little America, which Yang produces—Tigertail offers a new take. It's a film interested less in depicting the generational culture clash that comes between immigrants and their children than in observing the ways their experiences overlap.
Pin-Jui and Angela's scenes work in conversation with one another: After a montage of the older Pin-Jui doing his dishes alone, Angela is shown doing the same thing—both are lonely and almost paralyzed by how they've come to be on their own. After a flashback showing Angela's marriage falling apart, the young Pin-Jui is depicted finding New York harsher than he thought it would be. When Pin-Jui finally opens up as the two have tea, Yang captures them sitting side by side, with artwork behind them featuring the Chinese character for the word "and." Pin-Jui and Angela, the film makes clear, are more similar in their heartbreaks and solitude than either of them realizes.
Television shows and films about the immigrant experience often fixate on the way the older generation misunderstands or expects too much of the quicker-to-assimilate younger one. But in Tigertail, Yang shows how little the child can comprehend the parent: Angela has only ever understood her father to be reclusive and intimidating. She has no idea of his charismatic youth, of his disillusionment once stateside, or of his feeling permanently untethered as an immigrant. Angela's concept of home will always be different from Pin-Jui's, and that separation, Tigertail posits, isolates them both, creating an intergenerational loneliness that's hard to mend.
I watched Tigertail for the first time at the end of February, alone inside a screening room at Netflix's offices in Los Angeles. At the time, I'd interpreted Tigertail as a delicate portrait of an aging immigrant and dwelled on the images of Tzi Ma's older Pin-Jui eating dinner alone in his apartment. But the second time I watched it, in the form of an online screener at the end of March, things had obviously changed: I was isolated from my family, my family from me. This time around, I saw the film differently: The scenes of Pin-Jui in seclusion felt particularly painful to watch, whereas his flashbacks felt oddly satisfying—I felt nostalgic for an era I'd never known. Pin-Jui's younger, ebullient years spent dining and dashing, dating and dancing were freshly affecting; the scenes were so appealing, it's no wonder Pin-Jui couldn't help but be captivated by such memories.
It's also why, when Tigertail fast-forwards to Pin-Jui's muted present day, the film seems to almost collapse under the weight of his loneliness and inability to relate. His conversations with Angela can come off stilted, the pressure of their troubled relationship stopping him from responding to her pleas. And by focusing heavily on Pin-Jui's flashbacks, the film doesn't give Angela's modern-day arc much room to breathe. Her husband, played by The Edge of Seventeen's Hayden Szeto, shows up without speaking a single line of dialogue. In the flashbacks, Angela's mother plays a significant role, but the adult Angela has just one scene with her, leaving their relationship unexplored. Angela's narrative comes off as an afterthought compared to Pin-Jui's potent history.
Yang said that when he began the project, he'd envisioned it to be much more expansive. He'd even given Pin-Jui an English name—"Grover"—but it never gets spoken. "Figuring out that balance between the past and the present was really, really crucial, and truly," he said, "there's so much magic in those flashback scenes."
The ending of Pin-Jui's story ultimately helps make that imbalance work for the film. In Tigertail's closing scene, Pin-Jui guides Angela around Huwei the same way Yang's father did for him. When they find Pin-Jui's childhood home in ruins, the camera pulls back and captures a striking image of the pair framed by the house's window, as if enveloped by the past. There, Pin-Jui lets his daughter see his pain: He becomes overwhelmed with emotion as he gazes at the house, finally showing her that he isn't lonely because he has no one left to talk to, but because he has lost the old part of himself. Tigertail, by focusing on Pin-Jui's memories, shifts the story from the traditional narrative of a foreigner being the perpetual other, to a story about the allure of home.
Tigertail is one immigrant's somber reflection on his life, observed by the child of one. Both journeys of self-discovery converge to make the rare film that captures the interiority and full breadth of an Asian immigrant's story—and a film that feels more necessary now than ever, as pandemic-related xenophobia and racism are on the rise. Yang said that he hopes Tigertail's Asian American viewers take the time to reach out to their parents. "Talk to your folks!" he said. "And tell them you love them and how grateful you are." After all, not everyone can accomplish that task by making a film.