The Strange Pleasure of Planning a Post-Pandemic Vacation
For people hoping to travel after the crisis passes, Pinterest helps them envision a future that feels impossible to imagine right now.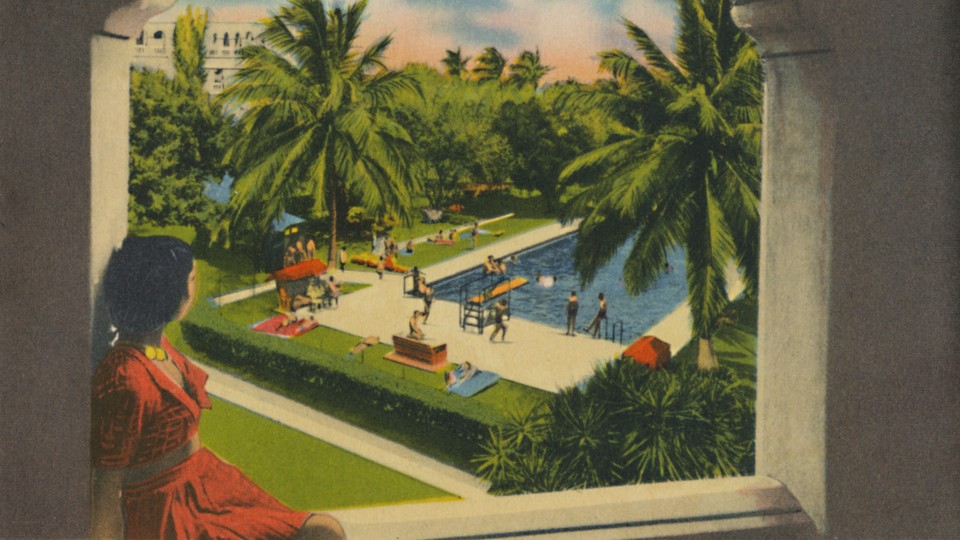 Name a travel hack, and Pinterest has seen every variation of it: Keep your bobby pins in empty Tic Tac containers and your Q-tips in old pill bottles. Put a belt inside your shirt collar and rolled-up socks inside your shoes. If you're looking for "25 Things to Do Before Any International Flight" or "10 Genius Ways to Save Money Traveling Europe," the aspirational site has answers.
Overwhelmingly popular with women, especially moms, Pinterest is best known as a user-sourced repository for recipes, DIY projects, lifestyle tips, beauty tutorials, and travel advice. Where Instagram mostly traffics in images of implausible perfection, Pinterest posts tend to offer instructions for achieving those aesthetics. Now, as the coronavirus pandemic has rendered travel and many leisure activities all but impossible, the site has taken on another function: helping people navigate their ambient anxieties.
Like millions of Americans, Angelé Anderfuren was forced to call off a trip she'd been looking forward to for months. She and her family, who live in Arizona, were set to go to Vancouver in June before the COVID-19 crisis struck. In the grand scheme of changes caused by the pandemic, canceled vacations are a minor inconvenience. But for most people, the deferral of nonessential travel—whether to another neighborhood or another country—signifies a major destabilization of normal life, alongside the never-ending news cycle, financial uncertainty, and "plague dread." Which is why Anderfuren and many Pinterest users like her have come to see the site as a welcome window into life after the pandemic. It's a comforting and collaborative way to envision and organize a future that feels harder to imagine than ever.
"Whenever I'm feeling anxious, the best thing I can do is to plan something," Anderfuren, a lecturer at Northern Arizona University, told me. "At some point, I will get to Vancouver. Right now … I can travel around the world—on Pinterest," she said with a laugh. Though the trip is off for now, Anderfuren said that she's continuing to save—or pin, in the site's parlance—items to the board that she had originally used to plan the vacation, because the exercise keeps her grounded. She picked Vancouver in part because she's a huge fan of The X-Files, which was primarily filmed in the area. "People have made Google Maps, and they've pinned all the different locations of the places [where] things are shot for different shows," Anderfuren told me of her Vancouver finds. Her 13-year-old daughter, a Nancy Drew obsessive, got excited after hearing that the CW adaptation had been shot there too.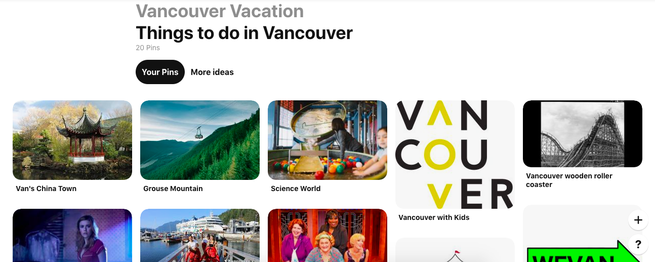 Perhaps surprisingly, pinning has become a quarantine activity for the household. Because they're not in school, Anderfuren's children are spending some of their newfound free time adding their own itinerary ideas to the vacation board. Though the landscape of Arizona allows Anderfuren and her family to retreat to nature relatively often, they largely stay at home; Pinterest is just one way they're dealing with the stresses of social distancing.
It makes sense that Pinterest's aspiration-oriented audience would be primed to use the platform amid such unprecedented global isolation. Kiara Diaz, a 19-year-old college student in Florida, has been on Pinterest for only four months, but in light of current events, she says that the site's travel community has helped her stay optimistic about the remainder of 2020. "You have so much time to look at your boards, plan online, and look at the stuff and save money for what you wanna do in the future," she told me of quarantine.
Diaz continues to pin travel posts to keep focused on the joy that she imagines returning to later. While waiting out the lengthy travel hiatus, Diaz is planning bigger than she otherwise might have, hoping to realize the lofty vacation dreams she had discussed with family members before the pandemic. For example, she and her mother had always talked about going to Greece together, and she and her brother had been wanting to visit Japan. So far, one Pinterest-suggested item has made it onto the latter agenda: "I'm a huge Mario Kart fan, and they have a real-life thing where you can go and go-kart," she said.
Similar to Diaz, the U.K.-based travel blogger Imani Adeyemo has found some of her most interesting travel ideas on Pinterest. (When we chatted, she mentioned learning about snow monkeys in Japan and the best times to see the northern lights in Iceland.) Also like Diaz, Adeyemo has started to rethink how she uses Pinterest as a future-planning tool. Before the coronavirus hit, Adeyemo had robust plans to visit the United States. Now, with that trip indefinitely postponed, and in light of strict social-distancing measures, she's reconsidering whether her earlier travel ambitions were ambitious enough. "In this kind of situation you [want to] go for paradise-type places … bucket-list places," Adeyemo said of vacation planning during a pandemic. She knows it'll take her a long time to save up for any post-quarantine journeys, but her new goals point to how forced isolation can drive people to seek out grandeur.
In a broader sense, Pinterest offers a reprieve from some of social media's more noxious trends. The site's ethos of self-improvement has long made it an ideal space for travelers uninterested in the more polished, and sometimes performative, vacation recaps common on Instagram and YouTube. That comparative serenity has become especially appealing to Adeyemo in recent weeks. "It's a stressful time, but I think Pinterest is a bit of relief from that," she said, noting that Instagram has more of a competitive atmosphere for travel bloggers.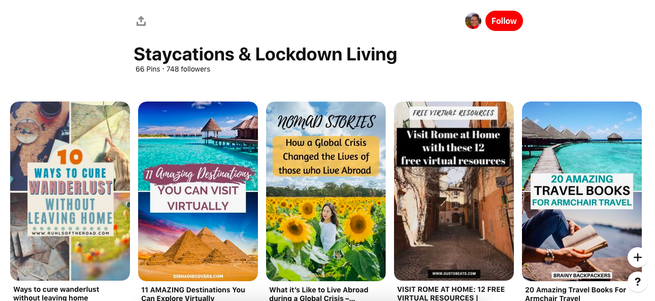 True to form, some of Instagram's travel influencers have taken to staging elaborate "fauxcations" on their pages. Others are sharing old photos and posing quarantine-inspired questions to maintain engagement. While some Pinterest accounts gain large followings and earn money from their content, a larger segment of people use it with relative anonymity. They share tips that emphasize affordability and the more holistic benefits of travel. In a reflection of the times, guides to virtual travel that frame escapism in accessible terms have become popular.

Even the act of drumming up excitement for a post-pandemic trip can be therapeutic, because it gives our brains something concrete to focus on. That enthusiasm is also the part of travel that's most within our control, even if external circumstances change. Crucially, being able to look ahead to positive experiences helps break up the monotony of everyday life. (Studies have found that pre-trip anticipation can be the most enjoyable part of a vacation.) As the travel columnist Stephanie Rosenbloom wrote for The New York Times, "[One] advantage to delving into relevant books and photos before a trip is that it provides novelty as an antidote to everyday routines … Counteracting adaptation increases happiness."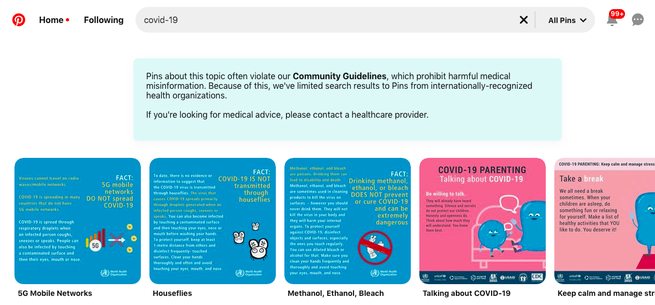 Pinterest has been concretely useful in other ways too: Compared with Facebook, Twitter, Instagram, and YouTube, the site takes a more active role in curbing harassment, highlighting health resources, and banning harmful misinformation. When users search for anything directly related to the coronavirus, for example, they're directed to a page that lists guidelines from the World Health Organization. People attempting to cash in on pandemic anxiety with unrelated or dangerous posts have a harder time doing so on Pinterest. Like the Tumblr of years past, Pinterest also features a notable volume of posts—many personal in nature—specifically about mental-health issues, which have generally high engagement rates.
Unlike watching television or movies, browsing and repinning posts on Pinterest is an interactive pastime. And, visually, the platform encourages a calming sense of order. For people dreaming of taking flight after the crisis is over, planning an itinerary can be a productive form of distraction. Even if users such as Anderfuren don't follow through on all the recommendations that they accumulate, there's still satisfaction in having collected them. The curation itself is a small act of creation.