Why London's National Theatre Is Hooking Online Viewers
The intimate camerawork of its web broadcasts gives everyone the best seat in the house.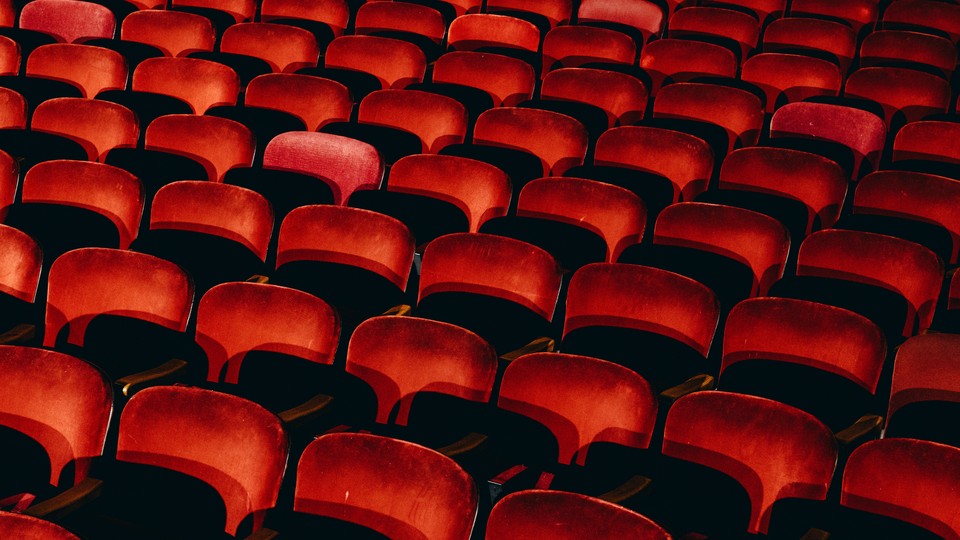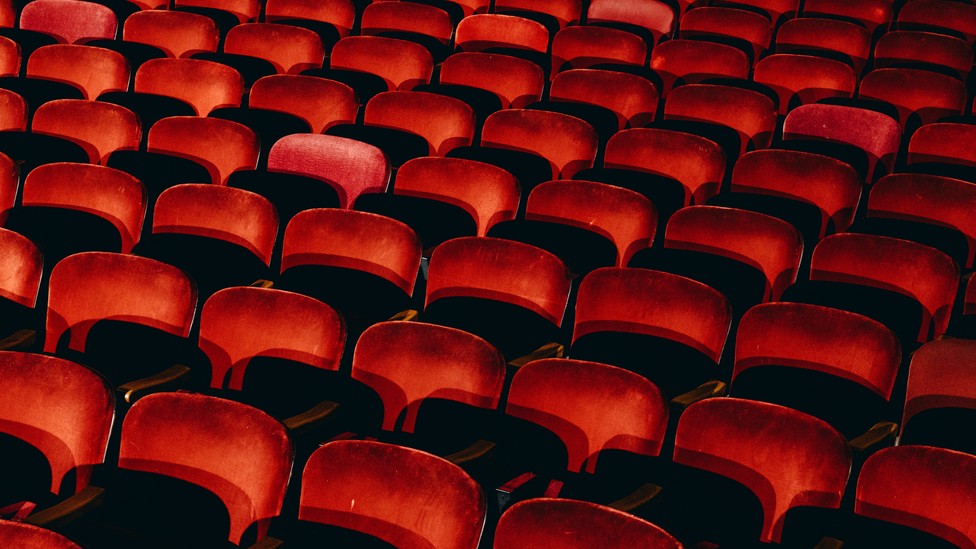 For the past few weeks, as we've been stuck at home, I've heard an unusual expression coming out of our playroom: "Australian honeymooners? Mills and Boon!" My kids had been watching One Man, Two Guvnors, the uproarious 2011 farce from London's National Theatre, which streamed on YouTube earlier this month, and they'd latched on to the punch lines of a genially obnoxious toff named Stanley Stubbers (played to blithe perfection by Oliver Chris). In Chris's arch boarding-school tones, phrases like "Go on, man, give it some welly" and "Good God! Colonel Mustard in the ballroom with the lead pipe" acquired a certain absurd posh musicality; in the mouths of 8- and 11-year-old Oregonians aping an Etonian, they sounded delightfully improbable. Despite how far we were from London, the live recording of One Man, Two Guvnors captivated the kids in a way nothing had since they finished High School Musical: The Musical: The Series.
As every organization that usually relies on bringing people together in a shared space—theaters, concert halls, houses of worship, restaurants, schools, sports teams—tries to figure out how to reach its patrons and participants, the National Theatre has a bit of a head start. For more than a decade, it's produced high-quality live recordings of its productions and beamed them around the world. NT Live began in 2009 as an attempt to provide access for audiences around the U.K. that couldn't get to its shows in London. (The National receives significant, if dwindling, public subsidies.)
Modeled on the live broadcasts of New York's Metropolitan Opera, NT Live enlists a camera director, who works with the theater director to plan how to present the show on-screen: when to shoot a close-up, when to widen the shot, when to focus on a reaction, when to cut to the audience. As the performance scholar Sarah Bay-Cheng points out, "mediated theatre" that's edited for a screen offers a very different sense of space, movement, and time than an in-person performance. Eight or so cameras get positioned around the theater, and there are two camera rehearsals before the broadcast. The show is recorded in a single take in front of an audience and broadcast live that night to movie theaters, with some delay for audiences in different time zones. "Live viewing is an important part of the concept," the National's executive director, Lisa Burger, told me over the phone. "The idea is that you in the cinema are joining the theater audience. This isn't a film being made in a studio; you're seeing a filmed version of a theatrical performance."
Because going to the cinema is now as impossible as getting to London for most of us, the National has pivoted to online distribution, with a new broadcast called NT at Home released via YouTube on Thursday evenings, U.K. time, to stream free for a week. "We've adopted the idea of a premiere moment," Burger explained. "Friends and family across the world can settle in with anticipation. You've got your cup of tea or glass of something stronger." Some 200,000 people tuned in to watch One Man, Two Guvnors the first Thursday in April, and 2.5 million streamed it over the entire week—the equivalent of full houses for 2,500 performances—donating about £50,000 to support the National (not nothing, but not quite salvation for a theater that, like every theater, is facing financial disaster).
Nearly 1 million people watched Jane Eyre the following week, about as many as had previously seen any of the NT Live cinema broadcasts. Of course, it's not the same as being in the theater, any more than watching LeBron James hammer a dunk on ESPN is the same as cheering in the Staples Center, or streaming Beyoncé's Homecoming documentary on Netflix is the same as catching her at Coachella. But it's a lot more accessible and affordable—at least for the viewer. The cost of producing recordings at this level is beyond the reach of most theaters. Although the National wouldn't reveal anything more than that the broadcasts were profitable, the founders of BroadwayHD, a theater-on-demand site, estimated that the cost of filming a Broadway musical with similar technology to the National's, including distribution rights and compensation for all the unions involved, runs between $2 million and $4 million, far above many small theaters' annual budgets.
The results, though, are pretty glorious. I'm delighted to snack on the digital theater snippets you can find around the web—Richard Kind and Rachel Dratch delivering hilarious monologues on Instagram for a kind of online pop-up theater called The 24-Hour Plays; the playwright Jeremy O. Harris queering classic drama with a series of brilliant TikTok spoofs; Suzan-Lori Parks wryly singing "Colored All My Life" on the TrickleUp platform to benefit out-of-work New York artists; even Patrick Stewart reading Shakespeare's sonnets in shorts on his couch. But for a free, full, richly produced theatrical meal, NT at Home satisfies on a level only, say, PBS's Great Performances or a BroadwayHD subscription could match.
Partly it's that the productions are terrific, and wildly varied in style. And partly it's that the intimate camerawork makes you feel like a collaborator in distinctly theatrical effects. When a callous aunt took the bundle of rags that stood for baby Jane Eyre and violently shook it out, revealing the dress that the actor playing Jane donned to assume her role, I gasped. And I nearly lost it when James Corden in One Man fumbled a bottle of Grand Marnier and Chris, watching him, crooned, "Whoopsie-diddly-dye-dose." The camera zoomed in on Corden's grinning face, as he appeared to crack, giving Chris a reproachful look; Chris tipped his head ever so faintly, as if to say, Well, what did you expect?
Moments like these in a theater broadcast "make us feel connected," Burger explained. Checking Twitter reactions to Corden's virtuosic turn during the premiere felt almost, kind of, like seeing the show with far-flung friends. Watching my kids watch Corden pine for a pint at the Cricketers Arms, beg the audience for a York-ham-and-mustard sandwich ("You've got a hummus? No wonder you haven't eaten it yet!"), and debate Tottenham Spurs footballers with a gangster called Charlie the Duck, I began to wonder what kind of imagined community we were forming. There's a democratic, class-free ethos to filmed theater: We all get the best seat in the house. Actually, with a variety of filmed angles edited together, "you're getting every seat in the house!" Stewart F. Lane, one of BroadwayHD's co-founders, told me.
Yet as much as I enjoy NT Live broadcasts (and I've seen quite a few of them over the years), I always feel a little uncertain about how they position me. I often wonder, Why am I sitting on the West Coast of the U.S. watching culture exported from London? In part, I watch because the broadcasts subsidize local theaters. In Portland, where I live, the company Third Rail hosts the NT Live screenings to get revenue to develop its own adventurous work; Benedict Cumberbatch as Hamlet underwrites Revolt. She Said. Revolt Again. (The local company typically splits the box office with the National.)
But the broadcasts also reinforce a sense of the U.K. as the center of civilization, and cinematic outposts around the world as its fringes, a message reinforced by the particular plays NT Live chooses for export. Although the theater has, in recent years, become much more supportive of diverse artists, the broadcasts for NT at Home come straight out of the Victorian canon, a series of Shakespeare and 19th-century-novel adaptations: Twelfth Night, Antony and Cleopatra, Frankenstein, Jane Eyre, Treasure Island. What the National sends out under its banner, "the best of British theatre," is more or less the same culture that the British empire used to enforce Englishness around the world a century and a half ago. London is still the metropole; I'm still regarding it fondly from a colonial outpost. It's the very coziness, the domesticity, of NT at Home that makes its imperial echoes both so pervasive and so hard to hear.
One Man, Two Guvnors is a comic celebration of Britishness on a pleasurable rebound from postwar austerity: a 1960s Brighton seaside world of cricket bats, skiffle bands, pub culture, and upper-class twits, with only a whiff of feminism and immigrant rights on the horizon. The National itself was founded in 1963 at the sunset of the British empire, and while some of the shows it supports have reflected a more postcolonial, global sensibility (a stunning recent adaptation of Andrea Levy's novel Small Island, chronicling the Windrush generation that immigrated to the U.K. from Jamaica after World War II, comes to mind), its live broadcasts tend to reflect traditional comforts. That might account for some of their popularity, too.
And that, perhaps, is a danger of this necessary shift from local, in-person performance to online global broadcast in the pandemic moment: a homogenization of culture that reinforces power structures that might have seemed to be on the wane. When I mentioned this fear to Burger, she told me she recognized the risk but saw NT Live's model differently. "It's an exchange of ideas," she said. I asked her how the exchange worked; she said that people around the world get to learn about the National, and the National gets to hear how much they enjoy it. (She also hinted that artistic partnerships with American and Chinese artists were in development.) The National's credo—that theater is for everyone—could feel inclusive or flattening; like the occasional actor of color in its Twelfth Night and Jane Eyre productions, everyone can fit into the "best of British theatre" narrative. With NT at Home, we've all become citizens of the National.