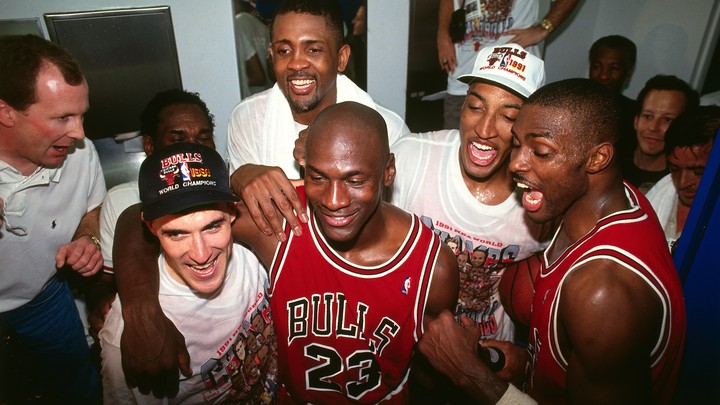 Michael Jordan, clad in a draping suit and a fitted beret, is ambling toward a makeshift Chicago Bulls locker room before the 1997 McDonald's Championship, an international summer basketball exhibition tournament, held in Paris. An NBA Entertainment cameraman films the jaunt, then pauses to capture some watercooler talk between Jordan and the NBA commissioner at the time, David Stern. The cameraman continues walking as Stern enters the room, but stops when Jordan's broad frame fills up the doorway. Jordan swiftly turns back, his smile warping into a scowl. He dismisses the film crew. "You guys are not allowed," he says, and the cameraman instinctively turns the camera away before Jordan even finishes uttering a perfunctory "Sorry." He's kidding, of course. But lesson learned: MJ didn't need a ball to get people to bite on a fake.
This scene in Paris is one of many candid, never-before-seen moments in the new 10-part Netflix-ESPN joint documentary, The Last Dance. It's also perhaps the most explicit in establishing Jordan as the series' gatekeeper. The NBA's production arm was granted unprecedented access to the Bulls during the entirety of their dramatic 1997–98 title run, on the condition that Jordan would be given the final say on how the footage would be used. The footage sat in vaults for two decades. Its myth grew among those in the film industry who knew of its existence—something like Excalibur lodged in the stone. Jordan held firm, turning down the likes of Frank Marshall and Spike Lee, who wanted to make the documentary. In sports parlance, "legacy" is a nebulous measurement of one's accomplishments. But in those 500 hours of archival tape was a bit of Jordan's legacy rendered tangible. It was leverage against any prospects of irrelevance, something that would have to be shared in a manner befitting the cultural monolith he became in his prime.
With The Last Dance, his patience has been rewarded, and so has the public's. The series, which premiered last Sunday and is airing new episodes over the next month, serves as an education, a reintroduction, and a spiritual reunion for one of the great basketball teams of all time. It is as farcically self-involved as it sounds, but how else would one capture Jordan's singular, single-minded essence? The hypnotic montages of Jordan dismantling defenders would be enough to placate the masses in these days of isolation. But the viewer also gets plenty of fodder—through firsthand accounts of vitriolic tensions between players and management—for considering how professional basketball has changed in the ensuing decades. Jordan rehabbed his broken foot away from the team in North Carolina, staging clandestine scrimmages without authorization from the Bulls. How many clauses would he be violating in a modern contract? How long before he'd be caught on an Instagram Live stream from a passerby? But Jordan and the 100-plus other interview subjects in The Last Dance aren't concerned with those hypotheticals. They have an entire arc of personal history to retrace.
The series is already a monumental success; its premiere reportedly averaged 6.1 million viewers, making it the most-watched ESPN documentary ever. Serendipity was at play: All it took was a global shutdown of life as we'd known it. The first two episodes of The Last Dance aired one day after the NBA playoffs were previously scheduled to start, and 39 days after the league suspended its season due to the news that the Utah Jazz center Rudy Gobert tested positive for COVID-19. The documentary was always meant to stand in for live basketball; its original release date in June would have nestled into a weekday gap between NBA Finals games. Now it bears the responsibility of filling the void of sports writ large.
It can't, of course, but it's being graded on a curve. Self-isolation has not been kind to sports fans. Those in withdrawal have burned through all the classics that networks have aired to mask the dead space: old vintages of the Masters, Wimbledon, the NCAA tournament, all hollowed out, lacking the propulsive drama that stems from uncertainty. There's still beauty in rewatching Villanova's 1985 NCAA men's basketball championship upset and the 2008 Wimbledon all-timer between Roger Federer and Rafael Nadal, but that vital thrill—the feeling of anxiety meeting absolution that gives sports its intoxicating pull—is long gone. What's left is a disorienting whiplash across eras. After more than a month of catching replays, many dedicated watchers are realizing how effective sports are as a means of regulating time. Game days are destination points; they offer proof of forward momentum. Random blasts from the past don't present the same structural support for our circadian rhythms.
The Last Dance offers a balm. This isn't to say the documentary follows a linear progression. Its story, ostensibly about one season of basketball, jumps back and forth across four decades, from the '60s, recounting Jordan's childhood, to the '90s—but it is held together by a constantly replenishing sense of drama. Jordan's compulsive need to win made him an unrepentant bully—we see it in the way he fought and berated teammates and executives—and The Last Dance does little to cast a negative light on his by-any-means-necessary mentality. But we do learn where it comes from: To hear Jordan admit that his competitiveness developed from the insecurity he felt trying to win his father's approval feels revelatory. There is a thrill of discovery, which gets to the heart of what makes live sports such an important fixture of everyday life. And in a time when live sports can't affirm our present, The Last Dance proposes a seductive alternative: Let's all go back to 1997 together. As John Dahl, one of the documentary's executive producers, told The Charlotte Observer, "The way the film is constructed, past and present—and I mean by present, 1997–98—are very far apart. Over 10 episodes, past-and-present become closer and closer until they are one and the same."
The Last Dance captures in full the unchallenged (and unchecked) primacy of the greatest basketball player ever. But with the actual NBA season on hold, the series is also the league's most compelling document of the times; in our new social habitus, what we see revealed by Jordan and the Bulls is as present as it gets. Recent video-game tournaments and endlessly buffering H-O-R-S-E competitions in isolation were unworthy distractions that only emphasized how much of an athlete's charisma lies on the court, in a specific context. LeBron James, who has lorded over the basketball world for much of the 21st century, is stuck at home watching The Godfather again and again; Giannis Antetokounmpo, who may supplant James as the league's leading figure in the coming years, is stuck at home playing NBA 2K. Even the league's very best are powerless in a lockdown. During their absence from the court, Jordan, armed with hundreds of hours of unseen footage, has, for better or worse, reemerged as the NBA's savior.
All this footage of Jordan at his apex is his shield against time, a bulletproof defense of his legacy. The Last Dance isn't the first attempt he's made to defend his place in the public imagination, nor is it the first time his return to the spotlight has intersected with global tragedy. The day before 9/11, a 38-year-old Jordan, who stewed for years in annoyance at the attention that younger stars such as Kobe Bryant and Vince Carter were receiving during his second retirement, played a pickup game in Chicago. To the three reporters who were in attendance, Jordan hinted at another comeback. News of the tease wouldn't be printed until the day of the attacks, when American life instantly changed. He made the official announcement two weeks later, but, playing for the nation's capital in all his faded glory, Jordan's return hardly struck the right tone. Amid such widespread, collective trauma, the power of celebrity didn't have much pull, especially given his deteriorated physical prowess.
This time around, he's returned as a much-needed distraction, not an enfeebled one. And he's back not as a player, but as a parable—one that is unconcerned with how Jordan, the person, has aged. He's been buffeted by time in the 21st century, becoming a disembodied face of meme culture and witnessing the dominance of a basketball phenom in James, who has come perilously close to matching Jordan's on-court accomplishments. It's likely no coincidence that Jordan signed off on using the footage in a documentary, after years of holding off, on the same day that James celebrated his third title at the Cleveland Cavaliers' championship parade in 2016.
I imagine Jordan at peace. The Last Dance offers his commentary on his own legacy in a way he's never shared before—the final word on his self-contained empire. I imagine it is thrilling for him to see, once again, the most astounding aspect of his game: his levitation, and, by extension, his mastery of time. The series' third and fourth installments, which aired last night, dove into that particular gift of Jordan's through the lens of the Bulls' rivalry with the Detroit Pistons, undoubtedly the most intense of his career. We are reintroduced to the "Jordan Rules," a brutalizing defensive scheme that the Pistons deployed to keep Jordan grounded. The team's center John Salley explains in the documentary succinctly: "You have to stop him before he takes flight, 'cause you know he's not human."
Of course, it didn't work for long. You can measure the passage of time in Jordan's career by the distinct ways he toyed with defenders. In his younger days, he suspended himself in the air several beats longer than anyone else in the league, waiting for the opposition's guard to drop before releasing the shot. In his latter days, he floated away from them, perfecting his signature turnaround jumper by influencing his defender's decisions using directional fakes, before drifting aside to create an unguardable pocket of space in which to shoot. The older he got, the more patience he had. So, perhaps in the Jordan oeuvre, The Last Dance is what follows the fadeaway. It's Jordan on offense, just like the good old days.
We want to hear what you think about this article. Submit a letter to the editor or write to letters@theatlantic.com.
Danny Chau
is a writer and editor. He was a James Beard Foundation Award finalist in 2019.