The Woman Who Is Remaking AMC
"The least safe thing to do is something safe," says Sarah Barnett, the unconventional TV executive behind Killing Eve, which is back for a third season.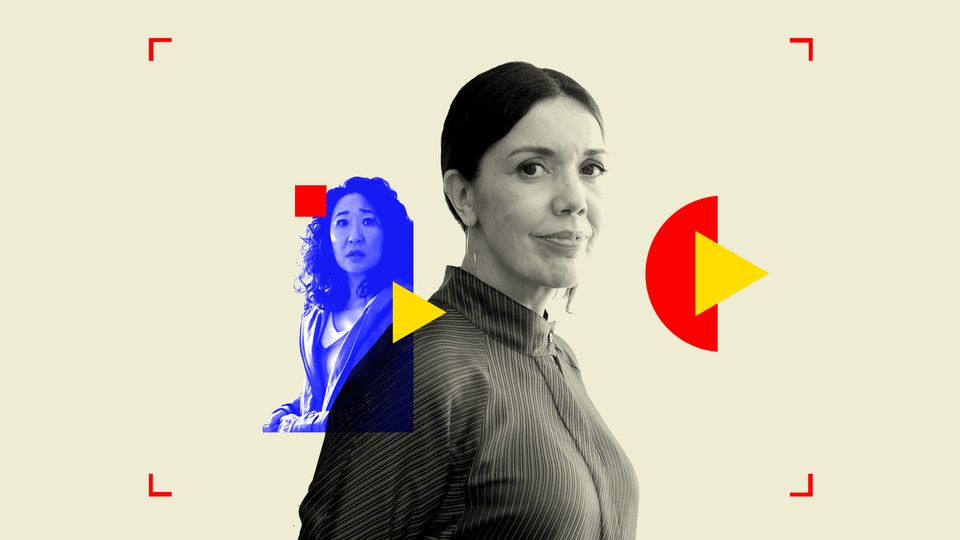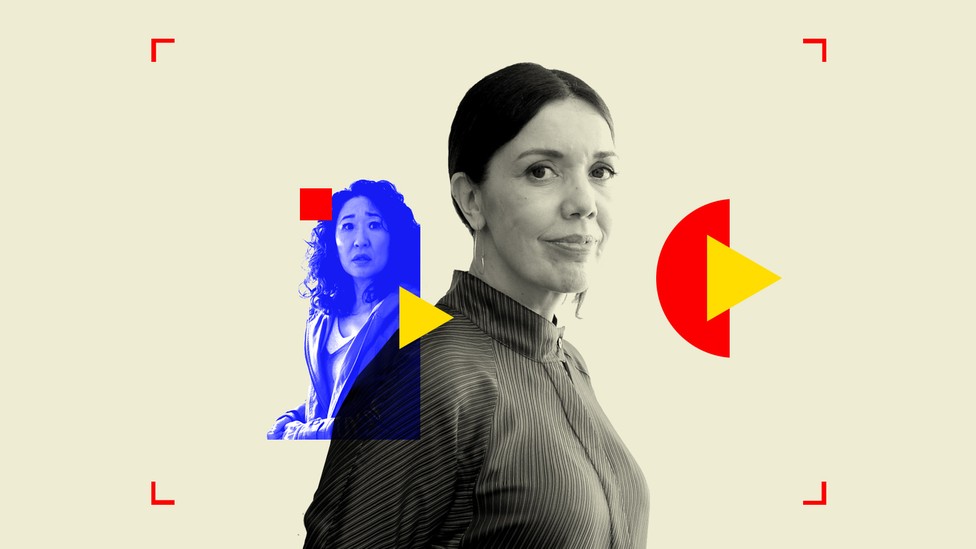 The most immediately noticeable thing about AMC's offices in Midtown Manhattan is a glass case stuffed full of awards, displayed prominently by reception. The second is a giant model of Jodie Whittaker as the British sci-fi character Doctor Who, constructed entirely out of Lego bricks. With both hands in her plastic pockets, the first female Time Lord in the series' 57-year history stares nonchalantly at anyone coming or going.
The Lego doctor represents more than one changing of the guard. In late 2018, around the same time that Whittaker's first Doctor Who episode debuted, Sarah Barnett was hired as the president of entertainment networks at AMC and its three sister channels, BBC America, Sundance TV, and IFC. In her previous roles running Sundance TV, where she debuted a spate of critical hits including Rectify and Top of the Lake, and BBC America, where she commissioned Phoebe Waller-Bridge to create Killing Eve, the British-born Barnett had demonstrated an uncanny eye for spotting both talent and fiercely unconventional ideas. She's now one of the most powerful people in the industry—and one of only a handful of women at the helm of a major TV brand—but the task in front of her is imposing. "The bubble of content, and the amount of money people are spending, is like a fire hose right now," she told me in an interview late last year. "It's really exciting and really perilous and an odd moment because everyone's business model is shifting and no one knows how it's going to play out."
Thirteen years ago, AMC helped redefine prestige television when it debuted its first original drama series, Mad Men. Since then, the TV business has exploded, with streaming services upending the industry and cord cutters threatening the future of cable altogether. In 2019, more than 500 new scripted series debuted across platforms including Netflix, Hulu, and Apple TV+. Before the COVID-19 pandemic put dozens of shows on hiatus, Barnett wasn't the only person using the word bubble to characterize how many shows are being created, and how much money is being thrown around. Facing such deep-pocketed competitors, how can a basic-cable network—even one with AMC's track record—still stand out?
Barnett is insistent that the answer isn't all that revolutionary, and that it relies on the same tenets that have always informed groundbreaking television: voice and originality. While more and more of her algorithm-driven competitors are seeking out demonstrable hits and versions of already proven concepts (think Netflix's nostalgia plays or dystopian teen dramas), Barnett still thinks that the key to success in a crowded marketplace is seeking out the underdog, the offbeat idea, the unsung talent. "There's so much television today that I feel like, actually, the least safe thing to do is something safe," she said, "because no one's going to pay attention to you. If you're not a huge platform, the only thing that stands a chance of working for you is something wildly different."
"There are different ways to go up the tiers of executivedom," the actor and writer Ray McKinnon, who created Rectify for Barnett's Sundance TV in 2013, told me. "Some people are attracted to it from an ambition and power standpoint. And it's not that Sarah doesn't have real mettle, but I don't think that's why she's ended up where she's ended up. She has a real curiosity about the human condition." When she takes a chance on a risky show, McKinnon said, "it's not risk for risk's sake. It's because whatever that story is, it moves her in multiple ways: intellectually, emotionally, aesthetically. It's something that she would like to see burst."
Late last year, as we sat in her Instagrammably eclectic office overlooking the Empire State Building, Barnett explained why she thinks AMC can defy the odds. The dawn of cable, with its hundreds of new networks and slots to fill, wasn't the force that produced the new Golden Age of Television. Rather, it was a moment in the late 1990s when creators at HBO were told to forget about ratings and focus on making hits that a devoted cabal of fans would crave. The relative smallness of AMC compared with its streaming competitors is, Barnett hopes, an opportunity: The network can concentrate fully on quality and innovation while the biggest streaming services duke it out over quantity and scale. And as she's already proved with Killing Eve, which returned for a third season last night, the most satisfying hits are the ones that pull in viewers and acclaim while quietly smashing storytelling conventions and glass ceilings in the process.
As a curator of quality programming, Barnett has the impeccable credentials of being British, having been an art-history major, and having spent the first 12 years of her career working for the BBC in London. There, she acquired a kind of highbrow fearlessness. Like many people who worked in the U.K. media industry in the 1980s, she's fascinated with cultural theory, particularly John Berger's seminal documentary series, Ways of Seeing, which explores how art influences the way its consumers understand the world and one another. On the practical side, one of Barnett's formative experiences as a young producer involved recording the perfect interview with the author Martin Amis, only to discover later that the tape was totally distorted, and that she had to call the most intimidating man in British literature and ask him to do it again.
In person, Barnett has rock-star charisma that belies her august pedigree and sets her apart from her besuited peers. The first time I met her, at a dinner in Los Angeles, she ordered a tequila on the rocks, explaining that straight alcohol gives her fewer hangovers. When she's on the West Coast, her home away from home is the Chateau Marmont. She dresses almost exclusively in black, wearing rings on all her fingers and wire-framed aviators that, she told me, she didn't realize were "Gloria Steinem glasses" until she was having lunch with Steinem one day and Steinem pulled out the same spectacles to survey the check.
Before Barnett was enlisted to run AMC Networks, she spent a decade proving herself as a curator of unlikely television hits. As the head of Sundance TV, she turned a neglected home for indie films into a surprise purveyor of thoughtful scripted dramas. In 2013 alone, Barnett debuted Top of the Lake, a Jane Campion–created feminist mystery; Rectify, a cult crime drama by McKinnon; and The Returned, a French sci-fi import. Among them, the three shows scored 10 Emmy nominations the following year, a remarkable haul for such a fledgling channel. At BBC America, where she was named president in 2014, Barnett tapped the then–relatively unknown British actor and writer Phoebe Waller-Bridge to create a novel kind of spy drama, oriented around two lead female characters who become fixated on each other.
In television, many executives tend to be drawn to shows that take the shape of proven hits: the "next Fleabag," for example, or "True Detective meets Stephen King meets Ozark." But what Barnett looks for is something that can't be classified, that doesn't fit into any of the existing boxes. Her first impression of Rectify, she said, was that it felt "like the best expression of what indie television could be," combining the style and ambition of film with the character work and psychological detail of a TV show. And while Killing Eve had a terrific script, Barnett also liked the fact that there wasn't any kind of template for what it might look or feel like on-screen. When she saw the first two episodes for the first time, she almost cried with relief at how well it worked.
This approach also defined AMC's early successes with original content. Before the network green-lit Mad Men, Matthew Weiner's series about advertising executives in 1960s New York had been passed on by HBO and Showtime. The same two networks, along with TNT and FX, had similarly passed on Vince Gilligan's drug-trade drama Breaking Bad. Both series became critical hits and launched AMC as a major TV player. But they also set difficult standards for the network to meet with any subsequent shows. And they underscored an assumption that was taking root in prestige television at the time: that the only complex, antiheroic characters TV viewers would care about were men.
For years, whenever I thought about AMC, I immediately heard the growly basso profondo of a male announcer teasing series such as Hell on Wheels (a period drama about the construction of the First Transcontinental Railroad) or The Son (a Western starring Pierce Brosnan as the patriarch of a family of ranchers). In one of her earliest interviews after taking over at AMC, Barnett told Vulture that the network had done a really good job telling engaging stories about masculinity, but that it hadn't given the same attention to shows centered on women.
Barnett sees expanding the confines of whose stories get told on TV as one of the fundamental tasks of her role. She thinks that AMC took a "good swing" with Dietland, Marti Noxon's 2018 drama about female vigilantes and the tyranny of diet culture, which was canceled after one season. One of the things that's become clear in prestige storytelling over the past three years, she said, "is that it doesn't have to be all earnest and serious." Shows such as Fleabag, Russian Doll, and Succession mine comedy as skillfully as they do tragedy. Barnett, McKinnon told me, is as fascinated with the big existential questions as anyone else. "But, in spite of all the evidence around us, she also has a kind of optimism too." What she's trying to do with the shows she shepherds, he thinks, "is put a drop of the good water in the universal pond."
In 2019, talking about Killing Eve, Emerald Fennell—who assumed showrunner duties from Waller-Bridge for Season 2—explained a little of what made the series so unique. "I think as women, as actors, writers, directors, or producers, we're used to being the cement, and men are the bricks," she said at a panel for the show in Los Angeles. "So we fill in the cracks, we take up the space that we have, and try to make it work. But on this show, we're the bricks."
The concept of the cat-and-mouse hunt between spy and supervillain dates all the way back to the earliest days of moving pictures. Yet Killing Eve anchored the conceit to two female characters, and it felt revolutionary. Even the ages of the protagonists are unusual: Eve (played by Sandra Oh) is a woman in her 40s who's led a mostly uneventful career doing a desk job for MI5 when she happens across Villanelle (Jodie Comer), a 20-something assassin wreaking havoc all over Europe with her playful, inventive kills. The two become bonded by a kind of mutual recognition—each sees in the other something that the rest of the world keeps missing.
Killing Eve doesn't simply foreground female characters. It immerses itself in how women think and feel—how easy it is to get caught in the shadows, and how revelatory it can be to force one's way to center stage. In Season 3, a new character played by Harriet Walter is introduced as a kind of maternal foil for Villanelle, although, as befits the show, their relationship is anything but traditional. Every season of the series so far has had a different female showrunner: Waller-Bridge, Fennell, and now Suzanne Heathcote, a playwright whose TV credits include AMC's Fear the Walking Dead. All three, like Barnett, are British, amplifying Killing Eve's irreverent sensibility.
Barnett cites the series as an example of how having a curatorial eye and a willingness to take risks can pay off even without having the deepest pockets. "We had no money at BBC America at all, really," she said. "And finding Phoebe just a beat before she broke, seeing [the potential in] that show, that's the kind of thing we have to do." The actor and writer Jason Segel, who created AMC's current mystery-box drama Dispatches From Elsewhere, characterized Barnett as someone unusually open to an offbeat idea. "When you're a young actor or filmmaker or whatever, most of your time is spent asking for permission and saying, 'Please believe me,'" he told me. Few executives, he argued, are so willing to commit their faith to a project right off the bat.
Barnett's goal going forward is to find more series that deliver the same boldness of Killing Eve and Dispatches From Elsewhere while also upending formulas that have become ingrained in television. One of the shows she pointed to as an example of what the future of AMC might look like was Kevin Can F*** Himself, a comedic series AMC has green-lit from the producer Rashida Jones and the writer Valerie Armstrong. What starts out as a classic single-camera sitcom about a schlubby husband and his beleaguered wife then switches modes to examine what the neglected wife is actually thinking. "It's playing in a very meta way with the forms of comedy and drama," Barnett said. "But it's also using a somewhat lighter approach to really talk about the positioning of women in storytelling in such an intriguing and smart way."
It's not the kind of show anyone might have traditionally associated with AMC, which is the point. The network launched itself as a brand by seeing the potential in ideas that everyone else had passed on. That counterintuitive impulse, more than a fascination with the interiority of troubled white men, is what Barnett hopes will help AMC punch above its weight as the streaming wars heat up. She built her career, she said, looking around corners and in odd and unlikely places. "It's not in my nature to want to perfect and finesse the same thing. I like that puzzle of finding a different path."