Millennials Just 'Get' Keanu Reeves
While Generation X mostly dismissed him as wooden and one-note, younger viewers better understand his nuances as a performer.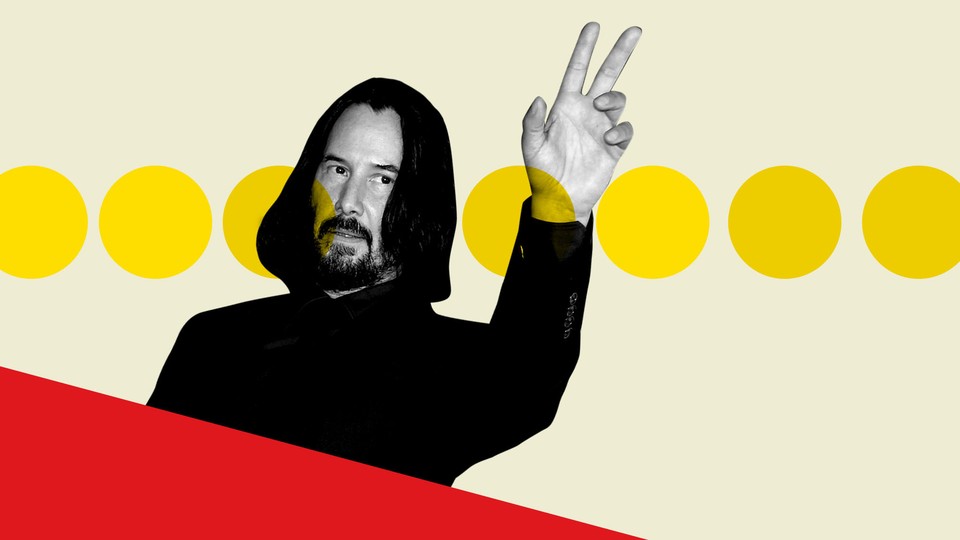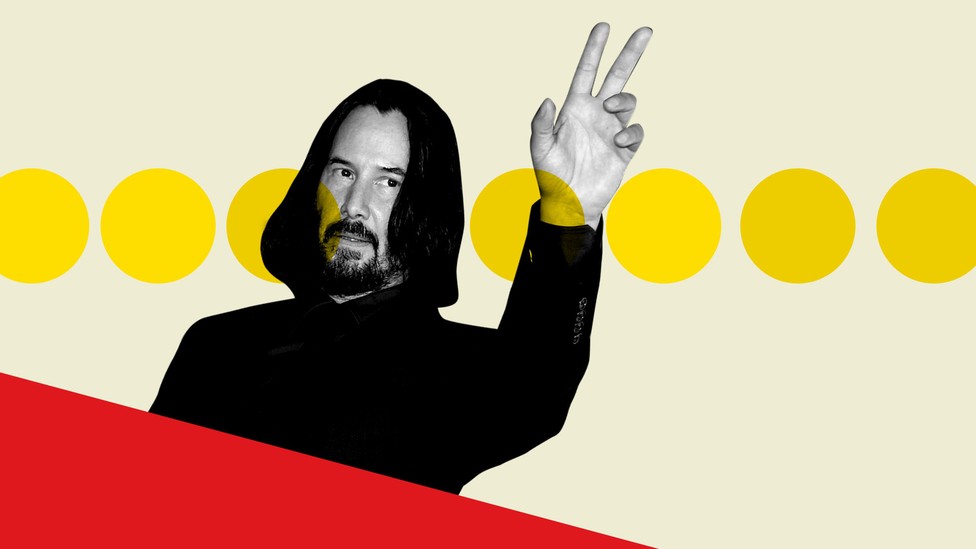 Updated on April 30 at 7:07 p.m. ET
For our first #AtlanticMovieClub, I decided to revisit the career of one '90s-era actor, through five films, to help make sense of their place in American pop culture. Our first subject was picked by the voting public, and among Jennifer Lopez, Keanu Reeves, Winona Ryder, and Will Smith, the voters picked Reeves by a wide margin. It's not hard to understand why. For 35 years, Reeves has worked across every genre, in tiny art-house projects and big-budget blockbusters, reciting Shakespeare and doing kung fu. He has consistently proved that there's far more to his skill as a performer than meets the eye—something that much of his generation failed to recognize.
When Reeves first emerged in '80s teen dramas such as River's Edge and Flying, he was instantly notable for his striking features and withdrawn affect, which largely pigeonholed him as an empty-headed pretty boy. His breakout roles were the dopey, easily tricked courtier Raphael Danceny in Dangerous Liaisons (1988) and a cheerful stoner in two 1989 comedies, Parenthood and Bill & Ted's Excellent Adventure. The director Kathryn Bigelow, who was gearing up to make the high-octane surfer-cops movie Point Break, zeroed in on Reeves's innate likability in these movies and fought for his casting as the hero, Johnny Utah. That movie helped redefine him as an action star.
"I think there's a purity and an innocence to him that translates—which, coupled with a very strong persona, is a winning combination," Bigelow said in 1991, highlighting what's special about Reeves. Yet even as he worked with acclaimed directors including Gus Van Sant (in My Own Private Idaho), Francis Ford Coppola (Dracula), and Bernardo Bertolucci (Little Buddha), he was never taken seriously as an actor. Reeves remained best known for starring in thrill rides such as Speed, The Devil's Advocate, and of course The Matrix, his most recognizable role of all.
That movie marked a comeback after years of flops, as did 2014's John Wick, which introduced him to a younger generation of action fans. While Generation X mostly dismissed him as wooden and one-note, younger viewers better understood his nuances as a performer; the weird, hypnotic specificity of his line readings; and the movie-star magic inherent in parts like Neo, John Wick, and Johnny Utah. It's impossible to imagine anyone else in those roles, which is the best evidence of Reeves's singular screen presence.
---
My Own Private Idaho
For the first film in this week's series, we're going to check out Van Sant's daring and strange modern reimagining of Shakespeare's Henry IV, Part 1, which casts Reeves in the Prince Hal role. He's a rich kid slumming with a group of young hustlers, including best friend Mike (River Phoenix); Van Sant digs into the grim realities of their lifestyle, but it's a soaring and poetic movie that liberally borrows the Bard's dialogue. This is the first Reeves movie I ever saw that showed me what a genuinely great actor he is—it's the perfect way to kick off a mini career retrospective.
Where to watch: Prime Video and YouTube Movies
---
Speed
Reeves had made only one other action movie before Speed—1991's Point Break, the Kathryn Bigelow classic that helped define him as more than a striking teen star. But in Point Break, he was playing a cheerful former football player with a puppy-dog smile, whereas Speed felt a little more geared toward Reeves's grown-up persona. As the hero cop Jack Traven, he's icy and calm, even when thrust into the truly ludicrous scenario of trying to save the passengers of a bus that will explode if it slows down. Reeves's strange serenity is what distinguishes him in so many of the action hits that followed—the Matrix films, Constantine, John Wick. But in Speed, that quality is particularly elemental, an alpha heroism with none of the usual macho bravado.
Where to watch: Prime Video and YouTube Movies
---
Something's Gotta Give
In 1991, Bigelow identified Reeves as a potential action star. In 2003, another great female filmmaker, Nancy Meyers, made the similarly bold decision to position him as a romantic foil, something he had struggled with in past movies such as Much Ado About Nothing and Sweet November. But Reeves's Zen-like persona proved a perfect fit for Meyers's zippy dialogue—he's uniquely charming as a doctor who pursues the writer Erica Barry (Diane Keaton), despite her being almost 20 years his senior. Even though Reeves's character does not end up with Erica, who is eventually drawn to lothario Harry Sanborn (Jack Nicholson), Reeves is compelling enough that her ultimate choice is still fiercely debated.
Where to watch: Prime Video and YouTube Movies
---
A Scanner Darkly
My personal favorite among Reeves's performances is his dreamy, grim work as Bob Arctor in A Scanner Darkly, Richard Linklater's adaptation of Philip K. Dick's 1977 novel. The film is a marvel to look at, shot in live action and then animated (a process known as rotoscoping), which lends a trippy atmosphere to its tale of a dystopian war on drugs. Reeves grounds the project in his role as an undercover cop addicted to the future drug Substance D, and the character harbors a deep well of sadness as he struggles to keep a hold on his disintegrating self. Linklater taps into Reeves's innate unknowability, and has him reflect that in Arctor's ongoing identity crisis.
Where to watch: Vudu
---
John Wick
By the time John Wick was released in 2014, it seemed that Keanu Reeves's career as an A-lister might have finally ended. He hadn't appeared in a box-office hit since 2008's widely panned The Day the Earth Stood Still, and had mostly spent the intervening years acting in small indie films and directing one of his own, the excellent but little-seen Man of Tai Chi. John Wick was made cheaply and directed by Reeves's former stunt double Chad Stahelski, who had worked on The Matrix. The movie is a triumph of economical storytelling and crisp, jaw-dropping action choreography. Its story of a retired assassin exacting revenge on the Russian mob is a simple one, but it's powered by Reeves's grief-stricken performance, his dedication to the stunt work, and the movie's hilariously dense world-building. John Wick once again revived Reeves's marquee-idol status, something that has been written off over and over—only for the actor to show audiences yet another new side of himself.
Where to watch: Prime Video and YouTube Movies