Why the People Behind Quibi Are So Confident
The video platform is backed by dozens of Hollywood A-listers and executives. But its launch during a global pandemic will be the real viability test.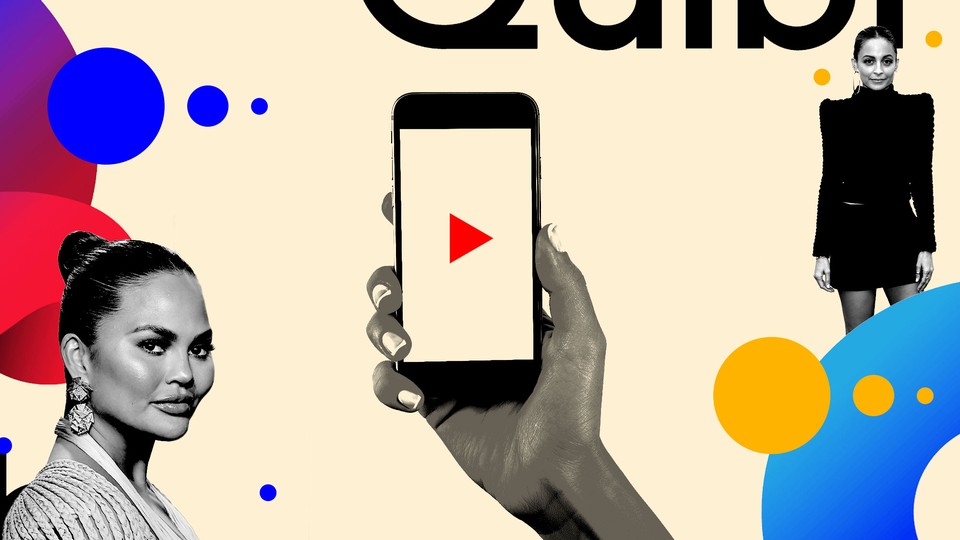 It was built to be watched in stolen moments of the crowded hours between 7 a.m. and 7 p.m.—in a pause on the subway platform, a slog through an airport-security line, a wait in an afternoon carpool queue. So what is the current rationale for Quibi, the new short-form mobile-video platform that debuts tomorrow, in the wide sea of unstructured days, enforced isolation, and social distancing due to the coronavirus?
Jeffrey Katzenberg and Meg Whitman say they have an app for that, or at least an argument for it. They're the founders of the new "quick bites" streaming service, backed by Hollywood's biggest studio players and A-list content creators with the goal of delivering filmed entertainment in installments of 10 minutes or less.
"People have said, 'I'm stuck in the house, I'm home-schooling, I need a break,'" Whitman, the former CEO of eBay and Hewlett-Packard told me on a Zoom conference call with Katzenberg the other day. "'I'm trying to keep everyone glued together and I need a 10-minute break. And by the way, I might watch three, four, five, six episodes of something that you have to offer.' So I think people are going to come in new ways." Katzenberg, the veteran Disney executive and co-founder of DreamWorks SKG, added: "People have a ton of time, but as Meg said, it's not like they're at home doing nothing. I don't know about you, but I've been working all day long."
That may well be so. But providing diversion from a pandemic was definitely not the goal when Katzenberg and Whitman raised $1.75 billion in investment capital—and sold out their entire $150 million in first-year advertising availability—to create a platform on which harried mobile-phone users could consume theatrical-quality films, documentaries, reality series, game shows, and news in easily digestible portions. What's more, Quibi is entering a streaming-video field that is getting more crowded by the day. WarnerMedia's HBO Max is set to launch in May, and NBC's Peacock in July, joining Disney+. But the other services will feature longer-format content, as well as such classic, proven content as Friends and Seinfeld. So Katzenberg and Whitman insist that Quibi has a chance to occupy a new and unique niche.
Serial storytelling is as old as Dickens, and as current as the blockbuster best-selling novels of Dan Brown and James Patterson, whose trademark super-short chapters are designed to be read in small doses before bedtime. When I asked why he and Whitman believe there is a market for this latest blend of Silicon Valley technology and the Hollywood dream factory (at $4.99 a month with ads, $7.99 without), Katzenberg brandished his smartphone remotely on my laptop's screen. "Because this device," he said, "has changed everything, in a way that's created a fantastic new opportunity. We admire the amazing creativity and entrepreneurial things that have happened around this, whether it's YouTube or Snapchat or Instagram TV or all these different things. But what none of them have actually had the resources to even attempt to do … is to match Hollywood-style, triple-A, best-in-class storytellers with the financial resources to be able to tell these types of stories."
The distinguishing feature of the platform is a proprietary technology called Turnstyle, which allows a viewer to seamlessly shift a phone's orientation from vertical (portrait) to horizontal (landscape). In the fullest use of the technology, shifting the orientation of the phone automatically changes the view. So the user can go from seeing the same screen a character in the film is seeing on a Ring Alarm security system to then seeing a prowler at the front door—and back again. Or the content can be watched straight through all in one perspective or the other. "I think this will be big on social media," Whitman said, "because people will say, 'Have you seen what Quibi can do?'"
Technological adaptation has been the salvation of Hollywood for the better part of a century—from talking pictures to television to video recorders to streaming digital video. But whether Quibi will turn out to be the next Netflix, an economic and creative game changer in the entertainment landscape, or the latest version of fads such as Smell-O-Vision and 3-D, is an open question.
But if consumer appetite for such a service remains unproven (the core target audience is 18-to-44-year-old viewers), Quibi's appeal for Hollywood's creative community is already undisputed—at least in the short term. The chance to create content in a radically new format has sparked filmmakers' imagination. The roughly two-and-a-half-by-five-inch vertical aspect ratio of an iPhone is, to say the least, not the typical frame for cinematic storytelling, but Katzenberg said directors have been stimulated by the challenge of shooting each movie two ways at once. "You make it sound like it's a liability," he said. "They were genuinely excited about it."
The initial investors included Disney, NBCUniversal, Sony Pictures Entertainment, Viacom, WarnerMedia, Lionsgate, MGM, and the British ITV. "And while we're very pleased to have their investment," Whitman said, "what was most important was that they gave us access to their best [content] and their best show-running talent." She added, "And they think if we're successful, this screen—the small screen—may well be the next big era in filmed entertainment."
Stars such as Jennifer Lopez, Nicole Richie, Idris Elba, Liam Hemsworth, and Reese Witherspoon have all signed up. Chrissy Teigen, a longtime fan of Judge Judy, will do a courtroom show of her own (Katzenberg quoted the tagline: "There is no claim that is too small for Chrissy's Court"). And Katzenberg's old partner Steven Spielberg has created After Dark, "a super-scary story," Katzenberg said, that will be available on a subscriber's phone only after the sun has gone down in the viewer's location.
The overall content is divided into three broad groups: movies in chapters (one is a reboot of The Fugitive starring Kiefer Sutherland, in which an innocent person is framed for a terrorist act); unscripted series and documentaries (including a cooking show with Andy Samberg); and "daily essentials" (six-minute news segments produced each day by the likes of NBC News, the BBC, ESPN, and Entertainment Weekly). In all, Quibi will publish more than 30 pieces of original content every day, five days a week—plus fresh news and sports on the weekend. That's more daily content than a prime-time network lineup.
One reason Katzenberg and Whitman were determined to raise so much capital before launch is cost of quality content. Their most ambitious programming will cost about $100,000 a minute—or about $7.5 million for an hour's worth of short segments, comparable to the per-minute cost of a TV series such as Game of Thrones. Whitman said they expect that about 75 percent of subscribers will choose the cheaper version with ads, and that the overall revenue mix will be about two-thirds subscriptions and one-third advertising. The platform is offering free 90-day trial subscriptions to those who sign up before April 20, in a bid to lure viewers.
Both Katzenberg and Whitman acknowledged that while the platform's content has been commissioned based largely on that oldest of Hollywood barometers—gut feeling—hard data will drive its future course, and its success or failure. Quibi is strictly a platform, not a studio; all its content will be produced by someone else, and Whitman said the studios were frank about the new enterprise's potential appeal. "They said, 'None of us could do this by ourselves; none of us could make enough content for it to be a rich and unique experience,''' she told me. "They said, 'So let's get together and see if we can create a growth opportunity for all of us.'" Together, they've bet almost $2 billion and a stable of top talent that they can.