12 Free Things to Watch, Listen to, and Learn in Quarantine
Our culture writers' top picks for how to stay entertained—without a streaming subscription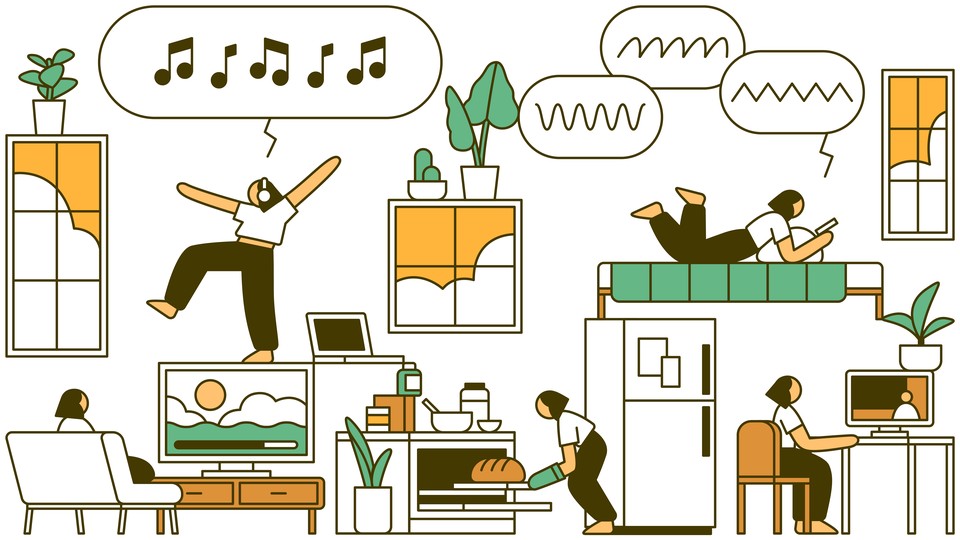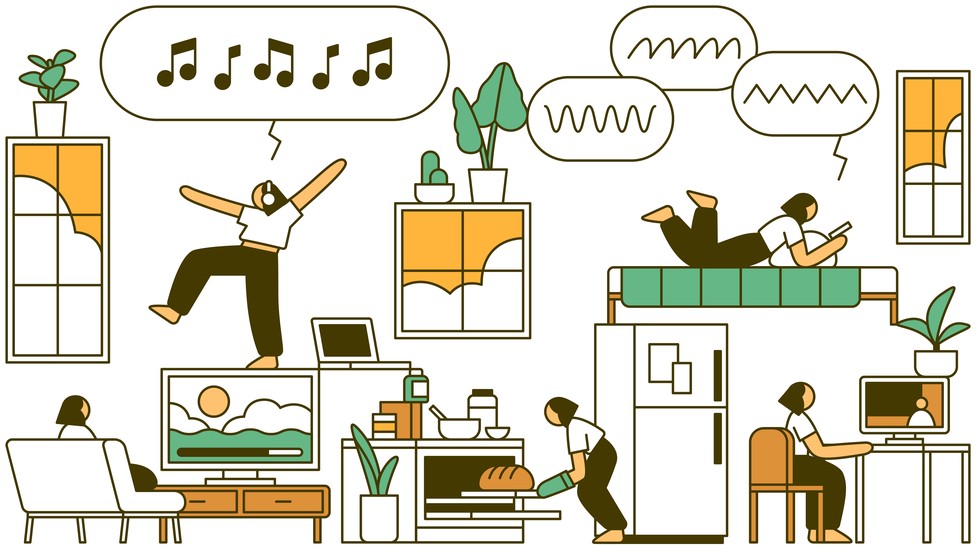 The economic repercussions of the coronavirus crisis mean that money is tight for many right now. Entertainment services such as streaming subscriptions may be a necessary expense to cut—even as social isolation and stay-at-home orders leave people with a lot of time to kill and a pressing need for distraction. Luckily, the internet offers plenty of no-cost resources, including thousands of public-domain audiobooks available on LibriVox and many hours of ambient songs on the Free Music Archive. To help you narrow down the options, here are some of our culture writers' top choices for free quarantine entertainment.
---
Listen
There's an elegant simplicity to the setup of COLORS shows: just an artist, a mic, and a monochromatic set. Without the distractions of extensive design, audience feedback, and potent beats, the musicians' voices soar. One of my favorite videos on the channel is a January 2019 recording in which the Swedish Gambian singer Seinabo Sey sings "Truth," a single from her sophomore album, I'm a Dream. By the time I stumbled upon the COLORS rendition, I'd already played the record tons of times (seriously, it's wonderful), but I was still startled by the sheer force of Sey's vocals. I stopped to really listen in a way I often don't. The series is great for that—snapping you outside your own head, often with the work of artists you've never heard of before.  — Hannah Giorgis
---
The Grateful Dead's live-music archive
I've never in my life been a Deadhead, but these are radical, transformative days. Jerry Garcia's legendary jam band is commonly associated with wide-open spaces, LSD trips, and teddy-bear tattoos. Even so, the music's gently loping tempos, daydreamy tunefulness, air of yearning, and only occasional pangs of paranoia have proved well suited for lockdown. Fans always say that the Dead's music is best heard through bootlegs of its marathon concerts, heaps of which are hearable at archive.org. Lore also claims that its May 1977 gig at Cornell University is the band's pinnacle. I started there, and, not after long, felt my plague anxieties dispelled by guitar gusts and mantras about the morning dew.  — Spencer Kornhaber
---
Streaming playlists can control a room's mood, but they do so in a definitionally impersonal fashion. In a moment of social starvation, perhaps it's time to rediscover the extremely human listening companion that is the independent-radio DJ. A good place to start your quest to find the curator who's right for you is New Jersey's WFMU, the longest-running free-form station in the country. I tuned in for the time slot run by Ken (Wednesdays from 9 a.m. to noon eastern) and was transfixed not only by cozy Italian art-pop and wry punk anthems, but also by the host's pandemic-themed humor (which also appears on the show's blog of visual accompaniment and live listener commentary). At one point, Ken put on a Brian Eno song that he chose, he said, for its length, which would give him time to disinfect the studio.  — S.K.
---
The BBC's archive of radio plays
Before podcasts, before audiobooks even, the humble radio play was king. (In 1938, when Orson Welles's "The War of the Worlds" was broadcast on CBS Radio, the drama was so believable that it reportedly convinced some listeners that an alien invasion was actually taking place.) In the United Kingdom, the BBC's Radio 4 still broadcasts a new production almost every day, and the station's online archives are full of treasures. A recent highlight is "The Man With the Golden Gun," adapted from Ian Fleming's 1965 James Bond novel and starring Toby Stephens (Die Another Day) as the British spy and Guillermo Díaz (Scandal) as the international assassin Francisco Scaramanga. But the station also has eco-thrillers, rom-coms, contemporary dramas, and modern spins on Greek mythology to sift through.  — Sophie Gilbert
---
Literary recordings from thepostarchive
A video of a 1971 conversation between James Baldwin and a young Nikki Giovanni is the kind of archival gem that makes the YouTube channel thepostarchive a wonderful resource for sprucing up your isolation screen time. The 28-year-old Giovanni is a perfect parrying partner for a 47-year-old Baldwin as they talk about expatriatism and the complex, crooked effects of patriarchy on black households. Once you're done listening, the channel has all kinds of other materials to peruse: readings, discussions, interviews, and lectures from literary figures, activists, and luminaries of the like. During a time when your attention span may feel shot, listening to legendary writers read their own poems and discuss their work is a beguiling way to engage with literature.  — Myles Poydras
---
look
Slow TV sounds like the antithesis of entertainment, but I like to think of it as true reality TV. Created in Norway, the genre covers a mundane event in real time, for hours on end. (A good example would be the seven-hour-long program of a train traveling to Oslo that aired in 2009, aptly titled "The Seven Hour Train Journey to Oslo.") YouTube hosts scores of such videos, with categories such as road trips, citywide hikes, and underwater expeditions. I'm still partial to the travelogues by train, especially this one that speeds toward northern Norway in the fall, because it does what slow TV has always done best: For 10 hours, it offers a kind of soothing monotony. The train stays on track, the landscape changes, the sun rises and eventually sets. The marathon works like a visual balm.  — Shirley Li
---
A virtual tour of the Metropolitan Museum of Art
The Met is one of thousands of museums currently offering virtual tours. From the socially distant safety of your computer, you can visit the Museo Frida Kahlo in Mexico City, or the Galleria Nazionale in Rome, or the Monterey Bay Aquarium (which is not quite a museum but does have sea otters, so it must be included on an adorable technicality). I've been loving the Met in particular, though, because of its sheer size and scope; the museum's wide and wandering halls host evidence not only of beauty, but also of human ingenuity, perseverance, and determination. Sculptures. Housewares. Paintings. Jewelry. Buildings. In a time of physical confinement that can often feel, as well, like a time of spiritual foreclosure, the Met's huge collection provides wonder and order at once.  — Megan Garber
---
Few things are more pleasing than watching a meal take shape, whether on-screen or in your own kitchen. Bon Appétit's informal tutorial videos for recipes that range from hibiscus cocktails to classic ratatouille make meals that seem out of your wheelhouse look simple. Making your own pizza with homemade dough and sauce might sound like overkill for a normal occasion, but it's the perfect pandemic activity to get lost in—and has the added incentive of a delicious finished product. Since the videos are on YouTube, it's easy to pause and rewind while still standing over the stove, gleaning an enhanced view of the process along with tips that are too subtle to include in the written versions of recipes.  — M.P.
---
Learn
Online culture courses at Harvard
Assuming that you're not already steeped in the process of trying to Zoom-educate your kids (or yourself) while school is closed, Harvard has a number of free humanities courses available for the casual, curious dilettante. Ranging in length from three to 15 weeks, and requiring a commitment of only a few hours each week, they offer introductory classes on theater, history, classical music, and the Maoist revolution. "Shakespeare's Othello: The Moor" considers how the theme of storytelling informs characters within that tragedy, while "Stravinsky's Rite of Spring: Modernism, Ballet, and Riots" dives into the disruptive debut of an avant-garde sensation.  — S.G.
---
Freedomways journal archive
What happens when artists and scholars lead social movements? One publication spent much of its 24-year run answering that question. First published in 1961, Freedomways: A Quarterly Review of the Negro Freedom Movement chronicled black life in the United States as well as in Africa and the Caribbean. Particularly in its early years, the journal theorized about and agitated for civil-rights movements, de-colonial uprisings, and the pursuit of justice for people around the world. And for two decades, it offered space to historians, poets, sociologists, organizers, and more. Much of the Freedomways archive is now available on Reveal Digital, making that wealth of historical learnings, art, and scholarly inquiry newly accessible to readers everywhere. The final issue of 1979 is special in its focus: It's dedicated to Lorraine Hansberry, the first black playwright ever to have a show on Broadway, and contains essays from contributors such as James Baldwin, Adrienne Rich, and Nikki Giovanni.  — H.G.
---
Origami patterns from the Spruce Crafts
Making something with your hands is a great, screen-free way to cope with stress or boredom, and origami is a highly accessible option: The only material you need is paper, and you can complete a project during a five-minute break from work. Among many other craft tutorials, the DIY site the Spruce Crafts offers step-by-step instructions for a variety of folded-paper creations; for kids, these activities double as a hands-on guide to shapes and fractions. You can make simple birds and flowers from single squares of paper, or piece together interlocking Sonobe units to make intricate geometric designs. A jumping frog or flapping bird will provide nearly instant gratification, whether you're the parent of children claiming boredom with their existing toys or a housemate-less adult who could use some cute paper creatures for company.  — Rosa Inocencio Smith
---
As my household has been thinking about what to cook and how to cook it during our isolation, I've turned to someone I've long looked to for culinary advice: Samin Nosrat. Home Cooking, which the author and Netflix star hosts with Hrishikesh Hirway, is a call-in show in which the pair answer people's questions about anything related to cooking at home. (In practice, so far, many of the questions have focused on beans.) Nosrat and Hirway, friends outside of podcast-land, have a light and teasing rapport. As they offer their advice, sometimes with the help of guest experts, they make a lot of jokes about cooking. They make even more puns about beans. Home Cooking may be premised on catastrophe—the pandemic and the social distancing it has made necessary—but the show manages, nonetheless, to be uplifting. Which is why … it's my new fava. (I kidney you not.)  — M.G.