A Brilliant Indie Movie That's Accidentally Getting a National Release
Because of the pandemic, Eliza Hittman's empathetic film about a teen seeking an abortion has been released to a broad audience online.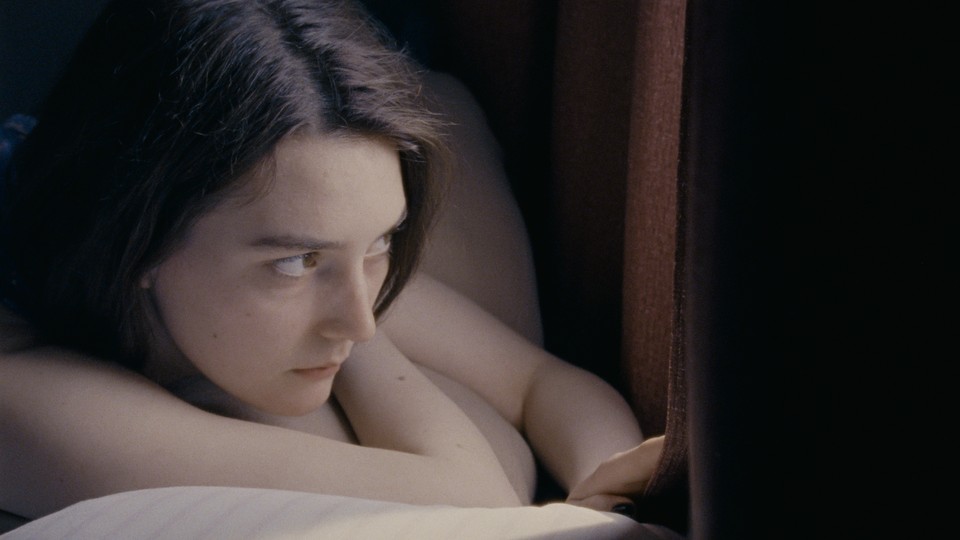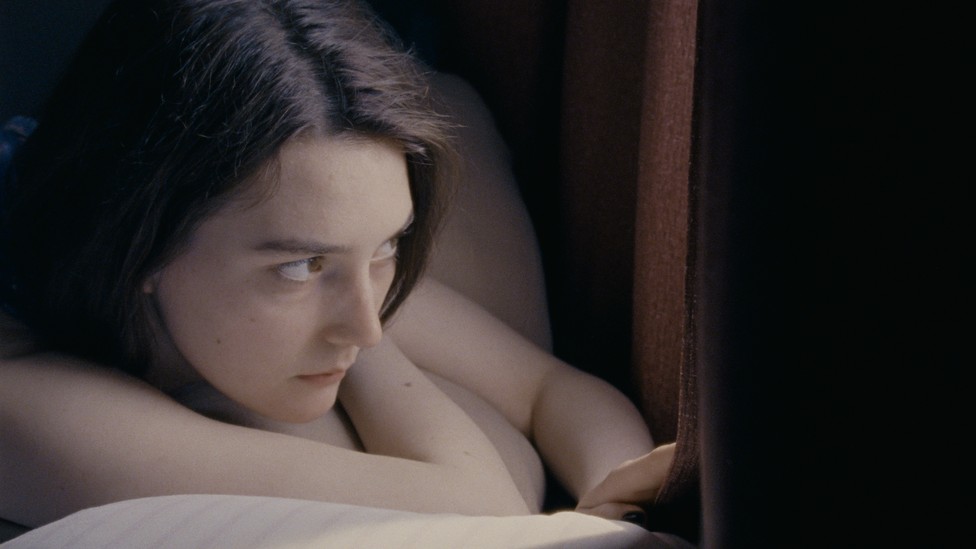 When I interviewed the director Eliza Hittman on March 10 about her new movie, Never Rarely Sometimes Always, we gently bumped elbows as a greeting. It was our only real acknowledgment of the country's brewing coronavirus crisis. On March 13, the film opened in limited release, but three days later, New York's cinemas officially closed, with most others in the U.S. following suit within the week. The film grossed $16,565 before the country's box office dwindled to zero. Now the movie has been released to a national audience, available on demand for a $19.99 rental—the same strategy applied to other releases blunted by quarantine efforts.
Hittman's film follows Autumn (played by Sidney Flanigan), a 17-year-old girl from a small town in central Pennsylvania who travels to New York City with her cousin, Skylar (Talia Ryder), to get an abortion without having to notify her parents. It's a searing and relevant work, helped by Hittman's quiet attention to detail and ability to communicate big emotional arcs through minimal dialogue. Given that multiple states have moved to further restrict access to abortions during the pandemic, the timeliness of Never Rarely Sometimes Always is indisputable. Because of the temporary loss of theaters, the only way most people will be able to see it is online. Its rent-on-demand release is a milestone of sorts, providing instant national access to an indie movie that might never have received such attention through a traditional release.
The film's producers, Barry Jenkins and Adele Romanski, have said they are excited to bring the film to a wide audience in the face of the cinema industry's struggles. "These are extraordinary and very difficult times," Jenkins told Indiewire. "It opens the door to anyone who's in the same age group as the character. Those people are all sitting at home trying to find out what to watch and what to do. That means this is a wonderful opportunity."
My conversation with Hittman didn't encompass this strange situation her movie now finds itself in. But we did talk about depictions of abortion in cinema, her adeptness with introverted characters, and the fact that so much of the movie's action takes place in New York City's Port Authority Bus Terminal, a relic of a grittier time. On rewatch, those scenes have an eeriness to them because the terminal is so empty at night, which is when Autumn and Skylar wander its halls, trying to pass the time before the next appointment. Now that every public space in New York is that empty, the film feels like a strange snapshot of the future.
This conversation has been edited for length and clarity.
---
David Sims: I'm glad to have seen the movie.
Eliza Hittman: It's a quiet movie. I didn't know what to expect in terms of audience reaction.
Sims: Have you ever made a loud movie?
Hittman: No! But this one feels quieter.
Sims: Why do you think it feels quieter? Autumn is very introverted, but you've made movies about introverted people before.
Hittman: Exploring the process and barriers a woman goes through in trying to get an abortion feels so timely. I was just hoping that the way I chose to explore the story was effective.
Sims: This is your first film not set in Brooklyn.
Hittman: Yeah, there area lot of elements that I was excited about. The procedural aspect, the road movie, and that it's a story about female friendship. It's a lot to juggle.
Sims: How did you settle on the location in Pennsylvania?
Hittman: My partner, who edits all my movies and is also a filmmaker, is from western New York, and whenever we drive to visit his family we go through Pennsylvania, so we started exploring that region and found all of these coal towns that were very captivating but very depressed. Trapped in time. It's about 135 miles from New York, to be precise.
Sims: Not very far, but like so many road movies, you have that feeling of being a world away.
Hittman: Initially I was hoping to have more of an immersive process, to really embed the story in this town, cast all the people in this town, and make this movie set between two states. But those were a lot of challenges for an indie movie about an abortion. So I only captured the town in glimpses.
Sims: But the crisis pregnancy center she goes to feels very real.
Hittman: I went to those, I took the test, I had the counseling session, I wrote from my experiences. I didn't want to judge, even though I know those places are fundamentally unethical. I had remembered the phrase abortion-minded from a conversation, as well as being told, "Even if it's negative, it might still be positive." That was pulled from my conversation verbatim.
Sims: Was Autumn's introversion a challenge as you were building the story out?
Hittman: I think all my characters in the three films I've made are keeping secrets. Some of the introvertedness comes from the fact that I'm able to align the audience with what they're going through, but at the same time, Autumn's quietness has to do with how stigmatized it is to talk about what she's going through.
Sims: She never actually has a conversation with her cousin about what she's going through.
Hittman: No! I wanted to avoid it, a scene where the character says "I'm pregnant." I didn't want Autumn to come out of a clinic and recap everything that happened in there to Skylar. So we're putting an ellipsis on it, and we understand that what she's going through is private, and Skylar respects the boundary.
Sims: What else did you want to avoid?
Hittman: All the exposition about what had happened, how she got pregnant.
Sims: There's a visceral nature to so many films about abortion. They focus on things that can go wrong, the frightening aspects of it. You're more focused on barriers to entry, difficulties to accomplishing it—it feels like you're trying to desensationalize things.
Hittman: Totally. I think part of the challenge, practically, was that we didn't want to further stigmatize it as being traumatic and deadly. Also, in a more simple way, I didn't want to create fear in a young audience. But at the same time, it is intimidating to the character. I wanted to honor her emotional experience but try not to perpetuate fear around what it means. It's like any procedure; of course you can be anxious about it. But it was a challenge not making it overly scary, or making it easy.
Sims: Abortions are something mainstream American films are still a little scared to deal with. Was that part of the appeal of this story for you?
Hittman: A lot of my work deals with taboos, and abortion in this country is one of the most divisive subjects. It's taboo on film and taboo in our lives, and I was interested in investigating why.
Sims: What stuck out to you in that investigation?
Hittman: That stories have two approaches—the back-alley illegal abortion that's bloody and dangerous, and the oversimplified version of it. You can explore the complexity of things without making it a death sentence.
Sims: An angle you took that stuck out to me is how much Autumn is struggling to control her body—she pierces her nose, her boss grabs her arm and kisses it, she holds hands with Skylar to support her in a tough moment. There's a lot of emphasis on touch.
Hittman: Initially in the script, as soon as she finds out she's pregnant, the first thing I had her do is go out and dye her hair, as a form of control. And we couldn't do that [in real life] because her hair is too short; it was a logistical issue. Sidney's nose is already pierced, so we could fake that. It ended up being more powerful. She's actively reclaiming her body, but also alluding to something darker. I think my movies always have a tactile element, so it's all an extension of that—her bra being too tight because she's outgrowing it, little moments like that. It's all about her reclaiming her body, her spirit, her youth.
Sims: What's it like shooting at the Port Authority Bus Terminal? It embodies sort of a forgotten New York aesthetic.
Hittman: There was a lot more Port Authority in the script. I had to shave it down, because you can only shoot in the Port Authority from midnight to 4 a.m.
Sims: Great time to be in the Port Authority.
Hittman: Yes, and a great time to shoot with a 17-year-old actress! It was challenging. I wasn't able to represent it at rush hour, so we had to play with our own atmosphere. You know, the story takes place in a lot of liminal spaces: the subway, the waiting rooms. That was something I was thinking about.
Sims: She's in a liminal space because she's waiting to find out what's going to happen to her.
Hittman: So the Port Authority became a microcosm for that. They really can't do much outside of it, and those are the rules of the story. It's a safe, liminal space.
Sims: I feel like you're the first person to ever describe the Port Authority that way.
Hittman: [Laughs] As a safe space.