The Importance of Partying Alone
Is it any coincidence that the No. 1 song in the country is about loneliness and empty streets—or that it's making people dance like Richard Simmons in their bedrooms?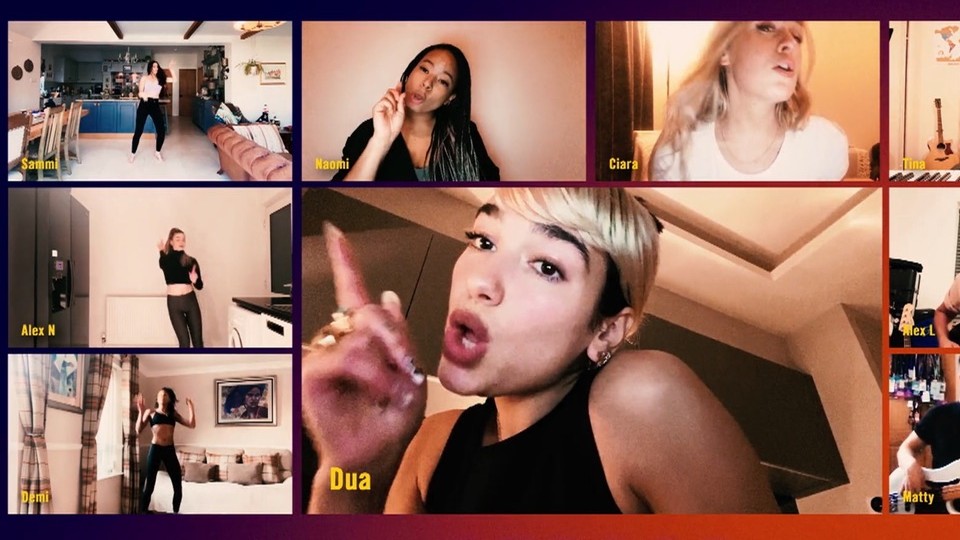 Dua Lipa had happy news to share, but she was crying. "I've been welling up a little bit over the past couple of weeks," the popular British singer said in a shaky voice on an Instagram live-stream from what appeared to be her kitchen. "Just the uncertainty of everything, and I've been a little bit conflicted about whether it's the right thing to do, because people are suffering." She put her manicured fingers over her eyes and sharply inhaled. The next words were a whimper: "I really don't want to do this."
This, one could guess, meant putting out disco songs amid a deadly pandemic. In the live-stream, Lipa went on to announce that her second album, Future Nostalgia, would be released March 27, a week ahead of schedule. She smiled when she announced the change and insisted that, contrary to her tears, she really was happy to be putting out her peppy, pumping tunes. "I'm not sure if I'm even doing the right thing," she explained, "but I think the most important thing is … we need music, and we need joy."
Other pop stars have made different calculations. All year, Lady Gaga has been ratcheting up hype for her return to "stupid" synth-pop on Chromatica, but now she's postponed its release indefinitely. The pop-rock group Haim also put their album plans on hold, as did the singer Sam Smith. There are business calculations to such decisions, as social distancing has disrupted the promotional circuit of interviews and concerts. There is also a deeper question: Is it okay to party in a crisis? "It just doesn't feel right to me to release this album with all that is going on," Gaga wrote on Instagram. Smith's message to fans: "Imminent release doesn't feel right."
It's telling to see these announcements couched in terms of emotion ("feels") and morality ("right"). When the isolation regime first descended on many parts of America a few weeks ago, I wrote about how the crisis might change the way people hear music for a time. Songs about touch and closeness might become viscerally yuckier; exuberant sing-alongs can ruin the fragile calm of self-quarantine. Moreover, the activities music is so often used for have been snipped away. Bars, concerts, and festivals are obviously out—but so are commutes, gym routines, and offices in which background noise needed to be drowned out. Sure enough, early reports indicate that the use of services such as Spotify has fallen during social isolation, especially when it comes to pop.
Yet Lipa made a smart bet. Sweaty, sexy, silly dance songs have, in some ways, become crucial to the emerging aesthetic of isolation. Future Nostalgia is making a strong play for charts worldwide while inspiring dance videos and appreciative reviews. What's fascinating is that Lipa hasn't so much given fans an escape from the crisis as given them something oddly apt for it. One song's refrain is "I should have stayed at home, 'cuz I was doing better alone." Another's: "Don't show up / don't come out." These tunes have been compared to the CDC guidelines; med students have turned them into PSAs; the title "Quarantine Queen" has started following Lipa around. The songs were recorded before the crisis, of course. But something in them is proving useful. Art such as hers, social isolation is making clear, has never just been for going out. It's been for thriving in solitude.
---
Lipa is not the only pop artist connecting right now. "The city's cold and empty / no one's around to judge me," yelps Abel Tesfaye on the first No. 1 song of the coronavirus era. With desperate lyrics about withdrawal, lack of touch, and barren streets, the Weeknd's "Blinding Lights" has now ended the reign of Roddy Ricch's "The Box" at the top of the Billboard Hot 100. The sound of the Weeknd's smash is not as morose as its accidentally timely themes might suggest. Rather, it surges on magma-orange synths and punk drumming. It sounds like a lost track from the Top Gun soundtrack, or something you'd hear in a 1987 step class.
Indeed, "Blinding Lights" owes much of its popularity to Richard Simmons imitations. In a hugely replicated TikTok meme set to the song, trios of friends jog into the frame and go full aerobics-core by grinning and jazz-hands-ing into the camera. The trend began in early March, and as the coronavirus crisis has worn on, it has taken on special meaning. Teens cooped up at home have taught their parents the choreography. Nurses in masks have turned in sterling renditions of it. The dancers in these videos may not stand a full six feet away from one another, but they do stand apart in a way that feels made for social-distance aesthetics. More important, with jackal smiles and twitchy foot movements, the performers' energy seems to clash with their banal backdrops. It's the perfect meme for a nation of people bouncing off the walls.
This era has already seen many a songwriter try to capture the stir-crazy mood in a more literal way. "Bored in the house, and I'm in the house bored" natters the rapper Curtis Roach on a hit TikTok jingle. Another emcee, Tierra Whack, put on a wig and recorded a loopy new tune called "Stuck." Cardi B screaming about the coronavirus over a trap beat has become inescapable online. These tracks are refreshing, but one almost hopes that they not outlive their novelty factor. They don't really provide anything but humorous validation for what we all know to be true—that isolation is a drag.
Music history has, by contrast, offered plenty of ways to recast aloneness as something other than a bummer: as independence, empowerment, or individuality. Just scan your preexisting playlists. While pop's famous fetish for touch and make-outs often results in songs that feel frenzied and chaotic, there's frequently purpose, dignity, and even grandeur to tracks about enlightened disconnection. (The sound I'm talking about is different—a lot more ebullient—than the chill, stay-at-home approach that has ruled pop in recent years.) Think Gloria Gaynor's "I Will Survive," or Stevie Nicks's "Stand Back," or Lipa's 2017 hit "New Rules," or any given slice of nihilistic cheese from the new Weeknd album. These songs are exciting yet orderly, with singers and rhythm sections making a show of seeming in control. If most of the lyrics are about breakup-related singledom, the underlying assertion still applies to our current mass separation: It's more than okay to dance on your own.
---
Maybe it is tacky to worry about dancing at all right now. Or maybe it's literally a matter of public health: Anything that makes isolation bearable theoretically encourages flattening of the curve. People are rising to the challenge of turning the home into a club. Last weekend, I scrolled through my Instagram stories and saw various examples of wigs, martinis, and vacuum-cleaning conducted in high heels. It's been a joy to check on digital parties that focus less on the DJ than on the viewers at home, vogueing and twerking in costumes and going-out getups. Often they are dancing to anthems of loneliness by Robyn or Destiny's Child.
Entertainers may, thus, offer some help in this moment (even though many of them have simply embarrassed themselves in isolation). But they will have to adjust to the fact that, without special lighting and public stages, they will not necessarily be the center of attention. After her album came out, Dua Lipa live-streamed again from the kitchen she'd made her album announcement in. This time, she sang her new songs to acoustic tracks playing from her laptop. The effort was commendable, but the overall effect felt lonely in a sad, desolate way. She gave it one more go Monday night for the Late Late Show, singing from the same kitchen counter as before. But this time she streamed in dancers and musicians to perform simultaneously from their own isolations. The performance worked; something clicked. Lipa, like so many others now and in the past, has arrived upon a potentially lifesaving sensation: aloneness, together.