The Problem With Celebrities Urging Fans to Donate During a Pandemic
As millions of people struggle with layoffs and lost wages, now is not the time for wealthy stars to be asking ordinary Americans to give money.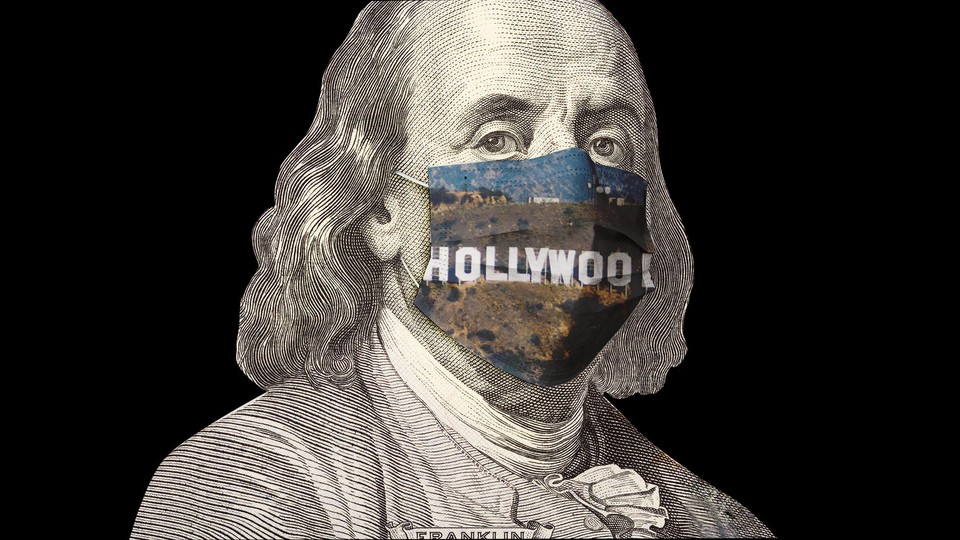 In a recent video on Instagram, Ashton Kutcher and his wife, Mila Kunis, made an appeal to Kutcher's 4 million followers. Before Kutcher could finish declaring that these "unprecedented times" call for "unprecedented measures," Kunis weighed in with her own solution: "More drinking!" Then the couple introduced a new product called "Quarantine Wine," a pinot noir they're selling to benefit coronavirus-relief efforts. Priced at $50 for two bottles (100 percent of the profits will be donated), Quarantine Wine is sold through a partnership with Nocking Point, a winery co-owned by one of their friends.
The idea came about because, like many people, Kutcher and Kunis have come to rely on virtual happy hours as they isolate during the pandemic. The couple's new social habits might seem relatable to their fans, but their fundraising announcement has more in common with charitable gestures that their fellow celebrities have made in recent weeks. The rapper Ice Cube and the emo band My Chemical Romance, for example, have started selling branded merchandise to benefit coronavirus-related causes. Some ultra-wealthy figures, including the singer and business mogul Pharrell Williams, have taken to social media to ask their followers to donate to various pandemic-relief funds.
Such efforts, however well-intentioned, betray a stark disconnect from the realities that average Americans are now facing. In the last five weeks alone, more than 26 million people have applied for unemployment benefits. They are among those waiting for a $1,200 stimulus check that can help them make rent or feed their families for the month. By contrast, Kutcher, Hollywood's most active Silicon Valley investor, and Kunis have a combined net worth of more than $250 million.
Of course, many of these stars are giving their own money in addition to soliciting donations for worthy causes. But their approaches to charity, in part, reveal a dysfunction that unites celebrity culture and American individualism writ large. Even as the federal government is failing to provide mass testing, adequate PPE for health-care workers, or sufficient economic assistance for the public, the nation's wealthiest citizens are offloading responsibility for public health and economic survival onto the shoulders of the people most affected by the crisis.
Unlike other mega-rich people who are invisible to the general public, celebrities who appeal to fans for donations are drawing on a foundation of trust. Whether on Instagram or Twitter, entertainers create their posts with an implicit understanding that their opinions, interests, and political views carry weight. The parasocial nature of fan-artist bonds, in which followers invest one-sided emotional energy into the relationship, ennobles celebrities' words. Under normal conditions, it wouldn't seem strange for entertainers to be unaware of how their fans actually live.
But as the pandemic continues to deepen existing inequalities, this obliviousness takes on a more pernicious valence. Kutcher and Kunis's quarantine-fueled affinity for wine, for example, doesn't reflect the circumstances that most Americans are grappling with. Millennials are facing the second massive economic downturn of their working lives. Even health-care workers are being laid off. For many vulnerable workers, this recession will leave profound psychological scars that will last for years. The nation's rising rate of alcohol consumption isn't a cute quirk; it follows economic distress and carries dangerous consequences.

"Quarantine Wine" is just one of many other celebrity products that frame fans' charitable contributions in the terms of a capitalist exchange. According to this model, customers part with their money, but walk away with both a product and the satisfaction of having done something good. In recent weeks, even as unemployment numbers climb, these entreaties have continued. Often, stars try to leverage some memorable aspect of their image or persona: The rapper T.I.'s apparel label, for example, released a 4/20-themed collection that will contribute an undisclosed portion of its proceeds to COVID-19 relief efforts.
Charity auctions and merch sales may grate less than an asinine lip-syncing compilation. And it's undeniable that more resources will help the overburdened food banks and hospitals at the front lines of the coronavirus crisis. But the pandemic isn't a contained disaster that can be managed from afar. For millions across the country, this new threat doesn't exist somewhere over there, separate from daily life. The pandemic is taking a financial, medical, and psychological toll on the very people who are viewing celebrities' tweets or Instagram posts seeking donations (and who are taxed at much higher rates than the uber-wealthy, too).
The language that some stars resort to in their charity appeals is telling: Many try to persuade their audience by insisting, "We all need to do our part." In a release announcing the sale of his branded T-shirts reading check yo self before you wreck yo self, Ice Cube leaned into an naive egalitarian vision: "As a global community, we all need to come together to fight against this Coronavirus. Every citizen needs to step up. Hopefully, people can buy the shirts, and help us get supplies directly into the hands of the frontline healthcare workers that need it the most." But what does stepping up look like when you've lost your job?
Thankfully, some relief projects have found a way to give something to the public without simply requesting a donation in return. One World: Together at Home, a special broadcast featuring multiple performers, began with a welcome from its hosts, Stephen Colbert, Jimmy Kimmel, and Jimmy Fallon. Noting that first responders and medical workers deserve more than just thanks, Colbert instructed "everyone at home to take out their wallets—and then put them away. We aren't asking for money tonight." Kimmel added that the event had already raised more than $50 million for the World Health Organization, after which Fallon joked, "Half of that was just from turning Jeff Bezos upside down and shaking him for loose change." And last night's star-studded coronavirus-relief special from BET similarly gave audiences much-needed entertainment. Though the event was a telethon to support a joint relief fund with United Way, BET's program also educated viewers on how to manage the spread of the virus within the most vulnerable communities.
As the pandemic continues, audiences will likely see other uncomfortable attempts by celebrities to raise money with little concern for what their followers are going through. One particularly egregious recent example might even exacerbate the economic strain placed on fans—many of whom are in the demographics most likely to be affected by both layoffs and complications from the virus. For the past month, the producer Swizz Beatz's "Verzuz" battle series has attracted hundreds of thousands of viewers, who've tuned into Instagram Live to watch some of their favorite music producers face off against each other. Thus far, the battles have been free to watch, a balm during difficult times. Now, though, Beatz is teasing a possible battle between Dr. Dre and Diddy, musicians whose cumulative net worth is more than $1 billion, as a "pay-per-view for the COVID."
Nothing is stopping those multimillionaires from donating money themselves and continuing to stream the battles for free. Under social-distancing guidelines, Dr. Dre and Diddy shouldn't be leaving their homes anyway—why should they charge fans for watching them amuse themselves for an hour? These kinds of suggestions whiff of cluelessness about widespread poverty at best, and disdain for fans at worst. Even as they acknowledge the "unprecedented times" the whole world has entered, the celebrities of the world can afford to give a lot more than $50 to charity, even if they don't get any wine out of it. Many of their fans don't have that luxury, especially now.
---
Related Podcast
Listen to Hannah Giorgis talk about this story with Spencer Kornhaber on Social Distance, The Atlantic's podcast about life in the pandemic:
---