8 Films to Watch Right Now, According to Barry Jenkins
"Right now, there are no movie theaters. The screens are on our walls, in our pockets, on our monitors."
Barry Jenkins is, like everyone else, struggling to figure out what to do with himself right now. The Oscar-winning filmmaker behind Moonlight and If Beale Street Could Talk was just finishing production on his upcoming Amazon series, The Underground Railroad, when stay-at-home orders were issued in March. Since then he's been sheltering in California with his partner, Lulu Wang, the writer and director of The Farewell. They've been watching a lot of TV and movies. "I feel like we've been home for three Mondays, and nothing else," Jenkins told me when we spoke earlier this week. "It's just been one continuous Monday."
Before the pandemic, Jenkins was a self-proclaimed agnostic in the debate over the sanctity of the cinema-going experience. ("The first time I saw The Thin Red Line was on a VHS on a 13-inch screen, and I was still blown away," he said.) But the daily routine of putting on movies in his den has him longing for movie theaters. "Watching from the same seat on the same screen every day, the process itself becomes a little bit antiseptic," he said. "You can't even go to the video store and talk to a nerdy-ass lady or guy about the really obscure South Korean cinema you should be watching."
Jenkins does think movie theaters will return when the crisis subsides—"We'll change certain practices, maybe, but eventually they will"—but said, "That normalcy might take a year and a half to get to, and there'll be people who can't pay their rent … Are we going to treat them with humanity, or are we going to punish those folks? It's going to take time, but the movies will be here." Below are his recommendations for films, both new and old, that viewers can escape to as they wait for theaters to come back to life.
---
BARRY JENKINS'S QUARANTINE FILM LIST
Mid-August Lunch (2008, directed by Gianni Di Gregorio)

The film: This light Italian comedy-drama follows a man who starts caring for his neighbors' elderly relatives during the busy holiday season as a way to pay off his debts.
Jenkins's notes: "I've been [thinking] about Italy during this crisis, and this was a tiny film I'd seen years ago. It's the most amazing little film, the directorial debut of the writer of the Italian film Gomorrah. It's 75 minutes, it's on Amazon Prime, and it's just delightful. It feels like a mini discovery. Mid-August Lunch features [an elderly] cast that is extremely vulnerable to the [pandemic] right now, so it's bittersweet, but it's lovely to see the actors enjoy themselves and flourish in their craft."
Watch it on: Amazon Prime
---
Selah and the Spades (2019, directed by Tayarisha Poe)

The film: Tayarisha Poe's debut feature is set in a prestigious East Coast boarding school, where Selah Summers tries to maintain control over her coveted social group, the Spades.
Jenkins's notes: "Amazon has been pairing up with local wine shops and restaurants and creating to-go packages that people can eat and drink at home with a new premiere every Friday night. I didn't get to catch this awesome film, Selah and the Spades, at the festivals, and it never got a small release. The night it premiered on Amazon, Lulu and I opened a bottle of wine, a dinner showed up, and we went in the back room and turned down the lights. And it felt like, Well, this is a two-person audience, but we're at the premiere! I loved the film. It's loud, speaks to such a specific experience, and the vibe is unique. It would have found an audience in release, but I can tweet about it, you can read the tweet, and immediately load up the film. That is powerful as hell."
Watch it on: Amazon Prime
---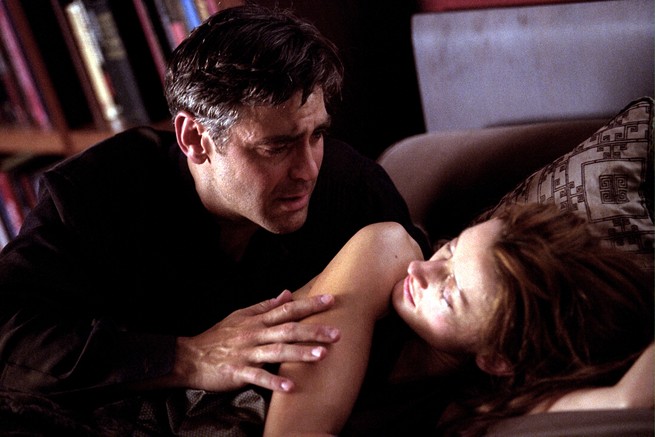 Solaris (2002, directed by Steven Soderbergh)

The film: An adaptation of Stanislaw Lem's novel in which the psychologist Chris Kelvin is sent to a remote space station orbiting a mysterious planet, where he encounters both disturbed crew members and a vision of his dead wife.
Jenkins's notes: "Lulu and I have been watching something that either I've seen and she hasn't seen, or she's seen and I haven't seen. With this, I told Lulu, 'Are you prepared for the longest hundred-minute film you've ever seen in your life?' However, I personally feel like it's a masterpiece. I was in film school when it came out, and I probably went and saw it six times in the theater. The atmosphere and the tone are wonderful. The images, and colors, and waves of light in that film are so thematically, emotionally, and—maybe Soderbergh would hate this—but spiritually evocative.
"Though it's a sci-fi movie, it's about these very simple human emotions between Chris [George Clooney] and his wife, Rheya [Natascha McElhone]. The final argument they have where you understand [what broke them apart], it's so visceral. In one moment, I'm thinking about theoretical physics and the limitations of time, and in another moment I'm being taken back to some of the heaviest moments I've ever had in my personal relationships. I can't say I'm good friends with Steven, but I know him, and when I need advice, I reach out and he always gets back to me. I own the shooting script of Solaris; it's one of the few films he actually wrote, but he just will not talk about it! It's a desert-island movie for me."
Watch it on: Starz
---
Oslo, August 31st (2011, directed by Joachim Trier)

The film: A man recovering from a drug addiction in Oslo leaves his rehab clinic to try to find a new job, encountering old and new friends and struggling with the temptation of his former lifestyle.
Jenkins's notes: "Amazon has all these channels, including the Strand Releasing channel, so Lulu and I were bopping around and found Oslo, August 31st. This is the thing about watching at home—we put it on expecting to watch five or 10 minutes because we were tired, and watched the whole damn thing! Then we put on [Trier's follow-up film] Louder Than Bombs. Oslo is just a masterpiece. It's sad, yes, but it doesn't flinch. Right now, I vacillate between feel-good things and something like Oslo, which is not that at all. It's defeatist as hell, in some ways. But it's made with such vitality; it's one of those films that's just about real life."
Watch it on: Criterion Channel
---
The Company (2003, directed by Robert Altman)

The film: Set in the company of Chicago's Joffrey Ballet, this behind-the-scenes look at dancers, choreographers, and stars digs into the grueling work of honing one's craft and the reward that comes with it.
Jenkins's notes: "I hadn't seen this in a very, very long time, but I remembered having such fond memories of it when it came out. Like with Solaris, it's a major, major director translating a very particular place, a very particular vocation. There's something [about the film itself] that feels resonant, because I want to be able to do what I do [make movies], and right now under COVID so many of us can't. So it was great to see this grounded depiction of these dancers, living such a strange life, but being given the space to explore their art. I just want to watch all the dreary, slow, melancholy shit right now."
Watch it on: Crackle
---
Train to Busan (2016, Directed by Yeon Sang-ho)

The film: A zombie apocalypse suddenly breaks out in South Korea, ensnaring the passengers of a train on the way to the city of Busan.
Jenkins's notes: "This was Lulu's recommendation. I hadn't seen it, but it's really awesome—I was in the back room where we watched, screaming and shouting. It transported us, in a way! We turned the lights off, enjoyed the jump scares. Then Lulu wanted to go even further down the rabbit hole, so we watched the animated prequel, Seoul Station [also directed by Yeon], and that was astounding. If we weren't in quarantine, I might not have been able to make time to watch them back to back, but we've got nothing but time right now."
Watch it on: Netflix
---
Stalker (1979, directed by Andrei Tarkovsky)

The film: Andrei Tarkovsky's sci-fi masterwork sees a strange figure called the "Stalker" leading a writer and a professor into the forbidden and desolate "zone," where a room supposedly exists that can fulfill any desire.
Jenkins's notes: "I try not to watch things when I'm making something, but with The Underground Railroad, that was hard, because 112 production days is, like, 10 damn months. The only thing that I allowed myself to watch was Stalker. I woke up early in production and thought, I need to watch Stalker again. It's the kind of movie that sits in the back of your head. I was shocked at how relevant that film was to the series we were making. I didn't watch it every week, but I definitely watched it a few times over the course of production. We were shooting in the woods, in all different kinds of weather. The journey of Cora, the main character of The Underground Railroad, reminds me quite a bit of the journey of the main character in Stalker."
Watch it on: Criterion Channel
---
Never Rarely Sometimes Always (2020, directed by Eliza Hittman)

The film: Jenkins is an executive producer on Eliza Hittman's new movie, which follows a teenage girl in Pennsylvania who travels to New York to get an abortion.
Jenkins's notes: "This is a wonderful, powerful film that really is relevant right now, because even during the pandemic, abortion rights are under siege. Eliza is a filmmaker who has a very particular aesthetic. That aesthetic creates a very particular experience. In a perfect world, Never Rarely Sometimes Always is a very 'small film' that would be seen on the largest screen possible, and of course, it was at Sundance and Berlin. But right now, there are no movie theaters. The screens are on our walls, in our pockets, on our monitors. That's the place where this story has to be.
"On the flip side, I remember making Moonlight and being told there were friends of friends who didn't feel comfortable going to see it in the theater, because of the themes it dealt with. With Never Rarely, depending on the community you live in, maybe someone who wouldn't feel comfortable going out to a theater to see the film can now dictate the terms on which they see it. It's in every home now with an internet connection, across America. There's always a silver lining. Dark cloud, silver lining."
Rent it on: All platforms