20 Undersung Crime Shows to Binge-Watch
Propulsive thrillers, slow-burn procedurals, and more for your every quarantine mood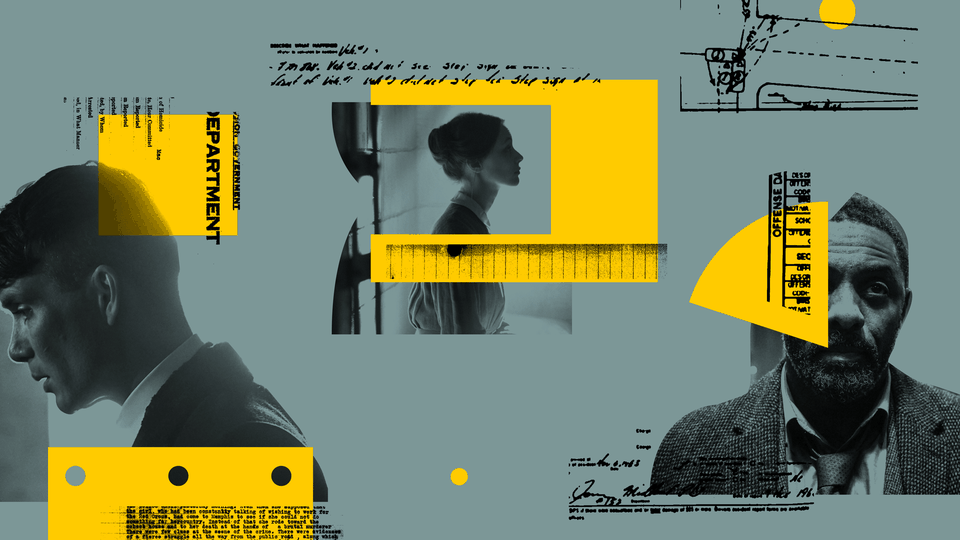 Maybe it begins with a body in the woods, half-buried under bracken. Or with a glimmering shot of a city skyline. Or with a furtive deal, carried out at dusk, before an unknown character heads toward an untimely end. The clichés and conventions of crime dramas are their own strange reprieve because of what they tend to guarantee: After a trip into the murkiest corners of the human psyche, an arc will be completed, a villain (or several) will be captured, and the system will prevail.
Over the past two months at home, the shows I've craved have either been mindless sitcoms (the televisual equivalent of a bowl of ice cream) or a certain subgenre of crime procedural, many of them British, unfailingly bleak, and loaded with top-tier actors wearing baggy woolen knits and surly expressions. These kinds of shows, as Matthew Gilbert wrote in the Boston Globe a few years ago, aren't simple TV diversions in the Law & Order mold as much as they're "haunting reflections on tragedy." They're clear-eyed when it comes to the rot in the fabric of humanity, but they typically offer some consolation in the end. The detectives here are as fascinating as the people they profile, and occasionally almost as dark.
With this peculiar type of comfort in mind, here's a list of some of the superlative crime-drama binges from the past decade that are available to stream. There are plenty of high-profile shows with similar attention to psychological depth (Better Call Saul, Unbelievable, American Crime, When They See Us, Fargo, Mindhunter, True Detective), but for the most part I've tried to stay away from obvious choices, to highlight some undersung options instead, grouped according to the things crime series do best. Not all are strict procedurals. Nor is this list exhaustive (The Bridge, Wallander, Borgen, and Trapped are among those deserving of their own inventory). Hopefully, though, you'll find at least one or two new options to consider.
---
Twisty and Propulsive Thrillers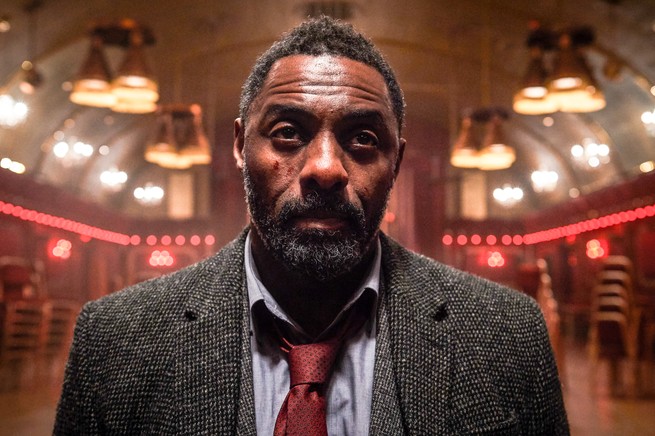 Luther
It's hard to imagine Luther functioning so well without Idris Elba, whose ability to radiate ennui and gravitas while stalking through London in a gray tweed jacket is at least half the show's appeal. Everything else in Neil Cross's five-season series, which debuted in 2010, is ludicrous, Victorian-novel excess: serial killers in LED masks, occult blood fetishists, psychopathic academics with oral fixations who murder their entire families, right down to the dog, for attention. It's the latter, Alice Morgan—a depraved genius played with operatic lunacy by Ruth Wilson—who becomes the Hannibal to Luther's Clarice Starling, popping up to aid him and occasionally opine on the intricacies of the criminal mind. For all its absurdities, this is a series where the momentum rarely falters.
Watch it on: Hulu
---
The Fall
Before Killing Eve, the knottiest cat-and-mouse game on television was between the icily glamorous Detective Inspector Stella Gibson (Gillian Anderson) and the swaggering serial killer in sweatpants, Paul Spector (Jamie Dornan). In the first season of the show, Gibson flew to Belfast to help investigate the murders of several young women, all of them committed by Spector, whose criminality The Fall revealed from the beginning. The narrative engine driving the show isn't whodunit; it's whether Gibson will solve the case before Spector strikes again, and whether either can curtail their growing obsession with the other. Anderson has never been more compelling as Gibson, a woman whose brilliance is grounded partly in her gender, and her ability to comprehend the psychology of a misogynist murderer. In the third and final season, The Fall veers slightly off the rails, but the first two alone make it worth watching.
Watch it on: Netflix
---
Informer
For all the consolation of shows that stick to a formula, the ones that upend generic conventions can be even more gratifying. The hero of Informer isn't Detective Sergeant Gabe Waters (Paddy Considine), a London counterterrorism officer trying to crack a ring behind attacks in other European cities. It's Raza (played brilliantly by Nabhaan Rizwan), a second-generation British Pakistani man whom Gabe—in an act of callous ethnic stereotyping—coerces into informing on potential terrorists in his community, and who's by far the show's most sympathetic character. ("I don't know any terrorists, bruv!" Raza exclaims in protest. "Not yet, but you will," Gabe replies.) Even the ways in which Informer tweaks the visuals of London-set shows feel fresh—there are far more panoramic portrayals of Shoreditch streets and East London council estates than sweeping vistas of the Thames. And as the show barrels towards its climactic finale, it never loses sight of which people are victimized in the official quest to keep everyone else safe.
Watch it on: Amazon
---
Marcella
You can also file Marcella under "engagingly batty serials," and yet for all my complaints about the show—its trope-y "troubled-but-brilliant heroine" setup not least among them—once I started watching, I couldn't stop. Anna Friel (Pushing Daisies) plays the titular detective Marcella, who at the show's outset has come back to active police work after a personal crisis and the seeming return of a serial killer she'd long hunted. The only problem is her ongoing blackouts, after which she tends to wake up muddy, covered in blood, and suspicious even of herself. Florence Pugh (Little Women) has a brief but committed arc in Season 1 as a sex worker who steals from her customers, and Downton Abbey's Laura Carmichael also pops up as a student criminologist. But Friel is the real draw, giving her character just enough grit and vulnerability to keep viewers on her side.
Watch it on: Netflix
---
Slow Burns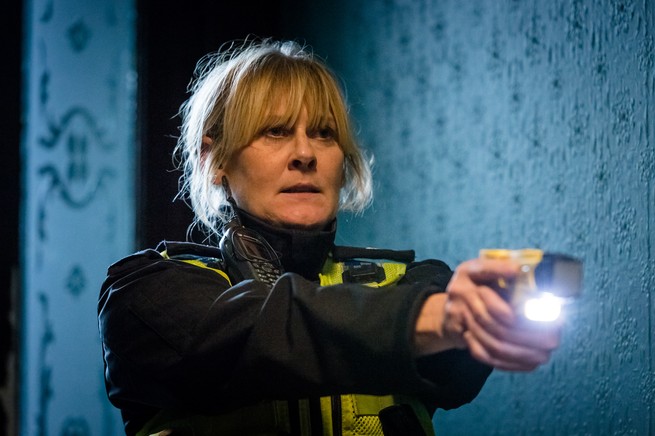 Happy Valley
Before writing HBO's Gentleman Jack, Sally Wainwright created this spectacular two-season drama about an indomitable police sergeant in northern England, Catherine Cawood (Sarah Lancashire), whose tragic family history is messily knotted with the community she covers. Unlike many a popular British procedural, there are fewer pastoral landscapes for the camera to sweep over seductively—the term "Happy Valley" is used by police to describe the area because of its history with drugs and crime. The ostensible plot in the first season features a bungled kidnapping, but Catherine herself—defined by no-nonsense pragmatism, acute emotional intelligence, and the trauma she's fighting as brusquely as possible—is the reason to keep watching.
Watch it on: Netflix
---
Broadchurch
If superior British dramas are defined by their ability to chart both the process of crime-solving and the devastation violent crime leaves in its path, then few can equal Broadchurch, Chris Chibnall's cult hit about the murder of a child on southern Britain's Jurassic Coast. In its opening scene, the show takes viewers down a seaside town's main street, as if to introduce all the players to come: the police detectives (played by David Tennant and Olivia Colman) investigating the crime, the parish church, and the home where two parents (Jodie Whittaker and Andrew Buchan) are sleeping. The dynamic between Colman's Ellie Miller, a Broadchurch local, and Tennant's newly hired Alec Hardy sustains the show's energy—and its moments of humor—but the show also gives significant space to the grief of 11-year-old Danny Latimer's family, and to the ripples that his death send through the community. If Broadchurch has a fault, it's a reliance on charged conversations on the beach as waves crash stirringly to shore, but even those are so scenic that they're hard to resent.
Watch it on: Netflix
---
A Confession
Arriving on BritBox in May, this six-part import stars Martin Freeman (Sherlock) as a detective investigating a missing 22-year-old woman, although the series takes its time to set up the story's major pieces. Instead, Jeff Pope (who wrote the series based on a real-life case that ended the career of the policeman involved) allows viewers to become acquainted with the characters before tragedy strikes, and to witness the slow creep of dread and panic as the scale of what's happening becomes clear. If that doesn't quite make for an immediate hook, it's worth watching through the end of the first episode, by which time the elements have coalesced into something devastating. As the show proceeds, the weight of events bears down on everybody, including two mothers played by Siobhan Finneran and Imelda Staunton.
Watch it on: BritBox
---
National Treasure
This Hulu anthology show actually consists of two series by Jack Thorne (Harry Potter and the Cursed Child) released under the same title. The first, which debuted a year before The New York Times' reporting on Harvey Weinstein precipitated an outpouring of accusations against high-profile abusers, focused on a beloved comedian, Paul Finchley (Robbie Coltrane), who's arrested one morning for decades-old charges of sexual assault. Impeccably structured, the four-part miniseries selectively reveals aspects of Paul that continually disrupt the question of what to make of him. The second show, Kiri, stars Happy Valley's Sarah Lancashire as a social worker investigating the death of a 9-year-old black girl who'd been fostered by an upper-middle-class white family. This installment carefully exposed the tensions of race and privilege in British society, and the clamorous media circus that seizes on a murdered child.
Watch it on: Hulu
---
Subversive Storytelling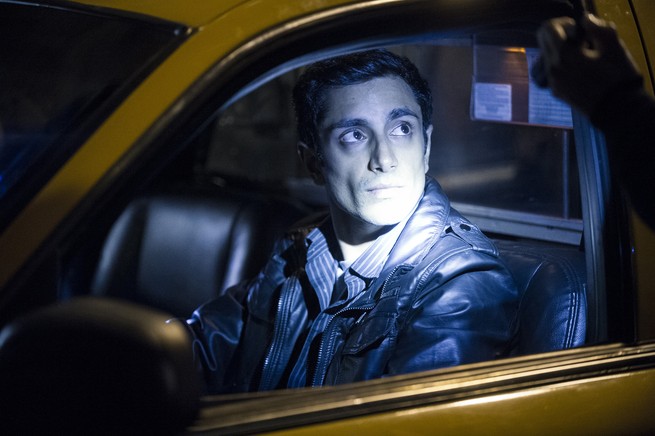 The Night Of
The sustaining force of this eight-part 2016 miniseries isn't the question of what happened, exactly—why Naz (Riz Ahmed), a college student from Queens, New York, wakes up after a drug-fueled one-night stand with a stranger to find her stabbed to death in bed next to him. It's how the criminal-justice system will transform Naz from a doe-eyed innocent in the first episode to someone capable of surviving in prison, with Ahmed's hypnotic performance conveying all the moral and personal hardening of that evolution. The show is gorgeously shot, using color to emphasize the different environments Naz finds himself in; the vivid red of a woman's townhouse seems to signal danger, while the bleak blues and grays of prison cells and courtrooms convey how much of Naz's old life is bleeding away. And the extraordinary ensemble cast, including John Turturro as Naz's attorney and Michael K. Williams as his prison protector, enhances all the story's angles.
Watch it on: HBO
---
Rectify
Ray McKinnon's southern Gothic drama starts when a wrongfully convicted man, Daniel Holden (Aden Young), is released after serving 19 years on death row for the murder of his 16-year-old girlfriend. In that sense, it's hardly a crime drama at all. The series follows Daniel's return to life, not the snuffing out of yet another female victim, and its palette reflects this, using the natural luminosity and beauty of his Georgia hometown to convey his journey from dark back to light. Rectify doesn't flinch when it comes to exploring what happened to Daniel in prison; the show, Laura Bogart wrote in 2016, offers one of the most nuanced portrayals of sexual assault on television. But as the series teases out its plot, it also crafts its characters—including Succession's J. Smith-Cameron as Daniel's mother and Abigail Spencer as his unfailingly loyal sister—with care.
Watch it on: Netflix
---
Snowfall
The late John Singleton's superb FX drama charts the explosion of the crack epidemic in Los Angeles during the 1980s, but it does so from the perspective of the people and forces that stoked a catastrophe. Those include Franklin (Damson Idris), a teenage dealer who spots a business opportunity, and Lucia (Emily Rios), the daughter of a Mexican gangster, who, like Franklin, has an entrepreneurial spirit and something to prove. But the series also indicts Teddy (Carter Hudson), a CIA operative whose attempts to further his career with the government end up flooding California with cocaine just as demand is surging. Singleton's attention to detail re-creates a specific time and place with vibrant energy, while his story illustrates how power corrupts those who crave it most.
Watch it on: FX
---
Top of the Lake
Too many dramas rely on the "troubled-but-brilliant detective" trope for extra plot shenanigans (see Marcella, above) without actually doing anything meaningful with it. But Jane Campion's seven-part miniseries, which debuted in 2013 before it was au fait for filmmakers to make the leap into TV, relies on the backstory of the detective Robin Griffin (Elisabeth Moss) to flesh out Top of the Lake's central themes. When, in the first episode, Robin returns to the small New Zealand town she grew up in to probe the disappearance of a pregnant 12-year-old girl, the show's central investigation seems clear. But as Robin digs into the case, and as pieces of her own past come to light, Top of the Lake reveals that its real inquiry is into misogyny and the abuse of power, and how both can thrive unchecked in isolated communities. The series spawned a strange follow-up co-starring Nicole Kidman in 2017, but the original is the one worth seeing.
Watch it on: Hulu
---
Period Crime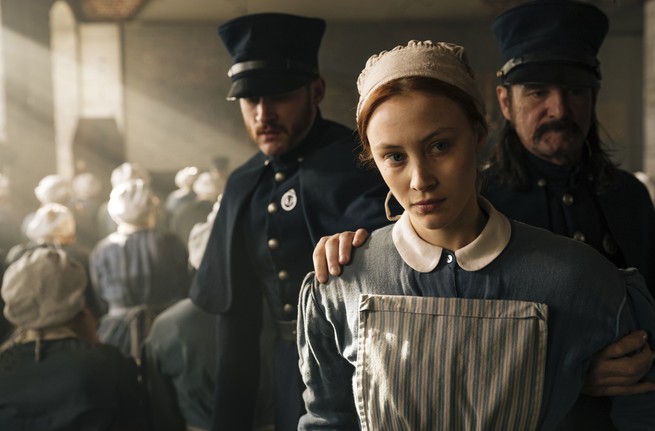 Alias Grace
Hulu's The Handmaid's Tale tends to get the lion's share of the attention when it comes to painterly, feminist adaptations of Margaret Atwood novels. But Alias Grace, Mary Harron and Sarah Polley's six-part miniseries from 2017, is still undersung for its riveting, ambiguous portrait of a woman accused of murder. Grace Marks (Sarah Gadon) is a notorious prisoner in 19th-century Canada who's become an object of fascination to wealthy housewives. Wishing to prove her innocence, they recruit an American psychologist, Dr. Simon Jordan (Edward Holcroft) to assess her; this is when Grace's story begins to unfold. Grace is astute, beguiling, and untrustworthy—the pieces of herself that she reveals to Jordan don't always match the fragments the viewer sees in flashback. The tension between what's hidden and what's exposed sustains the drama, as does Gadon's luminous, unpredictable performance.
Watch it on: Netflix
---
Babylon Berlin
One of those series perpetually feted as the best show people aren't watching, Babylon Berlin is, variously, a Weimar-era neo-noir romp, the most expensive non-English-language series ever, and a vivacious, stylized re-creation of an unparalleled cultural moment. The Netflix titles warn briefly of "sex, nudity, substances, language, smoking," and that's just the beginning: There's also a train full of missing Soviet treasure, a morphine-addicted detective who teams up with an archivist who moonlights as a sex worker, and an illicit pornography ring that's blackmailing the mayor. The show is macabre, surreal, freighted with historical tension, and totally addictive. The demise of this seamy, glamorous, liberated world is inevitable, but watching it slowly implode is part of the fun.
Watch it on: Netflix
---
Endeavour
You don't have to have seen Inspector Morse, one of the most beloved and long-running detective dramas in British TV history, to appreciate Endeavour, a series that jumps back in time to the 1960s to portray the cerebral, opera-loving detective at the beginning of his career. Like Morse, Endeavour is set in Oxford, whose dreaming spires and bucolic surroundings belie its status as a hot spot for murder. There's something Sherlockian about the young Endeavour Morse (played by Shaun Evans), whose bookish background and ability to discern clues no one else notices make him generally unpopular among his fellow constables. And the precision with which the show recreates '60s England, including the buses on city streets and the fug of cigarette smoke in virtually every scene, makes it a visual treat too.
Watch it on: Amazon
---
Peaky Blinders
Steven Knight's exuberant gangster epic, set in Birmingham, England, just after World War I, is always abundantly clear that the criminals, here, are the heroes, while the police are the malevolent killjoys coming to break up the fun. Cillian Murphy is intoxicatingly watchable as the brilliant, devious, oddly sympathetic crime boss Tommy Shelby, who evolves over the course of the show from a street-level crook to a member of the British Parliament as his empire expands. Peaky's anachronistic soundtrack of Nick Cave, the White Stripes, and P. J. Harvey amps up its swagger, while the supporting cast and guest players (Helen McCrory, Sam Neill, Adrien Brody, Tom Hardy) add even more prestige to a rollicking, violent good time.
Watch it on: Netflix
---
Globe-Hopping Intrigue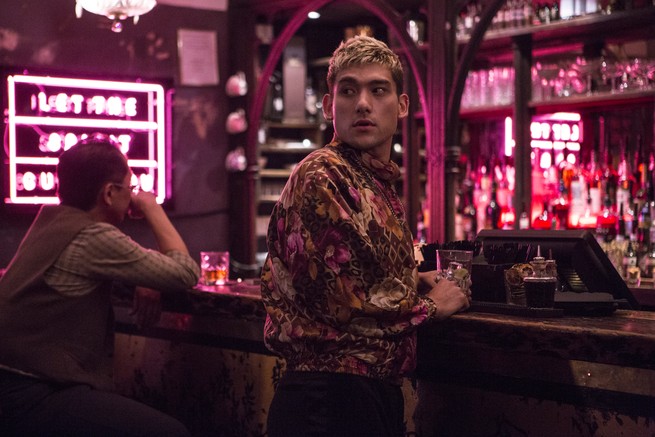 Giri / Haji
This BBC import arrived on Netflix in January, and doesn't seem to have found the acclaim or the audience it deserves. After a Japanese businessman is found murdered in his London flat (those skylines again), the Tokyo detective Kenzo Mori (played by Takehiro Hira) is sent to the U.K. to investigate a case that threatens the fragile peace between Japan's Yakuza families, and to establish how his missing brother might be involved. In London, Kenzo gathers some allies: Sarah Weitzman (Kelly Macdonald), a British detective with secrets of her own, and Rodney Yamaguchi (Will Sharpe), a feckless sex worker with violent enemies and enormous charm. Created by Joe Barton, the series is strikingly cinematic (flashbacks incorporate wide-screen, black-and-white, and even animated elements), and darkly funny. Macdonald is a preeminent actor, and Sharpe is a vibrant discovery. But Hira is most watchable, conveying Kenzo's weariness and intelligence in equal measure, as well as his impulse to cross ethical lines to protect his family.
Watch it on: Netflix
---
Baptiste
If grizzled, nihilistic, speak-only-in-a-whisper detectives aren't your thing, you might want to avoid Baptiste, a spin-off of the Starz series The Missing. For everyone else, the opportunity to watch Tchéky Karyo's French investigator, Julien Baptiste, grimace his way around a new mystery in Amsterdam is full of familiar gratification. There's the contrast between the unimpeachable Baptiste and his sordid surroundings in the red-light district. There's Tom Hollander (again) as an Englishman looking for his missing niece, a sex worker. And there are twists and turns and reliable cliffhangers to keep things suspenseful. The story itself can be unfailingly glum—with occasional absurd highlights—but Baptiste is a character worth relishing: a man capable of bringing philosophy to crime scenes and dour decency to his job of sifting through human frailty.
Watch it on: PBS
---
The Night Manager
John le Carré's 1993 novel became this striking six-part BBC/AMC co-production in 2016, starring Tom Hiddleston as a luxury-hotel manager who gets embroiled in an MI6 effort to catch an international arms dealer. If TV shows can be comfort food, The Night Manager is a feast. The director Susanne Bier gives the locations the gilded menace of a Bond movie, hopping from mid-revolution Egypt to the Swiss mountains to the Monaco coast. There are yachts and palaces, toxic corruption and dangerously vulnerable women. Mostly, though, there are actors. Hiddleston is never better than when he's playing a wolf dressed in heroic sheep's clothing, and as Jonathan Pine, a former soldier turned unflappable concierge, his dark side festers under immaculate tailoring. Olivia Colman plays his handler, Angela, a woman whose utter competence the show relies on to patch the occasional plot hole. As the debonair war criminal Richard Roper, Hugh Laurie is delightfully amoral while exuding undertones of real cruelty. And the supporting actors alone could carry a Game of Thrones spin-off: Tobias Menzies, Elizabeth Debicki, Tom Hollander, David Harewood, and Alistair Petrie among them.
Watch in on: Amazon
---
ZeroZeroZero
If the concept of exploring the intricate global impact of organized crime isn't entirely novel, there's still something bracing about the ambition of ZeroZeroZero. The eight-part series is a deep dive into the families, mob bosses, and corrupt cops involved in moving a shipment of cocaine from a Mexican port to an Italian town. Stefano Sollima (Sicario: Day of the Soldado, Gomorrah) gives an auteurish crackle to the landscapes he captures that makes ZeroZeroZero feel more like a movie than a series. While a brisker pace would have lifted it into abject excellence, there's still so much happening that it's hard not to be transported. In one arc of the show, Gabriel Byrne plays a New Orleans shipping magnate plagued by the changing economics of his field. (Andrea Riseborough is particularly watchable as his daughter, a woman trying to assert herself in a virulently patriarchal environment.) In another, a senescent Italian mafioso (Adriano Chiaramida) is schemed against by his violent, iconoclastic grandson. And in Mexico, a team of soldiers tries to use the cartel's own ruthless tactics against them.
Watch it on: Amazon