Escape From Quarantine With a Western Movie
The best genre for the age of social distancing is one full of gorgeous scenes of the great outdoors.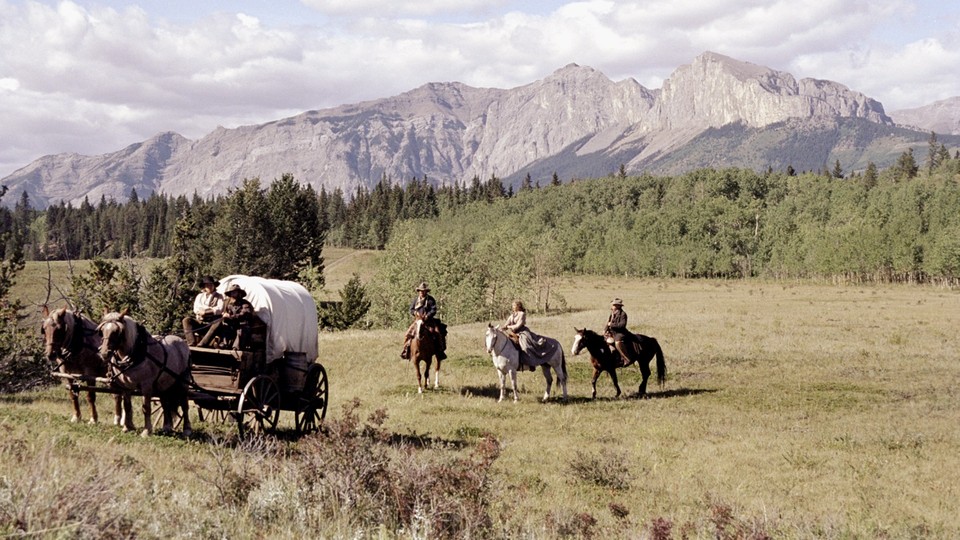 Almost every second of action in Howard Hawks's 1948 film Red River, one of Hollywood's greatest Westerns, takes place outside. An epic account of a 1,000-mile cattle drive from Texas to Kansas, the movie follows the rancher Thomas Dunson (played by John Wayne) and his protégé, Matthew Garth (Montgomery Clift), as they move their cows north on a perilous march. When their journey comes to an end, Garth walks into a building and looks up in astonishment. "A roof is funny," he muses. "We haven't been under one in three months."
I had put on Red River, which is available to stream on the Criterion Channel, out of a vague desire to watch a classic Western. Clift's line perfectly summed up what I was seeking: the least claustrophobic movie possible, one with sweeping vistas and a potent sense of danger and adventure. Over the past week, I've been devouring one of the American film industry's oldest genres, both familiar standards and later revisionist masterpieces, because Westerns offer pure cinematic escapism—from our hermetic homes to landscapes that are wild, exposed, and boundless.
Westerns have been around as long as Hollywood itself, so there are many eras to dig into if you're in need of something to watch while isolating. For me, much of the broader appeal of the genre at the moment is aesthetic: Westerns revolve so much around the outdoors that the simple act of going inside is worth remarking on. Red River is a Moby Dick­­–esque fable of the extreme mentality required on the American frontier, with Dunson cast as an Ahab-like antihero pushing his men beyond their limits to achieve his goals. But it's also just a nice movie about taking a really, really long walk outside. What could be more soothing?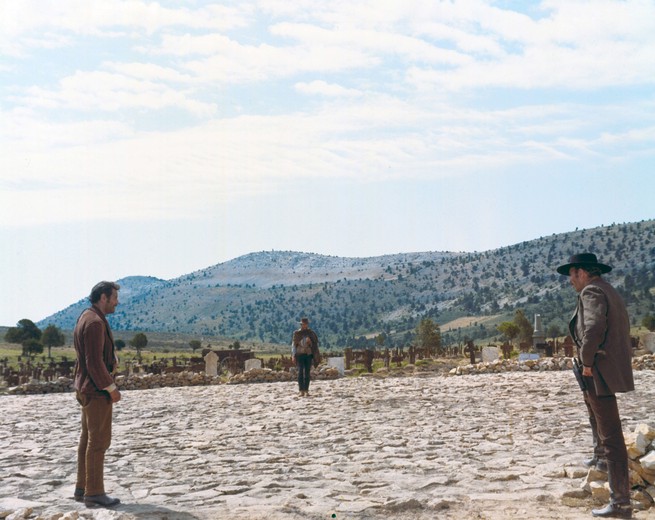 Beyond Red River, many other classics of the genre are available on Criterion's streaming service. Delmer Daves's 1957 nail-biter, 3:10 to Yuma, is less about majestic visuals and more about the tense interplay between its two leads, Glenn Ford and Van Heflin, but it still thrives on the remoteness of its Arizona setting. John Ford's Oscar-winning Stagecoach, which helped launch Wayne's career as a square-jawed everyman, is another gripping narrative of traveling through hostile territory. Like so many of these older films, it also relies on depictions of Native Americans as savages.
Such binary notions of heroes and villains have been baked into the genre from the beginning, whether via arcs about do-gooding farmers standing up to amoral bandits or plots about "cowboys versus Indians." In most classic Westerns, Native Americans are a faceless evil, a racist symbol devoid of deeper characterization. Such simplistic storytelling pervades the genre beyond its frequent use of stereotypes. Red River, though a canonical work, is notorious for its sappy conclusion, when Dunson and Garth's bitter rivalry is healed by a character forcing them at gunpoint to reflect on their love for each other. This resolution is far too tidy, but in this time of extreme uncertainty, I've found myself appreciating stories with unambiguous finales.
If you grow tired of the black-and-white moralism of Hollywood's Golden Age, look to later decades, as the classic Western fell out of style and new films sought out complexity. Two of Sergio Leone's spaghetti Westerns—The Good, the Bad and the Ugly and Once Upon a Time in the West—are now streaming on Amazon Prime (the latter is also on Netflix). Filmed in Italy in the 1960s, they have some of the most gorgeous photography in cinema history. Clint Eastwood's extensive oeuvre as a director is always worth checking out too, including The Outlaw Josey Wales, Pale Rider, and his Best Picture–winning opus Unforgiven; as a filmmaker, he excels at casting a cynical eye toward the frontier supermen he once played.
There are plenty of recent favorites you might have seen in theaters, movies that'll satisfy the need for mesmerizing panoramas and conjure an experience that many have grown nostalgic for—going to the cinema. Think of films such as Kevin Costner's Open Range, a painterly tale of cowboys standing up to land barons, or John Maclean's highly underrated Slow West, a stunning and tragicomic subversion of the genre's alpha-male heroism.
As people spend more time indoors, they might notice their attention spans growing shorter. The constant stream of news can make it difficult to focus on anything for too long. For me, dipping into Westerns has helped lend some structure to my viewing diet, but its main therapeutic power for anyone lies in opening a window to a world far removed from our own. Perhaps the next genre I'll venture into will be space movies—where the visual storytelling is that much more otherworldly. But because interstellar exploration requires many enclosed spaces, for now I'll feel happy roaming a more earthbound fantasy land: the great American outdoors.
Here are more Westerns you can stream today:
On Netflix
Wyatt Earp (1994)
True Grit (1969)
Hell or High Water (2016)
On Hulu
Meek's Cutoff (2011)
The Sisters Brothers (2018)
The Revenant (2015)
On Prime Video
The Man Who Shot Liberty Valance (1962)
The Magnificent Seven (1960)