The Show That Illustrates the Numbness of Staying Alive
The British HBO series Years and Years imagines a near-future defined by two phenomena: catastrophe and resilience.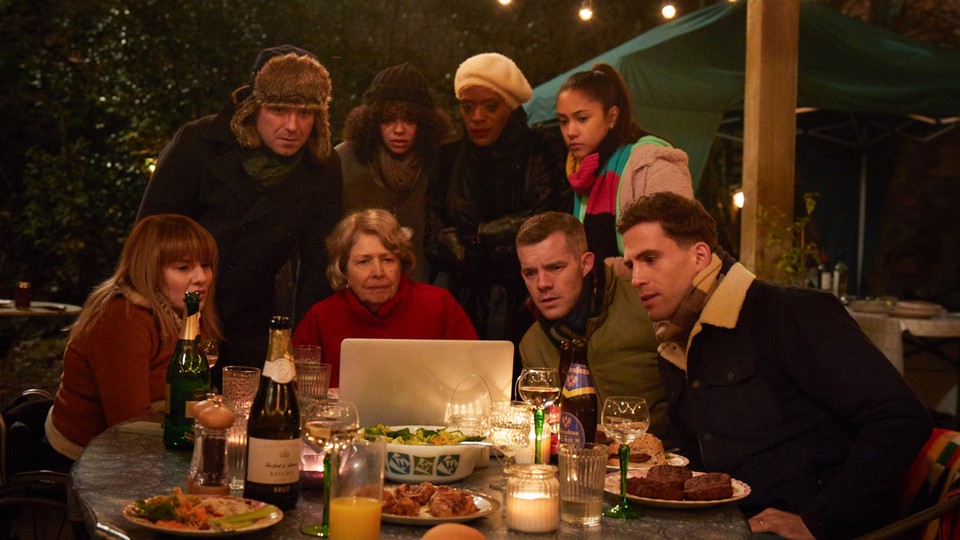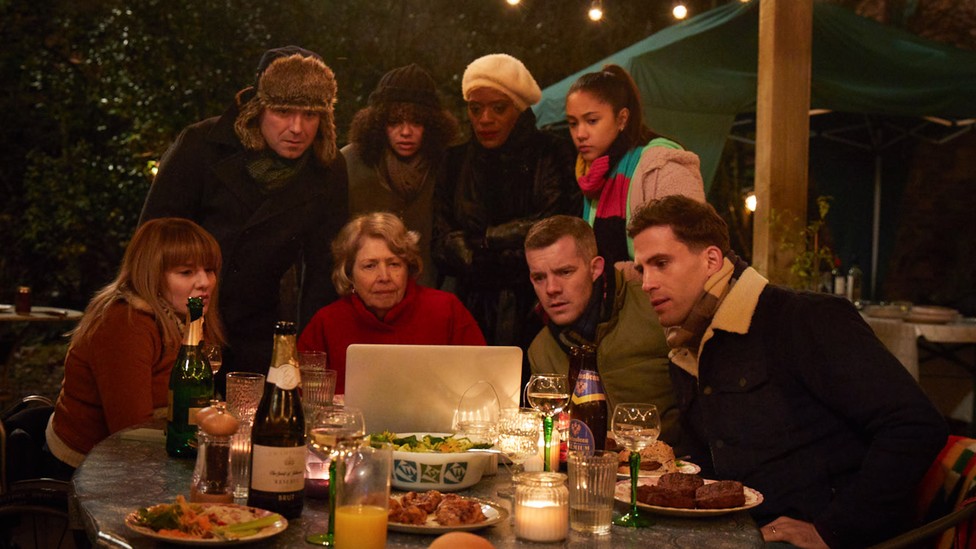 Things go on. Facing the unimaginable, people still get married. They get divorced. They fall in love. Babies are born, and people die. After a while, the nuclear strike is rarely mentioned. The refugee crisis becomes just another peripheral catastrophe. The pandemic is alarming for a while—especially for the elderly, who greet their grandchildren by asking nervously if anyone has a cold or a cough—but eventually becomes background noise. The stubborn impulse to keep going, not to cede to despair, is just too strong.
The (timely) idea of human resilience in the face of constant crisis was what made me want to revisit Years and Years, a six-part British drama from the writer Russell T. Davies (Doctor Who, A Very English Scandal) that aired on HBO last year. The show begins with a birth and ends with a death, and in between the two offers a kind of highlight reel of potential 21st-century disasters, seen through the lens of one northern-English family. Part kitchen-sink drama, part political allegory, part futuristic dystopia, the miniseries speculates about a 15-year period in British history, from 2019 to 2034. The calamities come thick and fast: Donald Trump, reelected to a second term in 2020, launches a missile at a disputed Chinese territory. A Ukrainian-government crackdown on LGBTQ citizens leads to an influx of refugees. Butterflies disappear. So do movie theaters (in 2024, Guardians of the Galaxy 4 is released straight to home screens). Floods devastate the U.K. A financial crisis decimates the middle class. As the Lyonses, the family at the center of the drama, reckon with the impact all of these events are having on their lives, an inscrutable populist leader, Viv Rook (played by Emma Thompson), rises to power.
There are so many disasters, in fact, that I had forgotten that the final episode features a viral pandemic the media have labeled the "monkey flu." But the point of the show isn't prescience. Davies isn't trying to prognosticate, though some of the show's predictions have come to pass in the short time since it aired. His intention, rather, seems to be to examine a populace too numbed and stressed to try to change the way the world is going. "It's all your fault," the family's matriarch, Muriel (played by Anne Reid), tells her grandchildren in a soliloquy in the final episode. "Everything. All of it. The banks, the government, the recession. America. Mrs. Rook. Every single thing that's gone wrong, it's your fault … You huffed and puffed and you put up with it. We let it happen. This is the world we built."
But how guilty are they, really? Rewatching Years and Years now, during the worst catastrophe of my privileged lifetime, the thing that struck me most about the Lyonses wasn't that they sighed and did nothing while the world around them disintegrated into disease and disinformation. It was that—mostly—they survived. The more things happened to them, the harder they clung to life and to one another. Most dystopian narratives deal with one kind of unimaginable crisis: a zombie apocalypse, a totalitarian regime, a terrifying disease. Years and Years, instead, shows how the alienation and paralysis sparked by a decade-plus of constant calamity are also symptoms of a kind of resilience. Human nature is to panic, to agonize, to fret and lose sleep and weep. Inevitably, though, it's also to adapt. The cost of getting through crisis after crisis, the show suggests, is numbness. "Emotion is a luxury," Governor Andrew Cuomo of New York said in his daily press conference on Thursday morning. "We don't have ... [that] luxury. Let's just get through it."
---
What made Years and Years so unsettling in 2019, and what perhaps contributed to its lukewarm reviews in the U.S., was how nervily it replicated the feeling of being a ping-pong ball inside a contemporary news cycle, bouncing between various dangers and open Chrome tabs, never having a second to pause or to consider the path ahead. One world-shaking news event happens, and then another, and then another. Early in the show, the anxiety feels familiar, as Daniel Lyons (Russell Tovey) rants about the world his new nephew is being born into. "I don't know what to worry about first," he says. The events only get more cataclysmic. ("The tsunami is an entirely modern invention," Muriel tells her grandchildren and great-grandchildren, an incorrect statement that nevertheless conveys how ubiquitous freak environmental events have become.)
The show's focus on family, though, is what allows it to most accurately convey what life in an era of perpetual crisis is like. On Years and Years, the big existential dilemmas get mixed up with the personal ones, so that the emotional predicament of a troubled teenager bears as much weight as the failure of democracy, or the reining-in of the press. One of the hallmarks of the coronavirus pandemic so far has been how efficiently it manages to devastate on a large scale and a smaller one. People dying in unthinkable numbers and economic meltdown become commingled with slighter, more personal heartbreaks: canceled milestone events, women giving birth without their partner, grandparents in isolation. Everything becomes interwoven, which makes perspective harder to attain. On the show, this is true also. Financial meltdown contributes to the end of a marriage, in its way, but so does infidelity.
As Years and Years races unsettlingly through the future, family events stand as anchors, stabilizing and reassuringly constant when time itself feels distorted. The Lyonses gather every year for a "winter feast" for Muriel's birthday, some of them griping about having to attend, but always present. When Stephen Lyons (Rory Kinnear) loses his job as a financial adviser and his family's savings disappear when their bank fails, Stephen, his wife, Celeste (T'Nia Miller), and their two daughters move in with Muriel. The macro events shaking the world are seen, first and foremost, as micro occurrences transforming the lives of everyday people. This makes for better drama (Davies is a master of blending the personal and the political), but it also lets Years and Years convey how simply existing can become its own kind of resistance. Still, there's a toll. For the family members to function each day, they have to distance themselves from the human tragedy all over the world. It's impossible to process so much pain, so many heartbreaking news stories. Resilience requires rationing your emotional capacity, your capacity to feel.
The "keep muddling on" quality of Years and Years isn't a route that great drama tends to take. Stories about crises throughout history are defined by acts of great heroism, by valor, by stealth missions doomed by the odds. In Outbreak, which a surprising number of Netflix viewers have been compelled to watch recently, a handful of renegades defy orders to save a community. In The Handmaid's Tale, even the most powerless character imaginable has become a superhero by Season 3, helping smuggle a whole airplane of children to safety. Years and Years eventually succumbs to the need for a climactic ending, even though the activist Edith Lyons (Jessica Hynes) insists afterward that the actions she took were unexceptional. "There's nothing special about our family," she says in one of the show's final scenes. "We lived through it, that's all. Like anyone. Like everyone."
In a moment when the most useful thing many people can do for society is the most passive thing of all—stay home—there's something extra gratifying about a series in which simply carrying on is portrayed as the key to survival. Not succumbing to panic, not giving up under the weight of what feels like a thousand disasters at once. History in the moment is unpredictable, but progress is always an oscillation, not a line. And resilience, Years and Years suggests, is what will get us through, especially in the moments when it seems furthest out of reach.