The Hidden Bigotry of Crosswords
The popular puzzles are largely written and edited by older white men, who dictate what makes it into the grid—and what is kept out.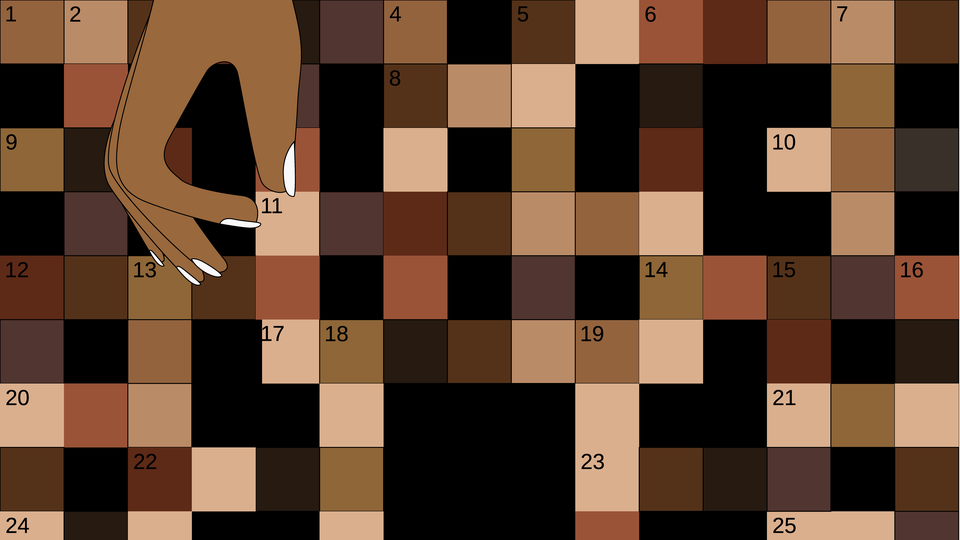 Last month, Sally Hoelscher published her first crossword puzzle in The New York Times. It was Presidents' Day; the theme was memoirs by first ladies. Like lots of nerdy subcultures, the crossword puzzle has a buzzing ecosystem, and it whirred into action. Hoelscher posted a photo of the newspaper her husband rose early on his day off to buy, and veteran crossword constructors, as they're called, offered congratulations in a Facebook group that develops constructors from underrepresented groups. Some of the Times' 600,000 digital-crossword subscribers finished Hoelscher's puzzle with their thumbs, extending their solving streaks, and crossword bloggers (yes, they exist) favorably reviewed the puzzle's theme, non-thematic vocabulary, and clues.
In comments sections on crossword blogs, alongside off-color jokes about hypothetical titles for a Melania Trump memoir, a debate raged. Jenni Levy, an internist and a writer on the review site Diary of a Crossword Fiend, applauded how Hoelscher's puzzle "passe[d] the crossword Bechdel test." But Levy bemoaned a "missed opportunity."
"I went through looking for men's names with mounting excitement: What if there weren't any?" she wrote. Alas, 66-Across, DEE, was clued as "Billy ___ Williams," not as the letter or the grade. Responding to Levy's lament, a commenter wondered: "Why is it desirable/necessary to have women's names predominate in crossword puzzles … I ignore the male/female body count." Levy's response was a perfect, full-throated call to arms for inclusivity in the crossworld:
Because women are underrepresented in puzzle content and creation. Clues and answers that are stereotypically masculine are "general interest;" clues and answers that are stereotypically feminine are "niche" or "obscure" … We're so far from [parity] that a few puzzles with exclusively women's names wouldn't get us there … [and feminism here means] "we acknowledge the systemic forces that threaten women, we speak up when we see those forces represented in crosswords, and we call on our community to do better."
Hoelscher appeared, replied to Levy, and said she'd submitted the puzzle with no men, but wasn't surprised when the Times editors changed that.
---
Crossword editors are strange arbiters of cultural relevance. Read tweets by Awkwafina or Olivia Wilde on learning that they've been immortalized in the black-and-white grid—it's the bookish version of handprints on a slab outside Grauman's Chinese Theatre. But any pub-trivia attendee—exposed to categories on craft beer or things that smell like sourdough or whatever the emcee is into—will tell you that personnel is policy. That crossword mainstays such as The New York Times, the Los Angeles Times, and The Wall Street Journal are largely written, edited, fact-checked, and test-solved by older white men dictates what makes it into the 15x15 grid and what's kept out.
When editors review a puzzle submission, they mark it up—minus signs next to obscurities or variant spellings, check marks next to lively vocabulary. But one editor's demerit is another solver's lexicon. Constructors constantly argue with editors that their culture is puzzle-worthy, only to hear feedback greased by bias, and occasionally outright sexism or racism. (Publications are anonymized in the editor feedback that follows.) MARIE KONDO wouldn't be familiar enough "to most solvers, especially with that unusual last name." GAY EROTICA is an "envelope-pusher that risks solver reactions." (According to XWord Info, a blog that tracks crossword statistics, EROTICA has appeared in the New York Times puzzle, as one example, more than 40 times since 1950.) BLACK GIRLS ROCK "might elicit unfavorable responses." FLAVOR FLAV, in a puzzle I wrote, earned a minus sign.
"Popular music," the American Values Club crossword editor Ben Tausig told me, "where lots of young women and people of color are visible, is regularly dismissed as too ephemeral for a 'Great Crossword Puzzle.'" He added, "Ephemerality is the code word; exclusion is the result."
And while some corners of culture are kept out of crosswords, some troubling aspects of language creep in. The New York Times puzzle has weathered deep sensitivity issues of late, including allowing a racial slur in the grid in January 2019, despite unequivocal protestations from those who saw the puzzle prepublication. Other transgressions include clues for ILLEGAL ("One caught by border patrol"); MEN ("Exasperated comment from a feminist"); and HOOD ("Place with homies"). In many cases, editorial changes warp a constructor's original, inoffensive clue.
Will Shortz, the Puzzles editor at the Times, has cited low submission rates from underrepresented groups as one reason for lack of constructor parity, but tone deafness and opacity can put constructors off the newspaper. (I was once Shortz's editorial assistant, and I contribute crosswords to the Times.) In a Facebook thread with Shortz and other commenters, Rebecca Falcon, a 30-year-old constructor, posted: "I can't feel good about putting my work into an outlet that I feel has very different values than my own." She continued: "Is there anything being done to address these issues?" Shortz gave a thoughtful answer citing recent increases in women bylines, saying parity was "an important issue for us." But when prodded about insensitive edits, he denied them, adding: "If a puzzlemaker is unhappy with our style of editing, then they should send their work elsewhere (or publish it themselves to keep complete control)."
---
Inclusivity efforts need triangulation between insider and outsider tactics, angling for unity between the fix-the-system camp and the start-fresh camp. Many constructors I spoke with still submit to publications like the Times, while advocating elsewhere for puzzles that reflect younger, broader sensibilities.
Erik Agard is one such advocate. Recently named the editor of USA Today's crossword, in a few short months he's already "brought something pretty radical," per Andy Kravis, a queer constructor and an assistant for the Times' puzzle. Almost every USA Today byline has been a woman or a person of color, thanks to Agard's active recruitment. "It's a model people would talk about as 'Surely you can't mean this; [surely we'll] compromise along the way,'" Kravis says, and yet, under Agard's stewardship, the USA Today puzzle is unmistakably diverse.
Part of that diversity is procedural, the Millennial tendency to scrub hierarchy for collaboration. Agard has workshopped grids countless times with newer constructors, providing "a level of support and mentorship that no other editor offers," says Rachel Fabi, a bioethicist and crossword constructor. "The construction process [with Erik] is so much more efficient and respectful," another constructor, Stella Zawistowski, agreed, arguing that editors like Agard prove that collaboration need not be cumbersome or slow, and need not sacrifice author voice.
Solvers have noticed. Agard, who once wore a PUBLISH MORE WOMEN shirt to a crossword-puzzle tournament, thinks Shortz and other legacy editors "could snap [their] infinity gauntlets like Thanos, and 50 percent of puzzles would be by women." But for now Agard is focused on making puzzles for communities rarely represented in puzzles—a project of expansion, not education. A solver lauded Agard for using they pronouns for the singer Sam Smith in a USA Today clue. Even cluing fusty crosswordese like OLE via the song "Big Ole Freak" wins converts and bridges generations; as one person observed on Twitter, "Megan Thee Stallion was in my grandmother's crossword today."
And while sensitive wunderkinds like Agard and David Steinberg, the Puzzles and Games editor at Andrews McMeel Universal, breathe new life into existing puzzles, publications old and new are getting into the crossword game. The New Yorker added a crossword in 2018; its editor, Liz Maynes-Aminzade, is the first woman to edit puzzles at a major publication since The New York Times' inaugural editor, Margaret Farrar. (Full disclosure: I'm a contributor to The New Yorker puzzle.) For Maynes-Aminzade, an inclusive puzzle demands both gender parity and, like at USA Today, a collaborative, transparent editorial process. Crucially, because codification in reference books and Wikipedia can lag behind popular usage of, say, queer or POC colloquialisms, a quick office poll in Slack—as long as the group being surveyed is diverse—can corroborate what a search-engine algorithm might undercount.
Outside of traditional publications, subscription puzzle series such as the Inkubator, Women of Letters, and Queer Qrosswords make space for references or themes made for and by women and queer folks. Rebecca Falcon recently reviewed an Inkubator puzzle titled "Take the Plunge," by Allegra Kuney. Its theme involved the letters B, O, O, and B extending beyond each side of the traditional 15x15 crossword grid; the terminal B of SPONGEBOB was, literally, part of a SIDE BOOB. Falcon's enthusiasm for the puzzle was more than admiration for a well-crafted crossword; she was lauding exactly the kind of playful theme you wouldn't see in most outlets, and the kind that might encourage a new crop of constructors.
Doubly encouraging are role models, and Falcon has made waves there, too. While brainstorming a theme, she had the idea to call for a "Women's March"—in this case, a month of puzzles with as many female crossword bylines as possible. After coordinating with various publications, and helping source new voices, Falcon estimates that more than 100 women-made crosswords will be published. The New York Times signed on for the first week ("We're making progress," Shortz told me). Ben Tausig will feature women guest editors. And Steinberg will devote more than 30 puzzles to female bylines. Among the constructors will be Fabi and Zawistowski; Hoelscher, the Times constructor; and, making her Universal debut, Karen Steinberg, who happens to be David's mother. "Yup, that's my mom!" the younger Steinberg tweeted. "I've been mentoring her!"