The Pandemic Is Hitting One Part of Hollywood Especially Hard
"It's like, we're never going back. Things are never going to be the same."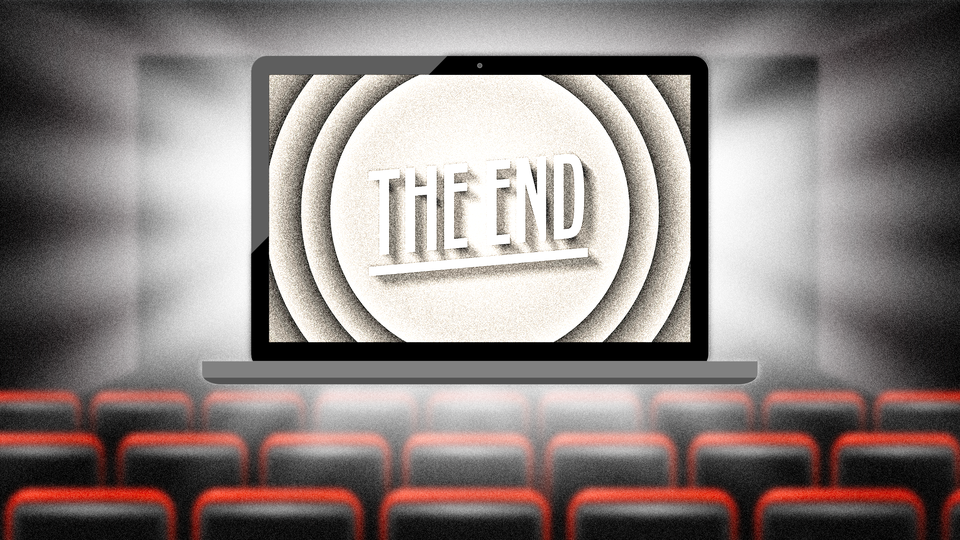 Kate McLean and Mario Furloni have been working on Freeland, their first narrative feature film, for almost a decade. The writer-director duo had been inspired to make the drama—a melancholic examination of an aging weed farmer contending with a changing industry—early on in their careers, after they made the 2011 documentary short Pot Country. Years of writing and rewriting, of pursuing funding from film grants, of assembling a lean crew and heavyweight cast, paid off when South by Southwest, the annual music and film festival held in Austin, selected the film to screen in its 2020 lineup.
But then, on March 6, the Texas capital called off the festival because of the outbreak of COVID-19, the disease caused by the coronavirus. The news gutted McLean and Furloni: They'd been looking forward to finally having Freeland, which they shot in 2018, play in front of an audience; to reuniting with their small cast and crew at the film's world premiere on March 13; and, of course, to potentially finding a distributor for the film. The festival's cancellation left their team and their film unmoored. "My first reaction was, Why is this happening to me?" Furloni told me over the phone last week. It "was all pure, selfish self-pity, and then, as more news came, it started being clear that what we were going through was a small trifle compared to what is happening and what will happen moving forward."
McLean, who had kept a close eye on updates about the outbreak and had braced herself for the worst, agreed. "When the news finally did come down," she said, "it was a relief that there wasn't going to be a safety problem, but it was also extremely devastating."
In the weeks since SXSW's cancellation, a slew of film festivals and industry events have met the same fate. Hollywood has been hit hard by the coronavirus: Movie studios have postponed the releases of franchise films, theaters have closed in major cities as part of the effort to ban group gatherings and slow the spread of the virus, and production has halted on a number of projects around the world. The Hollywood Reporter estimates that nearly $20 billion in revenue could be lost as a result.
For indie filmmakers, the disrupted festival circuit deals a heavy blow as well, even if the impact isn't as visible. As much as the canceled premiere of a long-gestating labor of love may seem like a "trifle" to Furloni, the lack of the festival experience hurts the health of the larger filmmaking industry. "Regional and local film festivals are the veins and the capillaries for our industry continuing to be able to surface new artists and help them build audiences that will sustain their careers," Emily Best, the founder and CEO of Seed&Spark, a crowdfunding platform for up-and-coming filmmaking talent, wrote me over email. "So we can't just bypass film festivals—we cut off future blood supply." As events continue to get canceled, such filmmakers are learning to adapt to a new distribution model. The only problem? No one's sure what that model looks like.
Freeland, for instance, has remained adrift since the cancellation of SXSW. "For something that was truly made independently and needs to get shared with the world, the established way to do it is, you start with the best film festival that's the best fit for your film, and we thought that was SXSW," McLean said. "And then after SXSW [was canceled, we thought], Gee, well, we'll look at other awesome festivals we're excited about, and then one by one they've all closed. Now it's sort of like, okay, so without a film festival what is the path?"
To many, streaming has seemed like the obvious answer. Given the reputation of major platforms such as Netflix, Hulu, and Amazon as content creators, saviors of canceled shows, and curators of festival standouts, moving these displaced festival films onto the internet sounds like a no-brainer. And with people practicing social distancing and self-quarantining, streaming has become an easy reason for staying in.
The actor and filmmaker Mark Duplass was one of several people calling for streamers to host virtual festivals, tagging a litany of major platforms on Twitter and asking if they could buy short-term rights. But as it turns out, he told me over email, his idea wouldn't work. "I've looked into it quite a bit and, as you can imagine, it's fairly complicated," he wrote. "The major streamers have a set of standards for delivery of these films that are too expensive, complex, and ingrained to change … and those standards don't make sense for them to stream any films in a short, limited window."
Best put it more bluntly: "I don't think there's a business incentive there," she said. "I think they view the independent film festival circuit as maybe too small. I mean, they used to acquire titles out of medium and larger sized festivals and they just don't anymore, because they're producing it all as original content." (Netflix and Amazon had no comment, and Hulu has not responded to my request for comment.)
In the meantime, grassroots efforts to screen the displaced films have appeared online. Seed&Spark, under Best and the head of programming, Clay Pruitt, is working with established filmmakers such as Duplass to bring the festival experience online: In the weeks to come, the site will repurpose its platform to host digital screenings as well as virtual Q&As, with views helping raise funds for the artists and festival staff who had depended on traveling the festival circuit to make their income. As of Friday, 32 regional festivals had signed the platform's 2020 Film Festival Survival Pledge, promising to allow online screenings without affecting the participating films' eligibility for inclusion in future festivals. The goal isn't just to get eyeballs on films, but to maintain the economic infrastructure of independent film. "If there's not a place for films to go to get discovered, fewer of them will get made, and if fewer of them get made, all those people who get paid to make those films don't have jobs," Best said. "It just goes on and on."
Stage 32, a social network launched in 2011 that connects filmmakers with agents, managers, executives, and other industry professionals, is also trying to maintain the circuit by screening films that were set to premiere at SXSW. Filmmakers who apply can either screen privately for a select group of network members or screen publicly. As of last week, the site's founder and CEO, Richard Botto, told me, the platform had received more than 35 submissions from SXSW, and more than 700 inquiries from filmmakers who were supposed to screen their films at other festivals that have been affected by the coronavirus. Stage 32 can't show every film, of course, but for the short term, Botto said, it's one way to help filmmakers attract attention. "We could have festivals canceled for the next six, eight, 10, 12 months," he said. "Filmmakers put a lot of years and a lot of time into their projects … Their work's not being seen, and that's a big deal to me."
As for the long term, Botto believes that film festivals should move toward virtual solutions anyway. If anything, it would even the playing field, as distributors and executives wouldn't have to choose among films to physically attend. "The dirty secret of film festivals in a lot of ways is, there is the sort of the haves and the have-nots," he said. So in placing the films online, there's a chance that the films with the smallest budgets and fewest stars could be seen by the same gatekeepers. "It was almost inevitable that this was going to go online," Botto said. "I do certainly think that this situation that we're in right now with the coronavirus is going to accelerate that."
Or as Best put it, "It's like, we're never going back. Things are never going to be the same."
It may seem that way, considering how quickly the cancellations accumulated as the outbreak grew. But it's perhaps too early to tell whether these course corrections will spell the future of indie filmmaking. There's no urgency for streaming platforms to debut such films, after all: Movies, to the average audience, aren't high on the hierarchy of social needs. People rushed to have one last hurrah inside bars and pubs, not theaters. Those who lamented the cancellations of music festivals lamented the experience of being at concerts, standing shoulder to shoulder with strangers screaming lyrics at a stage. Many film festivals, however, are built for a niche audience of cinephiles. For the general public, movies seem more and more accessible these days, watchable on a tablet or a phone, consumable at a pace under their control.
It can be hard to grasp the importance of a film festival without thinking like the filmmakers—such as McLean and Furloni—who put years of effort into one project and thousands of dollars into flying their team to the premiere. That festival-going experience can't easily be adapted into a different form—or even replicated, period. "Seeing the audience reaction can be really transformative, I think, both for the viewers and for potential partners for distribution," Furloni said. "So when you don't have that … that is what's devastating."
Best said she understands that Seed&Spark's virtual-festival approach won't be a permanent fix. "The internet is not a solution for building community in the end," she said. "Like, it is a tool in the toolkit, and right now it's the best one we have because we're stuck in our homes, but I don't want to build as if we're never going to be able to get together again. I want to build as if we need to keep these structures alive."
If anything, the films themselves will help with that. I emailed with the actor and filmmaker (and Mark's brother) Jay Duplass for his thoughts; he had mentored the up-and-coming director Cooper Raiff, whose first feature was set to premiere at SXSW. "I know it feels dire for those filmmakers who were about to premiere at those festivals, but honestly I feel like there could be an industry-wide lack of programming this summer and fall, and those filmmakers were the last people to have finished a film," he wrote. "So I remain optimistic about these films finding a home."
Toward the end of McLean and Furloni's Freeland, the protagonist, Devi (Krisha Fairchild), attends a cannabis convention. She's clearly overwhelmed with the way the industry she's operated in for decades has changed, but she still tries to understand how: She gazes at the newfangled weed-harvesting technology, watches a demo, and even examines a product.

Like the heroine of their film, McLean and Furloni are learning to adapt. They haven't found a home for Freeland yet, and neither had heard of the efforts to stream festival films online when we spoke, but they're optimistic. "The long-term plan hasn't changed," Furloni said. "It's getting to the distributors one way or another." It's just a matter of finding out which way will work.