Maternity Leave—Not Higher Pay—Is the WNBA's Real Win
A new policy could transform the way professional female athletes experience pregnancy in their respective sports.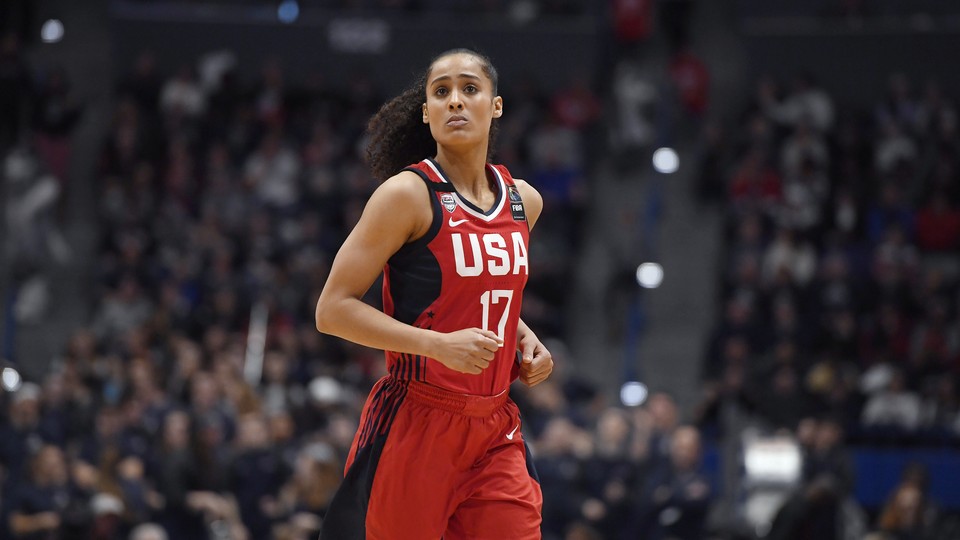 Maternity leave and parental benefits aren't usually the first things that come to mind when considering equality for women athletes. But the WNBA took a major step forward on that front last month, announcing a new collective-bargaining agreement with its players' association that will increase salaries significantly and guarantee players fully paid maternity leave for the first time in its history.
In the league's previous agreement, players earned as little as half their salaries while taking maternity leave—salaries that were only about $75,000 on average to begin with. The athletes will now receive average compensation of nearly $130,000—the first time the average will top six figures. (NBA players pull in more than $7 million on average each year). Parents in the WNBA will also now have two-bedroom apartments guaranteed by the league, and a child-care stipend of $5,000.
"The deal represents moving forward both from a WNBA perspective, but also in general, for women in sports and society," Sue Bird, a member of the WNBA Players Association executive committee, told The Seattle Times. She continued: "When you look at things like what we're able to do with maternity leave and family planning … We're going to be looked at as—I think—pioneers in the sports world."
Skylar Diggins-Smith, a current free agent and former point guard for the Dallas Wings, missed the 2019 season after giving birth last spring. She had been vocal recently about the difficulties she'd faced during pregnancy, noting that she hadn't told "a soul" in her organization that she was expecting throughout the 2018 season, and that she suffered from postpartum depression following the birth of her child. In November, Diggins-Smith told ESPN that she would be bringing her experience to the negotiating table for the new contract. "I've already reached out to a few moms. As we negotiate with the CBA [collective-bargaining agreement], how can we improve things?" she said. "It's about prioritization; we can't have everything. But I'm going to bring that portion to the table because I'm a mom."
In the end, Diggins-Smith was pleased with the newly announced contract, tweeting, "Say what you want, but at the end of the day, we're out here making REAL CHANGE! And when he's old enough to understand, I know my son will be proud of me and that's EVERYTHING."
While salaries are still vastly unequal between male and female professional basketball players, guaranteeing paid leave could bode well for the future of equal pay for women athletes. Unpaid or low-paid leave, especially in the United States—the only industrialized nation in the world without any guaranteed paid parental leave—is one of the main culprits keeping the gender wage gap wrenched open. Women tend to miss out on pay not just during the time period of childbirth and child-rearing, but also for the rest of their career in the form of lost job experience, and loss of raises and promotions.
The discussion about paid parental leave can be uncomfortable in many working environments, but negotiating for it as a female athlete is particularly loaded. These players have struggled for decades to convince sports federations, league owners, and fans alike that they deserve to earn a decent living as athletes in the first place, so asking for paid maternity leave seems doubly difficult. "I think it was taboo," Charlene Weaving, a human-kinetics professor at St. Francis Xavier University, told me. There are "so many stigmas and stereotypes around pregnant women that people didn't talk about [pregnant athletes]."
Most female athletes in the U.S. haven't had access to paid leave. For instance, the National Women's Soccer League, a fledgling organization with only modest salaries, doesn't offer the benefit. The previous contract with the U.S. women's national soccer team offered just 50 percent of athlete pay during maternity leave; the current agreement reportedly offers more, but details have not been made public. The team is suing the U.S. Soccer Federation for equal pay and the same marketing budgets as the men's national team.
While the WNBA appears to be the first women's professional league in the U.S. to guarantee fully paid maternity leave to players, some brands that pay (via sponsorships) the salaries of athletes in individual sports have recently made similar changes. The Olympic runners Alysia Montaño and Allyson Felix opened up last year about their struggles maintaining their Nike sponsorships while pregnant and in early motherhood. Montaño left Nike, only to also have her pay drop during pregnancy under her next sponsor, Asics. She is now pregnant with her third child and sponsored by Cadenshae, a New Zealand company that makes activewear for nursing mothers—with a fully paid maternity leave. Kara Goucher, the Olympic marathoner, told The New York Times that while she was pregnant in 2010, Nike stopped her salary until she could race again. She ended up with chronic hip injuries, she says, from running the Boston Marathon just seven months after her son was born. Since these stories went public, Nike has updated its policy to guarantee full pay for the eight months prior to a woman's due date and the 10 months after it.
From a gender-equality perspective, this lack of maternity pay and support for pregnant athletes has underscored the impression that women aren't capable of having babies and being athletes. Not so long ago, pregnant women were told by doctors that they should not even exercise excessively or allow their heart rate to go above 140— a guideline that has since been debunked. Weaving, who recently published a paper on the stigma of the pregnant athlete, said that most of our false ideas on this topic are rooted in the Victorian era, "when we viewed women as predominantly baby makers … and there were concerns that if they were to participate in physical activity or sport, that would cause damage to their uterus." In 2005, Gian-Franco Kasper, the former International Ski Federation president and an International Olympic Committee official, cited similar pseudoscience regarding the reason women were still not allowed to compete in ski jumping in the Winter Olympics. He said the sport, "is like jumping down from, let's say, about two meters off the ground about a thousand times a year, which seems not to be appropriate for ladies from a medical point of view."
In recent years, several high-profile female athletes have shown how motherhood and elite athleticism can coexist. Serena Williams won the Australian Open while eight weeks pregnant, and has made it to four Grand Slam finals since giving birth to her daughter in 2017 via emergency C-section, and since experiencing severe postpartum complications. Sydney Leroux Dwyer has returned to professional soccer after giving birth to each of her two children. And the national-team star Alex Morgan announced after last summer's World Cup soccer game that she was pregnant and due to give birth this April. Even so, she plans to be ready to compete at the Olympics, just three months after her due date.
But even with these anecdotes, exactly how to safely and most effectively pair athletics and motherhood is still a bit of a scientific gray area. Stacy Sims, an exercise physiologist, sports nutritionist, and senior research fellow at the University of Waikato, in New Zealand, studies sex differences among athletes. She told me that only in the past five to seven years have scientists begun to seriously approach physiological questions related to the female athlete and pregnancy, reproductive systems, hormones, and the menstrual cycle. The enactment of the WNBA's maternity policy could do more than help support moms in the league, Sims said. It could also help researchers like herself have more incentive, and more cases, to study the physiology of pregnant and postpartum athletes. "The WNBA saying, 'Hey, we're putting this in'? I'm like, 'It's about effing time,'" Sims said. Now that the sports culture is changing to be more accepting of pregnant athletes, she said, the research that needs to be done "comes down to the health and safety of the athletes."
According to Sims, some physiological effects of being pregnant could actually have a positive effect on athletic performance, such as increased blood volume, higher pain tolerance, and a better ability to access the parasympathetic nervous system (managing stress better). The new policy could also help reduce the risk of injuries that women who give birth are more likely to face, especially mothers in the postpartum period, when women's bodies tend to need more rest and recovery. "This maternity leave is really going to help female athletes to have that ability to relax and not worry about losing [pay] and not have the pressure to perform [too soon]," Sims said. But there are still many unknowns that she hopes to dive into. "The research is still very archaic."
Georgie Bruinvels, a research scientist who co-created FitrWoman, an app that tracks menstrual cycles and physical activity, agreed, telling me that pregnancy isn't the only unknown. The discussion of female athletes and how they're affected by everything from puberty to menopause has historically been avoided in research in the medical and sports-science worlds. This is due, at least in part, to the constant fluctuation of women's hormones throughout the menstrual cycle, which makes them "more complex" to perform research on, she said. Not long ago, for instance, women and girl athletes were often told it was normal to lose their periods while training hard, something now known as a sign of a probable nutrient deficiency.
That's why Bruinvels, an elite runner herself, has started studying the effect of the menstrual cycle on female athletes; her research reportedly gave the U.S. Women's National Soccer team an edge in their 2019 World Cup championship run. Just tracking this kind of information, Bruinvels said, can "empower women with the understanding of how to use it to their advantage."
She believes the same to be true about those other huge physiological events in women's lives: pregnancy, puberty, and menopause. They're next on her list of research priorities. "Alex Morgan hoping to come back [after pregnancy] in time for the Olympics, and track-and-field athletes who usually don't hit their prime until their mid- to late 30s—lots of them are having kids. These are the increasing stories that drive the need for further research," she said. "Because historically, there is such little information out there … so there's so much capacity to develop that and help people further."
Sims agrees that the research opportunities that a maternity-leave policy like the WNBA's will lead to are nothing short of revolutionary. More research on female athletes will not only lead to more physical accomplishment in sports, but more appreciation for and understanding of the female body's capabilities in general. "Because when you start seeing female athletes at the top end doing amazing things with their bodies in sport, and then having a kid, which is another amazing feat, and coming back and being able to perform still at that level," she said, "it's incredible."