No One Knew Why Eminem Was at the Oscars
"Lose Yourself" was not celebrating any anniversary, nor gaining new relevance. But it did pass the time okay.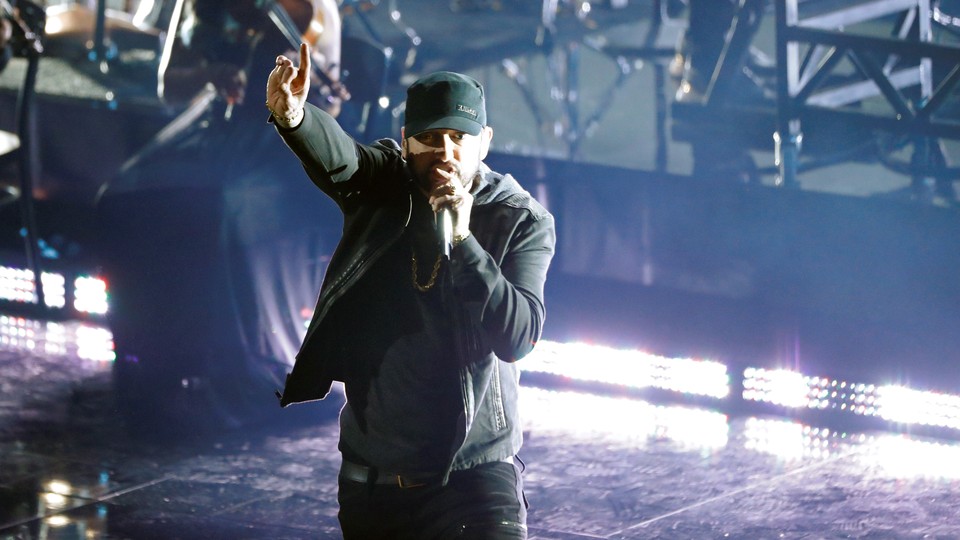 Regardless of whether your sweater's stained with spaghetti, don't dawdle. Eminem has told you and told you again: Opportunity knocks once in a lifetime, and you must answer.
Ope! Scratch that. New rule. You get two shots. The second comes 17 years after the first.
Last night's Oscars were surprisingly surprising. Parasite's Best Picture win hinted that Hollywood's premier awards-giver can—plot twist—recognize quality across lines of nationality, race, and language. Today, a more inexplicable mystery lingers: Why did Eminem make an overlong ceremony longer by rapping a hit from the early George W. Bush era? Midway through the show, a montage about movie music culminated in suspiciously lengthy clips from the 2002 film 8 Mile. Then the 47-year-old Eminem, hat pulled low, appeared in the flesh with an orchestra-slash–rock band for a solid, po-faced rendition of "Lose Yourself" in full.
The mystified faces of celebrity audience members spoke to the ambush that this was. In Idina Menzel's furled brows, you could see a nation's worth of mental catalogs being frantically flipped through to sort out what was happening. Yes, it was that old song from your gym playlist, and yes, it was on the Oscars stage, and no, it had not been advertised, and no, there was no real explanation.
"Lose Yourself," from 8 Mile, in which Eminem semi-autobiographically starred as a Detroit battle rapper, won the Academy Award for Best Original Song in 2003. It was the first hip-hop track to ever do so. Back then, Eminem was at the height of his early-dominance phase, and he opted not to show for the Oscars. Last night, he tweeted out the old video of Barbra Streisand presenting the trophy, which his collaborator Luis Resto had accepted with a speech tenderly praising the "good heart" of the emcee whose violent lyrics had terrified a generation of parents. In between, Eminem went through hiatuses and misfires, followed by a string of hugely selling but sourly discussed "comebacks" over nearly a decade and a half.
The latest of those comebacks arrived earlier this month: Music to Be Murdered By became his 10th consecutive album to debut at No. 1 (a feat no one else has ever achieved). Though fans worship his new material, it seems telling that on one of the largest televised stages imaginable he performed not a recent song but rather one from two decades ago. Really, though, the Oscars spot highlighted Eminem's stealthy cultural persistency. He still sells more reliably than almost anyone else in popular music, and his old music sounds as good as it ever did. As last night's performance wore on, the faces of Oscars audience members transformed from disoriented to engaged, and head bobs testified to an undeniable fact: "Lose Yourself" still slays. The guitar riff encases the listener in biker leather. The terms pied piper and Mekhi Phifer found their ultimate possible uses.
Does this song connect in some manner that especially fits this present moment? Was the audience being psyched up for a tough election year, or for Joaquin Phoenix's vegan manifesto, or … something? No. The performance was about the Oscars itself, and its ever-more-urgent need for conversation and excitement. In its second year without a host, the show's lack of a coherent point of view or discernible agenda became even more glaring. The producers replaced banter with a slate of musical performances—an understandable bet, given how much buzz Lady Gaga and Bradley Cooper's gently raunchy take on "Shallow" generated last year.
The problem was that such buzz was not likely to flare up from any of the stately songs nominated this year (including one from Eminem's "Uncle Elton," whom he posed with in a backstage re-creation of a heartwarming 2001 moment that, somehow, failed to end homophobia forever). The Oscars therefore supplemented its soundtrack by enlisting the theoretically more current sounds of rap and R&B. At the top of the show, Janelle Monáe remixed her catalog to address the 2019 class of films. Midway through, the actor Utkarsh Ambudkar rapped a recap of the awards given out. Both musicians—as well as a diverse slate of presenters—conveyed that the Academy would like to appear more inclusive than its nominations actually are.
Eminem's "Lose Yourself" does not carry any such social message, even if his Trump-era work has been boldly political. He's probably just the most popular star with the most popular film-related song that the Oscars could book right now. His scowl and trail of controversies, in fact, helped sell a super-safe product: a motivational classic that almost everyone can bop along to. Well, everyone except for Martin Scorsese, who appeared to sleep through the performance. Perhaps he dreamed of an Oscars that knew exactly what it wanted to do and how to do it.