Whistleblower: When a Memoir Is Also an Indictment
The book from the former Uber engineer Susan Fowler is an intimate first-person account that doubles as a warning.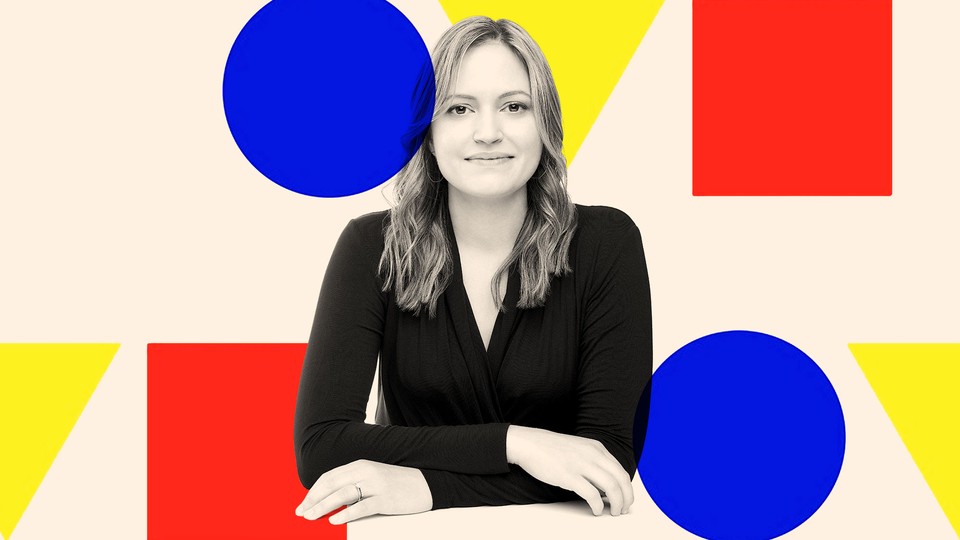 Just over three years ago, on February 19, 2017, Susan Fowler published a blog post. "I've gotten a lot of questions over the past couple of months about why I left and what my time at Uber was like," she began. "It's a strange, fascinating, and slightly horrifying story that deserves to be told while it is still fresh in my mind, so here we go."
Slightly horrifying, it would turn out, was an understatement. The post documented a pattern of discrimination and harassment at the company that had made it its public mission to change the way people move through the world. On her first day as a site-reliability engineer, Fowler wrote, her manager propositioned her for sex via Uber's internal chat system. Later, another manager gave Fowler a glowing performance review; he amended it after the fact, she wrote, in order to limit her freedom to move to another team within Uber—and additionally, she speculated, to take credit for keeping a woman as a direct report when relatively few women worked at the company. At another point, after Uber had decided to buy its engineers branded leather jackets, Fowler and her female colleagues were informed that they'd need to forgo the perk: The company was getting a discount on the bulk order for the men's sizes, an email explained, but "there were not enough women in the organization" to get the same discount for their jackets. The company's handling of the whole thing was an absurdity that, in the context of the rest of Fowler's blog post, also read as evidence of something more sinister.
Fowler's post instantly went viral. It led to an investigation into Uber's culture that was co-conducted by former U.S. Attorney General Eric Holder. It led to the resignation of Uber's co-founder and onetime CEO, Travis Kalanick. It led to demonstrable, quantifiable change. But it led to a more nebulous kind of transformation as well. Several months before journalists' reporting on Harvey Weinstein would expand the #MeToo movement, Fowler's post—and the outrage it inspired among both tech workers and the many people whose lives have been shaped by their labors—suggested a shift. A worker could blow the whistle without an intermediary. She could tell her story in her own words, on her own terms. And she would, at least in this instance, be heard.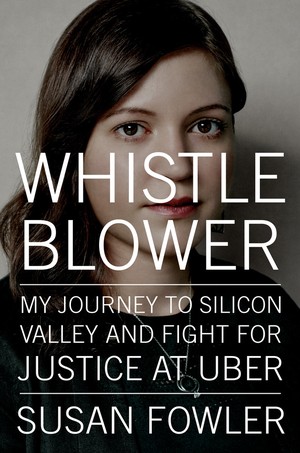 This week, Fowler published a book, Whistleblower: My Journey to Silicon Valley and Fight for Justice at Uber. In one way, the memoir is an expansion of the 2017 blog post: It documents, in detail that is deeper and more gut-wrenching than a 2,900-word entry could allow, Fowler's experiences at Uber. It recounts casual sexism and casual racism and, as Maureen Dowd put it in an article about Fowler's original post, "the self-indulgent, adolescent Pleasure Island mentality of Silicon Valley." But Whistleblower, despite its subtitle's reference to Uber, is also a memoir in the classic sense. It is the story of how Fowler's life was shaped by her time at Uber—but a story, too, of her fight for a life that would not succumb to the company's influence.
Throughout, Fowler wrestles with the tension between the two modes: Fowler as a person famous for one thing, versus Fowler as a person, full stop. The book succeeds precisely in its acknowledgment that the two figures cannot be meaningfully disentangled from each other. Fowler's story—her full story—is the indictment. That is what gives Whistleblower its power.
Fowler begins at the beginning. She writes of her childhood in rural Arizona, where she was raised in a family of evangelical Christians, one of seven children. The Fowlers were loving and joyful and artistic; they were also extremely poor. Her mother homeschooled her. Both parents—her father was a preacher—instilled in her not only a determined self-sufficiency, but also a deep curiosity about the big questions: What it means to be a good person. What justice, within life's tumults, might really look like. "You should be in the world, but not of the world," her father used to counsel her; it's advice that courses through Fowler's book. The titular fact of Fowler's memoir—a 25-year-old member of Uber's rank and file, forcing the company to change—may be remarkable. Reading Whistleblower, though, the outcome begins to feel inevitable.
The 2017 blog post was not the first time Fowler spoke up in that way. While she was studying physics at the University of Pennsylvania, she writes, she tangled with professors and administrators: A fellow student had been navigating a mental-health crisis, and school officials, she writes, seemed to expect her to take responsibility for his struggles. ("This is your job now," she recounts a professor informing her.) She protested—to that professor, to others, to a dean. She was not equipped, she pointed out, to give her fellow student the help he needed. And, as concerned as she was for him, it was not her job to take time from her own studies to make sure he received that assistance. Soon her fellow students and professors, she writes, were branding her as difficult. "Now I was nothing more than a liability," she writes.
Speaking up—and not being heard—became a pattern. Fowler, giving up the dream of getting a doctorate in physics, came to Silicon Valley, where she worked as a coder at the start-ups Plaid and PubNub. At Plaid, she learned that she was working many more hours than her (male) fellow engineers—14-hour weekdays, often, and weekends—yet making $50,000 less than them. She asked for a raise; she was denied on the grounds that she needed to "prove my dedication to the company." She left. At PubNub, her direct manager made repeated comments about the company's founders being "stingy" and "Jewish," and about women caring more about nurturing children than nurturing careers. "In order to report his behavior," she writes, "I tried to find a human resources representative at the company." The company didn't have one.
Uber did have such a representative. But when Fowler's manager, on her first day, propositioned her, and when she immediately alerted HR about his behavior, her report was dismissed. (The manager was a "high performer," the explanation went, and it was his "first offense"—a claim that Fowler, once she began talking with other women engineers at the company, discovered to be a standard, and false, answer.) But Fowler kept insistently documenting the insults and abuses, the sexism and the racism and the bullying. She dutifully forwarded chat logs and emails to Uber's HR department. She not only kept the receipts; she actively shared them with the people who were in a position to do something about them. At one point, marveling at how possible it is to be noisy and unheard at the same time, she found herself wondering whether there was a way to report HR to HR.
Her experience was singular. In another way, though, it was not. In its rhythms, Fowler's account calls to mind, for one thing, the most pivotal scene in The Assistant, Kitty Green's recent, remarkable film that considers the tangle of complicity and complacency that the powerful sometimes weaponize in order to keep their power. In it, Jane (played by Julia Garner), the assistant to a Harvey Weinstein–esque film producer, tries in her own way to blow the whistle, alerting an HR representative (Matthew Macfadyen) to the behavior she has been observing in the producer's office. The representative offers her a convincing facsimile of concern before informing her that nothing will be done about the producer's behavior—and that she should consider her career ambitions before making another such charge. That response has been a theme in recent works of meta-reporting as well, among them Jodi Kantor and Megan Twohey's She Said and Ronan Farrow's Catch and Kill: When even the HR executives are stakeholders in a corrupt system, often the only way to change the system is to take one's case to the public outside that system.
---
The whistleblower, in American mythology, is often a lonely figure. Mark Felt met Bob Woodward in a dimly lit parking garage—his motives a mystery, largely, even to the reporter who interacted with him. Chelsea Manning acted alone, and bears the consequences that way, too. So, for the most part, did Edward Snowden. So did Daniel Ellsberg. So did Sherron Watkins. So did Mona Hanna-Attisha. So did so many others: insiders who summoned the courage to share what they knew with the outside world. Whistleblower, though, is one of several newly published memoirs—all of them written by women—that complicate that mythology and engage in more diffusive acts of revelation. These works are not exposing discrete instances of corruption or corporate malfeasance. Instead, they are exposing corrupt cultures—systems about which, like the traditional whistleblower, they have firsthand knowledge. They are bringing their authors' lives to bear on the information they are sharing with the world. The writing of the memoir itself becomes integral to the act of whistleblowing.
Uncanny Valley, Anna Wiener's sociology-inflected recounting of her life in San Francisco's misty dystopia, blurs the line between personal history and exposé. ("The city," Wiener writes at one point, "trapped in nostalgia for its own mythology, stuck in a hallucination of a halcyon past, had not quite caught up to the newfound momentum of tech's dark triad: capital, power, and a bland, overcorrected, heterosexual masculinity.") In the Land of Men, Adrienne Miller's memoir, documents, from a personal perspective, the soft misogynies of the American publishing industry. Know My Name, Chanel Miller's account of how she reclaimed her life after she was raped on Stanford's campus, doubles as an indictment of a justice system that failed to provide justice. What Do We Need Men For? A Modest Proposal is E. Jean Carroll's book about an extended road trip. It also reads, however, as documentary evidence—as a lifelong accumulation of insults, abuses, and assaults.
These books acknowledge that sometimes, the most outrageous truths are the ones that double as lived experience. Near the end of Whistleblower, Susan Fowler describes how hesitant she was to speak up. She knew what can happen to whistleblowers. She also knew, however, what can happen because of them. "I … felt very strongly," she writes, "that the world was no longer someone else's problem anymore but that it was mine."
Whistleblower, as it happens, is debuting as the 20th anniversary of Erin Brockovich approaches. That film—another story of whistleblowing told, indirectly, from the perspective of a woman—ends on a distinctly cheery note. A corrupt corporation is punished. Its victims, via cash settlements from the company, get a small measure of justice. Brockovich herself—in her work, in her determination—is justified. Sheryl Crow's empowerment anthem "Everyday Is a Winding Road" plays as the film's credits roll, and the chipper lyrics—I get a little bit closer to feeling fine—insist that the ending being presented is a happy one. Whistleblower and its fellow memoirs, however, are not so tidy. They may have clear villains, and they may share a general goal, as Fowler sums it up, of "making myself the hero in my own story"; their intimacy, however, complicates them. Their intimacy acknowledges how difficult it is, when you're talking about systems, to separate the act of whistleblowing from the more basic act of storytelling. Where does the one end and the other begin?
---
​When you buy a book using a link on this page, we receive a commission. Thank you for supporting The Atlantic.