The Weinstein Trial and the Lies of Due Process
The constitutional term may be rooted in reason. In practice, it can look a lot uglier.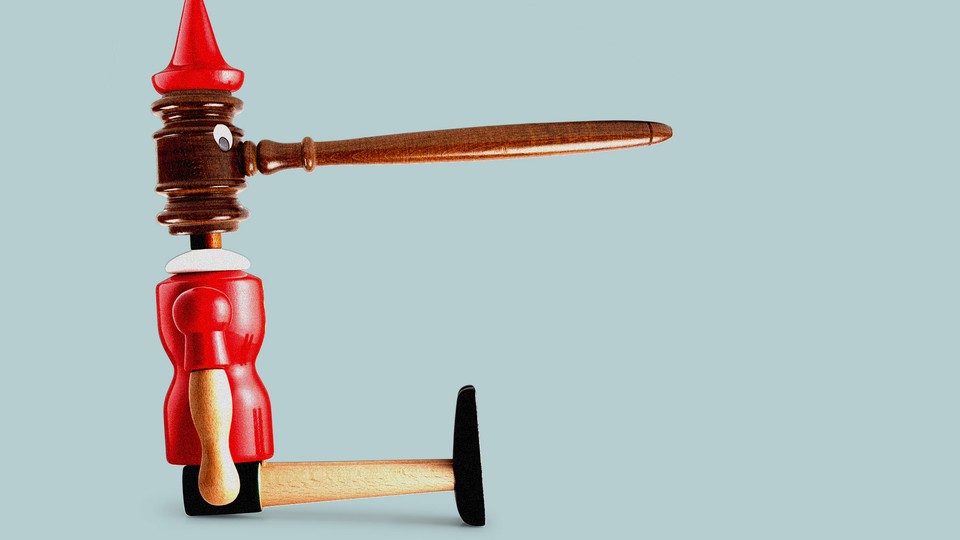 On yesterday morning's episode of The New York Times's podcast The Daily, the reporter Megan Twohey interviewed Donna Rotunno, one of the lead attorneys on Harvey Weinstein's defense team. Rotunno made an argument both striking and old: The real problem with the way Americans treat sexual-misconduct claims is that they give accusers too much power.
"There is absolutely no risk for a woman to come forward now and make a claim. Zero," Rotunno said. (Those who make public allegations of sexual assault are in fact commonly doubted, mocked, blamed, fired, and otherwise punished for making such claims.) And: "I'm just cautioning people to be a little bit more skeptical about a one-sided version of events." (Twohey and her colleague Jodi Kantor report in their book, She Said, that Weinstein was given ample opportunity to tell his side of the story. In the end, he used that chance to joke about the NRA and misquote Jay-Z.) The system is biased, Rotunno suggested, toward accusers. (Out of every 1,000 sexual assaults, RAINN estimates, 995 assailants will walk free.) "If 500 positives come from #MeToo," Rotunno told Twohey, and "if, as part of that, that strips your right to due process—if we're going to convict people before they have a trial—I find that to be damaging and detrimental."
"Due process," used in this way, suggests rationality at work in the face of hysterical excess. It suggests objectivity. And it outsources justice, that broad aim, to the criminal trial. (Many cases of sexual misconduct will not, because they cannot, be decided in the courts.) Due process would seem innocuous and inarguable—a constitutional affordance, a claim of equality, a testament to the rule of law. Used as a talking point, though, it often does something else: It argues that some claims to justice are worthier than others. It makes a case for the status quo. That is why you see it invoked by Harvey Weinstein's lawyer; that is also why you might have seen it invoked over the past few months, in the service of arguments that impeachment had been unfairly dismissive of Donald Trump's interests. This is not due process used as a tool of justice. This is due process wielded as a weapon.
What about due process? has been a common refrain since the earliest days of the #MeToo movement's expansion. The question was sometimes offered in good faith, as people tried to make sense of an environment in which so many allegations had been newly exposed to the open air. Often, though, the question was used cynically: as an incantation. "Where is due process in all the sexual harassment allegations?" an op-ed for The Hill asked in 2017. "After #MeToo, we can't ditch due process," an opinion column in The Guardian argued. (Precisely nobody had said that "we" should.) Megyn Kelly used her short-lived NBC morning show to make the case that women "are entitled to an open mind and a fair hearing—not to a presumption that their accusations are true. Men get due process as well." Gayle King, speaking in June 2018 about the fate of her former colleague Charlie Rose, made a similar point: "I think when a woman makes an accusation, the man instantly gets the death penalty. There has to be some sort of due process here." Donald Trump, defending a staffer who had been accused of domestic violence, joined the chorus: "Is there no such thing any longer as Due Process?"
Of course there is. And it has been on display in Weinstein's long-awaited criminal trial. That trial has been, even as blunt-force legal proceedings go, particularly ugly. The women who have accused him of rape and other forms of assault have told graphic and harrowing stories, often tearfully, on the stand. (Weinstein has denied all charges of nonconsensual sexual encounters.) They have spoken of pleas ignored; of pants ripped off; of a tampon forcibly removed; of pain; of degradation; of threats; of fear. Weinstein, too, has endured his own humiliations as the women have testified: Jessica Mann, a former aspiring actor who alleges that Weinstein raped her, said last week that Weinstein has genital deformities. As evidence of her claim, a picture of Weinstein—naked—was displayed to the jury.
No person shall be deprived "of life, liberty, or property, without due process of law." Due process suggests the comforts of idealized thinking, summoning notions of equality and fairness and the sanctity of facts. It may be rooted in reason; in practice, though, it can look like what it has during Weinstein's trial: a perpetuation of harm.
Grueling has often appeared in journalistic summaries of the Weinstein trial. The term serves as a stark reminder of all that is asked of alleged victims when they testify. Arthur Aidala, one of the defense attorneys, brought a machine-gun approach to his cross-examination of two prosecution witnesses late last month. (They took the stand in support of Annabella Sciorra, who has accused Weinstein of raping her in the early 1990s and who was herself testifying in support of Mann and another accuser, Mimi Haleyi.) To Kara Young, who had told the court that she had once observed cuts on Sciorra's thigh, and that Sciorra had confirmed to her that she had been cutting herself in response to the pain of the alleged rape:
"Did you call a doctor when you saw the cuts on your friend?"
"Did you seek any medical intervention for your friend?"
"Did you talk to anyone about how to help your friend?"
"Did you do anything at all to help your friend?"
To Rosie Perez, another friend of Sciorra's, who had testified that Sciorra had confided in her about the alleged rape in the '90s:
"As far as you knew, she might have been hurt at the time you spoke to her, and you didn't even go to see her?"
"Did you go out that night?"
"You didn't ask her about it every day after that?"
It is a truism that those who allege sexual misconduct will be punished, effectively, for speaking out—that whether they testify from a witness stand or within a broader kind of court, they will be mocked and mistrusted and eventually asked whether that shirt they'd been wearing wasn't also an invitation. With Aidala's line of questioning, though—his apparent attempt to suggest to the jury that Young and Perez were bad friends and therefore unreliable narrators—the doubt that is so often aimed at survivors was expanded in its scope. This was victim-shaming, made transitive.
The structure of the criminal trial, when it deals with the intimacies of sex, means that testifying—the ostensibly straightforward act of telling one's story—can require extreme bravery. "There is absolutely no risk for a woman to come forward now and make a claim. Zero," Rotunno told Twohey. Here, however, is one of the many possible counterarguments: "He held me down on the bed and he forced himself on me orally," Haleyi told the jury. "I was on my period. I had a tampon in there. I was mortified." Here is another: Mann sobbed as she told the court that Weinstein had raped her. She hyperventilated. When she was given a break, she was heard screaming from a back room. She had spent several hours testifying. "Defense lawyers again portrayed her as an opportunistic manipulator who had a long romantic relationship with the producer," is how a Times subheading summed up part of the time she'd spent on the stand.
This is due process at work. Whether the process will result in justice is a notably different matter. The prosecution rested its case on Thursday, after two weeks of testimony, with weeks' worth of rebuttal from the defense likely to follow. As Weinstein was leaving court last Friday afternoon, after Mann's testimony about his body, a reporter asked for his reaction to the proceedings. This was Weinstein's reply: "Wait to see what the lawyers say about her."