The Art of Shooting a Modern Black Romance
In The Photograph, starring Issa Rae and Lakeith Stanfield, the director Stella Meghie embraces darker lighting and story lines alike.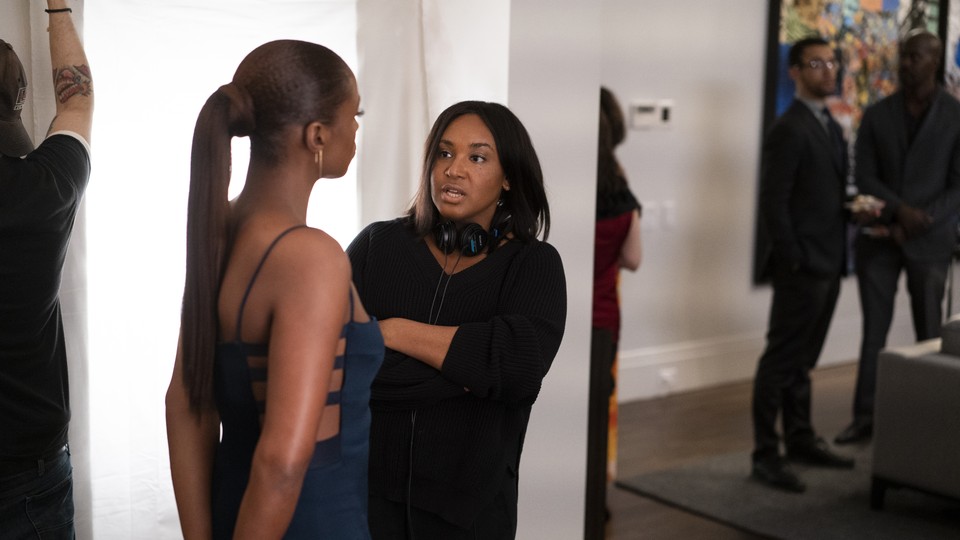 When the trailer for The Photograph debuted in November, the romantic drama quickly drew comparisons to a mainstay of '90s black cinema: Love Jones, the story of a dubiously talented poet named Darius (played by Larenz Tate) and his photographer paramour, Nina (Nia Long). The parallels between the movies have little to do with their plot. The new film stars Issa Rae as a museum curator named Mae and Lakeith Stanfield as a journalist, Michael, who shows up to question Mae about her late, estranged mother. Michael shares that he was researching a story in Louisiana when he uncovered the titular print of Mae's mom as a young woman.
For The Photograph's writer and director, Stella Meghie, the visual echoes that viewers observed are apt. Like Love Jones, Meghie's film features atmospheric lighting, sultry soundtracks, and beautiful, brown-skinned protagonists in the throes of their 20s. Though such films are rarities in Hollywood today, The Photograph pays subtle homage to the black-written works that came before it. As a suburban teen, the Jamaican Canadian filmmaker adored two classic films in particular: "I probably could recite the entire script of Love Jones and Love and Basketball," Meghie told me. When she wanted to channel her adolescent angst, she turned to the work of Maya Angelou, in part because she had watched Poetic Justice, John Singleton's 1993 classic that heavily features the poet. Even Kendrick Lamar's epistolary song of the same name, featuring Drake, indirectly shapes The Photograph, throughout which Mae and Michael spar over which of the two rappers is better.
Of course, other studio romances starring black actors have been made since 1997's Love Jones. Even without accounting for indie films or web series, the past two decades have produced a modest slate of comedies with black leads: 2010's Just Wright, with Queen Latifah and Common; 2011's ensemble romance Jumping the Broom; 2016's Terrence J and Cassie vehicle, The Perfect Match. Unlike The Photograph, many of these 2010s movies skewed remarkably light—whether in the tone of their script, the exposure of their cameras, or the complexion of their cast.
Meghie's film is different on all three counts. Rae's and Stanfield's darker-skinned characters sit in plant-shrouded bars, walk through shadowy city corridors, and sip whiskey in Mae's dim apartment during a rainstorm. The film alternates between past scenes set in Louisiana, many of them inspired by the photographer Carrie Mae Weems's somber Kitchen Table Series, and sharper vignettes of the Millennials' hectic New York world, most often at night. With the exception of a few delightful scenes in Michael's brother (Lil Rel Howery) and sister-in-law's (Teyonah Parris) home, Mae and Michael seem to always be on the move. There's no explicit callback to Darius and Nina's iconic motorcycle ride in Love Jones, but The Photograph captures the uncertainty of its protagonists' courtship with a similar eye toward unexpected moments of closeness.
The effect of setting the film during evening hours is a kind of heightened intimacy. Even as their backdrops recede into dusk, Michael's and Mae's faces are always in gentle focus, their skin radiant. In this, Meghie's film echoes some of the stylistic choices that have distinguished Rae's HBO series Insecure, of which Meghie directed an episode in Season 3. "When I spoke to [The Photograph's cinematographer Mark Schwartzbard], I was like, 'I just want this to feel super saturated. Very warm. I don't want to shy away from the melanin,'" Meghie said. "'I want it to be even browner and even more golden and [for] the whole film to feel very sumptuous.'"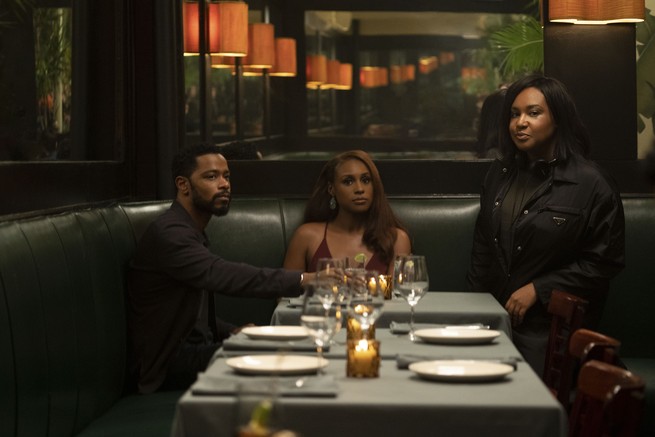 The Photograph is strategic in how it plays with darkness. "Especially when you're shooting black skin, there can be a tendency—if you don't have the right [director of photography] or colorist—to brighten [the scene] up so you can see [the actors]. And you're just like, Great. Now it's ugly," Meghie said with a laugh. But she noted that The Photograph's colorist, Mitch Paulson, was different and "always tried to use as little light as possible." In addition to focusing on Michael and Mae's relationship, the film incorporates flashbacks of Mae's Louisiana-born mother, Christina (Chanté Adams), and her love interest at the time, Isaac (Y'lan Noel). The morning after Christina and Isaac's first love scene, the glow of their New Orleans hotel room is palpable but restrained. Meghie described how shooting the scene with minimal lighting allowed Paulson to drawn attention to Adams's and Noel's "gorgeous skin tone" while also "keeping the room kind of shadowed and divine."
In the present-day, as her relationship with Michael unfolds, Mae wonders whether she might be like her mother, unable to form close attachments. In considering the women's similarities, The Photograph shifts its visual language slightly for the flashbacks. "We wanted it to feel a little bit different without being too dramatic. So we ended up using anamorphic lenses when we shot the past sequences," Meghie said, referring to the specialty tool capable of capturing ultrawide frames and artfully out-of-focus images. "It just gave [the scenes] a little bit of a softer, dreamier feel … We used a lot more handheld in Louisiana to make it feel a little bit more free." New Orleans haziness and all, the ambitious young Christina still looks most peaceful when she's alone in her darkroom. But her daughter can't hide from others like she did. Mae's fluorescent workplace—the glass-walled museum where she most tangibly examines her mother's legacy—offers the curator no such respite.
The Photograph is just the latest manifestation of Meghie's artistic obsession with "big, messy families." She counts among her many influences Tamara Jenkins's Slums of Beverly Hills, Woody Allen's Hannah and Her Sisters, Pedro Almodóvar's Volver, and the Spike Lee films Mo' Better Blues and She's Gotta Have It. Indeed, The Photograph is as much about a young woman's reckoning with the complexity of her mother's life and motivations as it is about the romance at the fore, a theme that comes through in Meghie's earlier work. Her first feature, 2016's Jean of the Joneses, follows a Jamaican American writer and the many matriarchs in her life. The Weekend, Meghie's 2018 indie, is set entirely at a bed and breakfast—and the director wrote much of it at the one her mother owns. "All of the films I'm interested in and that I've written always seem to balance romance and mother-daughter [stories]," Meghie noted. "It's my version of therapy I guess. I'm always trying to have some thesis on how your relationship with your mother or your family affects your romance."
Decades after the fire of Darius and Nina's initial tryst, love is still a meandering mess. Mae and Michael may not have the earlier pair's obvious spark, but The Photograph, thanks to its director's keen eye, at least makes their journey look beautiful.