The NFL's Most Valued Cause Is Itself
A social-justice-focused ad that aired during last night's Super Bowl affirmed a disturbing and all too familiar truth about the league.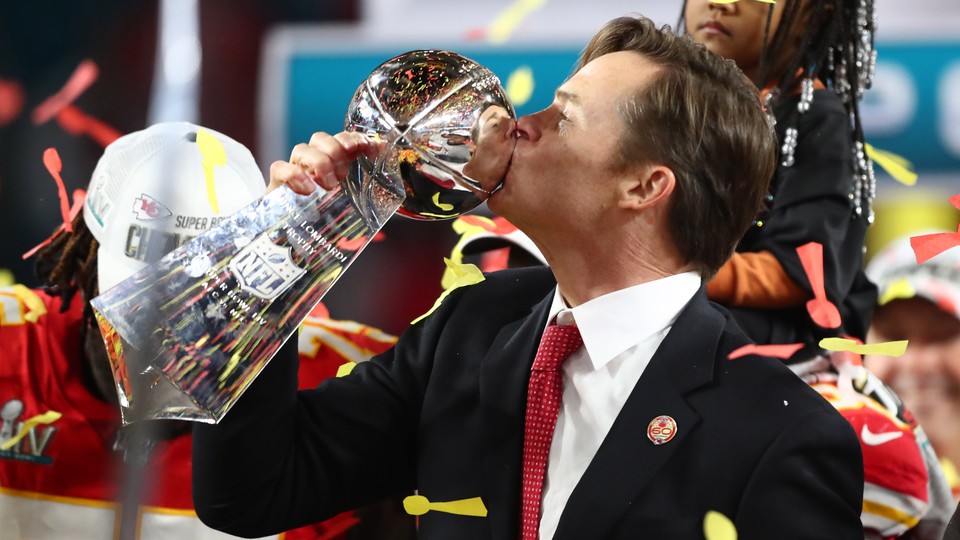 During last night's Super Bowl LIV, the National Football League aired a commercial it debuted last month during the AFC Championship Game. In the minute-long clip, the former Arizona Cardinals wide receiver Anquan Boldin speaks about his cousin Corey Jones, who was killed by a police officer in 2015. (At the time, Boldin was playing for the San Francisco 49ers, who lost Sunday to the Kansas City Chiefs, 20–31.) In a voiceover, Boldin explains what happened the night his cousin died; a re-creation is intercut with photos of Jones and emotional footage of family members.
"There are some things just bigger than football," Boldin says. "Starting the Players Coalition and effecting change in this country was one of those things … Had it not been for the work that we do, Corey's death would have been in vain." It's a jarring sentiment, uncomfortable in the way that invocations of Martin Luther King Jr.'s "sacrifice" can be. Neither King nor Jones volunteered his life for the sake of others' causes; both were killed.
With its palliative tone, the ad continues the NFL's attempt to rebrand itself as a socially conscious organization via its "Inspire Change" initiative—all while avoiding any mention of Colin Kaepernick, the former 49ers quarterback whose anti-police-brutality protests earned the league's ire beginning in 2016. In the NFL's framing, its social-justice investments emerged from a serendipitous overlap between athletes' respectful, off-field activism and team owners' philanthropic benevolence. It's an expedient and dishonest narrative for a league whose most valued cause has always been its own image.
Though the NFL didn't admit to blackballing Kaepernick (who remains unsigned), it reached a settlement with him last year. Months later, the NFL and Jay-Z's label, Roc Nation, announced that the artist would lead the Inspire Change partnership, which supports social causes of the players' choosing in areas such as education and criminal-justice reform. Jay-Z, who had rapped about turning down an invitation to perform at the Super Bowl at the height of the NFL's public controversy with Kaepernick, insisted the joint venture would be a step in the right direction. But as The Atlantic's Jemele Hill wrote at the time, "It doesn't matter whom the NFL partners with, or how much money it pours into social-justice causes. The league's actions come off as disingenuous because Kaepernick remains unemployed as a result of a peaceful protest."
By the end of Boldin's Super Bowl ad, it's clear that the athlete's testimonial, however sincere, wasn't a traditional PSA. There was no reference to the work of a specific community-based organization or commentary on what kinds of policies might best combat police brutality. Rather, Boldin invoked his cousin's memory specifically to promote the NFL's Inspire Change program; with the spot, the league chose to elevate its own work above everything else. Because Kaepernick's protest ignited such heated responses from conservative viewers, some people have noted that the ad may spark new controversy. But like the work of the Players Coalition itself, this commercial obscures how racial injustice endures: through discriminatory systems, not just the actions of individuals. The Inspire Change ad notes repeatedly that Jones's killer was a plainclothes officer, and Jones would have had no way of knowing the man was law enforcement. In other words, the blame is assigned to one bad actor rather than to institutions.
Despite the obvious tragedy of Jones's death, the ad's sharp turn to a feel-good ending registers as only slightly less opportunistic than two other Super Bowl spots that aired last night: a presidential-campaign ad for Donald Trump, which featured adulatory footage of Alice Johnson, a black woman who was granted clemency in 2018—and one for Mike Bloomberg, in which a black woman who'd lost her son to gun violence spoke tearfully about the need for reform. Both ads present the actions of their respective politician as a necessary balm for a woman's suffering, and the only paths to justice for their slain children and marginalized communities. Ultimately, the NFL ad similarly tugs at heartstrings without answering larger questions; it capitalizes off Kaepernick's original message while excluding him from any record of the league's evolution.
In the months since the Roc Nation–NFL deal was announced, there have been many buzzy sound bites from both Jay-Z and the league commissioner, Roger Goodell—and few references to Kaepernick. Despite his reputation as a shrewd businessman, Jay-Z has repeatedly declined to share the details of his financial arrangement with the NFL and how much money Roc Nation stands to make. And even the label's non-grant-making work has served as a chance for the league to burnish its progressive bona fides: The label helps select artists to perform in the Super Bowl's halftime show, a massive undertaking for which musicians are not compensated. At yesterday's game in Miami, Shakira and Jennifer Lopez became the first Latin American artists to ever headline the show, and their performance has won glowing coverage.
This year's image-rehabilitation effort is arguably a more sophisticated iteration of one from the league's recent past. Six years ago, the NFL received significant criticism for its handling of the former Baltimore Ravens running back Ray Rice's domestic-violence case. Though Goodell vowed to consider longer punishments for players accused of such crimes, Rice was suspended only after a video of him beating his then-fiancée emerged. Months later, the NFL ran a Super Bowl ad in which multiple players said "No More" to domestic violence and sexual assault. Rather than implementing league-wide policies for addressing assault allegations, or meaningfully altering its approach to players' off-field violence, the league aired some commercials.

The "No More" ads treated domestic violence and sexual assault as issues that existed entirely outside the league, unfortunate occurrences that the NFL and its players were speaking up about out of the goodness of their hearts. The commercials managed to both ignore the league's willful refusal to sanction athletes accused of such crimes and attempt to paint the organization as a high-minded entity. And now, half a decade later, the NFL is recycling this gambit to disappointingly familiar effect. When the commercials wind down and the confetti is swept away, real people will still bear the weight of issues that the league touts only when convenient.