The Endings That Princess Carolyn and Diane Nguyen Deserved
BoJack Horseman started out as a portrait of a tortured antihero and ended with a close look at the women who made the show so special.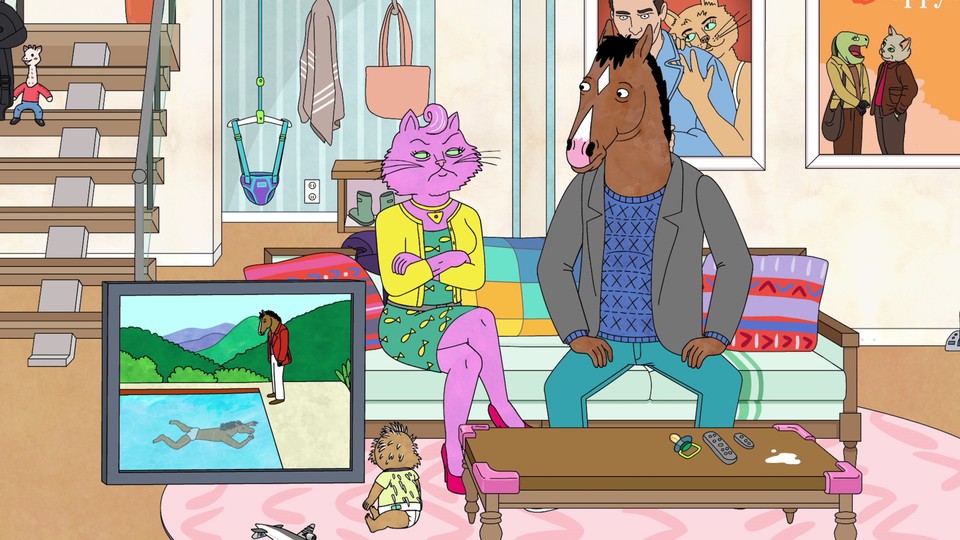 The first relationship that Princess Carolyn enters into on BoJack Horseman is an obvious farce. Back in Season 1, the titular antihero's ex-girlfriend and then-agent (voiced by Amy Sedaris) sought respite from one of BoJack's many selfish schemes by asking a stranger to buy her a drink. When asked for his name, the shadowy figure panicked: "Vincent … Adultman," he answered. Virtually everyone but Princess Carolyn could see something was amiss: That is, this person was really three children stacked on top of one other, covered by a trench coat. As the gag continued through Season 2, it hinted at some deeper truths: "What does that [joke] say about the lies we tell ourselves to be in a relationship?" the show's creator, Raphael Bob-Waksberg, said when we spoke last year. Or how can we, when Princess Carolyn and Vincent Adultman break up, "feel a little bad for them even though this whole conceit is very silly?"

Beyond this silly joke, it's been easy to pity Princess Carolyn during the animated Netflix show's run. She's struggled with relationships in general and with BoJack's hold over her in particular. She's had a tough time keeping her talent agency afloat, grappling with industry men's misbehavior, navigating the pitfalls of fertility and, later, adjusting to working motherhood. But now, in the stunning second half of BoJack Horseman's sixth and final season, Princess Carolyn gets some room to breathe, at last. Among the final episodes' most satisfying elements is the attention the series pays not just to BoJack (Will Arnett) himself, but also to the two most important women in his life. Princess Carolyn and Diane Nguyen (Alison Brie) each sees her arc bend, tentatively, toward a happy ending. For a series that spent so much of its running time exploring the interiority of one depressed, narcissistic (horse)man, BoJack closes out with a refreshingly broad purview—namely, one that appreciates the show's leading women as stand-alone characters rather than as mere accessories to the protagonist's growth.
In this, the series diverges from more classic antihero TV narratives. Where shows such as Breaking Bad, The Newsroom, Mad Men, and The Sopranos ended with shots focused squarely on their tortured male protagonists, BoJack expands the frame—and not only in its final moments. The series, set in Hollywood, has long been self-aware enough to acknowledge the entertainment industry's tendency to overlook (or insufficiently develop) women characters onscreen. On the ride to Princess Carolyn's wedding, for example, the preternaturally jovial Mr. Peanutbutter (Paul F. Tompkins) shares an earnest but comedic confession with BoJack: "I had this breakthrough recently. One day, in therapy, I just blurted out, 'Is my problem with women any movie directed by Christopher Nolan? Because, yes, women are involved, but it's never really about the women.'"
While Hollywood satire is a core part of BoJack, the show's most poignant explorations of gender imbalances often manifest in the relationships its characters have to one another. Crucially, in the final episodes, Princess Carolyn and Diane both transcend the specific barriers that BoJack has presented in their lives: Diane shirks the duty she's felt to solve his many problems, and Princess Carolyn moves out of both his romantic and professional shadows. Often, the show relays these updates with its trademark acerbity: When BoJack confesses that he's surprised Princess Carolyn is getting married, because he thought he'd "wasted all her best years" as her boyfriend, he's promptly informed that this decade—her 40s—is, in fact, her best. "Well, joke's on me," BoJack muses. "I couldn't even waste the right years."

For all the self-deprecating humor of BoJack's comment, though, it's clear in retrospect that he never actually had the power to whittle away Princess Carolyn's capacity for romance. (Nor can he dampen her producing ambition; even in love, Princess Carolyn overachieves: The nuptials featured fireworks, circus performers, a procession of exotic peafowl, and even a clerical murder mystery.) The two share a heartwarming dance-floor exchange during her reception, one in which BoJack briefly fantasizes about a situation wherein Princess Carolyn freaks out about getting married and only he is able to persuade her to go through with it. "It's a better story for you," she says when he admits the vision would work better if she'd had cold feet. "I think I like it better this way."
With those words, Princess Carolyn captures the sentiment Diane later shares with BoJack too: Any close attachment to the aging actor, especially one born of a misguided sense of responsibility, needs to have limits. And so it's particularly satisfying to watch both women not just achieve happiness on their own but also actively untether themselves from BoJack throughout the final season's second half, and especially in the series finale. Both women pursue their own specific expressions of joy: Diane grants her childhood self some tenderness when she finds a surprising new writing niche, and Princess Carolyn doubles down on her professional successes while growing closer to an admirer who'd always been in her orbit. Their approaches to redefining BoJack's role in their life differ too. Where Princess Carolyn's ballroom admonitions are lighthearted, for example, Diane's final excoriation of BoJack begins with a heavy blow.
BoJack had been building to this point for a while. Diane spent much of Season 5 struggling with BoJack's pattern of misbehavior with the girls and women in his life. At the outset of Season 6's back half, she's once again disappointed in his choices. This time, she distances herself when BoJack chooses not to listen to her; she refuses to carry his guilt for him. By the penultimate episode, though, BoJack's shame spiral sends him onto a life-threatening path—and he attempts to once again rope Diane into saving him. Unbeknownst to him, the guilt she feels when she's unable to come to his aid nearly wrecks Diane's newfound peace. She tells him all of this in the show's bracing final scenes, which see the pair chatting atop a roof at Princess Carolyn's wedding. "For seven hours, I couldn't get in touch with anyone and I was sure you were dead, and it was my fault for leaving you, for feeling good, for not worrying," Diane tells him.
That Diane is able to push past this self-blame—a tendency she's felt throughout the show's run, in large part because BoJack stoked it—is perhaps her hardest-won success. Of course, it's wonderful to see that she's carved out a stable writing career for herself, and that she's not only fallen in love with the chill Guy from Chicago (who has the tender, supportive voice of Lakeith Stanfield) but also earned the approval of his moody teenage son (aptly named Sonny). And to be sure, it's a welcome update that Diane has finally taken steps to care for her mental health. Still, it's Diane's willingness to prioritize herself and her own needs above BoJack's that comes as the show's greatest signal of her growth. BoJack's toxicity has been a gravitational force throughout the series, but Diane's finally pushed herself outside its orbit. Regardless of what happens to him, she—and Princess Carolyn—will be alright. After six seasons of undulating, BoJack-fueled anxiety, that's its own small blessing.