The Long-Overdue Rise of Harley Quinn
The bombastic new film Birds of Prey helps the popular character build her own legacy apart from the Joker.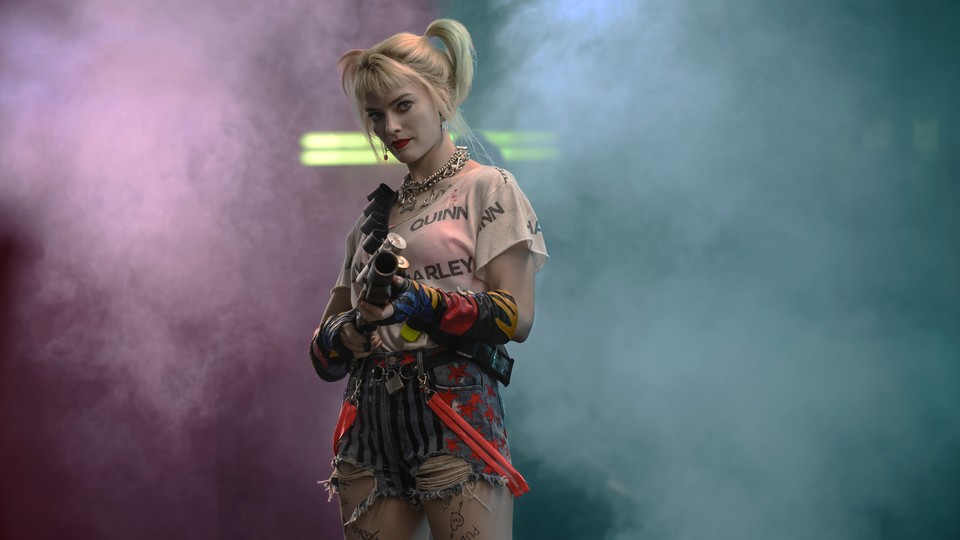 This article contains light spoilers for Birds of Prey.
The character of Harley Quinn began as a running gag. Created in 1992 for Batman: The Animated Series, Harley served as a henchwoman with an unhealthy attachment to her boss, the Joker. The show wrung humor from her mostly one-sided obsession with the supervillain, but the relationship was toxic from the start: The Joker regularly chastised Harley, beat her, and even tried to kill her. Harley, a former psychiatrist seduced by the Joker's psychopathy, became a character defined by her abuse—abuse usually played for laughs.
Over time, Harley shed that image, at least in print. The Harley Quinn comic saw her rebel against the Joker; the 2009 series Gotham City Sirens added her to a team of female villains; and the acclaimed run of her solo book, by the writers Amanda Conner and Jimmy Palmiotti, that began in 2013 updated her as an antiheroine who definitively cuts ties with the Joker and begins a life on her own. She constructs a lair on Coney Island, competes in roller derby, and enters into a same-sex romance with the villain Poison Ivy. Harley thus transformed into a character in her own right—less a hapless victim whose pain was used for Looney Tunes–esque comic relief, and more a trauma survivor on a journey of self-discovery. Her development helped her become so popular that the DC Comics co-publisher Jim Lee called her the "fourth pillar" of the company, behind Superman, Batman, and Wonder Woman.
Harley, however, hasn't been able to embark on such a narrative journey in film. A dedicated Margot Robbie played her to scene-stealing perfection in the 2016 DC Extended Universe entry Suicide Squad, but her arc focused on her devotion to the Joker (played by Jared Leto). Indeed, the Joker looms too large in pop culture to afford Harley much breathing room: He's such a lucrative draw for Warner Bros., the studio delivered a stand-alone take on the character starring Joaquin Phoenix only three years after Leto delivered his over-the-top version in Suicide Squad. Even offscreen, he poses a challenge for Harley: Phoenix is likely going to win an Oscar for playing him the same weekend the Harley-centric film Birds of Prey (and the Fantabulous Emancipation of One Harley Quinn) hits theaters. The Joker, it seems, will always get the last laugh.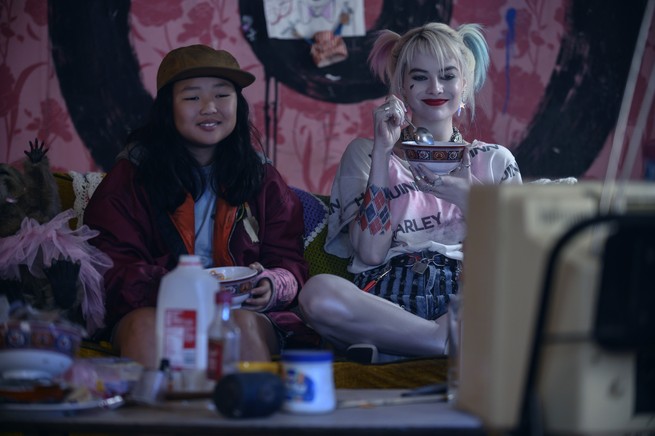 But Birds of Prey, out today, aims to finally build Harley her own big-screen legacy. It's a tough task: Directed by Cathy Yan (Dead Pigs) and written by Christina Hodson (Bumblebee), the film must not only condense almost 30 years of Harley's character development into two hours, but also weave a tale explaining Harley's new life without having the Joker's lingering presence overwhelm the story. The film succeeds on both counts by neither dismissing her abusive past nor drowning in it, and by leaning into Harley's insecurities as seen through her own eyes.
The film relies on her voice and perspective (she narrates the saga). Gone is the dour, self-serious tone of Suicide Squad; in its place is a rowdy, rollicking adventure drenched in glitter, vibrant mayhem, and Harley's signature style. In a nod to her TV beginnings, it opens with a quirky animated sequence to catch the audience up, during which Harley reflects on how the Joker's actions made her feel small. Yan examines the way Harley is trying to cope with her years of service to the Joker but doesn't show him—only the back of his head appears in a brief clip from Suicide Squad—nor does the director dwell on his violence toward Harley.
Birds of Prey wisely delves into why Harley became so obsessed with him in the first place and why she struggled to leave—a crucial piece of the story that Suicide Squad skated over and treated with a derisive tone. ("Talk about a workplace romance," one character snarked in the 2016 film.) To do so, Hodson injects shades of the Joker's most notorious qualities into the primary villain, Roman Sionis (Ewan McGregor). Roman could be considered the Joker 2.0: He's possessive, immature, terrifying, and ensconced in a possibly romantic relationship—at least, it's been defined as such by the actors—with his top henchman, Victor Zsasz (Chris Messina). Roman treats Harley as her ex did, taunting her with language that could have been pulled from the Joker's dialogue: "You know you can't stand on your own," he sneers at Harley. "You need me."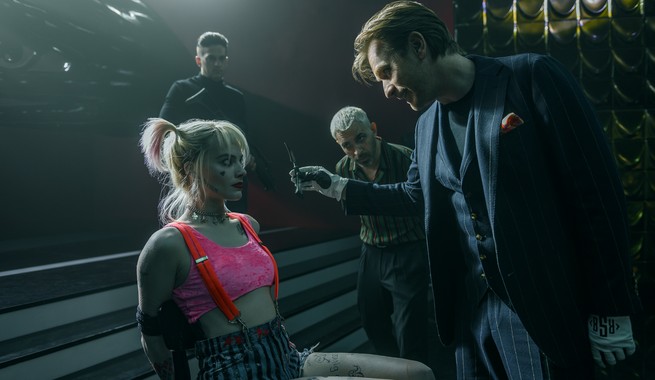 In one scene, he slaps her repeatedly across the face. As he does, she enters into a fantasy sequence inspired by "Diamonds Are a Girl's Best Friend." In her head, Harley recasts Roman not as the aggressor but as a gentleman simply asking her for a favor. Before she can make it through the song, though, she shakes herself out of it, realizing she's retreating into a delusion—behavior she once used to cope with the Joker, the film implies. Harley may be free of her ex, but freeing herself from the unhealthy coping mechanisms she cultivated while she was with him is much harder to accomplish.
Yet what's most impressive about Birds of Prey is the fact that the central relationship being explored—between Harley and a teenage girl, the pickpocket Cassandra Cain (Ella Jay Basco)—has nothing to do with the Joker. Paired with a character who has no ties to her past, Harley is free to reckon with her identity as her own person. Cassandra doesn't even know who the Joker is—a fact that appears to dismay Harley at first, until she grins and appreciates the clean slate.
The trope of "the badass and the baby"—in which a tough character is paired with a much younger one to care for, as demonstrated in works such as The Mandalorian, Logan, and Léon: The Professional—often does wonders in winning sympathy from the audience and showing a character's sensitive side. But for Harley, it isn't about demonstrating her ability to care for someone platonically. (In fact, she tells Cassandra that she'd be happy to kill her if it came down to it, even if she's a kid.) It's a way for the character to recontextualize herself, with a new purpose in life. No longer is Harley's story one of being a subordinate to her master; it's a story about Harley being a mentor to her mentee.
Birds of Prey, as its long subtitle declares, is in part about the "emancipation" of Harley Quinn, and it achieves it only by letting Harley tell her own story—in a "fantabulous" fashion, of course. Harley's unique point of view elevates the film from a generic origin story about a superpowered team to one about how hard it can be for a woman to redefine herself after a life spent in the shadow of her domineering partner. Here, Harley gets to see herself not as Mr. J's favorite or the Suicide Squad's wild card anymore; she's seeing herself as Harley.