How Pop's Biggest Weirdo Swept the Grammys
Billie Eilish's whispery goth pop is genuinely odd—but she's benefiting from old biases concerning race and genre.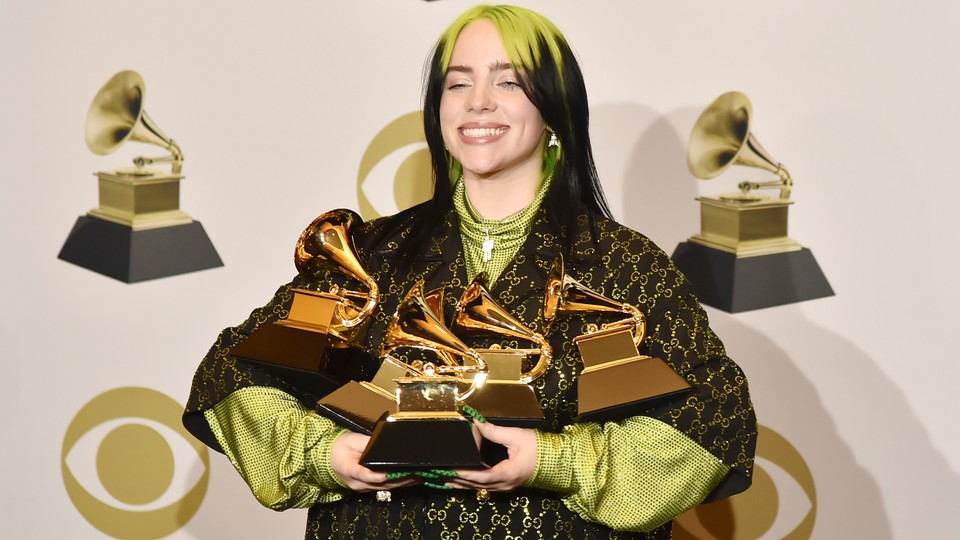 Billie Eilish scarfs down spiders, scowls at cameras, and sings about murdering all her friends. She wears sneakers scrawled with the words FUCK U, and she makes music with dental-drill noises. She's a creep; she's a weirdo. What the hell is she doing here, on the Grammys stage, as the consensus pick of the music biz's masses?
The 18-year-old Eilish took home five of the six trophies she was nominated for last night, including all of the "big four" awards: Record of the Year, Song of the Year, Album of the Year, and Best New Artist. (Her 22-year-old brother, Finneas O'Connell, who produces and co-writes her songs, shared in the big four and won two awards of his own.) The only other time someone swept the general categories was in 1981, when the ultrasoft and now-obscure rocker Christopher Cross bested Pink Floyd's The Wall in a year when Prince's Dirty Mind and the Clash's London Calling weren't even nominated. Cross's milestone is now often referenced to demonstrate how uncool the Grammys are, and Eilish would seem a much hipper pick. (Her songs are not about yachts, to start.) But for all her supposed edge, there's safety in her sweep.
After years of mounting anger toward the Grammys for feting blockbuster wedding singers over innovators, this year's nominations had a genuinely thrilling class of popular rebels. The whimsical rap-country of Lil Nas X's "Old Town Road," which broke Billboard chart records in its 19-week run at No. 1, seemed a lock for Record of the Year. The empowering rap-singing of Lizzo was a plausible winner in all the general categories, alongside Eilish's rappish whisper-pop. "We want to be shifting to realness and inclusivity," the host Alicia Keys said in a musical monologue (don't ask) that made the evening's only nod to the ousted Grammys CEO Deborah Dugan's recent account of sexism, racism, and corruption at the Recording Academy. A diverse slate of winners in the general field might have signaled the very shift that Keys crooned about.
Instead, Eilish beat them all. This is not quite undeserving: She is a clever talent who made an addictively distinct album, and she used her performance slot last night for a lovely ballad that showcased her singing ability. She is also a young, willful woman who refuses the sexualized template and cookie-cutter sound that the music industry has foisted onto other young, willful women in the past. But the totality of her sweep hints that her acclaim owes not only to her significant artistic ingenuity. She has positioned herself to have multi-quadrant and oddly traditionalist appeal. She is also well connected, popular, and white, and those things still trump most else at the Grammys.
Certainly, the music-industry establishment has a lot riding on her. The myth of her fame is that she blew up from a single slice of bedroom pop uploaded to SoundCloud; the truth is that managers and marketers affiliated with major labels and streaming services glommed on very early in her career and opened pathways that few others are able to access. If her songs and performance style weren't arresting, such access would have been meaningless. But working with O'Connell, she made the most of early features on Apple's Beats 1 and late-night TV. Her and her brother's ease on camera and on mic was, on some level, honed by their upbringing as the homeschooled kids of two working actors in Los Angeles.
Eilish's shtick is a patchwork of influences, and the most important of them might be hip-hop. Rap culture informs her oversized track suits, her way of speaking, her rat-a-tat vocal delivery, and the trap percussion of her songs; she has been quick to praise hip-hop and work with emcees. Rap, however, doesn't usually fare well at the Grammys. Hip-hop has generated only two Album of the Year winners ever, and some of the most ingenious black artists have been rewarded only in genre-specific categories rather than the general ones (for more details, here's Tyler, the Creator, speaking ambivalently last night about his Best Rap Album win for an album that didn't sound very much like rap). Eilish is able to swipe influences from America's most popular genre without taking a prestige hit or getting pigeonholed.
That's because her whiteness allows her to be perceived as belonging to genres more "respectable" to masses of Grammys voters. Though there are few guitars in her songs, Dave Grohl has called her the future of rock and roll, and at the American Music Awards, she was named Favorite Artist—Alternative Rock. The "rock" of her identity mostly comes down to a chain-laden and heavy-lidded image that recalls a lineage stretching through Sid Vicious and Garbage's Shirley Manson. Race is clearly part of this image. The rappers Travis Scott and Lil Uzi Vert have a similar fashion sense to Eilish, and their music overtly interpolates rock. But they are culturally consumed, primarily, as hip-hop artists, with little chance of earning a top prize at the Grammys.
The ways in which Eilish appeals to the Grohls of the world also allow her to triumph over other white female artists who are written off as "pop princesses." Eilish's thumping hit "Bad Guy" sits in the same radio rotations as artists such as Britney Spears, Lady Gaga, and Ariana Grande, none of whom has won a general-category Grammy. Eilish's hint of disaffection—indulging in pop but also being too bad for it—presumably allows her to sidestep the sexism that attends to such artists. Accepting one of their many awards last night, O'Connell made a case for the capital-I Importance of their songs: "We wrote an album about depression and suicidal thoughts and climate change and being the bad guy … whatever that means." It is true that there is a flintiness and substance to Eilish's work, but the same could be said for Grande's Thank U, Next, an Album of the Year nominee steeped in anxious, real-talk themes.
The jarring thing about Eilish's domination at the Grammys is that it calls her misfit status—that aesthetic pose so crucial to her cross-category success—into question. But she is a savvy game player; she knows it's not cool to become the overdog. She mouthed "Please don't be me" before her fifth prize was announced, and her speeches were shot through with embarrassment. After winning Album of the Year, she said the award should have gone to Thank U, Next. For Best New Artist, she jokingly anticipated backlash while addressing the runners-up: "I know your fans are hard-core, and they're going to fight for you guys, and they love you, and they're going to talk shit about me for years because of this." Sure enough, #scammys is now trending, thanks to the supporters of snubbed artists. It's a term Eilish herself might laugh along with, appreciating the irony of the fact that someone so new and seemingly different has now become the mascot for very old complaints.