The Most Crowd-Pleasing Films Coming Out of Sundance
Studios are betting on films such as Palm Springs and Minari to earn box-office success as well as critical praise.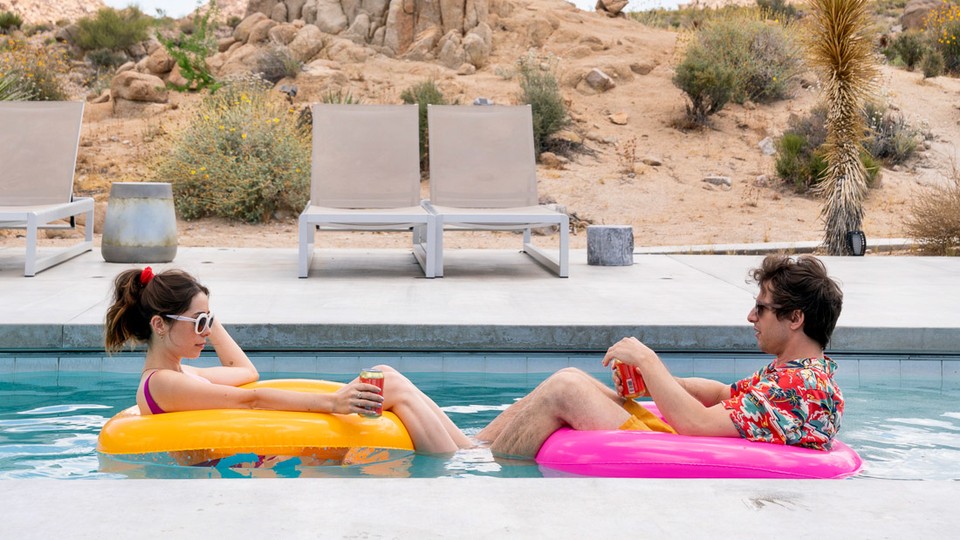 Every year, the Sundance Film Festival celebrates new voices in independent cinema, debuting films from emerging artists and giving Hollywood a preview of the future. But an audience hit at Sundance won't necessarily translate to mainstream theaters. As the festival enters its final days, studios are beginning their annual spending spree on its biggest titles, hoping to invest in a project that succeeds commercially as well as critically.
Perhaps it suits an industry still struggling to figure out the future that one of the first sales of the year was essentially a self-aware joke. I refer to the millions that Neon and Hulu jointly paid for the rights to Max Barbakow's Palm Springs, an ingenious high-concept romantic comedy starring Andy Samberg and Cristin Milioti that is now the most expensive acquisition in Sundance history. The purchase broke a record set in 2016 by Nate Parker's slavery drama, The Birth of a Nation, which went to Fox Searchlight for $17.5 million after sweeping the festival's major awards (though the film was quickly overwhelmed by controversy over rape charges in Parker's past, of which he was acquitted). Palm Springs beat out that figure by adding an intentionally trivial amount to the $17.5 million: 69 cents, a decimal punch line for a colossal sum.
Will it be too much? Last year Amazon was derided for an ill-fated decision to splurge $13 million on the Mindy Kaling/Emma Thompson comedy Late Night and $14 million on the true-story Audience Award–winner Brittany Runs a Marathon. Similarly, Warner Bros. had spent $15 million on the Bruce Springsteen love letter Blinded by the Light. None of those movies managed to make the studios' money back at the domestic box office. But Palm Springs is a little different. For one, it's a far better film—a surprisingly insightful riff on Groundhog Day that uses the sci-fi concept of a recursive time loop as a metaphor for long-term relationships. For another, ticket sales aren't all that matter to studios anymore, as the partnership between Neon and Hulu indicates.
Neon will release Palm Springs theatrically, and hope to generate word-of-mouth buzz as it did for its best-grossing 2019 titles, including Parasite and Apollo 11. Then Hulu (which is owned by Disney) will have exclusive streaming rights, a crucial puzzle piece for future profitability and a solid bet in this case. While some critics have mourned the dearth of rom-coms in theaters of late, shouting out 2019 titles such as Long Shot for merely existing, the genre fits perfectly in a streaming setting—these movies aren't big-screen events, but comfort viewing that holds up on repeat. (As an avowed fan of the cinema experience, I would of course recommend seeing Palm Springs in a theater, because it's witty, uproarious, and fun to watch with a crowd.)
Amazon's biggest buy at Sundance so far was Uncle Frank, Alan Ball's brisk dramedy about a gay professor (played by Paul Bettany) who returns to his South Carolina home to bury his homophobic father. Despite its conspicuous box-office whiffs last year, Amazon spent $12 million on the film, and it's easy to see why—it has the same crowd-pleasing energy as Green Book (down to the stylish vintage car that Frank drives south), and the same glib storytelling. Bettany is terrific in the film; so are Peter Macdissi as his partner and Sophia Lillis as his understanding niece. Yet life lessons are learned a little too easily, and plot contrivances are even more convenient than they were in Ball's hit TV shows, Six Feet Under and True Blood.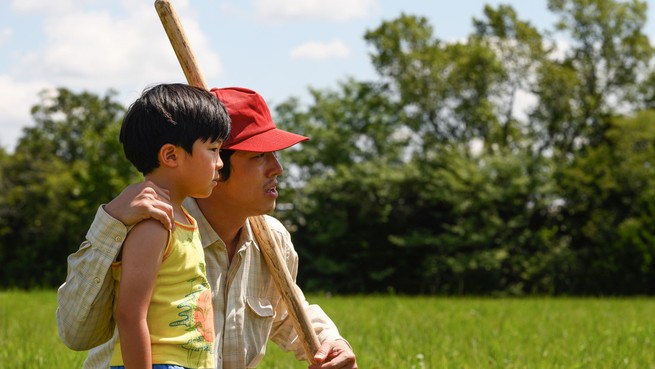 A24 came to Sundance already owning one of the year's most popular entries: Lee Isaac Chung's Minari, a wonderful coming-of-age tale that draws from the director's own experience growing up on a small farm in rural Arkansas. The central character is Jacob Yi (Steven Yeun), a Korean patriarch who's resolved to build a self-sufficient life for his family. Beyond his story, though, the film is an incredible ensemble piece, grounded in seemingly minor memories that are specific, charming, and heartrending. Chung's detailed portraiture of every member of the Yi clan recalls François Truffaut at his best, or Isao Takahata's Only Yesterday, which is about the highest praise I could offer.
Some of the most broadly appealing titles are still up for grabs as the festival rounds into its final weekend. Sara Colangelo's sober drama Worth is a well-acted and concise recounting of the creation of the September 11th Victim Compensation Fund, a government program created to indemnify the families of 9/11 victims, with the Spotlight co-stars Michael Keaton and Stanley Tucci as leads. Colangelo is less interested in the nuts and bolts of the fund than in the character arc of Kenneth Feinberg (Keaton), the attorney faced with the bizarre and harrowing task of establishing formulas to calculate the value of human life. Tucci, playing a bereaved husband fighting to make Feinberg understand the emotional responsibility of his numbers-oriented work, is the film's standout. Any scene that Keaton and Tucci share is quietly electrifying.
Miranda July's Kajillionaire is the closest thing to a commercial project that the performance artist has ever created (A24 is reportedly in talks to buy it). Her first film in nine years, it follows a family team of semi-homeless confidence artists (Richard Jenkins, Debra Winger, and Evan Rachel Wood) who stalk the streets of Los Angeles pulling off low-stakes scams. When they make a new friend (Gina Rodriguez), their tight-knit but mercenary dynamic is thrown out of whack, and that's when July's cheerful and mordant perspective comes to the fore. The film is half romantic comedy, half coming-of-age narrative, anchored by a committed Wood (who communicates her character's strangeness in monotonous dialogue and uncomfortable physicality) and a luminous Rodriguez as the woman who begins to lure her into the real world.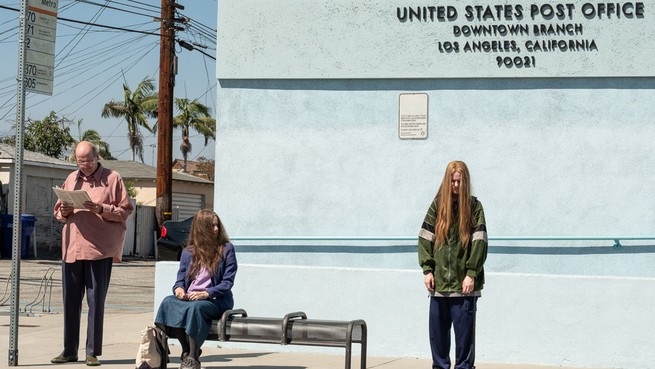 One of my most anticipated films at the festival was Sean Durkin's The Nest, given that it's the director's first feature since he broke out at Sundance in 2011 with the enthralling thriller Martha Marcy May Marlene. His new project is a slower-burning tale, but a thematically rich one, starring Jude Law and Carrie Coon (both doing career-best work) as a married couple whose partnership starts to rot after they move into a sprawling British mansion in the 1980s. Though Durkin is telling a fable about the personal toll of a decade of greed, The Nest never comes off as too broad or ghastly. Its horrors are subtle, its moments of cruelty embedded in throwaway lines of dialogue or grim glances.
Finally, Edson Oda's Nine Days has high potential for this year's coveted Audience Award. Reactions out of its first screening ranged from rapturous to highly skeptical, perhaps befitting a work that is, if nothing else, deeply sincere. Oda's hero is a somber clerk (Winston Duke) at a sort of spiritual way station, who evaluates souls in a nine-day competition. The prize they're vying for is the chance to be born, and the script takes these stakes very seriously. Duke is a magnetic star, and I enjoyed some of the sci-fi world-building, but I could never quite get on Nine Days' level.
Though that film is set in a fantastical world, it reminded me most of more realist, equally precious indie dramas such as Zach Braff's Garden State (a Sundance breakout of its own, way back in 2004). I mean that comparison both positively and negatively. Sundance has long been a proving ground for a certain kind of earnest indie crowd-pleaser, and as Hollywood continues forging ahead into the streaming era, it's comforting to know that brand of story still exists.