Halsey, Selena Gomez, and Pop That Acknowledges Mental Struggle
Two new albums, Manic and Rare, air inner turmoil bluntly while staying catchy and controlled.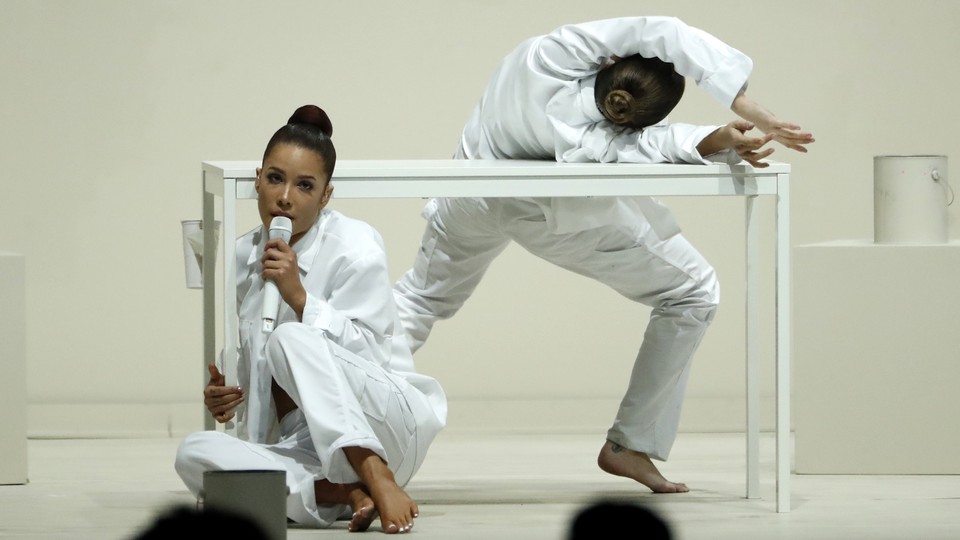 Whether the example is Ariana Grande's anxiety bops or Post Malone's anthems of addiction and paranoia, mental health has become one of the central topics of today's popular music. But is that really so new? The strangeness of the brain has long been a songwriting muse, and sounds often articulate what's going on in one's head better than words can. Folk singers and emo rappers alike have documented the extremes of depression, while an aesthetic of "insanity" has inspired such wild sounds as Pink Floyd's guitar solos and Nicki Minaj's cackles.
But the paradigm on the rise today is not simply about feeling mental strain; it's about mastering it. A month into 2020, two major pop stars have released albums that document distress in carefully controlled fashion, with a sound that squirms in the margins but stomps militarily in the center. On Selena Gomez's Rare, the former Disney star emerges from years of personal turmoil to coo in the terminology of therapy and self-care. On Halsey's Manic, the newly ubiquitous radio titan journals through her bipolar disorder with kaleidoscopic, if highly stage-directed, musical diversity.
Since the 2016 release of her album Revival, Gomez has faced very public struggles: treatment for lupus, a hugely scrutinized breakup with her longtime boyfriend Justin Bieber, and a battle with anxiety and depression for which she checked into a psychiatric facility. In recent interviews, she's talked about feeling better after having shut off social media, taken antidepressants, and discovered dialectical behavioral therapy. Now comes Rare, whose lyrics address mental health mostly in terms of overcoming: "All the trauma's in remission," "Me and this spiral are done," "Put a gold star on my disorder."
The attention to struggle at all is striking from Gomez, who has a knack for communicating serenity and lightness. Her silken and conversational voice may not be powerful, but savvy producers know how well it can entrance, rather than rev up, a listener. Past singles such as "Come and Get It," "Bad Liar," "Good for You," and "Hands to Myself" were suspenseful seduction routines: You sensed something exciting being contained. For Rare, though, she's shimmying in post-recovery freedom, and the feeling doesn't quite rise to the level of joy. As she draws short, elliptical melodies, the songs' instrumental elements tend to fidget. An ominous bass tone will enter midway through a track, deepening a bridge, and leave. Nothing gets too heady, scary, or ecstatic, though. The thermostat is set to 72; the listening is easy.
A few bracing exceptions, though, prove the potential of the resurgent genre of the self-love anthem. Gomez's recent No. 1 hit, "Lose You to Love Me," is a stark and grand piano ballad in which sentiment builds vertically, skyscraper-high. She's telling an ex he had to fall so that she could rise, and the melody gets at both dimensions of that story. Another strong cut, "Vulnerable," has Gomez stringing together individual syllables in a fast, hypnotic chant. The beats skip and lope soothingly; the bridge thickens with tambourines and ululation. The song is excellent yoga-class corniness, like a lost track from Madonna's Ray of Light, which is to say it goes to a proved well of culturally borrowed sounds affiliated with transcendence.
For Halsey, luminous healing is never the point; the triumph she projects is that of a flinty antihero. The 25-year-old songwriter is three albums into a soft coup of a career, in which an arty, insurgent persona has been maintained even as Halsey's voice has become the sound of radio pop. That voice, a breathy collection of tics workshopped early last decade by Lorde and Lana Del Rey, conveys drama fabulously but emotion haltingly. Luckily Halsey, as a songwriter, does drama well, and her approach suits her life story. On Manic, her bipolar disorder is central. But so are other, smaller details about hopes, fears, and romance, all of which she marshals for diorama-like songs.
The album's early statement piece is "Clementine," a piano rumination that, like with much of the album, is scattered with off-tune, warbling sounds that create a mood but don't derail any melody. Halsey describes chaotic ups and downs—"In my world, I'm constantly, constantly havin' a breakthrough / Or a breakdown, or a blackout"—but the song is orderly, an explainer. Sonically it recalls the work of Fiona Apple, who is pop's most brilliant chronicler of the vagaries of the mind and whose writing could point a way forward for Halsey. For now, the singer strings together vivid lines that don't always hang together. "Wish I could see what it's like to be the blood in my veins," she sings, but then: "Do the insides of all of my fingers still look the same?" Same as what?
It's not just Apple who comes to mind. Manic evokes a range of women who have aired inner conflagrations while trying to grapple with society's tendency to label honest women as crazy. One such figure, Alanis Morissette, even shows up with a feisty chorus on "Alanis' Interlude," a break-beat-driven sketch about same-sex lust. Another standout, the gnarly guitar jam "3am," seems to collage pages from histories of women in rock: Carrie Underwood, Paramore's Hayley Williams, Courtney Love. For the country-ish ballad "Finally // Beautiful Stranger," a lovely melody recalls both Lady Gaga's "Yoü and I" and 4 Non Blondes' "What's Up." All of these songs are about wanting someone else with such a desperation that it, counterintuitively, seems to make the identity of the desired person incidental. As Halsey snarls on "3am," "I really need a mirror that'll come along and tell me I'm fine."
As a confession and self-analysis, Manic is impressively customized and distinct, though a number of the more lyrically dense tracks tend to describe feelings more than they embody them. It's too bad, in any case, that Halsey's knottier explorations of her own mind aren't what seem to sate the music industry. "Without Me" and "Graveyard," the two singles from Manic thus far to gain any traction on the charts, are firmly in the mode of the Chainsmokers song "Closer" that helped make her famous. Drowsily pining, musically drab, they sedate but don't illuminate.